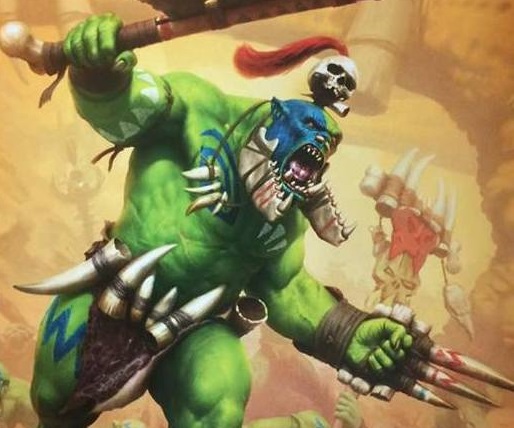 You know how GW LOVES to stick new minis in giant battle scenes – those sneaks! Look what one gamer just spotted!
White Dwarf #129 was spotted yesterday. Ok everyone get out your magnifying glasses and take a close look: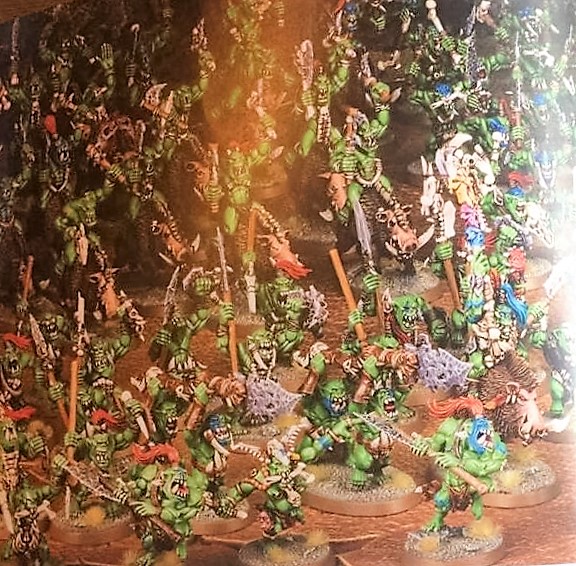 Now take a closer look at the bottom left and center: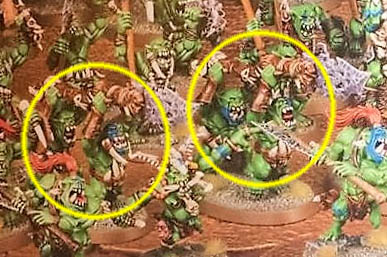 I spy with my eye two identical dual-Orruk teams on large round bases each charging forward holding a giant spear of some type.  Now let's turn to the General's Handbook which we know has a number of new unseen units listed in it's point section.  Turning to the Bonesplitterz section we see some interesting entries.
General's Handbook Pg. 137 "Savage Big Stabbas"
Hmm, it's not a guarantee, but "Savage Big Stabbas" does seem to match the theme of those minis.  Looking at the existing minis on the GW Bonesplitterz webcart and the point chart certainly rules out most of the others
~What do you think folks?
UPDATE:
These aren't new minis after all.  They are old models that are part of the Savage Orks kits that GW rebased as a pair on a larger round base.  It looks like the story here isn't that there are new minis (there aren't). The story is that it looks like GW may have "reworked some minis", taking those minis out of the Savage Orruks kit, rebasing them and creating a new unit out of them (Big Stabbas).  We will get to see the warscrolls when the new Bonesplitterz book arrives next week and see exactly how GW has handled the models.
But in any case, I got the story wrong. Totally my bad.  My apologies. I shall spend 48 hours in the pain glove to atone as Rogal Dorn instructs in these cases.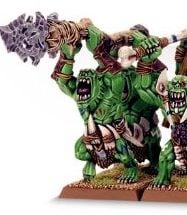 Sadly not new…