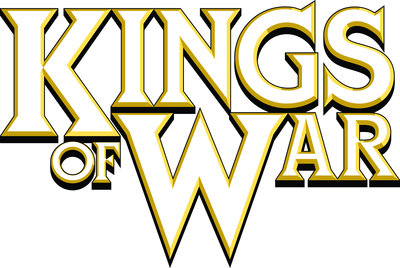 The eternal undead are marching to Mantica!
The Ahmunite empire, stripped of their power by the Ophidians, wages a war on the living and the dead. They march across the scotched desert fueled by hate, and compelled by necromancy.
Soon you can bring their powerful armies to your tabletop…
The Ahmunites rise once more as the Empire of Dust marches from the south. Fueled by vengeance for their fate and an ambition that has conquered death itself, these skeletal legions are joined by captured Djinn demons, swarms of carnivorous insects and powerful spellcasters.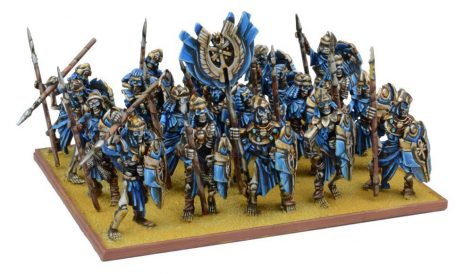 These models are either all metal or metal/hard plastic hybrids with our existing Undead. This means you will need some prior modelling knowledge to work with the kits, but they are simple and easy to assemble – just like the rest of our Kings of War range!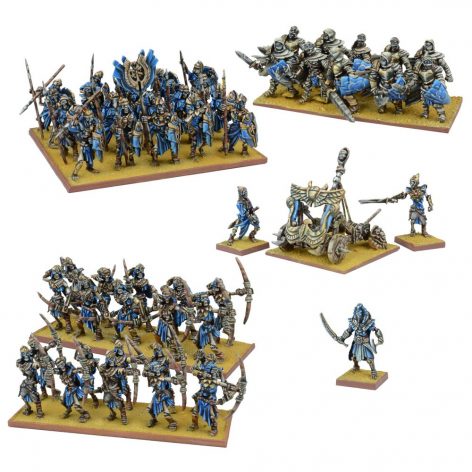 The army will be launching in two waves. At the end of July, we will be shipping the Skeleton Warriors, Skeleton Archers, Revenants and Balefire Catapults, as well as the armies, like the one pictured above. The Ahmunite Pharaoh, Revenant Champion, Swarms and Enslaved Guardians will be shipping later, at the end of August.
This means that if you pre-order any of the armies, including the Spirits of the Desert and Lord Sautekh's Glorious Host, you'll be getting the second wave releases a whole month ahead of their launch!

The rules for the whole army can be found the the Uncharted Empires Supplement for Kings of War – which you can find on our webstore or at any good hobby retailer.

The Ahmunites are coming to claim the world – will you side with them?