Check out what new adventures are afoot!
Convention season is here, and GenCon is right around the corner. Paizo has lots of new products in store for the show, but let's take a look at all of the recent releases.
New this week:
And there's much more to look forward to this summer…
Preparations for next month's releases start really ramping up in earnest when we return to the offices on Tuesday, July 5. Given the amount of awesome that we've got to pack into boxes and onto pallets, I think you'll get pretty excited about the previews that will start up for these products too. We've got plenty of terrors lurking in Horror Adventures, the conclusion to the Hell's Vengeance Adventure Path, the close of Season 7 of the Pathfinder Society Roleplaying Guild (as well as the start of Season 8 at Gen Con itself), and more goblins than you can shake a stick at (you probably want to grab something more effective than a stick, though)!
And, if you're a subscriber who is planning on attending Gen Con 2016, you'll want to check out our July 2016 New Release Shipping & Gen Con Pick Up thread in the Customer Service forums for instructions on how to pick up your subscription items at the Paizo booth. Opt-in for Gen Con pick up ends on July 14th, so don't delay!

Keen eyes may have noticed that we've been suspiciously quiet about Horror Adventures, but that will soon change! Starting next week we'll be creaking open its pages to deliver horrific, delightful previews on the Paizo blog. However, you're quite lucky in that I happen to have snuck away to bring you a couple teasers…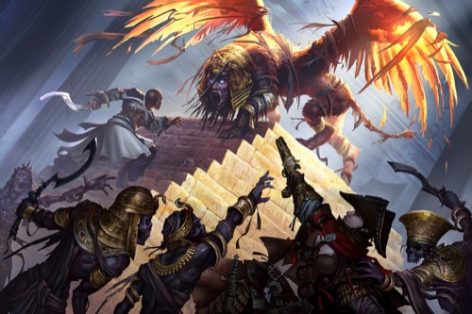 Illustration by Tomasz Chistowski
What are you picking up?