Tabletop Spotlight: Mad Science Foundation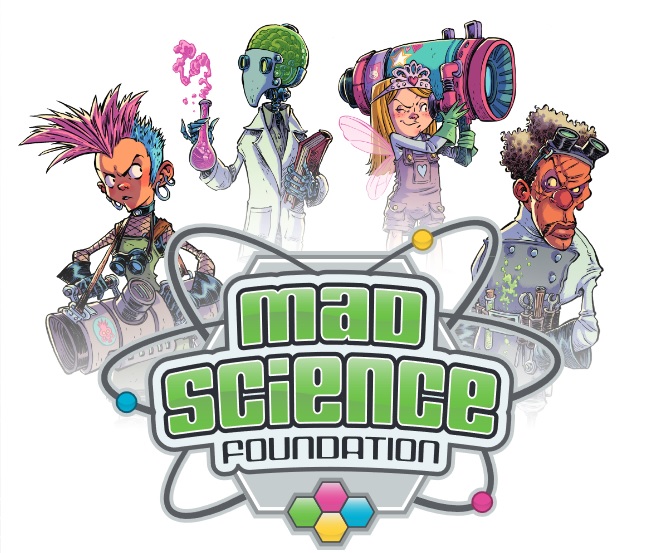 The Tabletop Spotlight is on Mad Science Foundation – Insane Inventions, Inspire Infamy!
Hey BoLS Readers! Have you ever wanted to become a Mad Scientist? Of course you have…Anyways, if you're like me then the thought may have crossed your mind. Well our friends at Dragon's Lair Comics & Fantasy brought over a new game from Cryptozoic – Mad Science Foundation!
If you've ever wondered how those Mad Scientists keep getting funded then this game has the answer – apparently they are all part of the same foundation. The banded together to "share" resources for their "misunderstood" inventions. As a Mad Scientist, its you're life's dream to complete your world-changing inventions…too bad sharing wasn't something that you ever learned in school.
This game is really a solid drafting game. All the players are "sharing" the same resource pool and have to draft from that to try and complete their crazy inventions. But just because you don't get the resources you need doesn't mean you're out of the game. Some inventions can be used to craft other ingredients for your diabolical contraptions. This is where the strategy really comes in to play.
Mad Science Foundation is also a game designed for 2-4 players. But there are 6 Scientists to choose from. This really adds to the replay value and also changes up how you can score points. For example "The Hoarder" gets extra infamy for each leftover Resources they have at the end of the game. That can really add-up!
Overall, the "back-stabby" mechanics and drafting really work well together – who said Mad Scientists play nice! The artwork has a cool style and the components are well crafted. It's probably going to take a few rounds of play to understand the game fully, but the rules are also free online so you can read-up on them at your leisure. If you're looking for a fun, pseudo-science game then check this one out!
Throughout the centuries, mad scientists have always encountered the same problem of very limited access to the dangerous resources they require.  To solve this problem, the Mad Science Foundation was created.  Now these "misunderstood geniuses" can finally get the access they need to the four vital building blocks of mad science: Lasers, Dark Matter, Cryptomium, and Sharks.

Unfortunately, for each mad scientist that seeks "funding" from the Mad Science Foundation, there remains the unfortunate fact of life that mad scientists do not play well with others.  In the quest for infamy, directors will be bribed, resources will be reallocated, spies will be dispatched, inventions will be sabotaged, and big, ominous buttons will be pressed with catastrophic results.  Welcome to the Mad Science Foundation, where everyone is ready to stab you in the back with overly-elaborate backstabbing machines.

Subscribe to our newsletter!

Get Tabletop, RPG & Pop Culture news delivered directly to your inbox.

By crafting new inventions, you might be able to put together an engine of cards that eventually fuel themselves. Perpetual motion in our lifetime! Or perhaps you might stockpile valuable resources for later exploitation. It's all done with the altruistic goals of megalomania and personal glory in mind. What could go wrong?