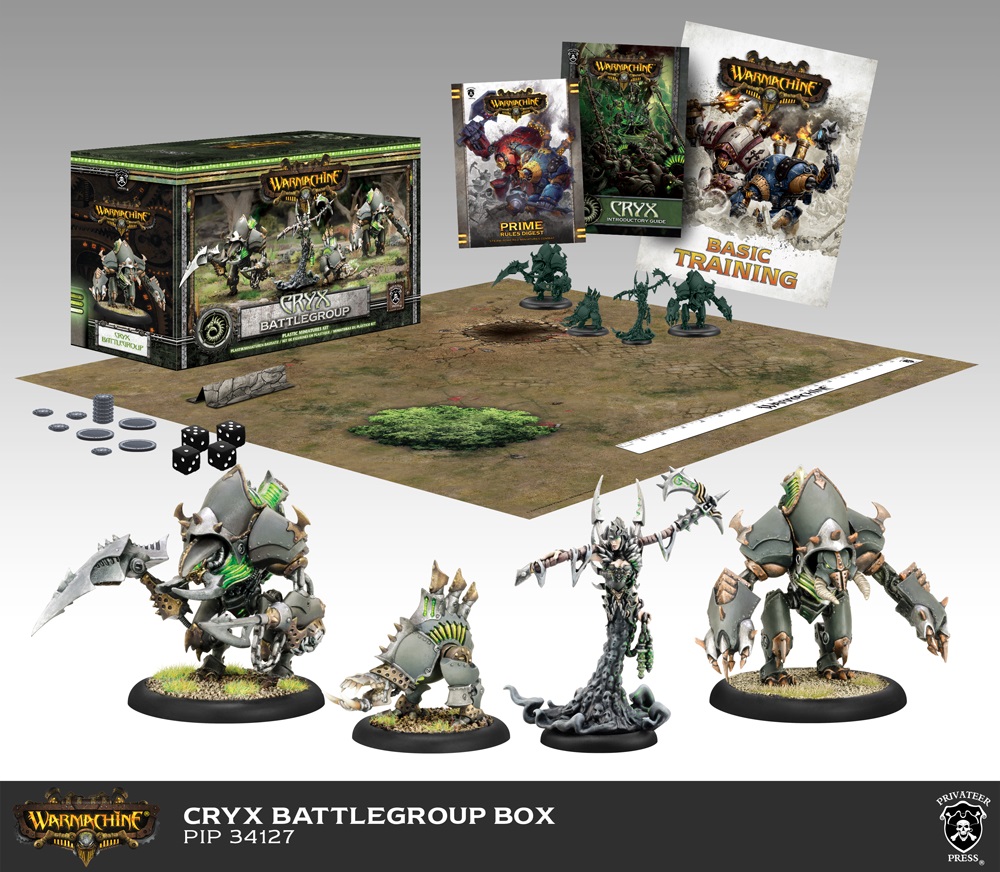 Come see the insides of the new Cryx & Cygnar Battlegroup Boxes – a deal that's tough to beat!
We've taken a look at the Trolls & Skorne boxes already so now it's time to look at the Warmachine side of things with two of the new Starter Battlegroup boxes:
It's really hard to understate how great these boxes are – I felt like I did a pretty thorough job on the contents and reason why they were awesome in the last article. So I'm not going to re-hash the fact that these are some of the best starter products that the industry has to offer. Basically for $40 you get everything you need to start playing – they even have tutorial missions for folks who are completely brand new to playing.
The models are all well done in colored plastics that are representative of their faction colors. Cygnar's primary color is a dark blue and Cryx has a dark green plastic. The sculpts are solid as well – you might not have as much detail as pricey resin or metal, but this stuff is a lot easier to work with and is perfect for quick assembly and play.
One of the cool things about these new Battlegroups is that the 'Casters are completely new and currently only available in these starter boxes. I'm sure we'll see them available later on but if you are a vet and want to get your hands on them you are going to need to grab a Battlegroup box.
I mentioned this before but if you're a store owner looking to get an active Warmachine/Hordes group in your store start a Battlegroup box league. That way old vets will have just as much of a reason to pick-up a box as new players. Plus, who doesn't want a sweet mini-rulebook to keep with their army – those things are HANDY!
Warmachine/Hordes MK III is here and these products are the perfect entry into the game. If you're an old vet looking to start a new army or maybe you've been out of the loop for a while and want to come back then get a new Battlegroup Starter Box! If you're completely new and are worried about learning the ropes – these boxes will walk you through everything so pick one up already! These are in stores now, so what are you waiting for?!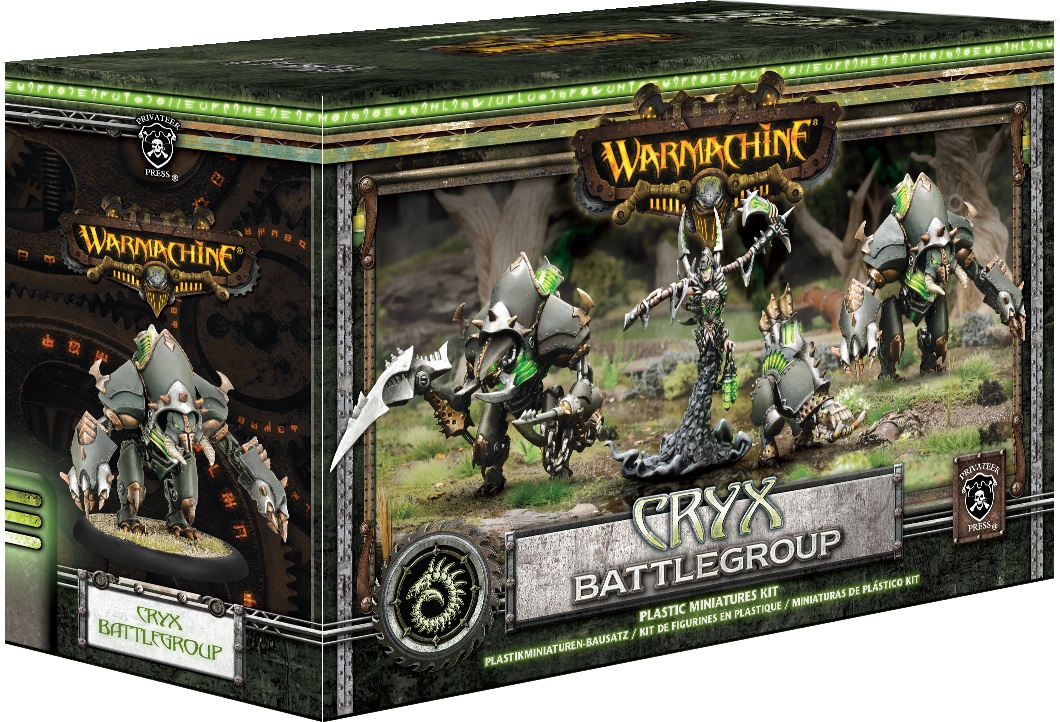 From their nightmarish isles, the necromantic warcasters of Cryx lead their undead legions forth to strike at the Iron Kingdoms, laying waste to all in the name of the dragon Toruk. Harness the powers of the Dragonfather and bend even death to your will with this fully loaded battlegroup box!
4 Highly Detailed, Single-colored Plastic Miniatures with Stat Cards
• Basic Training Tutorial Guide
• Battle Map
• Introductory Guide
• WARMACHINE: Prime Rules Digest
• 18" Ruler
• 4 Six-sided Dice
• 10 Focus Tokens
• 3 Spell Tokens
• Obstacle Card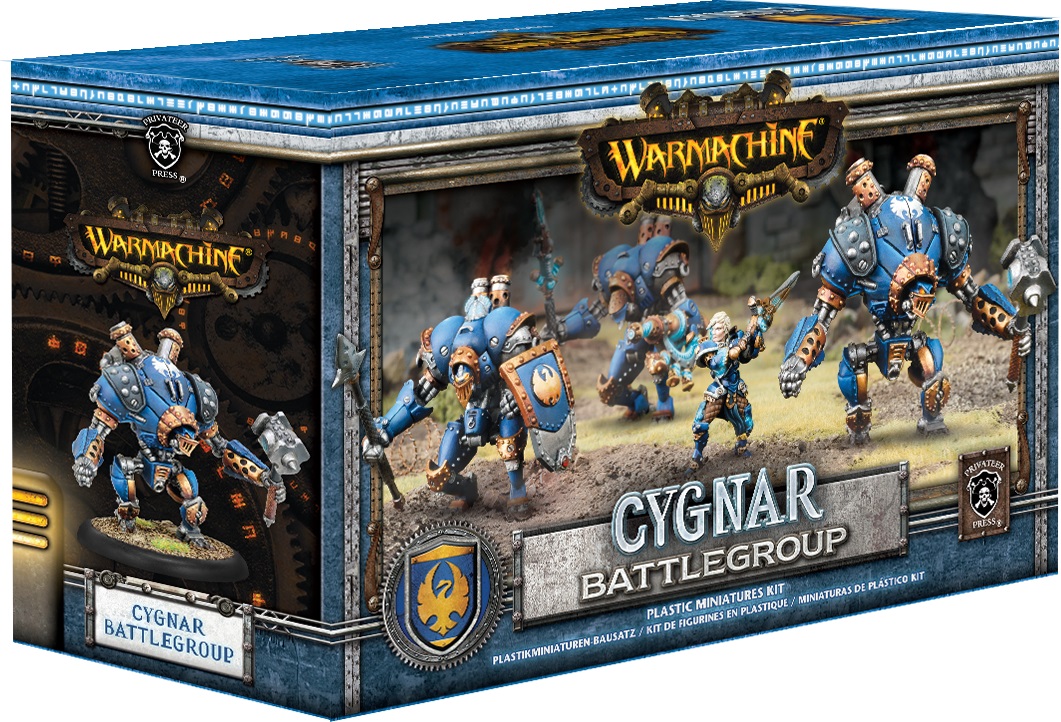 Armed with the most advanced mechanika in the Iron Kingdoms, the warjacks and warcasters of Cygnar provide commanders with the perfect balance of mobility, strength, and stopping power. Take command of the noble forces of Cygnar with this fully loaded battlegroup box!
 4 Highly Detailed, Single-colored Plastic Miniatures with Stat Cards
• Basic Training Tutorial Guide
• Battle Map
• Introductory Guide
• WARMACHINE: Prime Rules Digest
• 18" Ruler
• 4 Six-sided Dice
• 10 Focus Tokens
• 3 Spell Tokens
• Obstacle Card
Lightning Swans or Deathchickens? I choose Axe-to-Face!#KhadorFTW