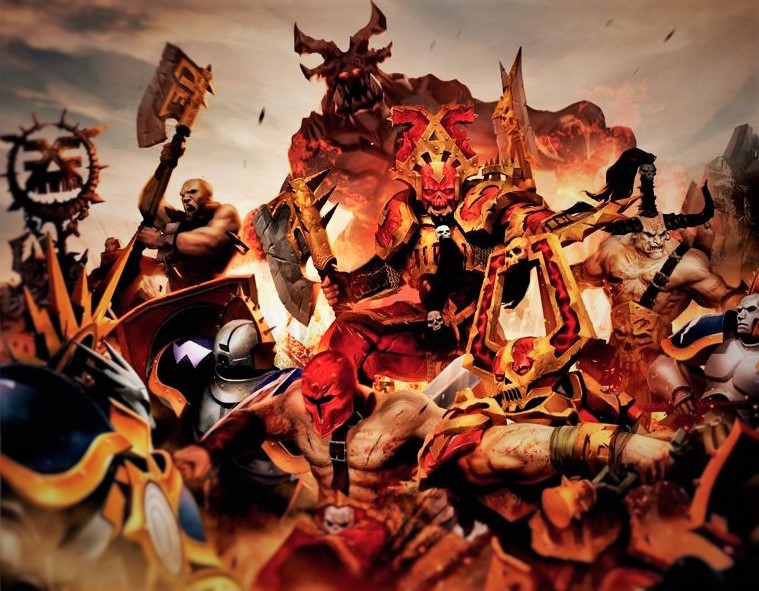 There is only 1 week left and Chaos is making a final push – come see the standings for the Season of War!
The third week of fighting is over. You can see how the battle has progressed so far from the initial engagement, the first week's results, and the second week's results here.
Order still has control of all three cities but that Golden Grip appears to be slipping…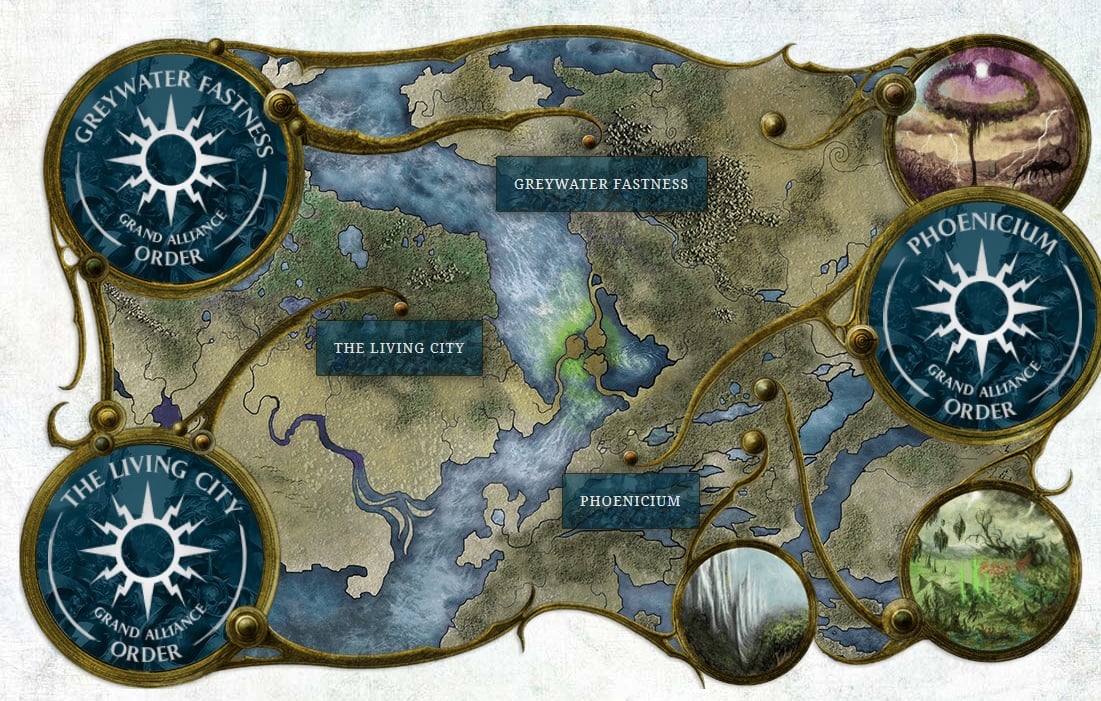 Time to check in on each city and see how it's looking on a closer scale…
The Living City – Order Controlled… For now.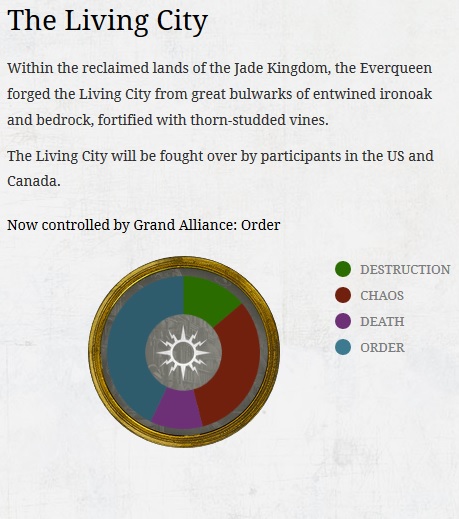 The Living City has seen some shifts this week for sure. Chaos has gained a solid chunk of territory up from last week. Destruction also made a big push – I'm pretty sure the Ogor's arrival had something to do with that one! Order was the biggest loser in the Living city with it's lead sliding downward. If Destruction and Chaos have another good week the scales just might tip – but they will need a STRONG showing. Sorry Death players – your needle hasn't really moved much, which isn't a BAD thing…you're not losing ground so it's a glass 1/2 full or empty type of out look. Just remember: Death does come for us all!
Greywater Fastness – Order Controlled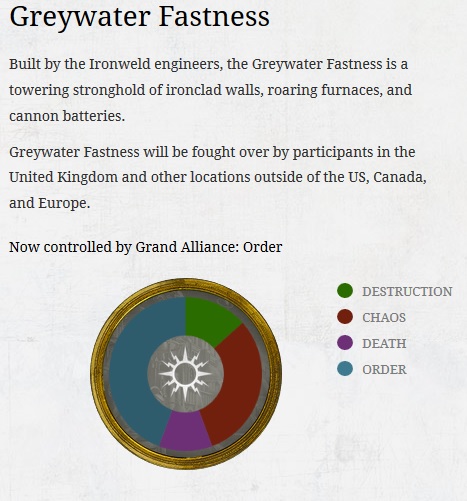 This is another territory where Chaos gained some ground and order started back-sliding. It's hard to tell from last week, but Destruction might have given-up some ground, too. At least they are still in a solid 3rd. Order got pushed back by a fair amount and, just like in the Living City, Death holds it's own this week. Chaos/Death/Destruction – just remember, if you really want a chance at doing some damage work together to mess with those Order players!
Phoenicium – Order Controlled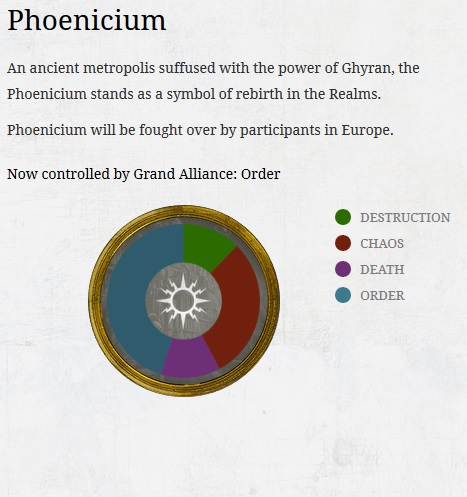 Well last week order had solidified it's grip on Phoenicium. The other 3 forces were on their heels – but now the tide has turned again. Destruction gained a bit of ground overall and Chaos appears to be holding steady also. It looks like both Order and Death were where those gains were taken from. If the 3 smaller factions don't pull it together in Europe, the Order could coast to an easy win in the end.
Remember – Only stores can report results! If you want to participate you'll need to go to one of the 1000+ stores participating world wide to get involved. If you aren't feeling like your tactical skills are up to direct combat you can also gain ground on the Hobby front. Just check with the local stores on how you can do that.
Also, it appears that Games Workshop might be trying to influence the battles a bit more:
via Games Workshop (Age of Sigmar Facebook)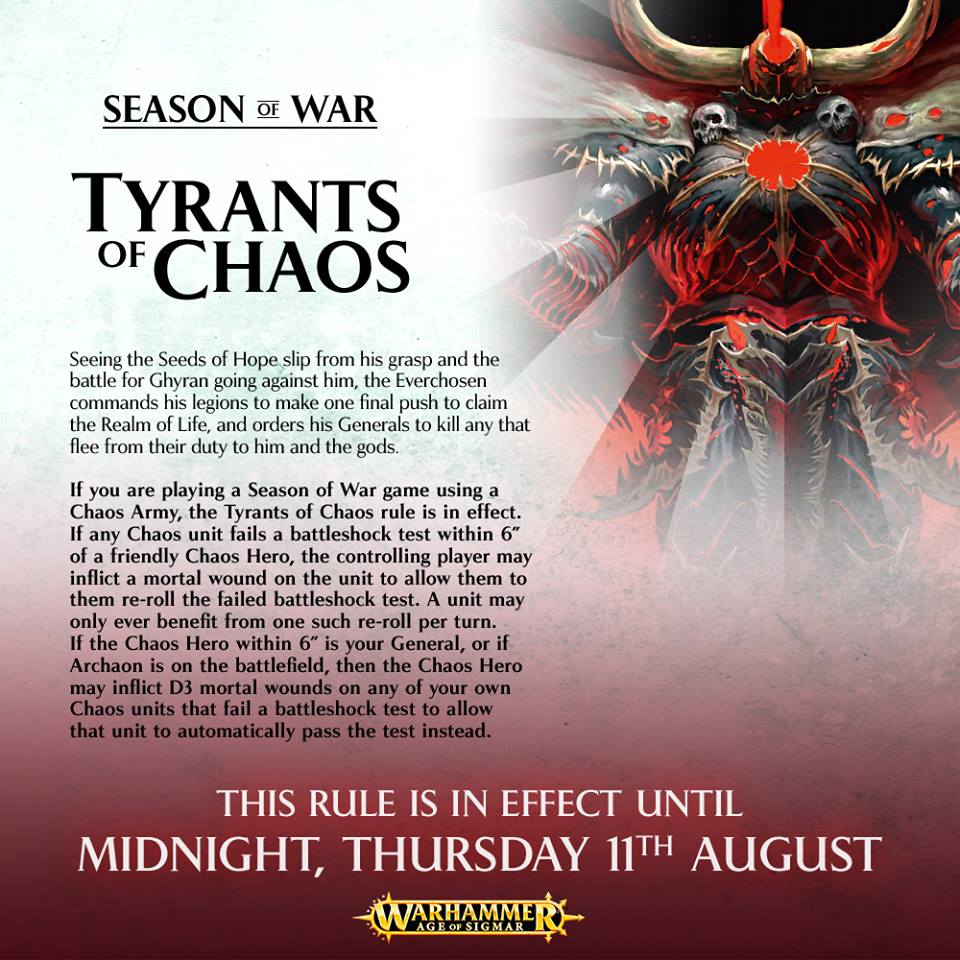 With only a single week left in the Season of War, the Call of Archon echoes across the land.

Will you answer?
That's a pretty great buff when you look at the effect. It's basically a boss-pole for Chaos Players! With the importance of Battleshock Tests it's a really good one to have. For the most part these mini buffs have been fun to have and haven't broken the game. This one still seems tame but it could be the difference between losing a wound or losing MODELS. For units made of multi-wound models (like Chaos Warriors) this is a great trade off!
Will Order be able to hold off the Tide of Chaos? Only one week left to find out!