The BoLS Crew stopped by the Gale Force Nine Booth to check out all their new stuff – Come see what they had at GenCon 2016!
Gale Force Nine had a ton of great new stuff at GenCon 2016 – Star Trek fans and D&D aficionados pull up a seat and take a look at their cool new releases:
At the show Star Trek Ascendancy was a big hit! It was one of Larry's favorite things about the show and he couldn't wait to get inside the box and play a game. We'll have a full write-up about it later as we're still sorting through all of the craziness that was GenCon. But be on a look out for a quick demo and unboxing of Star Trek Ascendancy!
GF9 also had their latest D&D related products on hand to show off. They are working closely with Wizards of the Coast to develop some high-end limited edition resin models. We actually to a close look at the Demogorgon and we were pleasantly surprised! They also had a wall of Tyrants of the Underdark that got picked-up by quite a few happy gamers. We snagged a copy and we'll have that unboxing for you all (hopefully) next week! So stay tuned…
But if you can't wait you can always check out GF9's page now and read-up on each of these awesome new products.
Boldly go where no one has gone before. In Star Trek™: Ascendancy, you control the great civilizations of the Galaxy, striking out from your home worlds to expand your influence and grow your civilization.
Check out the full rules here!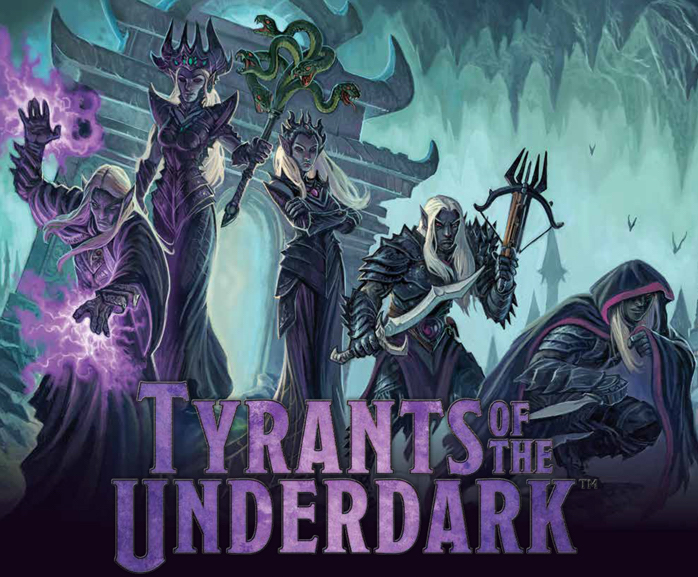 Tyrants of the Underdark™ is a competitive strategy game for 2 to 4 players in which you take on the role of the leader of a drow house. As a drow (a dark elf) your goal is ascension to greater power through control of the Underdark.

During the course of the game, you'll build and play your own deck of cards that represent the minions of your house and determine what actions you can take on your turn, such as recruiting new minions or deploying troops to the game map. You'll continually refine your deck, adding new cards while removing others to make your deck more powerful.
Check out the full rules here!
Sci-fi, Fantasy, or Hobby & Modeling, GF9 has something for everyone!