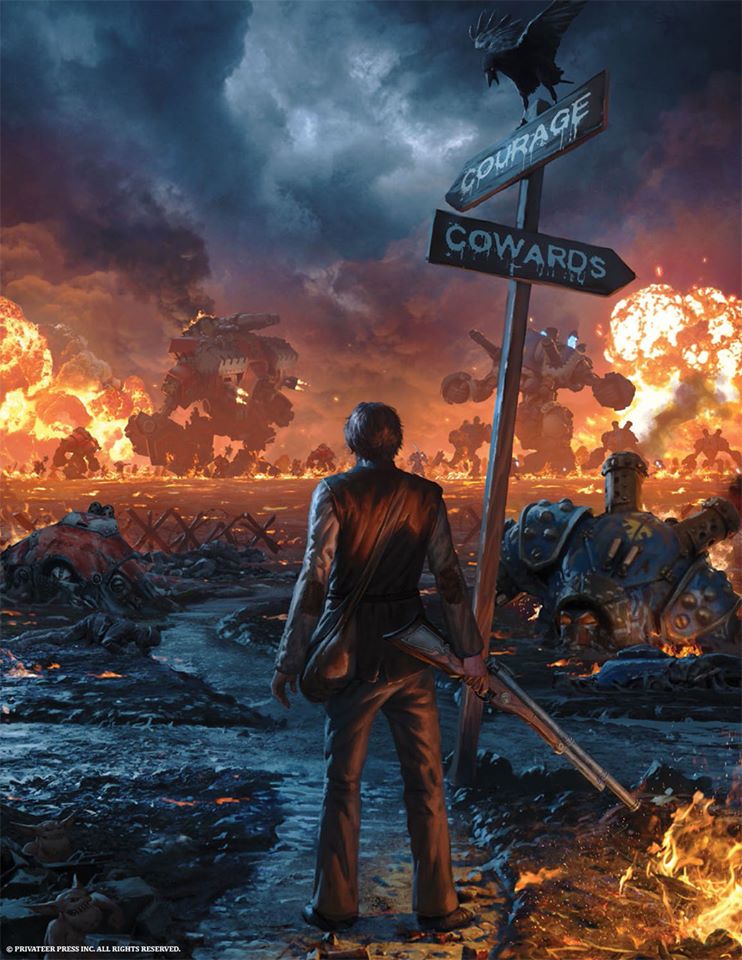 What are you using as the basis for your Holden model for Crossroads of Courage?

Chalkboard here from Chalkboard War, and I'm brimming with excitement about Privateer Press' new seasonal League for Warmachine and Hordes: Crossroads of Courage. For full details, check out our Bell of Lost Souls coverage here. The short version is, each of the four seasons will detail the experiences of a young vagabond named Holden the Last as he gets drawn through the myriad conflicts of the Iron Kingdoms. What's fun is that they're accepting community results and using short surveys each week to determine what your Holden does for the week: is he courageous or cowardly? There are rules for the two differences, and the initial release from Privateer Press said that at the conclusion of the campaign (the finale is Lock and Load 2017 in June), a finalized Holden the Last model would be officially released–his nature and abilities being affected by the actions of the community and his journey.
So that's got our local meta pretty fired up about being a part of the League and telling their own stories of the progress of Holden the Last with their own forces. But it's left everyone with a challenge: we've got two weeks to build and paint a Holden the Last model to accompany our forces. While stand-ins are certainly fine, it's a fun thing to create a model of one's own. And that's what I want to address in this week's article: what models are good to use as a basis for Holden, and what ideas you all are using to fit Holden in with your factions?
What we know about Holden (aside from my hunch about his lineage): we've got an image (above) and a story with him using a rifle and ending with him accompanying a Cygnar war column northward. Given that, let's examine some options.
Privateer Press Options
Privateer Press has a somewhat strict conversion policy when it comes to their Warmachine and Hordes events: models must be primarily Privateer Press. That's likely to mean that many players will scour the Privateer Press catalog for choices. I did a fair amount of looking myself, and found two models that were my final choices for Holden the Last.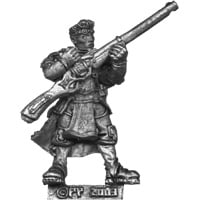 First up, this model is one of the Cygnar Long Gunners (#3). He's got the rifle, and despite the long coat looks close enough. Plus, he's on the younger side in terms of looks. It also fits the fluff pretty well. Remember that you don't need to buy the full Long Gunners box to get him: he's present with a cost for just him from the Privateer Press parts store.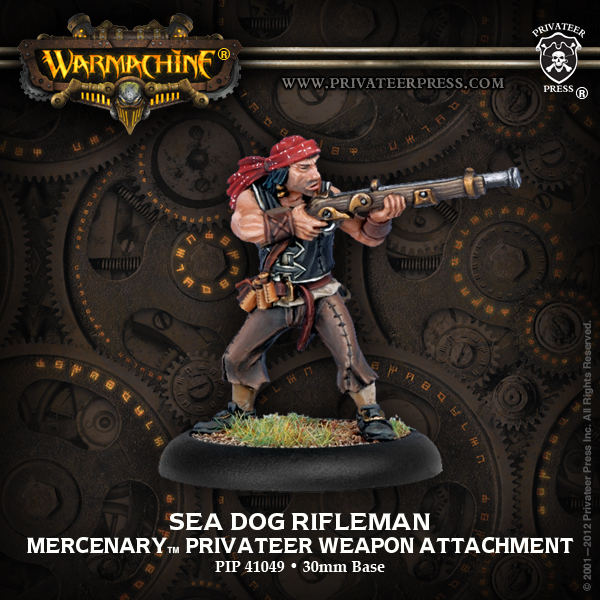 The alternative that I found scouring the Privateer Press line was the Sea Dog Rifleman. This is actually the model that I'll be converting for my own Holden the Last. My Holden will be taking a significant desert vacation as part of the League, as I'll be using the League as an excuse to paint more of my Protectorate of Menoth army. If I dust him up, the pants will look cut short due to the heat and the sleeves clipped for the same reason. I'll use a precise dremel bit to cut back the longer hair, but I'll keep the bandanna. I'm still deciding if I'll make it a Cygnar blue waistcoat he received when he joined them in the story, which he has tied around his head for protection once he meets with with my Protectorate force. Or whether I'll paint it to match the head covering of Amon Ad-Raza and use him as my primary caster for the League (and tutor to young Holden the Initiate–my personal story goal for him).
Third Party Companies
So yes, Crossroads of Courage includes the text of all the organized play for Warmachine and Hordes about their conversion policy. That said, the Event Organizer can approve alternative models. So for those who prefer plastic to metal, you might want to check with your EO in advance–but these kits can be a great source of potential models for Holden.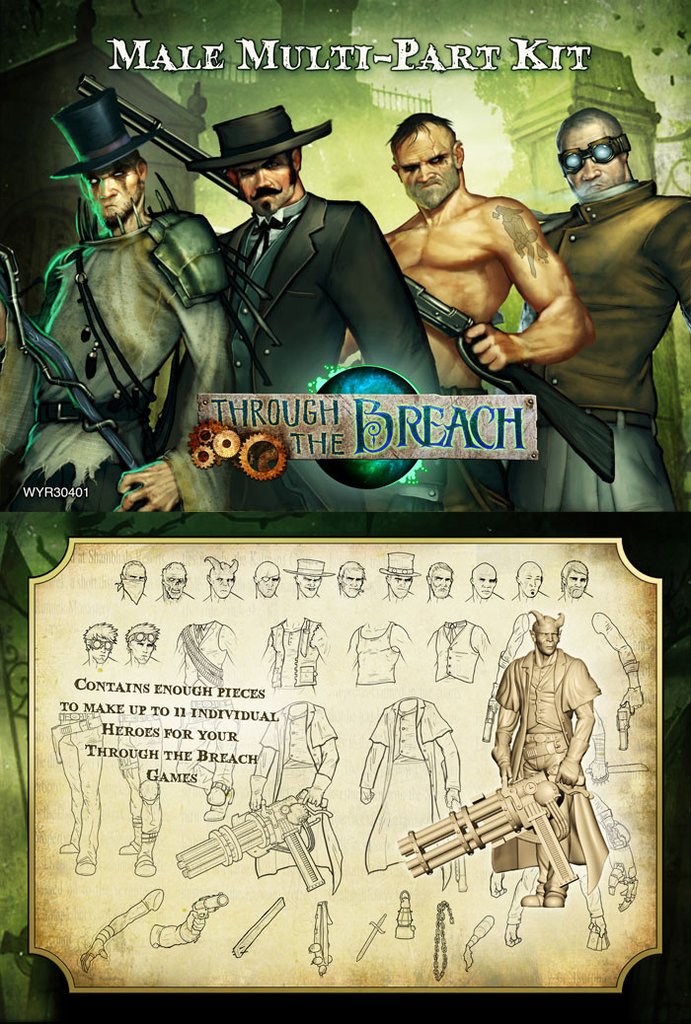 The flagship kit really is Wyrd's Through the Breach Male Multi-Part Kit. It can make 11 different models, and many of the heads and bodies match the image of Holden released by Privateer Press. An enterprising group could even go in together on this box and split the pieces for their purposes to make a number of Holdens (there are a few in our meta doing just that). I've worked with this kit before (used some bits actually to make Tau civilization civilians to go with my 40k force), and it's a great little kit full of good options. It's a little short on rifles though, so perhaps find a source for those.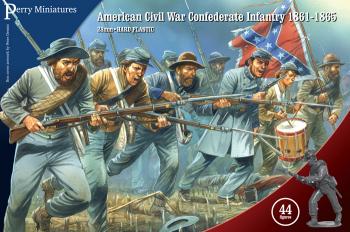 The other plastic kit that came to mind was the Perry Brothers Miniatures American Civil War Confederates. They've got the right look to them and the right era, particularly with their bedrolls and carrying pouches. Again plastic, so easy to work with and modify, it's a good set and the price point isn't too terrible if you want to split it between a few League members. Many may be a bit more grizzled than Holden seems, but once he's on the road of war with your Khador army, he won't have too much time to shave I suppose.
Fun with Themes
Okay, so more than a few forces have an easy time modeling Holden: either by using one of the options above, or inducting him into their own military forces. Khador, Cygnar, Protectorate of Menoth, Trollbloods, and Circle Orboros would all have space for a young human to be hanging around amidst their forces, and could use some of the kits above. And while the other factions could too, there's also the opportunity for some silly fun off the beaten path.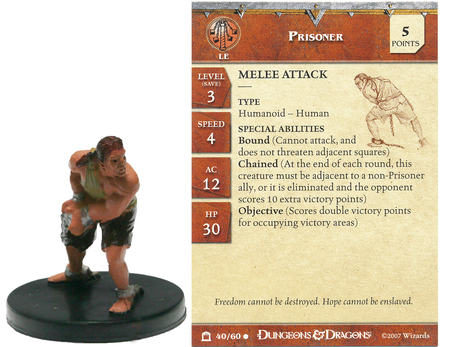 This one is the reason I'm writing this column, because I had this idea but I'm forcing myself to take a break from Skorne to just make painting progress on a different force. But I had the thought: say Holden was captured by the great Skorne Empire. Where would he start. I got the vision of a model in chains, trapped within a cage with a screeching and tortured Agonizer. The model could still have the same rules (the psychic shrieks of this tormented baby Titan would be the "Hunting Rifle" weapon. The above mini is an oldie but a goody, and best of all it's super cheap second hand: just the old D&D minis Prisoner model. Slap it into a wheeled cage with a Privateer Press Agonizer and voila: a Holden the Last about to embark on a very strange adventure.
I didn't want to skip over the Cryx options either. Yeah, I could have gone with Privateer Press' Revenant Crew Rifleman, and people totally will for their Cryx Holdens. In fact, they probably should. But I wanted to think outside the too: what if Holden were captured right away by Master Necrotech Mortenebra. Perhaps she would see the value in his lineage (because, yeah, I'm sticking with my hunch), and decide to keep a bit of him–placing his brain into a jar. With the right bits around it (the cool spider legs of a regular Necrotech), a little brain in a jar–like this one I found by Googling miniature brain in a jar on Etsy–could be a really fun alternative version of Holden the Last. At least he'd truly earn the "the Last" portion of his name.
And there are other options for other factions. Convergence of Cyriss could think up a machine-body for him. Legion could insert a shard in him and turn him blighted (maybe cut off the head of that Long Gunner above and swap in Absylonia's melon). Circle could get a hippie flower child model from another line and use that. Cephaylx could give him the drudge treatment. And more.
Anyhow, those are some initial thoughts for those seeking to model up their Holden the Last for the upcoming Warmachine and Hordes Crossroads of Courage campaign. Regardless what you choose, make sure you make it fun and give a try painting it up. Games are always better when you take time to make the story elements match your force!
~ So what model are you using as a basis for your Holden the Last? Are you going Privateer Press or alternate company? Are you planning anything crazy for the stranger factions? Are you going all out and modeling a separate "Courage" and "Coward" version?
To watch how his version of Holden the Last changes over the four seasons, check out Chalkboard's blog at: