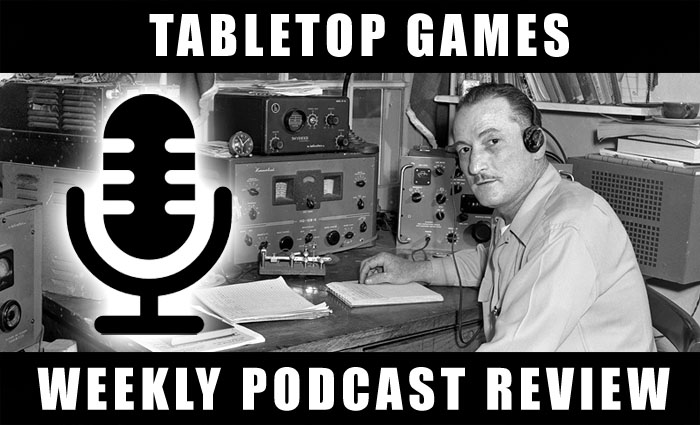 Bahkara here for this week's reviews.
Hey all, Bahkara here for this week's reviews!  This week we have a couple tournament reports, description of event types, and a new segment for a podcast! With all that, lets get on with the reviews!
Roll to Seize 40K Arena Episode 1 – This is the first episode of their Arena format that they do once a month. They pit 2 opposing forces, usually about squad size, against each other in a death match and describe the outcome, similar to a radio broadcast of a boxing match. This episode the undercard is Guardsmen vs. a Dimacheron, while the main event is Space Marines vs. Tyranid Warriors. The description is good with very good sound effects. Its something different from the norm and you should give it a listen at least once and see if you like it.
Battlehosts Episode 23 – In this episode the group discusses the different types of events to play in the 40K universe. They try to describe the atmosphere of competitive, narrative, and friendly/casual. They give both the good and bad of each type of event. They even give examples from what they have seen and/or experienced. Nice episode for those that may have been only playing one type of 40K event and may be looking to dip their toe into one of the other event options available to you in 40K.
Also Out This Week.
4 Man Meta Episode 3 (Warmachine)
9th Realm Episode 6 (AoS)
Age of Darkness Episode 35 (30K)
Beermachine Episode 44 (Warmachine)
Chain Attack S2 Episode 9 (Warmachine)
Combat Phase Episode 158 (General)
Combosmite Episode 124 (Warmachine)
Crippled System Episode 170 (Warmachine)
Eye of Horus Field Report (30K)
Forge the Narrative Episode 157 (40K)
Fully Boosted Episode 18 (Warmachine)
Heelanhammer Episode 157 (AoS)
Heroic Intervention Episode 23 (40K)
Hobby Night in Canada Episode 60 (General)
Imperial Truth Episode 49 (30K)
Kessel Run Episode 44 (X-Wing)
Ley Line Episode 34 (Warmachine)
Long War Episode 64 (40K)
Mayacast Episode 96 (Infinity)
Model Citizen Episode 7 (General)
MOM Episode 277 (Warmachine)
Mynock Squadron Episode 30 (X-Wing)
Personal Flash Paper Episode 15 (Infinity)
Preferred Enemy Episode 132 (40K)
Scrumcast Episode 16 (Warmachine)
TDHM60M Episode 45 (Warmachine)
War Council Episode 34 (General Hobby)
Why We Fight Episode 5 (FoW)
As always, check out our blog, at TFG Radio, and give the podcast a listen. We talk 40K mainly but delve into other game systems. This week we talk about our Hammer of Wrath Grand Tournament, faking opponents out in Fantasy with Chaos Knights, and (Settlers of) Catan!
Have a different opinion? Post in the comments below or email me at [email protected] and let me know!