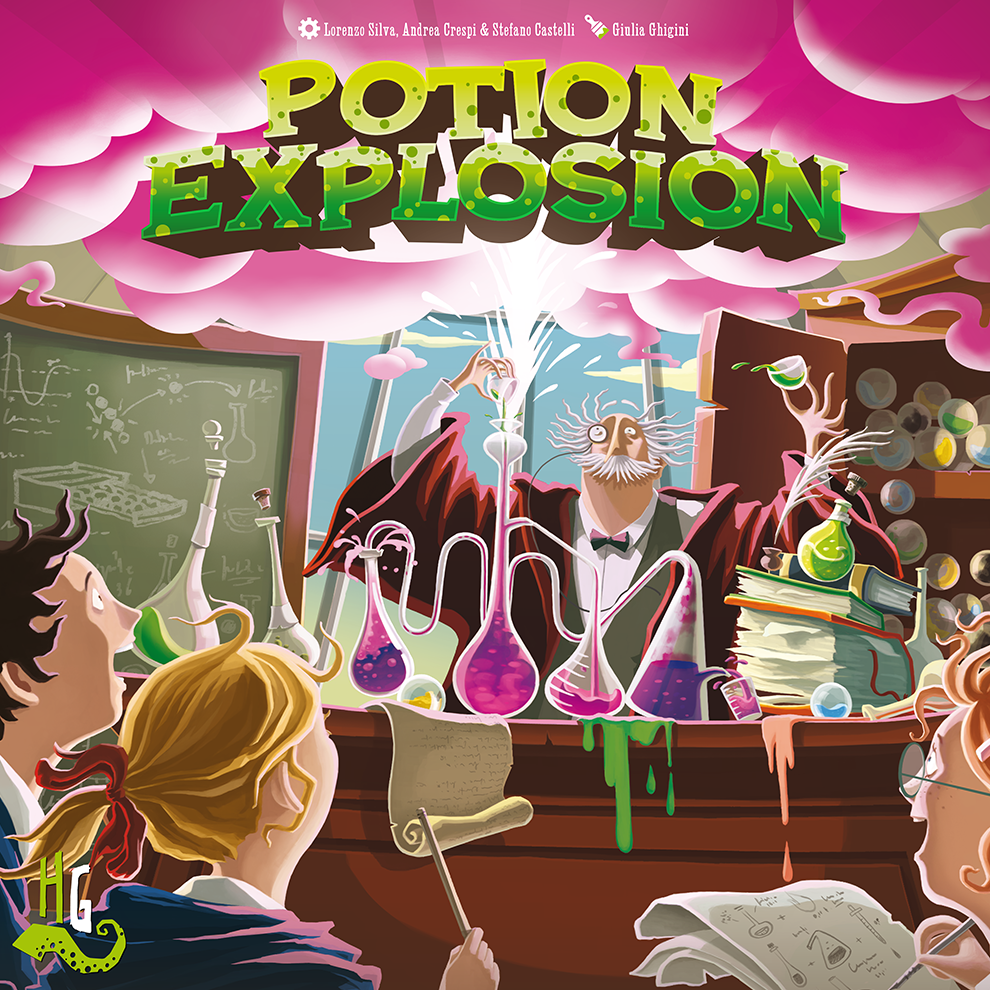 Use your potion crafting skills to win this fast paced, all ages game.
It's time for the final exams of the Potions class at the Horribilorum Sorcery Academy for Witty Witches and Wizards! The rules are always the same: take an Ingredient marble from the Dispenser and watch the others fall. If you connect marbles of the same color, they explode… and you can take them too! Complete your Potions using the marbles you collect, and drink them to unleash their magical power. Remember, though, that to win the Student of the Year Award, being quick won't be enough: you'll also need to brew the most valuable Potions!
This is an easy to learn, family friendly game that combines speed, strategy, and whimsey. It's a good game for adults of all skill levels, too, because you can add a lot of strategy to how you play – so don't discount it as just a kids' game.
The basics:
Gameplay:
Players collect ingredient marbles to create potions using the potion tiles; each potion is connected to a spell. You can drink potions to activate spells and get additional ingredients. When you complete 5 different spells you get a Skill Token that's worth 4 victory points. You can also earn skill tokens by creating three of the same spell type. When there are no more Skill Tokens available the game ends, and the player with the most points win.
Potions include: Potion of Prismatic Joy, Elixir of Blind Love, Balm of Uttermost Stickiness, Filter of Lavamancing, Abyssal Draft, Potion of Magnetical Attraction, Sands of Time, and Potion of Wisdom.
In the box:
1 Dispenser (easy assembly)
64 Potion Tiles (8 kinds)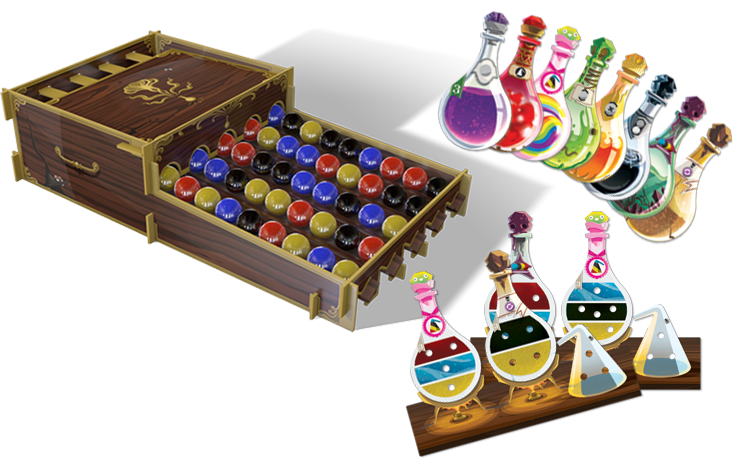 All of the components are sturdy and will hold up to lots of repeat play – which you'll definitely want to do once you get the rules down. What stands out the most is the marble dispenser that simple and adds randomness to the game – it's a snap to put together, and the box is built so that you can store everything easily.

The fluff in the rulebook is hilarious, and the whole game has a fun whimsical feel to it. It's a great break from the dark, grim, and horror driven games that have become popular in the last several years. I recommend picking it up if you like light social games. The only complaint I have is that the variety of potions is lacking, which could easily be fixed with an upgrade pack.
What do you think of Potion Explosion?