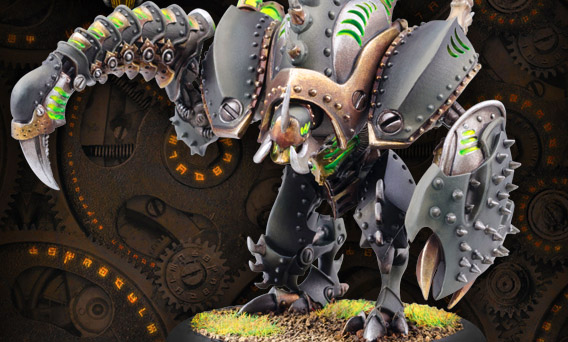 Cyrx's newest jack kit just hit the shelves. Let us take a look at whats inside and how it works on the tabletop.
What Is It?
This is the new jack kit that makes both the Inflictor and the Seether.
The Inflictor:
This is a heavy warjack that was introduced in MKII but, never saw the light of day until now. Here we are in MKIII and it is better late then never.
The Inflictor cost 13 points and is FA:U.
It has a typical stat line similar to other Cryx heavies. However it is sporting something new not usually seen in Cryx and that is it has a shield. Pushing it's armor to a respectable 19.That is pretty decent for a SPD 6 DEF 13 heavy. The shield arm is POW13 and it has a 1″ melee RNG.
Its beatstick arm is a little lackluster with a 2″ melee and POW16. This weapon does have crit poison so on doubles you can hit a little harder vs hordes or some casters.
What really ties the package up for the Inflictor is the very much needed shield guard ability. With Kara Sloan and Kaelyssa's being pretty prevalant it doesn't hurt to have multiple shield guards in a list these days.

The Seether:
The tried and true classic melee jack for Cryx is shiny and new it MKIII. I find it one of the best economical heavies in the game. It is only DEF12 ARM17 so shooty can be scary for this jack. However if it makes it to a target it can do a ton of work. Packing 2 POW17s and a POW12 with Berserk means any tight packed infantry will want to give the Seether a wide berth.
On top of the Berserk he is also sporting Countercharge, new from the previous edition, and Uncontrollable Rage. Countercharge is very rarely useful unless your opponent goofs but, it is nice to have. Rage has it's ups and downs. Free charges means you have more focus to kill stuff. But, you will not be able to Power attack unless already engaged making throwing for the win harder for this model.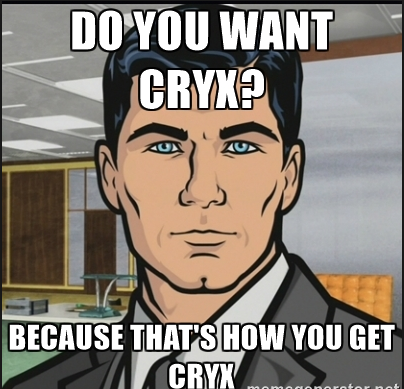 Lists and Casters
Inflictor:
The Inflictor is probably an auto include if you plan to fight Cygnar. Depending how paranoid you are you might even include 3 or more. There is one caster that might consider taking the Inflictor not just for it's shield guard abilities. This would be Asphyxious 3. He grants his battlegroup Unyielding. Meaning when engaged the Inflictor is ARM 21. Throw in DW for his -2 damage for living bubble and that is ARM23 effectively. Not easy for hordes to remove outside some heavily buffed up beasts.
Cryx Army – 49 / 50 points
(Asphyxious 3) Asphyxious the Hellbringer [+24]
– Vociferon0]
– Inflictor [13]
– Inflictor [13]
– Deathjack [23]
Darragh Wrathe [9]
Satyxis Blood Witches (max) [13]
Necrotech [2]
Seether:
The Seether is actually probably better as a jack marshaled jack then a battlegroup one. Specifically the Iron Lich Overseer. The ILO gives him Dark Shroud and the jack marshal crush making him hit extremely hard. While base to base the ILO can stealth the Seether keeping him safe from most ranged guns making up for his poor defensive stats.
Consider this package in your next Cryx list. The Sirens make the Seether focus efficient. And while they aren't pandering to the Seether they can do annoying things like spraying Retribution Sentinels with corrosion sprays.
Iron Lich Overseer [5]
– Seether [13]
Warwitch Siren [4]
Warwitch Siren [4]

Revenant's Thoughts 
I think the Inflictor will see play if Cryx wants to live through things like Kara Sloan.
The Seether is more of a niche jack and you have to build your list to accommodate it. I think it's awesome with shenanigan casters like Scaverous. But, it might not be as useful to a Denny who wants more troops or ranged attacks.
~What do you think of the inflictor or seether BOLS? Please share your cryx thoughts in the comments below.