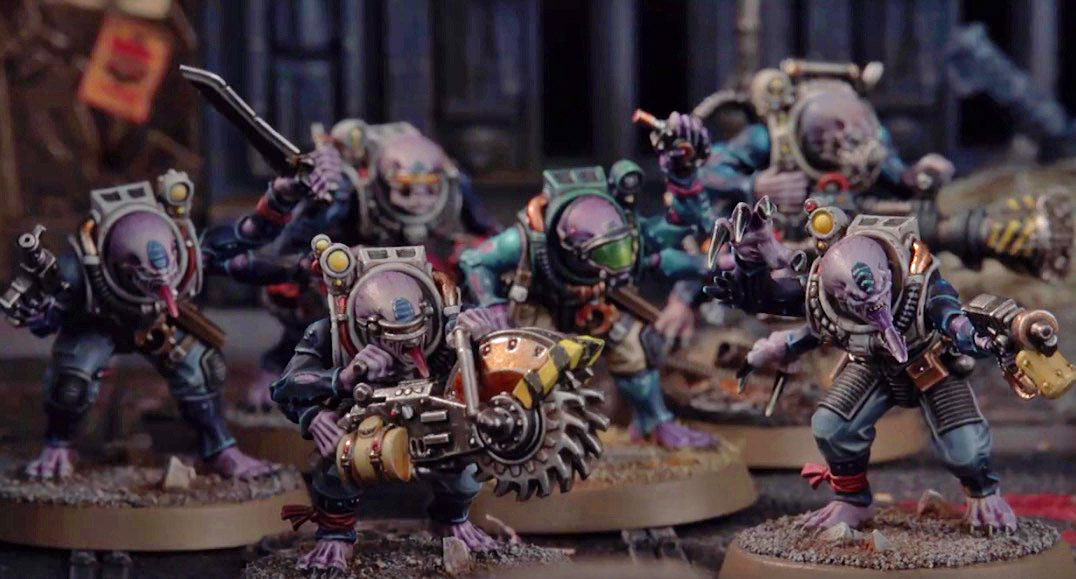 The Hybrids are here – come take a look inside the new Acolyte Hyrbid kit from Games Workshop!
Hey BoLS Readers, we've got a special look inside the new Acolyte Hybrids Box. This kit also makes the new Hybrid Metamorphs as well and it has a TON of extra bits – check it out:
So a couple of things – these models are all multi-part plastics and they are NOT the same models from the Deathwatch: Overkill kit. I have assembled both types and while the results are very similar they are indeed different kits.  Basically, if you have a set of Overkill Hybrids you've got 12 "basic" Acolyte Hybrids. This box has all of the different options available for that unit (the Acolyte Hybrids) and all the options for the Hybrid Metamorphs.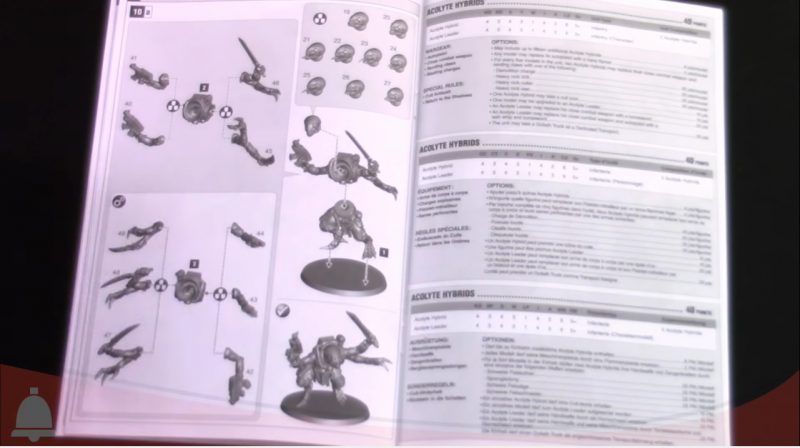 The plastic and sprues themselves are the same great quality we've all come to expect from Games Workshop. I didn't notice any mold lines from casting defects and once assembled, you can't even see the seams on the model. This type of 3D modeling, sculpting, and "cutting" has been a consistent "thing" from GW for all of the new kits and this one is no exception.
I used this box to build the rest of the weapon options available to the Acolyte Hybrids. Since I had a copy of the Overkill models it made sense to me to fill out that squad with all the options. So I constructed the "Leader" model, a Banner, and 3 of the unique weapons: The Heavy Rock Cutter, Rock Saw, and Demo Charges. I didn't have enough legs for the Rock Drill unfortunately.

Very much a work in progress…
I'm probably going to be picking up another box of these (maybe two) so I can make a squad of 10 Metamorphs as well. I've been thrilled with the Genestealer Cults releases so far and want to get my hands on at least one box of each unit…I have a plastic crack addiction, what can I say? I really want to get these painted up and tabletop ready. I'll probably ally them into my Tyranids army to start until I get a better feel of how they will work on the tabletop.
Overall, I think GW killed it with this box. You've got lots of options for both units that you can build and you'll end up with a ton of useful bits as well. And the price-point is inline with some of their other 5-man boxes. They should be hitting shelves this weekend so prepare your wallet for the Cult!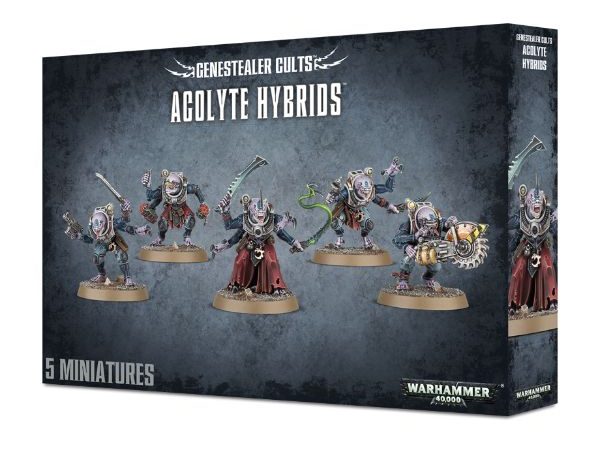 Basking in the sheer alien glory of the patron that infected them, Acolyte Hybrids croon and hiss in the gloom. When the time comes to throw off the torn robes they use to disguise their foulness, the Acolyte Hybrids crawl up to the surface and into the sunlight, their grotesque faces twisted in subhuman glee. They display a bizarre blend of the species from which they hail – the speed of a Purestrain Genestealer twinned with human cunning is a potent combination. These hybrids fire off volleys of pistol fire, before descending on the enemy in a riot of claws, close combat weapons and screamed praise to their masters.
Hybrid Metamorphs scuttle forward with preternatural speed, weapon limbs thrashing and biomorphs pulsing with toxins. Spontaneously spawned in a cult's latter cycles, they are thought to be created when a Tyranid hive fleet nears a prey planet that is host to a Genestealer Cult. When the day of the uprising arrives, it is the Hybrid Metamorphs that take pride of place upon the front line. In a storm of iron-hard claws, sinewy tentacles and slashing talons they crush and hack their way through everything in their path, an inspiration to the broodkin that worship them as sainted heroes of the cult.

This multi-part plastic kit contains the components necessary to assemble 5 Hybrid Metamorphs, armed with autopistols, Metamorph talons, blasting charges and rending claws. Included are hand flamers, a heavy rock saw, a heavy rock drill (with backpack), a heavy claw cutter and options for an Metamorph Leader – this model can use one of 2 special heads, and can be armed with a bonesword. Supplied with 5 Citadel 32mm Round bases.

This kit can optionally be used to assemble 5 Acolyte Hybrids. Supplied with 5 Citadel 32mm Round bases.
I'm going to need to set aside some extra "hobby" time this week for sure…