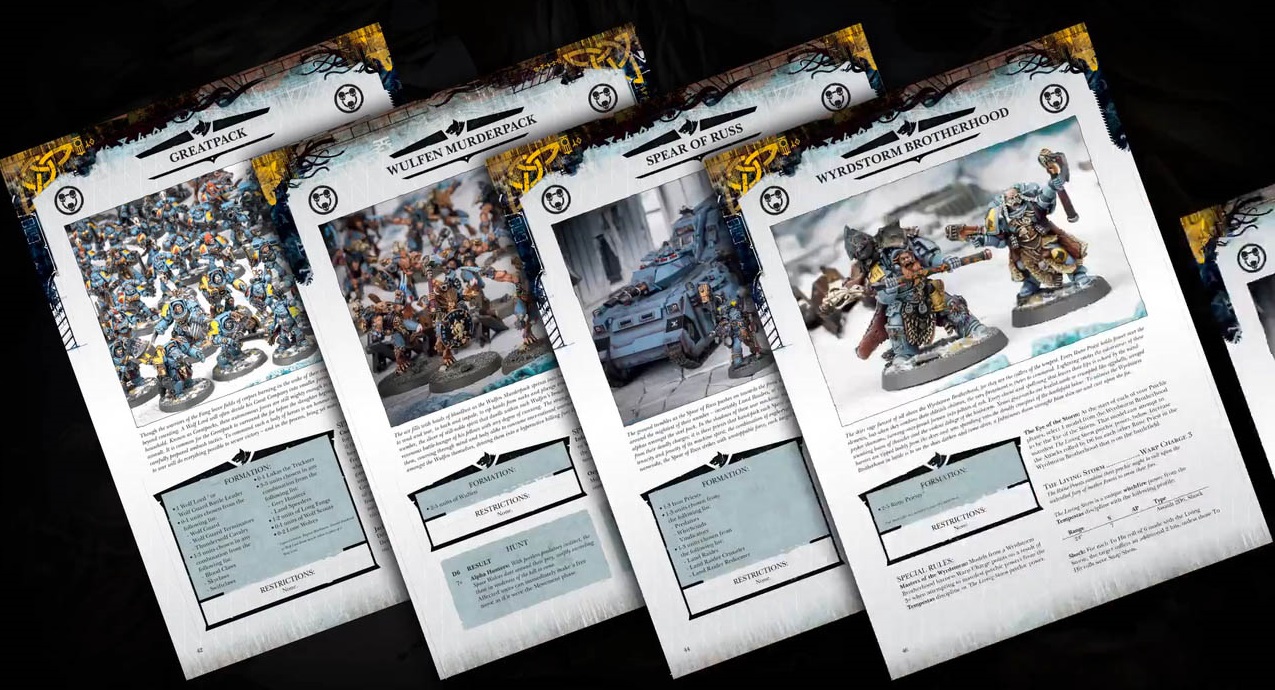 Warhammer 40,000 has a ton of formations so here's a list of our Top 5!
"Formations, Formations Everywhere" is apparently the theme of Warhammer 40,000 7th edition. With the looming prospect of 8th edition on the way we thought it would be a good time to take a look at our Top 5 "Best" Formations. These were selected based a few things like popularity, logical construction theme (ie, does it actually make sense) and (the most weighted reason) "Power" level.
Big thanks to Blood of Kittens for putting together their Formation Compendium Page which is where we were able to actually find all of these in one spot…because seriously, there are a LOT of formations now.
Without further ado – here are our Top 5 Formations (in no particular order).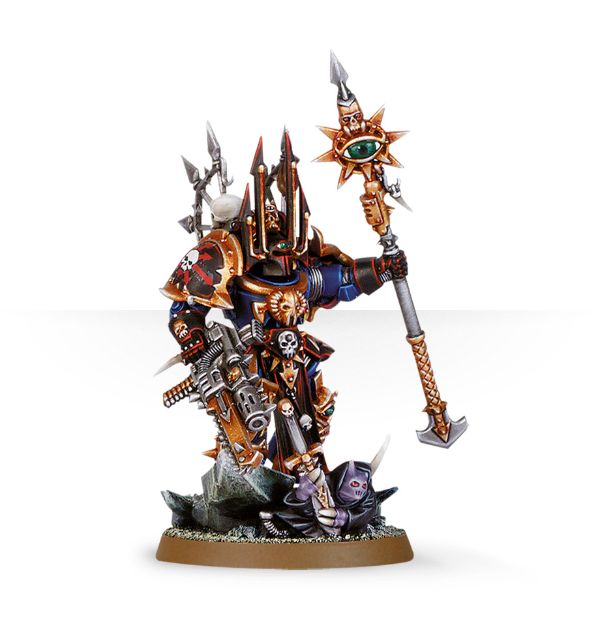 Cyclopia Cabal
Requirements: 3-5 Sorcerers
Restrictions: This is a Black Legion Formation.
Special Rules:
Shroud of Deceit: At the start of each of your Psychic phases, select one model from the Cyclopia Cabal to lead it in a dark ritual. That model can attempt to manifest the Shroud of Deceit psychic power, below. For each other Sorcerer from this Formation that is within 12″, add one dice to the Psychic Test – these dice do not cost any Warp Charge points.
Source: Supplement: Black Legion
Why: It's really not the Shroud that makes this formation good – it's the concentrated Warp Dust Dice that this unit generates. With the right types of powers, buffs, wargear and support this Cabal and really lay the smack down. Here's a rundown of on some of the gross stuff this unit can do.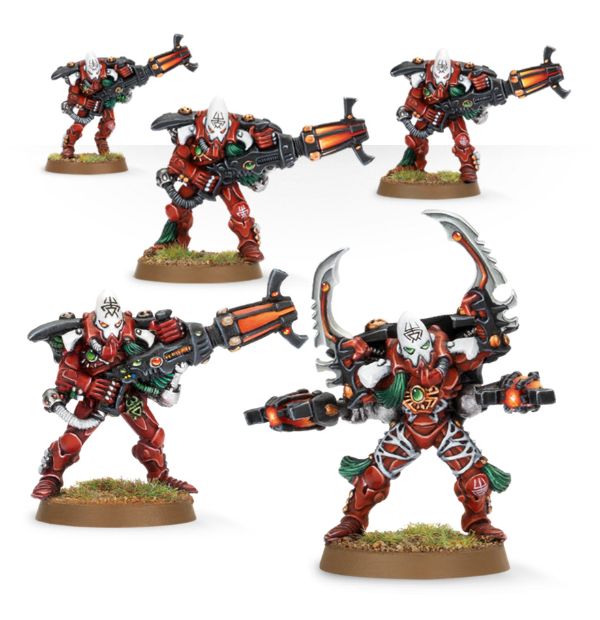 Aspect Host
Requirements: 3 Dire Avenger, Howling Banshee, Striking Scorpion, Fire Dragon, Swooping Hawk, Warp Spider, Shining Spear or Dark Reaper Units (in any combination).
Restrictions: Each unit in this Formation must include an Exarch.
Special Rules: 
Rites of Battle: Immediately after determining Warlord Traits, choose either Weapon Skill or Ballistic Skill. All units in this Formation add 1 to the chosen characteristic.
Shrinekeepers: Models from this Formation can re-roll failed Morale, Pinning and Fear tests.
Source: Codex: Eldar Craftworlds
Why: Because this formations lets you pack in lots of Aspect Warriors. Typically it's the of the Warp Spider variety too.  And just for kicks, you can up their BS +1 and give them re-rolls to Moral, Pinning and Fear Tests. Still not convinced? Okay, well maybe this Undefeated LVO list might sway you.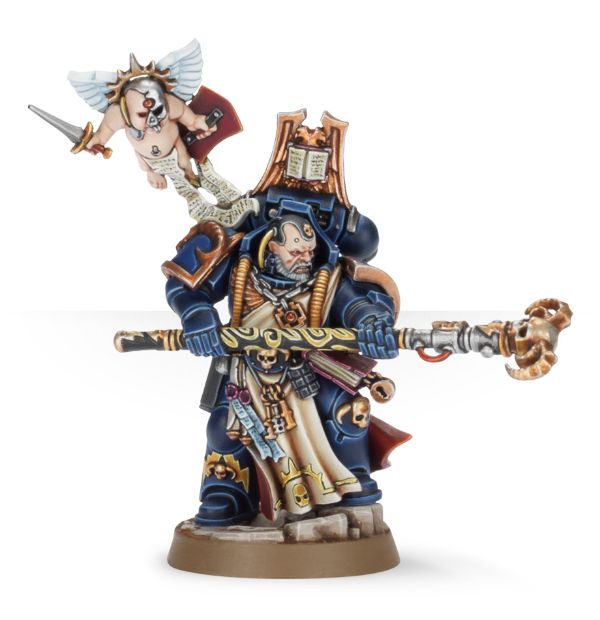 Librarius Conclave
Requirements: 3-5 units Librarians
Restrictions: None.
Special Rules:
Empyric Channelling: At the start of the Psychic phase, you can nominate one Librarian from this Formation. If you do this, the nominated Librarian has access to any psychic powers known by other Librarians from this Formation within 12″ until the end of the phase; however, other Librarians from this Formation within 12″ of the nominated Librarian cannot manifest psychic powers until the end of the phase. Furthermore, when the nominated Librarian makes Psychic tests this phase, he will harness Warp Charge points on a result of 3+ rather than 4+ if there is one other Librarian from this Formation within 12″, or 2+ rather than 4+ if there are two or more other Librarians from this Formation within 12″.
Source: Codex: Space Marine
Why: Because casting on a 2+ seems pretty good…Couple that with the amount of powers you have access too and all the fun you can have with that…it's the centerpiece to a lot of Deathstars. It's pretty obvious to see why. If you're still not sure, here is another write-up for tips and tricks to make it work.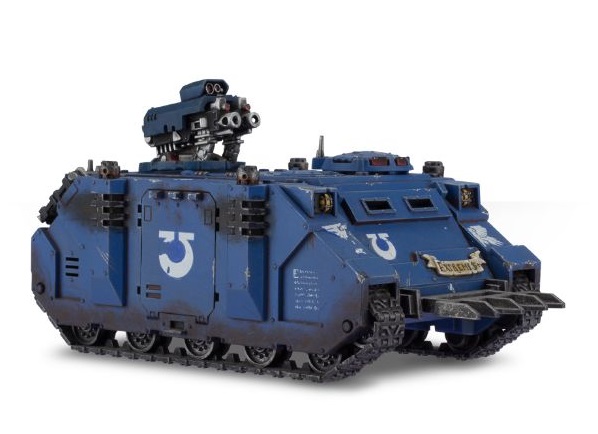 Battle Demi-Company
Requirements: 1 Captain or Chaplain, 0-1 Command Squad Unit, 3 Tactical Squad Units, 1 Assault Squad, Bike Squad, Attack Bike Squad, Land Speeder, or Centurion Assault Squad Unit, 1 Devastator Squad or Centurion Devastator Unit, 0-1 Dreadnaught, Ironclad Dreadnaught, or Venerable Dreadnaught Unit.
Restrictions: None.
Special Rules:
Objective Secured: A unit with this special rule controls Objective Markers even if an enemy scoring unit is within range of the Objective Marker, unless the enemy unit also has this special rule.
Tactical Flexibility: If your army contains one or more Battle Demi-companies, you can choose to enact the Tactical Doctrine once per game. When the Doctrine is enacted, all models in your army with the Chapter Tactics rule that are part of a Battle Demi-company are affected.
Source: Codex: Space Marine
Why: I'm sure you're thinking "what about the Gladius?" And yes, that's part of the "Special Rules" that aren't listed. But it's because of the Objective Secured shenanigans that this formation keeps showing up in tournaments. The Gladius ALSO gives you free transports which in turn benefit from the Objective Secured rule… Free units + Objective Secured? Yes, please! Flooding the field with Objective Secured is a great way to score on Objectives.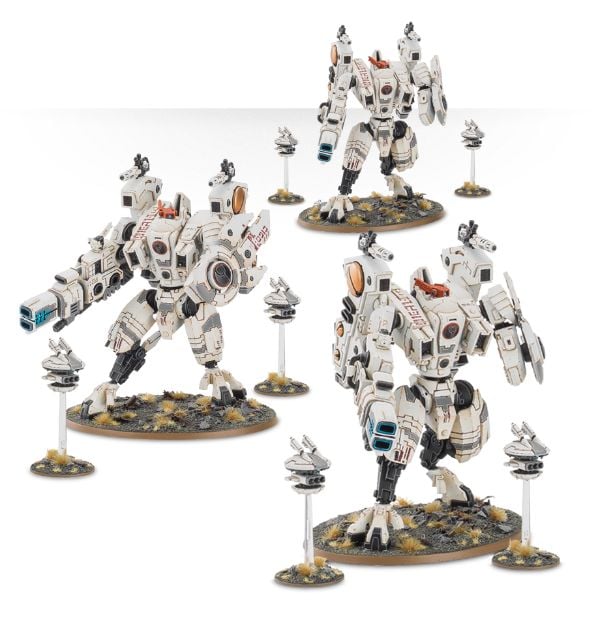 Riptide Wing
Requirements: 3 units of XV104 Riptide Battlesuits.
Restrictions: None.
Special Rules: 
Coordinated Attacks: In the Shooting phase, add 1 to the Ballistic Skill of a Riptide from this Formation if it shoots at a unit that has already been shot at this phase by any other Riptide from this Formation.
Networked Reactors: Each Riptide from this Formation that is within 6″ of another Riptide from the Formation can re-roll failed Nova Reactor attempts.
Riptide Hailfire: Once per battle, this Formation can make a Riptide Hailfire attack. If it does so, any units from this Formation that did not move in their Movement phase can shoot twice in their Shooting phase, making each attack at a different target if desired. Carry out the shooting attacks separately, one after the other. The unit cannot move in the Assault phase of the same turn. If a model uses Ripple Fire in the turn in which it makes a Riptide Hailfire attack, it can fire the relevant weapon four times rather than twice.
Source: Campaign War Zone Damocles – Montka
Why: It's got a Codex named after it. Okay, it's just a joke, but in all seriousness this Formation can crank out the firepower. I won't bother to do the math for but the weight of fire this formation can put out makes even Super-heavies in the game jealous. It's a good thing they are part of the Tau because we all know that they are at their most vulnerable during their shooting phase.
What do you think of our Top 5 Formation list? Does it not seem mean enough? What formation(s) would you include in your Top 5 list?