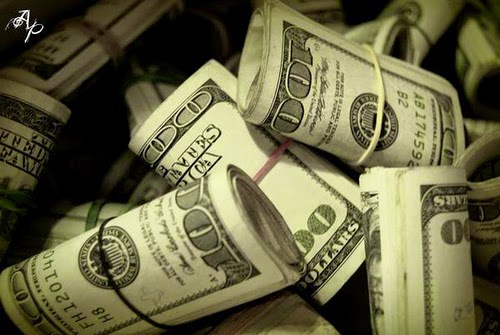 Pimpcron wants to know what you'd do.
Do you smell that? That's the earthy musk of a true manly man. And it's coming from me; the Pimpcron. I'm like a Lumberjack-scented candle and you're welcome.
I was thinking about celebrities playing games the other day. We've all heard about Robin Williams playing Warhammer or Trey Parker from South Park buying miniatures. Obviously they have more money than us and they are not limited by the financial restrictions of the game or hobby. That got me thinking about what I would do in this hobby if money was no object. My eventual conclusion surprised me.
You Could Buy All The Things!
At first I thought about the wonderful rush of just going into a gaming store and literally dropping thousands of dollars on models and buying an entire army. That would be so cool! You wouldn't have to wait months and years for your army to slowly grow; like that mole on your eyelid. This sounds awesome, but to what end? I realized that the slow growth of your army is part of the fun. Every couple of weeks you can get excited about a new unit, research it in your codex, maybe read about tactics online. Anticipating it and looking forward to it is a big part of the excitement of this hobby to me. I've seen so many Facebook posts after Christmas about people being excited that they got new wargaming stuff as presents. But what if you already had all of it?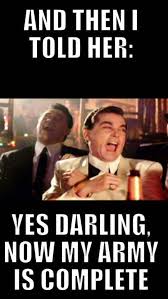 I know some of you will say, "Well when I bought up one entire army, I'd just move to the next if I get bored." And while I'm sure that's true, what happens when you have all of them? You go to buy a Dreadnought and realize you already own eight. You eye a Flyer in the store and remember you own six of those. I think you have to admit that the fun would kind of be sucked out of the hobby to a degree. I realized that I probably wouldn't want to buy everything at once, even if I could easily afford it.
Not to mention the huge pile of unpainted stuff you'd have. You think your painting backlog is big now? Ya know, having money doesn't make you paint any faster. And buying whole armies at a time is probably going to depress you more than excite you when you look over at the pile. But wait a sec, if you have a ton of money, YOU COULD JUST PAY SOMEONE to paint it all! Great idea! … Great idea?
You Could Pay Someone Else To Paint Your Stuff
I just saw some of you cringe at the thought of not painting your own miniatures. For many of you, painting your little soldiers is why you're in this to begin with. But for people who prefer playing over painting like myself, this idea is tempting. You see, I sit on the fence with the whole painting thing. I paint as a means to an end and don't usually "enjoy" it the way many of you do. Every color scheme I have ever made is designed around base coating, washing, a dry brush and detail. Not seven layers of this followed by three washes of that and then re-priming it four times. I want my models to look good on the table top, but don't have all of the time or patience in the world to make them Golden Daemon-winning.
Side note, (skip it if you want) I wanted to paint an army white, so I went on Youtube to watch a tutorial. It went something like this:
Prime white
Base coat gray
Wash nuln oil
Re-prime gray
Base coat white
Wash it twice with blue
Prime it white
Prime it black
Dry brush white
Do a gray base coat …
I rage quit and punched my monitor. Screw white, I'll just change my paint scheme. And I did.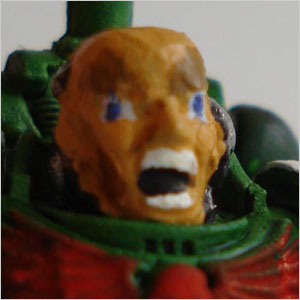 This is the crown jewel of my army. Chapter Master Polygrip of the Screaming Teeth.
So my first thought was to say that I would just plop down the moolah for someone else to paint my whole army. Then I could just get straight to gaming and save hundreds of hours of my free time. But then a small part of me realized that even though I don't do this hobby for the painting, I am still proud of it. It stills attaches me to my models, and makes them mean something to me. I have only sold one whole army in my life. And that was the pre-painted Empire army that I had. Because, even though they were pretty and I didn't have to paint them, I didn't have attachment to them that I did with all of my other armies. And that's why I realized that …
It Is About The Journey
Like all important things in life, the true meaning behind it is about the journey you took, not the destination you ended up at. I worked hard all through my teen years and bought a nice used truck for $8,000 when I was 16. That was a really big deal back then. I was immensely proud of it and to this day I reminisce about that little black truck. In contrast, I had friends and cousins who were given vehicles and they treated their vehicles like trash. Like they didn't mean anything to them because of the lack of time they spent to earn the vehicle.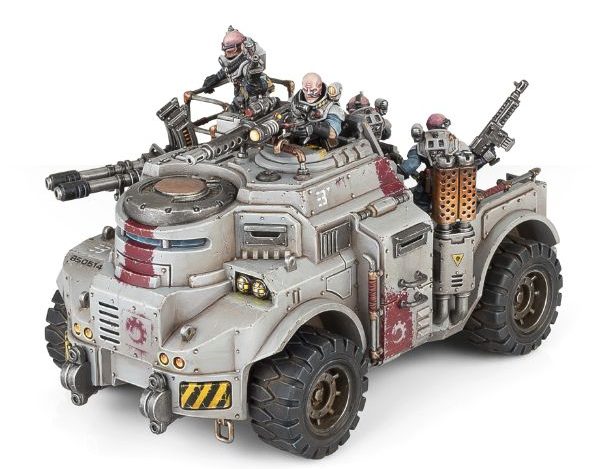 This is a pic of me and the gang when we were teens. I miss my first Goliath.
Now obviously, I'm speaking in generalities and just because you were given a vehicle doesn't mean you didn't take care of it. But I think most people would have to admit that by putting effort into something, it generally means more to you.
That's why I came to the conclusion that being rich would suck when it comes to this hobby. Which, also like everything in life, is ironic. The money you have to spend would just ruin the fun, slow-build of your army and would greatly outpace your ability to paint it all. Then if you paid someone else to paint it, many of us would not feel as attached to our armies or the game itself.
So you have all of this money and it doesn't *really* help you in this hobby. This conclusion was kind of depressing because many of us like to day dream and claim that life would be so much greater if we were rich. Which in many ways would be true, but not in this hobby.
What Path Would You Choose? Buy everything and pay to have it painted? Or put artificial restrictions on your rich ass and have to exert some self-control?