BtGoA: The Xilos Horizon vs Kar'A Nine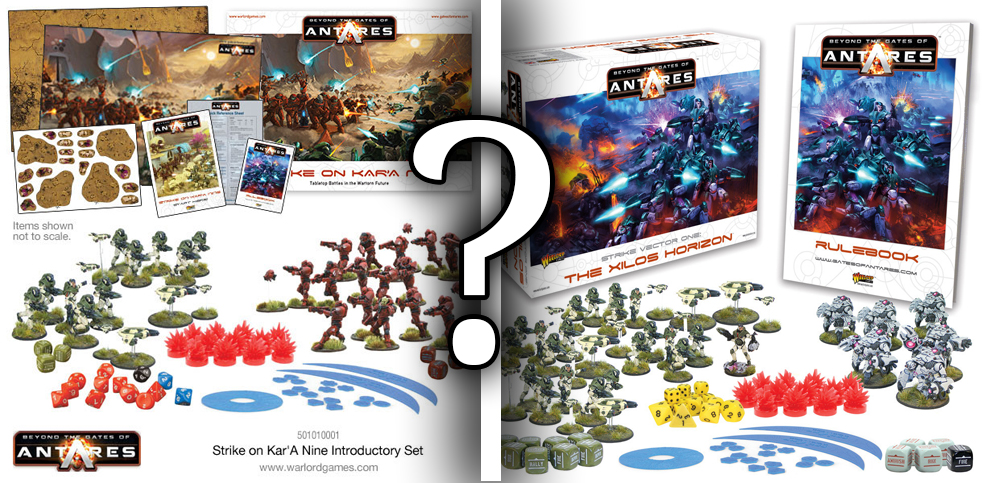 Take a look at what the Gates of Antres starter sets have to offer!
Two great sets to choose from…
Strike On Kar'A Nine introductory set – New for 2017!

Strike on Kar'A Nine is the introductory set for Beyond the Gates of Antares for anyone who's never played a wargame, or for those who play other games such as Warhammer 40,000 who may be intrigued by an alternative system by the original designer, of said game, Mr Rick Priestley.

The full colour Start Here book is designed to coach you through, making your first steps as exciting and as simple as possible. The full rules are explained with a series of scenarios that gradually introduce the mechanics of the game. Each scenario introduces you to further rules, allowing you to absorb the basics, culminating in a final battle using everything in the box where you will be able to use all you have learnt.

Strike on Kar'A Nine also contains forces for both the Algoryn and the Concord, with dice, rules and templates plus a fold-out battle mat and cut-out terrain – everything you need to get started with the game wrapped up in a tempting £35 ($49.99) box set.
Strike on Kar'A Nine contains over £50($80) worth of plastic troops alone in this awesome value set!
Subscribe to our newsletter!
Get Tabletop, RPG & Pop Culture news delivered directly to your inbox.
1 64 page A5 full colour rulebook
1 44 page Getting Started Book
6 Order dice (3 Maroon & 3 Olive Green)
1 pin marker frame
1 blue templates frame
15 Algoryn troopers
10 C3 Concord troopers and spotter drones
2 C3D1 Concord Light Support Drones
1 set of polyhedral dice
1 paper battle mat
2 cut out scenery sheets
Where the new introductory Stike On Kar'A Nine set is about helping those new to the hobby or curious about the world (and fascinating rules) of Antares dip their toe in for a look, its larger brother is a full starter set that allows gamers to fully immerse themselves within the complete background of Antares.

Inside you'll find far more than in the introductory set. Packed with army lists that describe six different Antarean factions: the PanHuman Concord, the Ghar Empire, the Isorian Senatex, the Algoryn Prosperate, the Freeborn Vardos, and the Boromite Guilds. The full size full colour rulebook is extensive in it's depth of detail and the plastic miniatures offer something wholy new for Sci Fi gaming.

The rest of the starter set contents allow 2 players to get to grips with the Pan Human Concord or the Ghar Empire, with a very iconic and new Hi Sci-Fi look that'll capture your mates attention when they roll onto a battlefield.
The Xilos Horison Box Contains everything 2 players would need to start their factions in Antares for just £70 ($112)
Full colour 260-page hardback rulebook.
Quick reference sheet.
Getting started booklet.
3 multi-pose plastic Ghar Battle Squad walkers.
3 multi pose plastic Ghar Assault Squad walkers.
20 multi-pose plastic Concord Strike Troopers.
4 plastic Concord support drones.
8 plastic spotter drones.
Strike Leader Kai Lek Atastrin metal figure.
12 order dice.
Ghar distort dice.
13 Polyhedral dice.
Launch Edition plastic templates and tokens.
12 red plastic pin markers.
The Choice Is Yours

So, as we said, we think you'll be wanting both! But if you have to make a choice, Strike On Kar'A Nine is a simple 'start here' set with a fantastic price to help you and/or friends get started. Whilst 'The Xilos Horizon' is the gamers starter set that again offers fantastic savings for 2 people starting new armies, and provides the full hardback rules that are a must to really understand the intricacies that are there to be discovered, as well as provide you with years of exciting and challenging game play.
Which starter are you picking up?