Did you miss the Live Q&A ? We got you covered.
Games Workshop just had a long chat via a Facebook Live Video. We know lots of folks might not of been able to watch due to the time or because you're at work so we took a bunch of notes for you! Enjoy:
Q&A Summary
Was the info released at Adepticon about Movement Stats coming back, Chargers striking first and Morale Tests real?
Yes. Armor save modifiers are coming back, Movement stats are back, chargers will strike first (more on that later), and Morale tests are going to work in a similar manner as AoS.
No more Armor Value for Vehicles. All models will basically have the same stat line. That means Vehicles will have a Damage Table tailored to each vehicle. As the vehicles take damage they loose effectiveness – possibly lower BS, attacks, etc.
Everyone can hurt Everyone!
Will army play styles change?
They have tried to keep the play styles of armies similar and used this edition change to help reset and refocus those archetypes in a re-inforcing manner.
Is the Game still a D6 system?
Yes.
What's the typical Game length (time wise)?
For a 1500 point game, shooting for a 90 minute game.
Narrative gaming support? How?
Yes – lots of support. 3 ways to play in mind – New warzones, campaigns, supplements will "have a home" in 8th.
Will every model currently out will have rules?
Yes! "All In" with model rules, including scenery, monsters, etc.
Command Points – how will we generate them?
They will help reflect the army selection & play style. In matched play, EVERY army will be battle-forged. 14 different Force Org charts for army composition. The way you build your army impacts how many you can end-up with.
Command Points – what do they do?
On a very high-level, they do things like give you re-rolls. There are "Generic" abilities and there will be army specific rules when the new codexes come out. One of the Generic abilities will allow you to interrupt charge phase of your opponent.
Yes! Codexes are not going away, but they will come at a later date.
Army Construction – How will that work?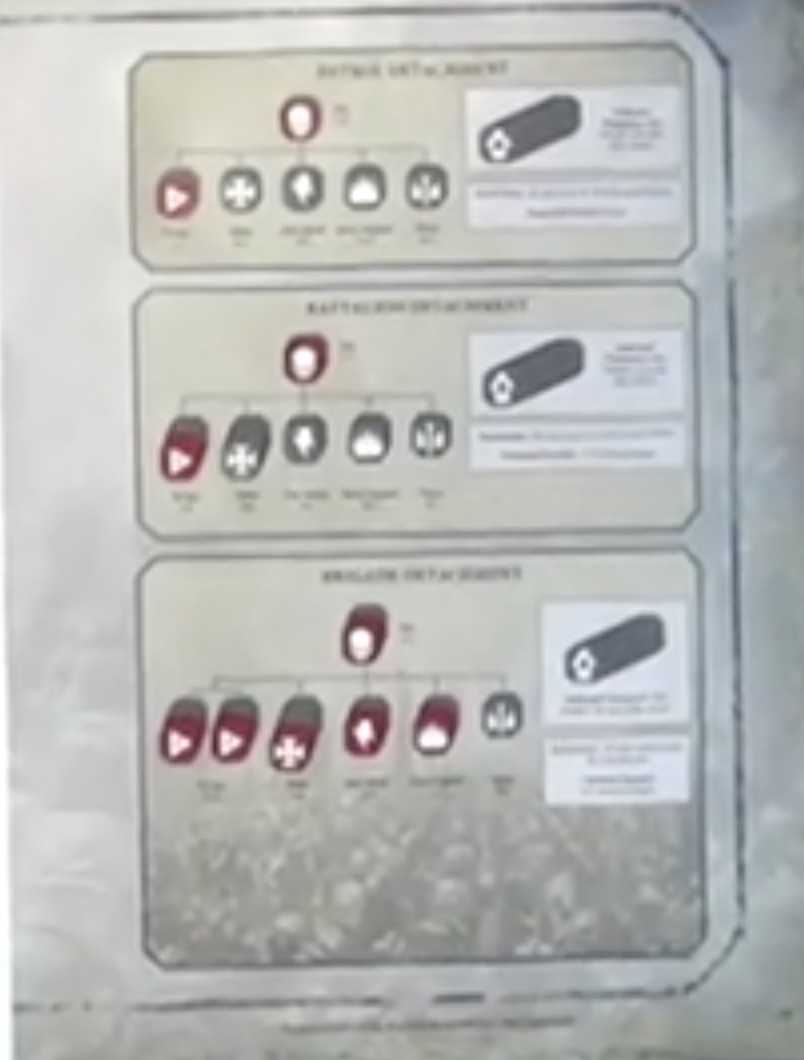 Here is an example of 3 Force Org Charts – there will be 14 at the start and they (GW) think that no matter what type of army you have you'll be able to build one that matches a Force Org Chart.
Templates are going away!
How often can we use Command Points?
One per phase. They will be a limited resource.
How did you test this edition?
GW reached out to several groups, notably they spoke with several of the big Tournament Organizers in the US for testing and feedback. That includes our buddies at Frontline Gaming, Adepticon, and NOVA. They said, "Most thoroughly we've ever tested." And they have also taken in lots of community feedback though all the various forums, social media, etc.
How will we get the rules?
Day 1 New Rules! Five books on Day One – rules for everyone with Points, too! Digital and Physical. Everything you need to start playing will be out day one for all armies.
Expansions like Cities of Death?
Yes, will be part of the game. More ideas on the way way – more narrative supplements.
How about Broken Units (a la Riptide)?
Most balanced edition with the most robust testing. Hopefully their won't be any "broken" units.
Match Play regular updates?
Yes! Much like the General's Handbook, annual update for rules/points.
Interactive Forum Coming as well social media feedback.
Free Rules? How will we get them?
Digital copies available and printed verisons at FLGS and Games Workshop Stores.
Warhammer 40k App for list building?
Working on it, not available for launch but it's on the way!
Specific Tournament Rules?
No, but core rules have guidance for folks who want to run tournaments – "just suggestions."
Everything is now a legitimate choice. Even pyrovores. Everything can hurt everything else because of the new types of profiles.
How long was this game edition in development?
"A Long Time."
What were your Top 3 goals for this edition?
1 – Make a game that works for all 3 ways to play
2 – Make sure the game holds-up to a competitive play
3 – Make it more accessible to everyone from new players, to fans of the lore, to hard core hobbyists.
They really wanted to take in as much feedback as possible and incorporate the feed back to what everyone was asking for.
"This Year." More news on that later – just not today.
More cool stuff at Warhammer Fest?
Yes.
Will you cut down the number of models that are available and "streamline" the armies?
No – All models are sticking around!
Two different types of points!
1 – Powerlevel points – this is a basic, very broad brush gauge for a unit. It's designed for Narrative play so you can have an idea of how powerful your army is and play in a more relaxed way.
2 – Matched Play Points – this is the very granular option. Weapons, options, etc. all have points costs – like the current system.
What about the factions? Noticed on the new 40k site that Astra Militarum was missing – what gives?
The website is more narrative focused – it's an intro site for new players and a "getting started" place. Astra Militarum is still around and so are the Skitarii, they aren't going anywhere.
Will there be new factions?
Yes. and possibly some new ones at launch…
What about Monstrous Creatures?
Yep, they are moving to the Damage Table like vehicles!
How will stats work? Str, Toughness, Wounds?
Again, everything can hurt everything! Stats are NOT capped at 10 anymore. Andy commented that when he played his first game, he really felt like the weapons did what they were supposed to – everything felt "right" when he played (in terms of how weapons worked).
What sized games are supported?
Both Match and Narrative games – 1000 points up to what every you want.
What's the Highest Wound Count Model?
"The Knights are up there, but I don't want to say and be wrong later…"
Yes, allies are still around. But they work slightly different. Because the game is moving to the "Keyword" system the typical Death Star units/combos are not going to work. Your special abilities will only transfer to the units with the correct Keywords. This should cut down on the shenanigans.
The Force Org still supports allies but that will cut into command points…
Will Close-Combat be viable?
"Absolutely" – due to the change with chargers striking first and everyone being able to hurt everyone close combat should be a viable part of the game.
Is Medusa Gone? It wasn't on the new map!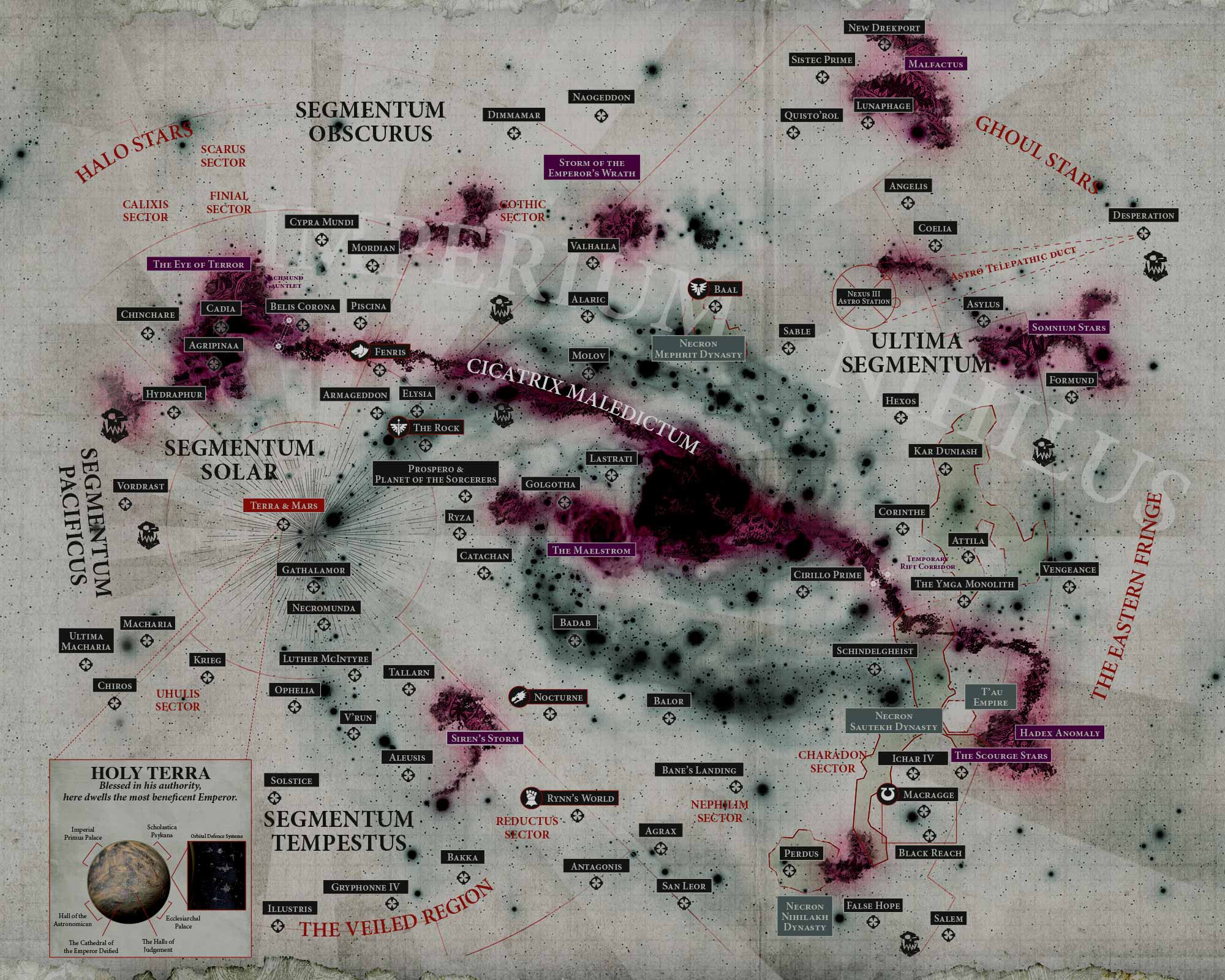 It's not gone! The map was just really crowded.
What about Forge World Rules?
Those will be available in the same way.
What about the folks that just purchased books and codexes? Those are all invalidated!
Yes – if you still have your proof of purchase, you can contact GW Customer support for vouchers (time limit of 8 weeks).
Whew! That's a lot of info…enjoy!