Hey everyone, Reecius here to discuss the lessons I've learned playing with my Free Peoples' army in Age of Sigmar!
Check the Tactics Corner for more great information.
Meet the Free Peoples
The Free Peoples used to be what makes up the Empire in Warhammer Fantasy, and you probably heard me make fun of them endlessly on the podcast over the years for looking so funny, but for some reason in the context of Age of Sigmar where the setting takes place in a multiverse filled with immortal gods, daemons, monsters and gun-slinging techno-dwarves (er, I mean Duardin!) the idea of some regular humans going out to earn their place in a hostile universe dressed in pantaloons armed with nothing but sharp sticks and a bad ass attitude really appealed to me.
First of all, I have to say that I have LOVED playing these little buggers. The army is a ton of fun to put on the table and it is all about synergy, which is my favorite way to play any tabletop game.
Individually, these units are super flimsy with fairly poor stats across the board. However, they lend themselves very well to being played as a shooting  horde army which is quite good in AoS. They also have a ton of interactions between your units which is another key part of making a good army in this game.
My latest list has moved away form using a Battalion as I have in the past to simply accepting I will more often than not lose first turn initiative but packing insane firepower.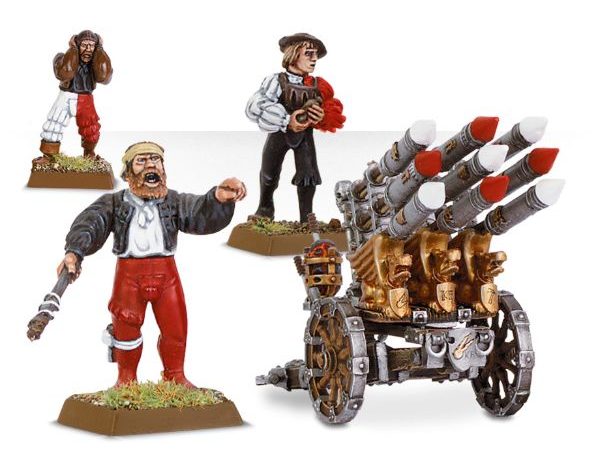 Current List
Freeguild General on mount with banner, Phoenix Stone and Inspiring.
Celestial Hurricanum with Mage
Freeguild Swordsmen x 20
Freeguild Crossbowmen x 30
Freeguild Handgunners x 20
Freeguild Handgunners x 20
Helstorm Rocket Battery
Helstorm Rocket Battery
Helstorm Rocket Battery
Empire Cannon (still a little confusion on if this Warscroll is valid, but easily swapped out with yet another Helstorm if not!)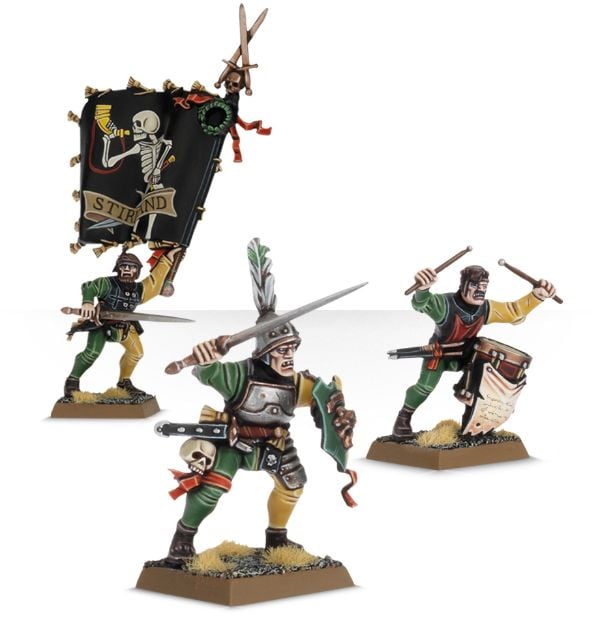 Fielding the Free Peoples
So, obviously lots of shooting. Pretty savage firepower and I can often destroy most key units in one volley. The Swordsmen with Mystic Shield have a 3+ save in melee, rerolling 1's which is very good defense in AoS. For 8pts per model that is some awesome defense. Other than that, though, they're really bad, lol. However, a good screening unit in AoS is critical to success for an army like mine. 20 is the lowest I have found to get the job done. However, at 20 you don't have to worry about Battleshock as much, either. I have found in this game that if you take enough casualties for it to really matter, a 20 man unit is often dead or wounded to the point of being nearly useless, anyway. Their banner plus the Freeguild General do give them four chances to roll a 1 and ignore Battleshock entirely though, which you will pass more often than not.
The artillery units are just murder! So dang good but they are quite vulnerable to units that can pick them off form range (the Stardrake especially is just murder to them). Deployment with them is very important. You really want to protect them to get as many turns of firepower out of them as possible. If I get first turn, I sometimes deploy them very aggressively to try and alpha strike an important enemy unit but typically it is better to deploy them conservatively.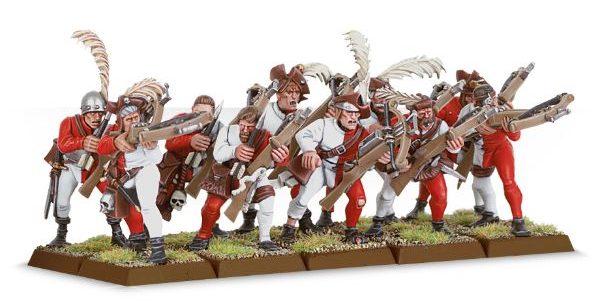 The Freeguild Crossbowmen and Handgunners though, are the real killers. Free People having shooting units as Battleline is awesome! One of their best characteristics for sure. And these are excellent shooting units. They're paper thin, with only a 6+ save and low bravery, but they pack a wallop! The ability to increase their shots to 2 per man with Crossbowmen, or wounding on a 3+ with rend -1 on the Handgunners makes them so vicious. Plus, and the real benefit, is the ability to buff them up to a 2+ to hit through a combination of the Freeguild Genera's command ability (+1 to hit and wound for 3 Free Peoples units) and the Celestial Hurricanum is amazing.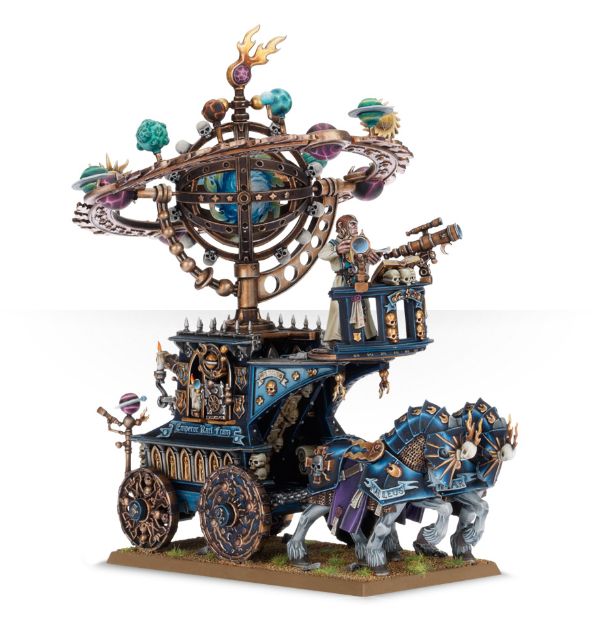 If you've read my Free Peoples' articles in the past, or played the game much, you know the Hurricanum is one of the best units in the game. Probably a bit too good to be honest, lol. It was two mortal wound attacks and buffs both casting and attacks of nearby units. So ridiculously powerful. IMO, for what it's worth, he should have to roll to hit with his Storm of Portents of Battle ability should only work on Human units, but that's just me. In the meantime, he is incredibly good and the ability to deal mortal wounds helps to deal with the truly nasty things that get too close to me.
In two list formats (which I am quickly coming to prefer in AoS) where you have a 500pt difference between the two lists you can plan in a game, I swap out some of the artillery units which are mega vulnerable against some opponents and 10 Hangunners for Karl Franz, to buff my army and provide some savage melee ability! Plus, he helps a ton in 3 places of power, too. This also lowers me down to 7 drops, increasing my odds of getting that first choice for initiative.
And there you have it! It's a fun, powerful army and I have had very good success with it, defeating some of the best net lists out there. But, I certainly don't always win, I have lost a couple of tough games but never felt overpowered or outclassed.
~What have been your winning tactics with Free Peoples?
We've got nearly 80 different FLG Mats in inventory, now with more coming in every week! The current sale is for all new FLG Mats, which are on pre-order and will begin shipping within the next few weeks. Nearly every design is available in 4×6′, 4×4′ and 3×3′ sizes and we've got more of the popular Privateer Press mats for Warmachine and Hordes inbound, too!
During this sale, all mats are at a discounted price with FREE shipping within the continental USA! That is a great deal.
Jump in the web-cart and grab your FLG Mat while this sale lasts!