FFG: Upcoming Releases "Terminal Directive & More"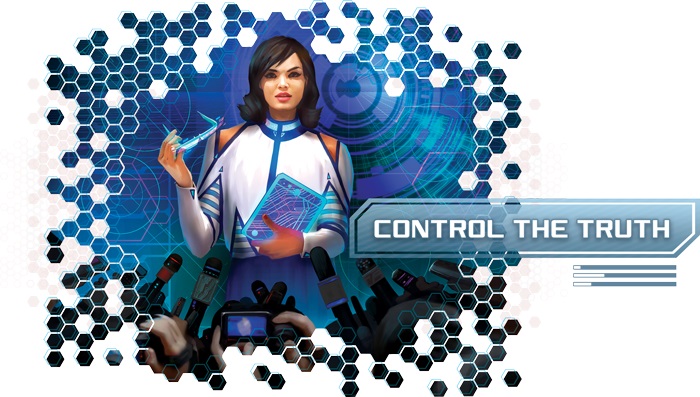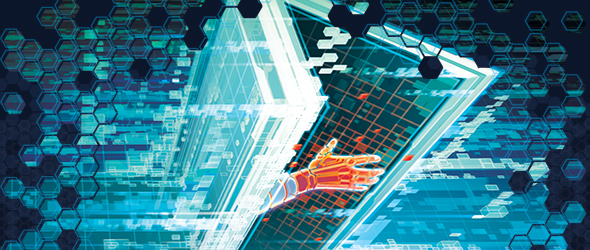 Android Netrunner is getting a new Campaign Expansion & a Technological Terror is hitting the shelves!
via Fantasy Flight Games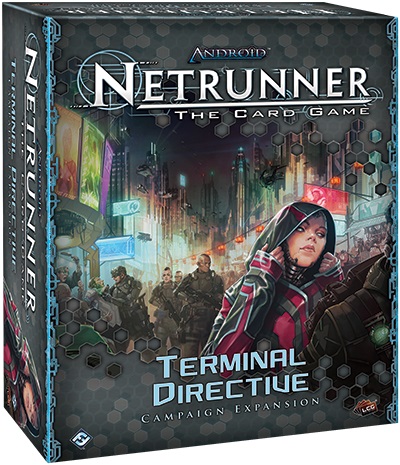 An augmented killer is on the loose… Terminal Directive is a narrative campaign expansion for Android: Netrunner The Card Game that allows you and a friend to enjoy a constantly evolving murder mystery in the Android universe.

Corp and Runner compete in a thrilling race for the control of valuable data that plays out over the course of an extended campaign. Each match impacts the larger shape of your investigations. Each data set you unlock leads you in a new direction. You may have run before. You may have pursued your corporate agendas. But nothing you've done has yet prepared you for Terminal Directive and the narrative-driven campaign play it brings to Android: Netrunner.

Two PAD sheets, one sticker sheet, one rulebook, and four data sets of campaign cards and stickers allow you to track your progress, even as the expansion provides a massive infusion to your standard, tournament-legal Android: Netrunner matches with 163 new cards (86 Corp and 77 Runner) divided between the Criminal, Shaper, Haas-Bioroid, and Weyland Consortium factions, as well as neutral. With its four new identities and a complete playset of each new player card, Terminal Directive comes with everything you need to grab your Core Set and enjoy a thrilling campaign full of cyberstruggles and meaningful decisions. Altogether, this makes Terminal Directive an ideal second step for new and casual Android: Netrunner players looking to delve deeper into the Net!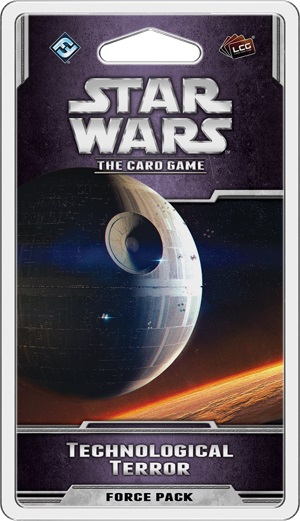 The Star Wars galaxy is a place where unbelievable technology is commonplace. Blasters fire lethal bolts of energy, hyperdrives propel ships many times faster than the speed of light, and sentient, sapient droids fill every conceivable role in society. Still, these great technologies are not inherently good or bad—they only reflect the morals of those who use them. And in the hands of the Galactic Empire, even the most impressive technology can become a weapon of evil. 

Delve into the stunning technologies of Star Wars with Technological Terror, the sixth Force Pack in the Opposition cycle for Star Wars™: The Card Game. Within this pack's five unique objective sets, you'll find astromechs, assassin droids, Imperial shuttles, and beat-up Skyhoppers. Like the other expansions throughout this cycle, many of these objective sets and new fate cards play into the rivalries between factions, goading the Jedi against the Sith, the Imperial Navy against the Rebel Alliance, and the Smugglers and Spies against the Scum and Villainy. No matter which side you fight for, you'll find the technology to support your goals in this Force Pack.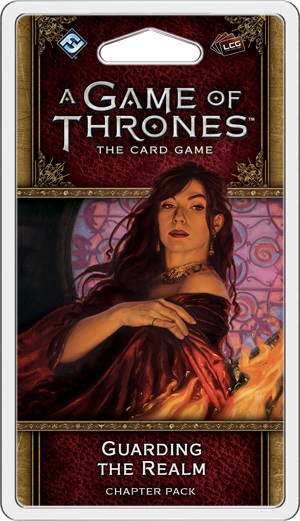 Subscribe to our newsletter!
Get Tabletop, RPG & Pop Culture news delivered directly to your inbox.
Great changes are coming to Westeros, played out through countless smaller stories. Jaime Lannister has been freed from the prisons of Riverrun and makes his way towards King's Landing as a captive of Brienne of Tarth. Jon Snow has turned his cloak and fallen in with wildlings, while struggling to keep his true loyalties secret. Robb Stark fights to reclaim the loyalty of his bannermen, Daenerys Targaryen lays her plans to acquire an army of eunuchs, and Davos Seaworth returns to Dragonstone with a dream of assassinating the red priestess, Melisandre. Though the violence of the War of the Five Kings has paused, the intrigues and plots behind the scenes have never been stronger—or more dangerous.

Return to Westeros with Guarding the Realm, a new Chapter Pack of the Blood and Gold cycle! As with the other expansions of this cycle, you'll be drawn into the events of A Storm of Swords. Gold has always been important in A Game of Thrones: The Card Game, and the ways you earn and spend it will soon become more plentiful than ever before, as you contend with the new bestow keyword and new economic options for every faction. And of course, you'll have the chance to add iconic characters to your deck, including Gilly, a new version of Melisandre, and a bastard son of House Botley, Wex Pyke.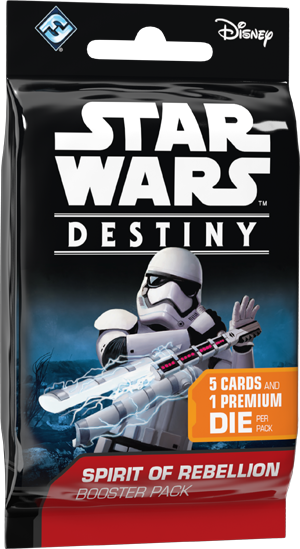 The Star Wars saga has always centered on the timeless struggle between good and evil. At different points throughout the saga, evil may be lurking in the shadows or controlling an oppressive, galaxy-spanning Empire. Yet there must always be balance in the Force, and whenever the dark side rises, a spirit of rebellion begins to light the way forward. 

With the new Spirit of Rebellion Booster Packs for Star Wars: Destiny, 160 brand-new cards enter the game, incorporating elements from every movie in the saga, but with a special focus on the newest Star Wars movie: Rogue One. You'll find plenty of characters from Rogue One within this set, including Jyn Erso, Chirrut Îmwe, Mon Mothma, and Director Krennic, alongside other iconic characters from across the Star Wars story. The spirit of rebellion has ignited—prepare to bring the feverish battles and kinetic action of Rogue One to your games of Star Wars: Destiny!

Every booster pack includes five randomized cards and one premium die, broken down into three common cards, one uncommon card, and one rare or legendary card with a corresponding die. All cards that feature a corresponding die are either rare or legendary cards. With every booster pack, you'll find new characters, supports, upgrades, or events, along with new ways to enter the Star Wars galaxy and fight for your chosen side!

There are 36 booster packs included in a Spirit of Rebellion display case.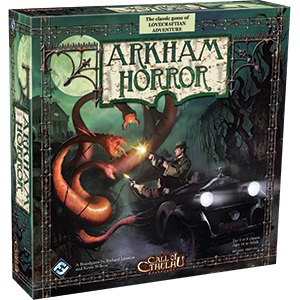 It is the roaring 20's, and while there's electricity in the air, unnatural storms are brewing as well. Strange things are happening in the small Massachusetts town of Arkham; people have gone missing, sightings of indescribable creatures grow more and more frequent. And the very air thickens with a sense of foreboding that roils like an acrid mist through the streets. The Ancient Ones are stirring…

Arkham Horror was originally published by Chaosium, Inc. , in  1987. This new, updated edition features stunning new artwork and graphical design (including a new gameboard, counters, cards, and playing pieces) as well as revised and expanded rules from the game's original creator, Richard Launius.Players can select from 16 unique playable investigator characters, each with unique abilities, and will square off against the diabolical servants of 8 Ancient Ones, including Ithaqua, Hastur, and the terrible Cthulhu! No fan of the Cthulhu Mythos will want to miss the opportunity to acquire this classic Call of Cthulhu board game!Arkham Horror is a cooperative game for 1-8 players ages 12 and up, and can be played in 2-3 hours.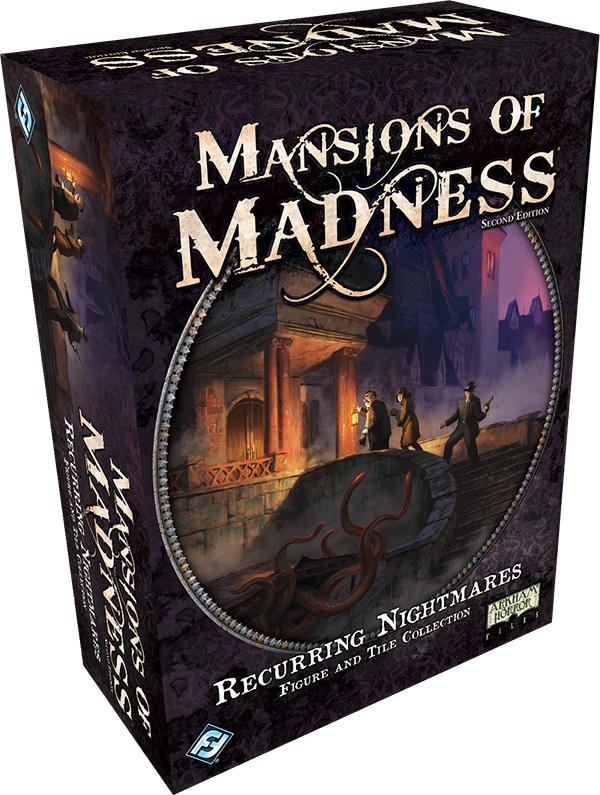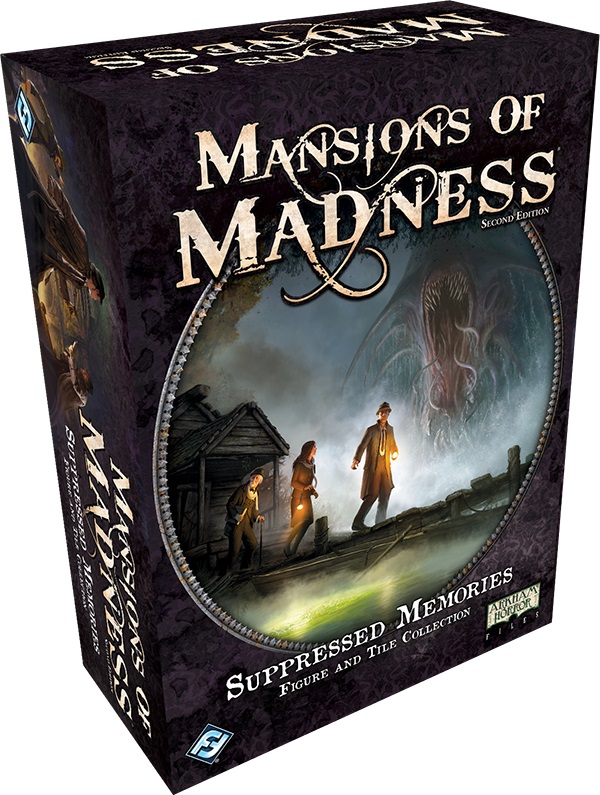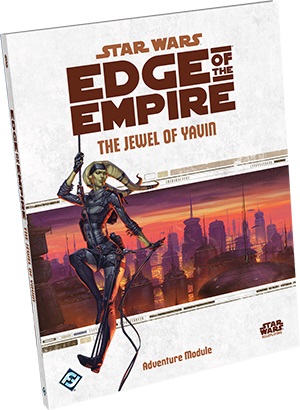 Those Tile packs are perfect for expanding your game AND they work with Mansions of Madness Second Edition!