Explore strange new worlds in the Aethera Campaign Setting for the Pathfinder RPG…
Can't wait for Starfinder? Not even until the June release of First Contact, due out in June 2017 (but which you can also pre-order)? Well then you might try slaking your science-fantasy thirst with the Aethera Campaign Setting for Pathfinder, now available from Legendary Games. Described as a world where magic and technology meet, Aethera is a campaign world where a few star-faring races have just survived an interstellar war…
via Paizo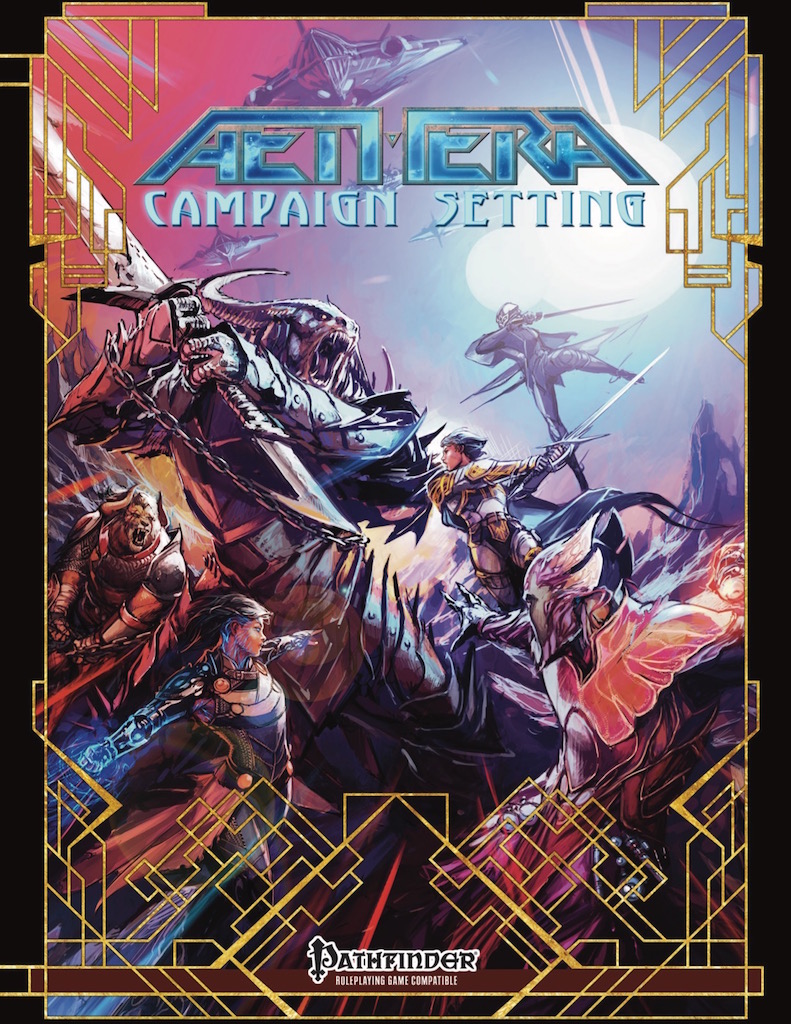 The massive, nearly 600-page interplanetary adventure, Aethera Campaign Setting is here! This book combines hard sci-fi, cosmic horror, magical fantasy, alien invasions, and mystical noir in a unique blend that suits all manner of genre-crossing campaigns. It's a spectacular setting to use on its own with the Pathfinder Roleplaying Game rules, as a more sci-fi-heavy companion to the Legendary Planet Adventure Path, or as a more magical setting for the upcoming Starfinder Roleplaying Game.

The Aethera Campaign Setting includes a vast amount of world-building and lore for the war-torn planets of a binary star system, with rich and evocative history, politics, religion, and more. You'll also find over a hundred pages of character class options alone, including the brand-new cantor class and dozens of new archetypes, feats, skill unlocks, and more, plus extensive chapters detailing new playable races, magic items, technology, and monsters galore!

Experience the Pathfinder Roleplaying Game like never before! Discover worlds where magic and technology exist together, where powerful spacefaring vessels called aetherships ply the skies and the stars. The Aethera Campaign Setting features a binary star system with multiple inhabited worlds that have only just survived a century-long war, and even now live in the shadow of an impending intergalactic invasion! Inside this massive 576-page tome you will find:
Four new races: Erahthi, plant-like entities with ties to a mysterious verdant elemental plane. Infused, survivors of magical experiments that possess a psychic network and telekinetic abilities. Okanta, giant-blooded humanoids endowed with powerful bestial traits and remarkable cunning. Phalanx, bio-organic constructs with living souls capable of tapping into past-life memories.

A new base class: the cantor, a divine spellcaster that uses the prophecy and song to debilitate enemies and enhance themselves and their allies.

Six new worlds to explore: The twin stars of Aethera and Ashra, the wasteland world of Akasaat, the jungle planet Kir-Sharaat, the Amrita Asteroid Belt, the gas giant Seraos, and the shrouded ice world of Orbis Aurea.

New rules for exciting, fast-paced vehicle combat that involves the entire party and allows you to build and captain your own ships.

New hybrid magical technology—aethertech—from mechanical prosthetics to unstoppable powered armor.

Dozens of new class archetypes, feats, spells, and MUCH, MUCH MORE!
I mean you had me at "cosmic horror, magical fantasy, alien invasions, and mystical noir." Though, I am not sure how you mix "hard sci-fi" into all of that, since by definition hard sci-fi is all about not dealing with any of that magic bs–though I kind of love the idea of having a world that is bound by the laws of physics and then there are a bunch of jerks who mess with it all the time, much to the consternation of people who are just trying to do their jobs.
Poor scientists and astronauts.
At any rate, this sounds really cool, so check it out today!
Houston…there's a man standing on the…sigh…deck… of a starship, holding aloft a glowing sword while an actual literal wind blows through the cold vacuum of space. Again. Permission to just shoot him?