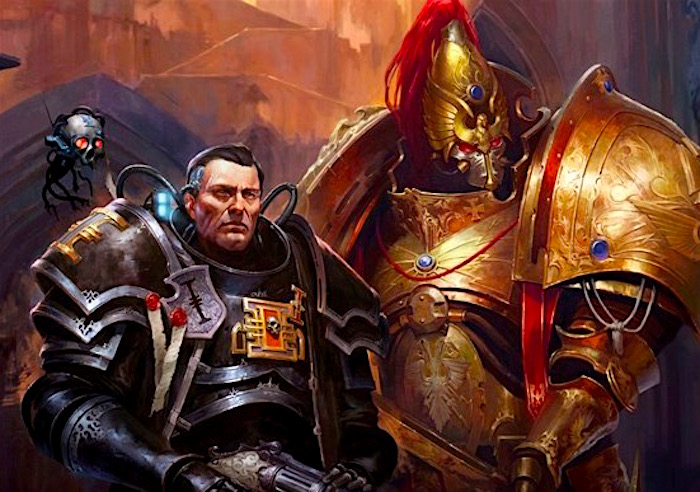 Unless you live off the grid, you no doubt are aware a new edition of 40k is arriving… Soon? So let's wish list.
Hello everyone! SaltyJohn from TFG Radio here to give you a run down of what I want from Newhammer! This is strictly my opinion based off of what GW has said and ideas I have for what would be cool, so feel free to jump in and share your thoughts, too!
Unless you live off the grid, in which case you're not reading this anyway, you no doubt are aware a new edition of 40k is arriving… Soon? So let's wish list.
Some Men Want to See the World Burn
First let's get it out of the way now, I am truly excited for a new edition of 40k. As one of the head judges at LVO I have been dying for a new, hopefully simpler, edition. I wished from the beginning for something along the lines of Age of Sigmar and a 100% reboot of the game. Meaning on launch I wanted a new core rulebook and all old books: codices, supplements, FW, etc to be out and replaced same day. Full blown, burn it down, kill it with fire, and from the ashes let a new edition rise. It would appear that's what we are getting! Check out the FAQ GW put out if you haven't already. What isn't known though are the specifics. So here is what I want from the new dawn of Warhammer 40,000.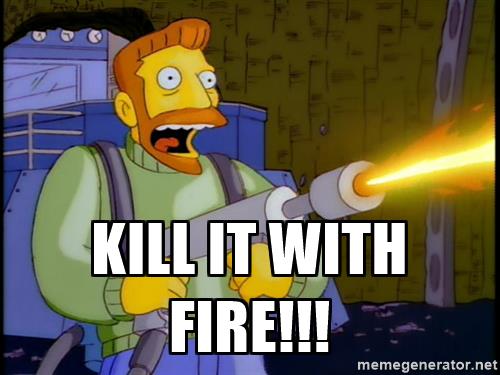 Simpler Rules
Age of Sigmar has 4 pages of rules. I doubt GW could whittle down 40k to 4 pages but anything is better than the monstrous, and often self-conflicting, tome of rules we have now. Getting rid of things that have caused head aches for editions on end like the charts. Oh so many charts GW, why? I really hope that units have simple to hit rolls, to wound rolls, no more Str v Toughness chart, or to hit chart, or vehicle damage chart!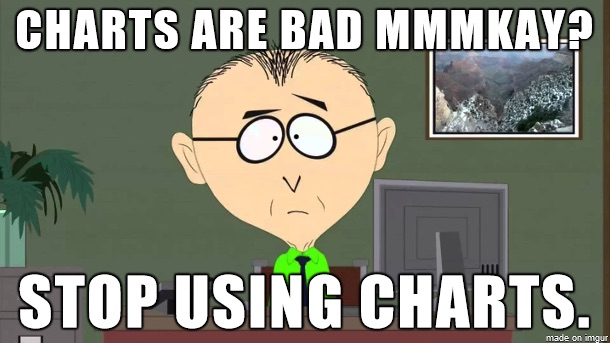 An overhaul of the way a turn works would be nice too. Perhaps how combats are resolved similar to Age of Sigmar where the players take turns deciding which combats to resolve. That adds another element of strategic thinking that current 40k sometimes lacks. On the topic of that how cool would it be if Initiative were gone? What if everyone swings simultaneously but the unit that charges goes first, like Hammer of Wrath but all your attacks, and speed in combat is shown through number of attacks instead. For example guardsmen get 1 attack in combat but Marines, who are faster, get 2 and Eldar get 3, so on and so forth but the models all attack at the same time. Meaning a model with a powerfist gets a maximum of 1, maybe 2 attacks, but doesn't get screwed over by initiative nonsense.
Each model/unit having their own movement characteristics would allow for greater tactical decisions in game while also getting the game to look more like the fluff. I know I used the dreaded "F" word, but too bad. The rules for each unit being included on their specific sheet/cards like in Age of Sigmar would be a welcome change as well. It would be great to see units like Tactical Squads, Guardsmen, Guardians, Necron Warriors, Ork Boyz etc move differently and have more flavorful and unique rules just to them. While maintaining a simpler core set of rules.

I think I can  – I think I can!
Vehicles:
I really hope vehicle damage gets a total overhaul. I would love to see them treated more like large creatures are treated in Age of Sigmar where they have large numbers of wounds and they degrade in ability over time depending on the number of wounds on them. It would be great if say a Rhino had 10 wounds, after 3 the stormbolter stops working, after 6 it moves half distance etc. No more instantly exploding land raiders. That would be really nice, can you see it now? Tables with Land Raiders delivering Terminators into the heart of the traitors and xenos of the galaxy? Glorious.
Terminators/Heavy Infantry
On the topic of Terminators… Wouldn't it be amazing if newhammer brought back Heavy Infantry as something worth it's weight in points on the table top? 2 wound terminators, Nobs with proper costing, Paladins that were point efficient again, the list goes on and on. I would love to see a move to mechanics that allow some of the most iconic units in 40k like Terminators become viable again. This is a constantly ground axe with those of us at TFG Radio, whether it's Travis on the podcast, or me all over the place a change would be welcome and if Age of Sigmar is any indication it is possible to make the different classifications of Infantry good again. Together GW we can make Terminators great again, I believe in you.

Psychic Phase
Something I am looking forward to is a better psychic phase. This isn't out of hate, surprisingly enough, but out of frustration as someone who played psyker heavy lists for much of 7th edition. Whether it was Conclave dependent Gladius/Wolftide or taking a stab at Magnus and company, I struggled to enjoy the psychic phase. I would love to see GW take the psychic phase out, or roll it into somewhere else, and then stream line it to a point where it is both an effective part of the game but manageable and less time consuming.

I'm so dusty – come on 8th edition!
Monsters/Big Models
6th and 7th were often referred to as the Monstrous Creature editions. Whether it was the Nurgle Flying Circus of 6th or the Wraithknight/Riptides/Stormsurges on every damn table at LVO of 7th, the MCs were everywhere. Now, that's not in and of itself bad. What was bad was that the MC love didn't extend to all MCs across the board. I would really like to see the MC rules reworked to allow Tyranids to be good again, mainly to see the Carnifex and other big bugs have rules that both make sense, and are balanced in power. It was awesome seeing these big models all over the tables of 40k, it was sad to see so few Tyranids. I don't even play Tyranids and I felt bad for them.
Tyra-what now?
On the topic of Tyranids it would be great to see Newhammer bring the viability of all the armies back. Tyranids, Necrons, Dark Eldar, Orks all suffered and languished in 7th edition in many ways. I really hope that not only will balance come from the new edition of 40k but there is a Renaissance for these armies in the same way Chaos Space Marines benefited from the Traitor Legion/Wrath of Magnus Renaissance of the final days of 7th.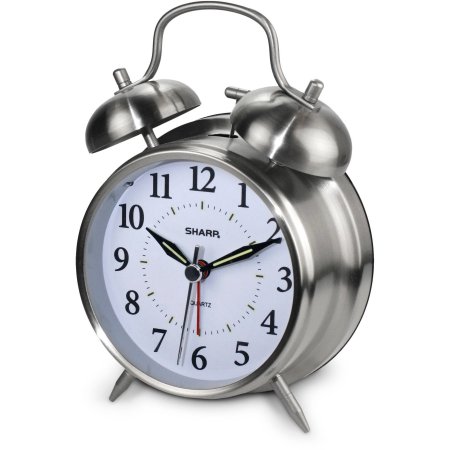 Time and Mission Design
If you follow TFG Radio on Youtube or their Blog, you'll know I was pretty fed up with the 40k missions after the 2017 LVO. Through no fault of the ITC or FLG, the event really showed me just how bad the mission design for 40k was and how badly a change was needed. I like the Age of Sigmar missions for Match Play quite a bit. They are less dependent upon getting the last turn, please god let there be no random game length in newhammer, and several use the First Past the Post mission mechanic. Age of Sigmar missions also seem to play a lot faster in their Match Play set up which, as both a judge and player, I am excited to see get transferred over to 40k. The missions in 40k really hadn't seen any major reworking in their design and structure since 3rd edition. Some cosmetic changes were made here and there and the addition of Maelstrom Cards, almost universally panned by players, was still only a small change to a design paradigm that is in drastic need of a shift. One of the biggest issues I have dealt with as a judge is slow play. As far as I know that problem is nearly non-existent in Age of Sigmar so hopefully a simpler rules set combined with a complete overhaul of the missions will help 40k with that as well. This is probably what I am most excited about in a new edition of 40k.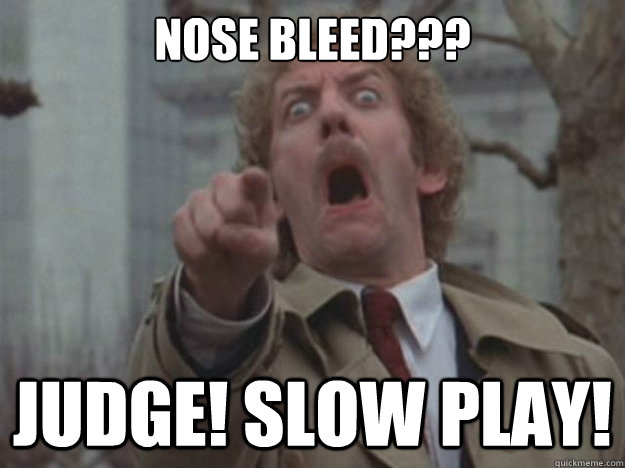 Hopefully a thing of the past.
There is a lot to look forward to. A bright new era of 40k is coming on the backs of a new and improved Games Workshop. If you don't believe me just look at the responses they gave to some of those FAQ questions, they get it. A GW that gets it, meaning the game and the community as a whole, is going to be a boon to the game the likes of which we've never seen. Whenever this new era begins rest assured there will be plenty of content flowing out of TFG Radio in the form of blog posts, podcasts, and most importantly (to me at least because it's what I do) video battle reports!
~I personally can't wait, what are you most looking forward to in the new era of Warhammer 40k?  Let me know in the comments!
As always, share your thoughts in the comments section! And remember, Frontline Gaming sells Games Workshop product at a discount, every day.