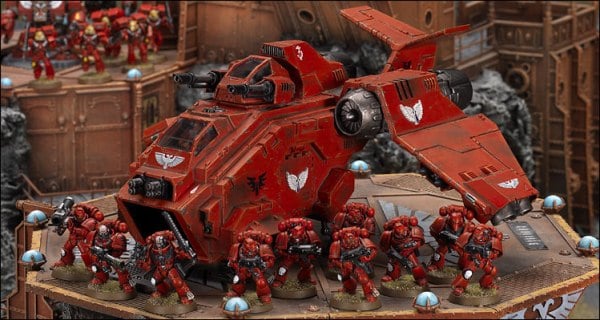 Ravenspam? What the heck is it and why is it a thing? Let's talk about the "new hotness" that is The Stormraven.
The American Team Championships were last weekend and they shook-up any notions of the meta folks might of had. There were quite a few list trends that emerged but the one that is probably the most surprising is the widespread use of the Stormraven. How did the once maligned Stormraven suddenly become a rockstar in 8th and why does it work? Let's break this one down: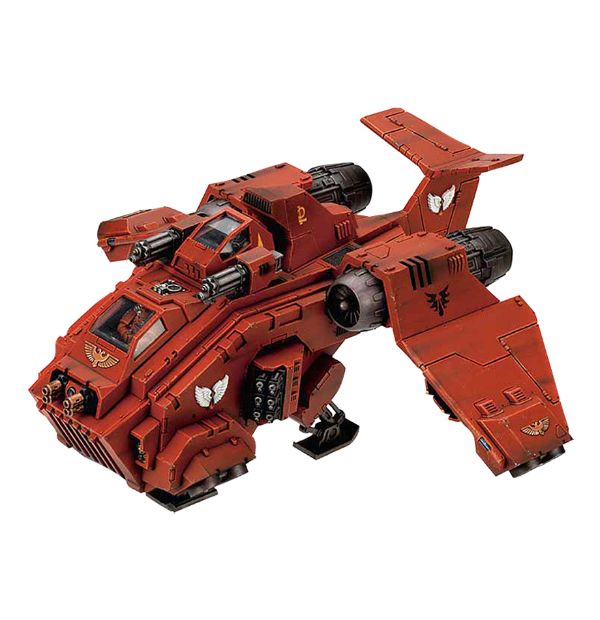 The flying brick that is known as the Stormraven Gunship got a huge boost in 8th edition Warhammer 40k. First off, it's a vehicle and all the enhancements that vehicles got directly benefited the Stormraven. Second, it's a Flyer – that means if you (somehow) manage to engage it in close combat (which Airborne helps to stop), it can Fall Back (or Fall Forward – Flyers ignore models for movement and can pass right over them after all) and then unload it's deadly shooting. Third – holy crap can this thing SHOOT! Vehicles have 360˚ shooting just like every other model. And when it comes to guns the Stormraven has them: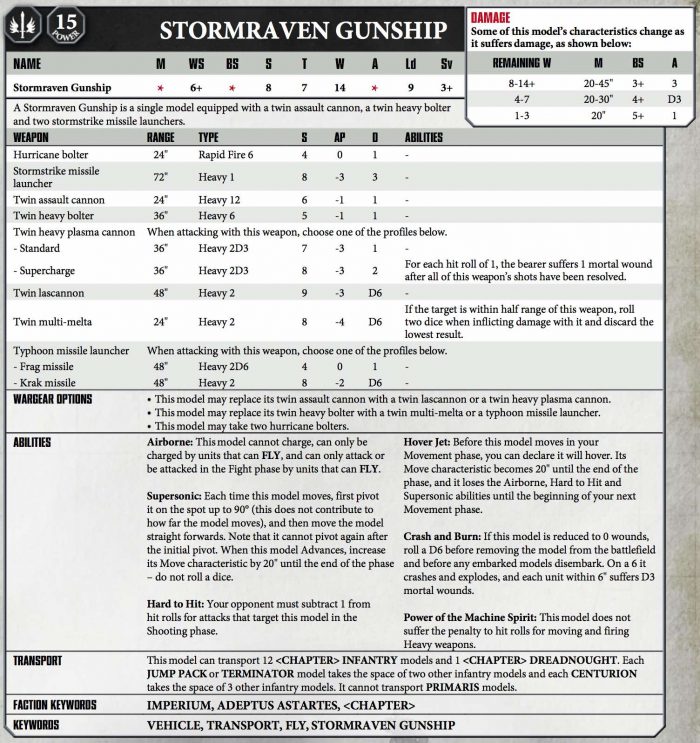 (Side note: It's Plasma is one of the few versions that DOESN'T auto-kill it on a misfire.)
As you can see it's got all the tools in the toolbox in one cozy package. Do you need some anti-vehicle rounds? Melta and Missiles have you covered. Do you need to take out hordes of infantry? How does a Twin Assault Cannon and a pair of Hurricane Bolters sound? It sounds like bullets. Lots of bullets. And that's just with some basic upgrades! Just don't forget to "split-fire" so you can kill other vehicles AND infantry at the same time. Let's not forget this thing can ALSO transport a unit of Infantry and a Dreadnought if you REALLY want to… Is there anything this thing CAN'T DO? Yeah – it CAN'T be HIT! Okay, you can actually hit it, but you're going to take a -1 to your to-hit rolls because of Supersonic. "What about that penalty for moving and firing Heavy Weapons?" Yeah that doesn't exist because of Power of the Machine Spirit.
The Stormraven is also a fairly tough vehicle to take out. If you're not another flyer you can pretty much forget dragging it down in Close Combat (see: Airborne). And ignoring the -1 to hit rolls from Supersonic it's still a Tough 7 vehicle with 14 wounds and a 3+ save. That's nothing to sneeze at! It's going to take some dedicated firepower to bring one of these down. It's not impossible to take out one or even two of these in a game. But hey, it wouldn't be called Ravenspam if you were only taking two, would it?
The ATC Meta & Ravenspam
TastyTaste over at BoK has as pretty exhaustive article explaining some of the context for the ATC and Ravenspam. He also has the lists for the top 3 teams (15 lists total) and the top 5 individual player standings. The teams consisted of 5 players per team and the first place team ran two Ravenspam lists for a total of 10 Stormravens on this team. The other 3 lists included a Chaos List with Magnus, Be'lakor and the Changeling with assorted musings, an Astra Militarum List, and an Imperium List with Guilliman, Devastators, Ad Mech Robots, and the Adeptus Ministorum mixed in.
Now before we de-rail this conversation into those other lists, ATC is a TEAM event. As TastyTaste breaks it down, there are basically 4 types of lists: Alpha Strike, Counter Strike, Point Denial, and All Comers. I'm not going to get into that here, but there is a team strategy at play with ALL of the high level teams – even if the plan is "pick the worst match-ups for the other team and wing it" – that's still a valid team strategy. The Stormraven lists pretty clearly fall into the "Alpha Strike" category. And once you see the lists, it's pretty apparently why.
Ravenspam: The List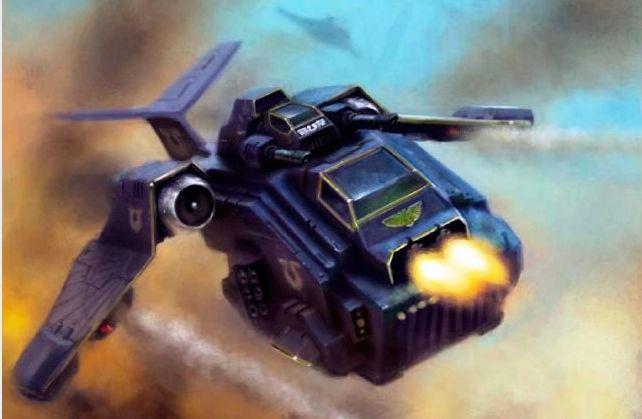 There are lots of variation on this list. There is a Grey Knight version and a Blood Angels version. You can also find other examples HERE and HERE. And these are just from the 19 lists that were reported on BoK, I'm sure there were probably more at the event.
Battalion Detachment – Blood Angels
HQ – Commander Dante
HQ – Captain
Troop – 5x Scouts
Troop – 5x Scouts
Troop – 5x Scouts
Air Wing Detachment – Blood Angels
Stormraven
Stormraven
Stormraven
Stormraven
Stormraven
Most of the Stormravens are loaded out with Stormstrike Missiles, Assault Cannons, Multi-meltas and Hurricane Bolters. Sprinkle in your desired mix based on flavor and points. Dante is there for the Aura buffs and because he's also quick enough to stay close to at least one Raven. He's a character so you can't shoot him until that pesky Raven is dead.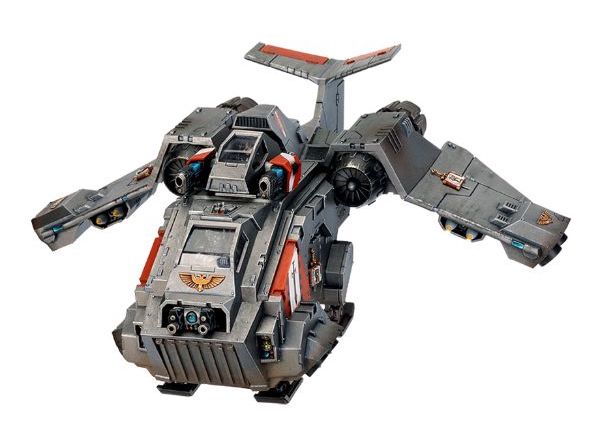 This list is designed to push the boundaries – it's a tournament level list. On top of that, it's built for a TEAM tournament where players are trying to play the meta of "Paper-Rock-Scissors" and hoping they go first for the Alpha Strike. The Ravenspam list does that on one extreme and it's pretty good at doing what it does! I also don't want to discount the players that run or play in the Tournaments. If you're familiar with the US tournament scene, you'll probably recognize a lot of the names of the players using these lists. Many of these players have been around the block and are good at Warhammer 40k. Just keep that in mind before you decide to build this army – there are counters to this list and it takes more than luck to win a major tournament with it.
Warhammer 40,000 8th is still in the super early stages of it's meta game and this is just one lists that has popped-up on the tournament scene. There are others out there and probably more that have yet to be played. If you're interested in playing at the "high-end" tournament level it's good to know about these lists so you can start to formulate strategies to counter them.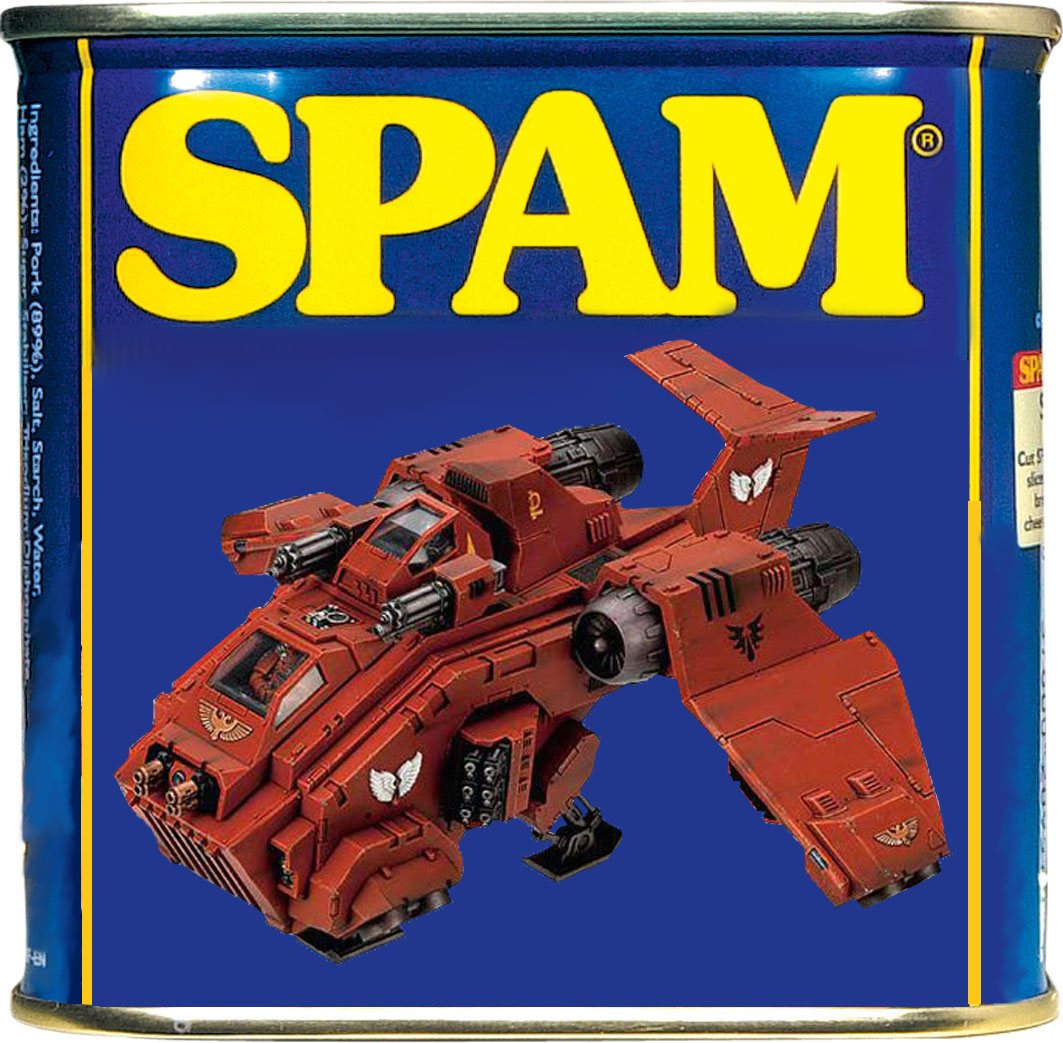 If a list like this makes you want to avoid tournaments, take a deep breath and remember most major tournaments are also running awesome narrative tracks and side events. It's okay to play with your plastic dudesmen how you want to play with them – just make sure you're signed up for the right event and know what to expect!
What do you think of Ravenspam? Is it the next "Leaf Blower" or is it just full of hot-air?