Pre-order the Infinity Gen Con Bundles now–get exclusive miniatures and a Chibi Miyamoto Musashi.
Now you can pre-order the latest expansions for Infinity. Pick up some teams, grab some exclusive minis, and if you order before GenCon you'll also get an exclusive Chibi Miyamoto Musashi, who, despite his chibi form still manages to be more ruggedly handsome than 90% of the other models in the series.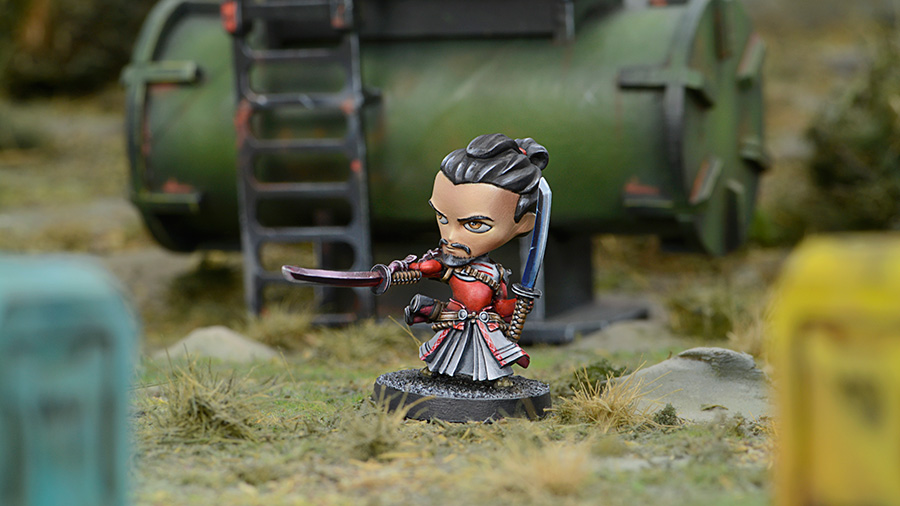 But that's not all. Exclusive to the GenCon Bundle is an Ariadna spec ops grunt, who looks decked out and ready to carry out all kinds of ops, from black ops to a slightly darker shade of black ops.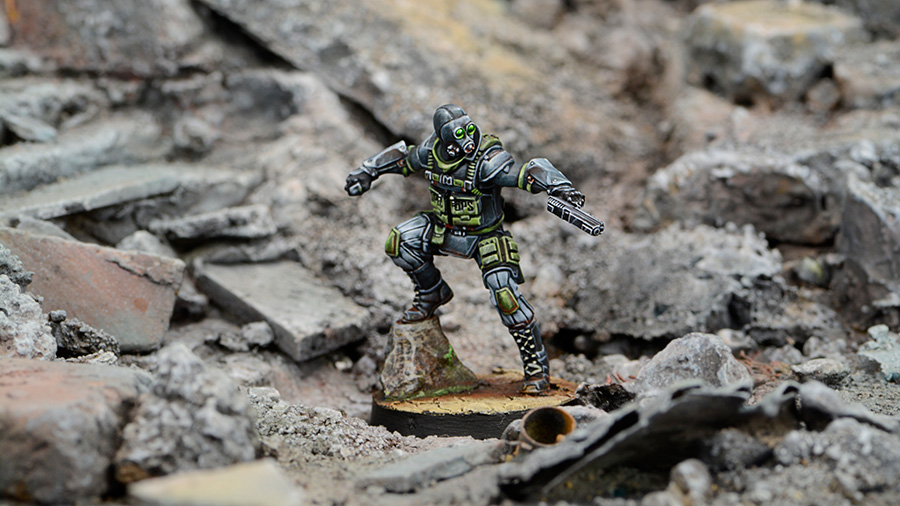 He's poised and ready for action. Anyway, all of this stuff is available for a limited time–the sale ends August 21st, so get it while you can. These boxes are a good way to jump into the game. One of the best things about Infinity is that you only need a few models to start playing. More is possible, but it adds extra complexity to the game (don't get me started on AROs we'll be here all night). At any rate, check out more details below!
via Corvus Belli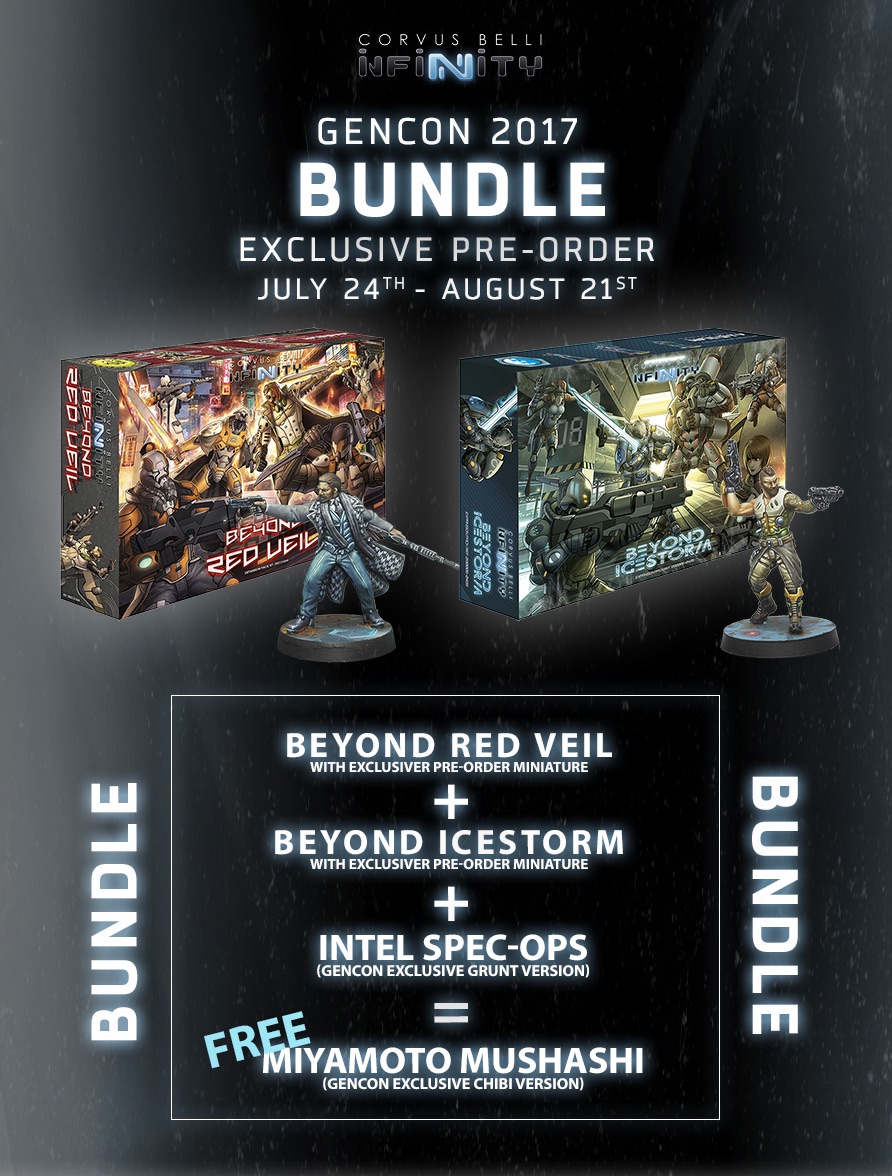 1x Miyamoto Mushashi GenCon Exclusive Chibi Version
1x Beyond Icestorm Expansion Pack
1x Beyond Red Veil Expansion Pack
1x Intel Spec-Ops GenCon Exclusive Grunt version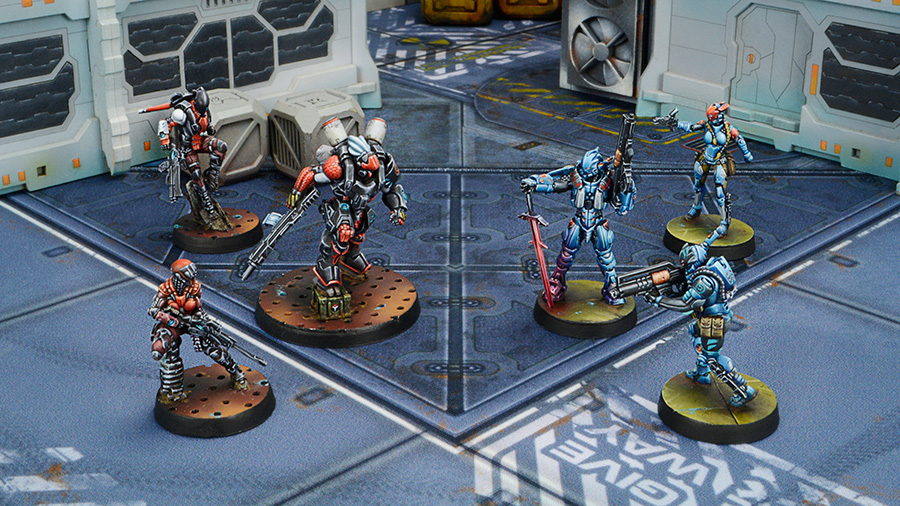 "In the frozen plains of Svalarheima, Nomads and PanOceanian black ops teams fight for the technological secrets hidden in the Moto.tronica R&D facility."
1x KAMAU (HMG)
1x SWISS GUARD (HMG)
1x BOLT Paramedic (MediKit) (Pistol)
1x HELLCAT (Spitfire)
1x INTRUDER (X-Visor) (MULTI Sniper Rifle)
1x KRIZA BORACS, TUNGUSKA CRISIS SPECIAL UNIT (MK12)
1x A. BOUNTY HUNTER (2 BREAKER PISTOLS) PRE-ORDER EXCLUSIVE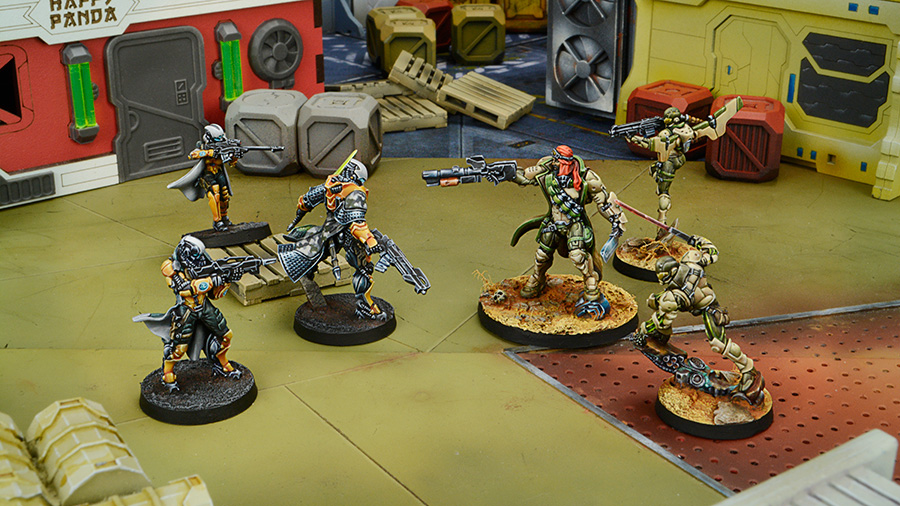 "In the commercial area of the Neon Lotus Orbital Station, Yu Jing and Haqqislam spec ops teams fight for data that could reveal a covert operation to manipulate and subvert the financial markets of the Sphere."
1x TARIK MANSURI (Spitfire)
1x FIDAY (DA CCW)
1x RAGIK (Boarding Shotgun)
1x DAOFEI (HMG)
1x ZHANYING (Sensor) (Breaker Combi Rifle)
1x GUILANG (MULTI Sniper Rifle)
1x CSU (Breaker Rifle) EXCLUSIVE PRE-ORDER
So if you pre-order this bundle…you'll get Two Infinity (and) Beyond(s)!