Tabletop Spotlight: Codenames Duet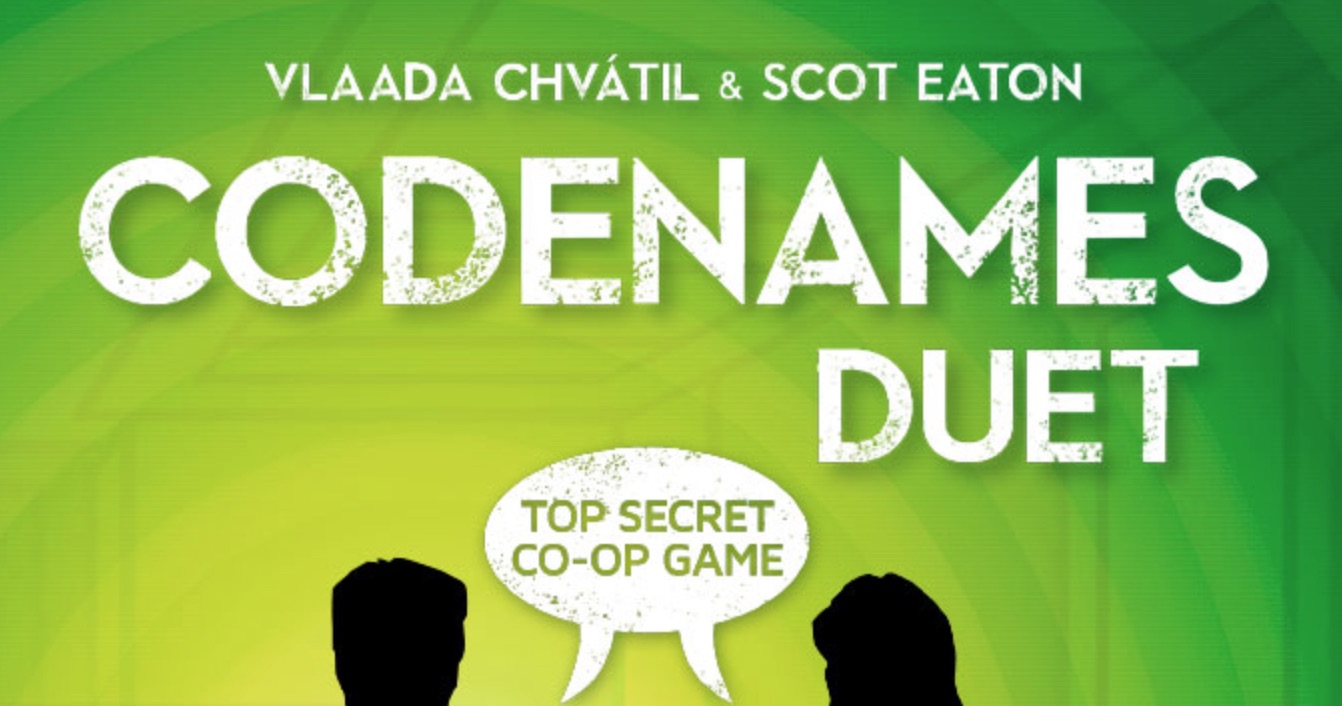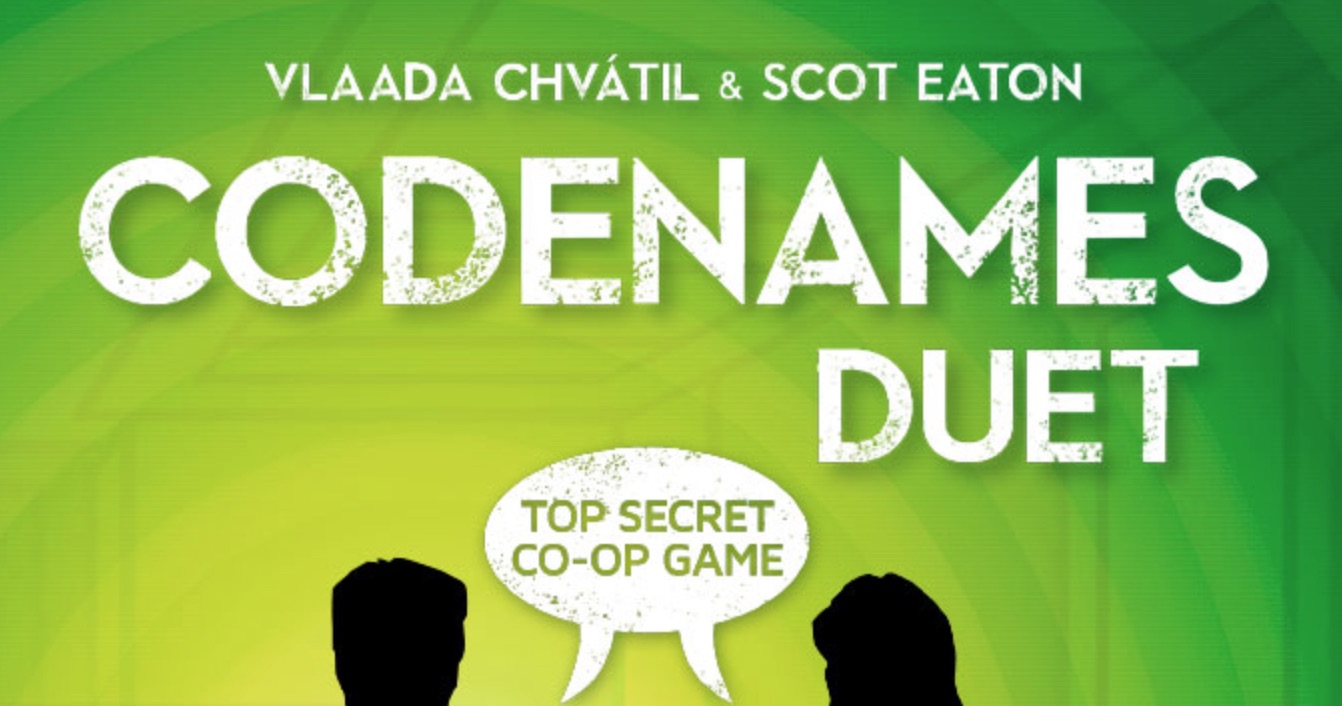 The amazing game Codenames gets a Two-player version! Check it out on the Tabletop Spotlight.
Codenames is a game that won me over a while back. So when our Friends at Dragon's Lair Comics & Fantasy showed up with a different version, I was very interested. Codenames Duet did not let me down:
If you're unfamiliar with Codenames the basics of the game is that this is a pretty easy to play word game. Random word cards are placed in a 5×5 grid and it's the player's job to guess the "agent" cards before they flip over any "assassin" cards. Codenames Duet takes this theme and then tweaks it ever-so-slightly. It's the same core mechanic, but with an added twist of a shared, two-sided map card:
An example of one side of a Map card
The green spaces are "agents" you have to give to clues to your partner to find. The tan spaces are "harmless" civilians. The Black spaces are the assassin. There are a few different modes of play for two players and one of them is that you can only flip over a limited number of civilians. There is also one other catch – just because those agents are friendly to you, one of them might be the assassin for your partner. Only the correct player can flip it over without it causing instant death!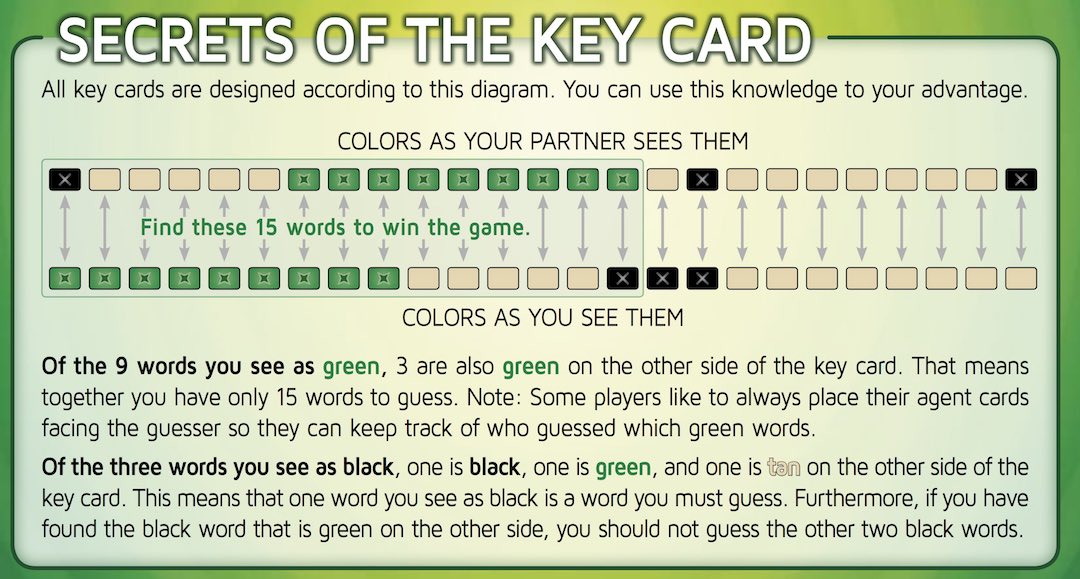 These changes might not seem like a huge deal, but if you've played Codenames, then you know that it really does change the game up. On top of that, you get a set of new "Green Agents" as counters to mark the correct Agents – and another 400 words to add to your collection! The extra words alone are great because they are 100% compatible with the other versions of this game (and vis-versa!) Just by purchasing this one you've basically doubled your word/card count.
Another thing I'd like to mention is that just because this game is designed for two players, there is no reason you couldn't ALSO play this game in two larger teams. The rules don't change you just swap out who is giving clues and the other team has to guess correctly. Codenames Duet is definitely on my lists of recommended party games for 2-8 (or more) players. If you want to bust out a game everyone can play (even your non-gamer friends) then give codenames a shot! Curious about Codenames Duet? Read the rules HERE.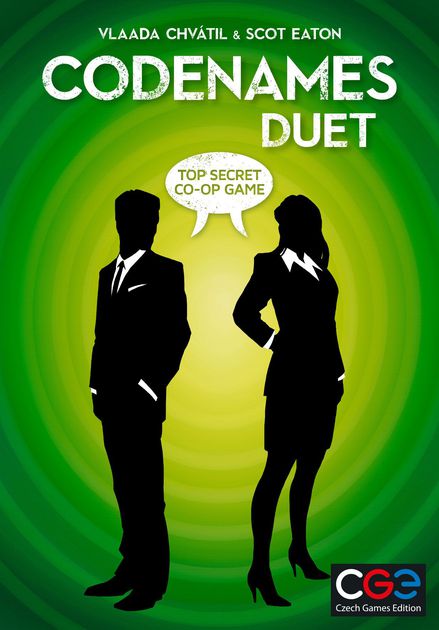 Subscribe to our newsletter!
Get Tabletop, RPG & Pop Culture news delivered directly to your inbox.
You and your partner are on a secret mission to a crowded city. Your objective: to contact 15 agents while avoiding a band of enemy assassins. You know the agents that your partner can contact safely. Your partner knows the agents you can contact safely. By giving each other one-word clues that can point to multiple words on the board, you try to find all the agents before your turns run out.

Codenames: Duet includes 400 new words so you do not need any other Codenames game to play. On the other hand, if you own the original Codenames, you can use the word cards from the two games interchangeably.
Codenames Duet – Just Do it!