Stupid 40K Tricks: The Armylist With Unlimited Models


The ultimate horde has no limit.
Horde armies are all the rage these days. But despite their popularity they all have one glaring weakness: when you kill them they die. But what if this wasn't the case? What if killing your army only made it stronger? What if you could send an endless horde of replenishing troops to crush your enemies? That is just what my latest stupid army, The Endless Horde, does. With a "technically" unlimited model count it can steam roll over any forces with ease. Lets take a look at the list and why it works.
The List
The Endless Horde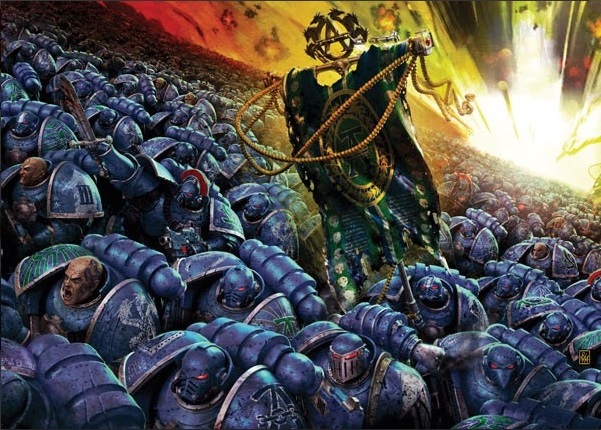 Alpha Legion – Brigade Detachment 
Chaos Sorcerer w.  Force Sword 102
Warpsmith- 76
Warpsmith- 76
10x Chaos Cultist- 40
10x Chaos Cultist- 40
10x Chaos Cultist- 40
Subscribe to our newsletter!
Get Tabletop, RPG & Pop Culture news delivered directly to your inbox.
10x Chaos Cultist- 40
37x Chaos Cultist- 148
40x Chaos Cultist- 160
Chaos Spawn – 33
Chaos Spawn – 33
Chaos Spawn – 33
5x Noise Marines -75
5x Noise Marines -75
5x Noise Marines -75
Chaos Predator w.  Predator Autocannon 2x Heavy bolters -159
Chaos Predator w.  Predator Autocannon  -139
Chaos Predator w.  Predator Autocannon  -139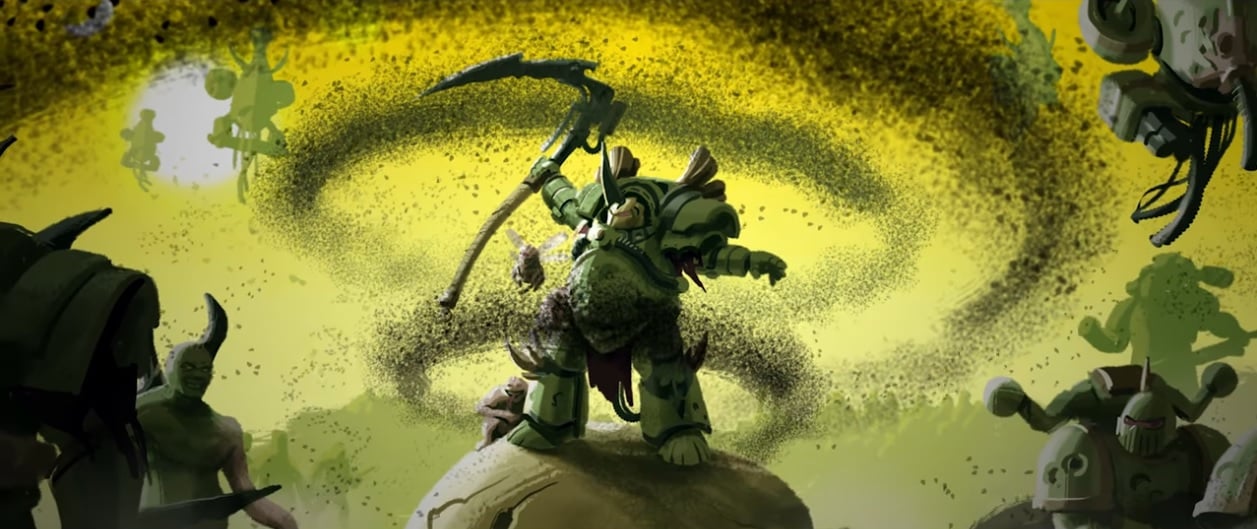 Death Guard – Battalion Detachment 
Typhus – 175- Warlord
Chaos Lord -74
Tallyman – 67
20 x Poxwalkers -120
10x Chaos Cultist – 40
10x Chaos Cultist – 40
Pts 1999 15 CP 
At first glance this may seem like a standard horde army. Lots of models, lots of CP and a few killy tanks. But most of the army doesn't seem to do all that much. Well lets take a look at the "stupid trick" behind this list.
Endless Poxwalkers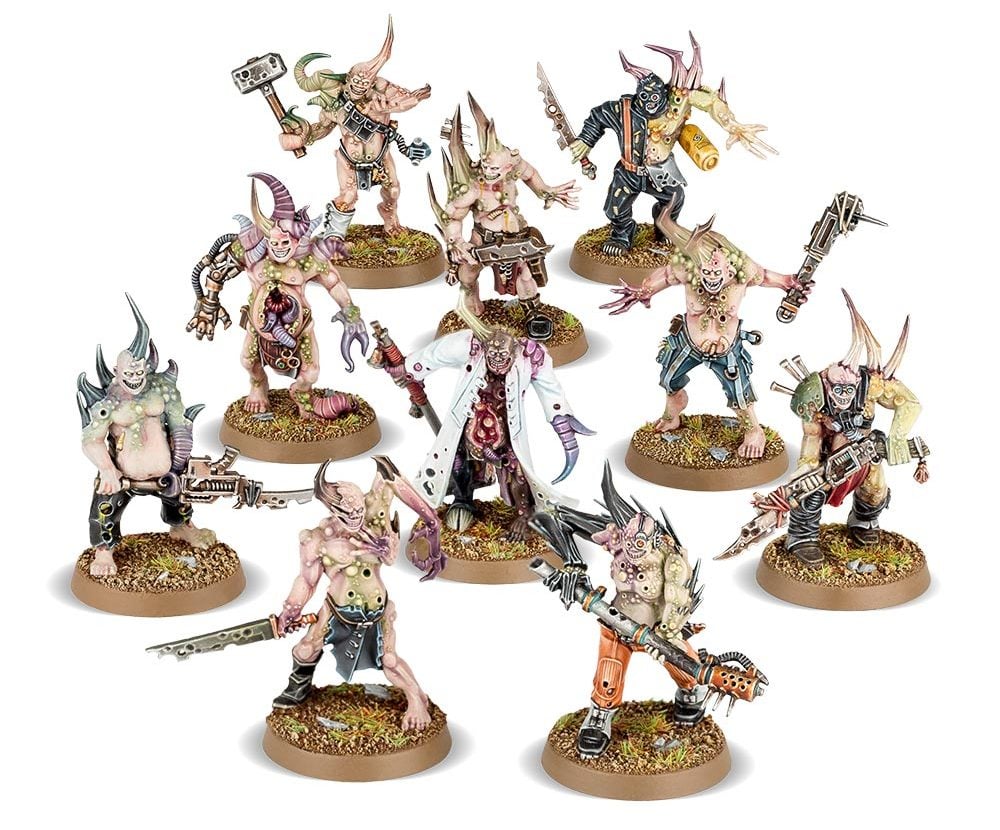 The key to the entire list is the one unit of Poxwalkers. When deploying you're going to want to want to set a massed blob of all the cultist together and place the Poxwalkers in the very middle of the whole force. Spread them throughout the force.  Then, at the start of each of your movement phases, you are going to use the Stratagem The Dead Walk Again.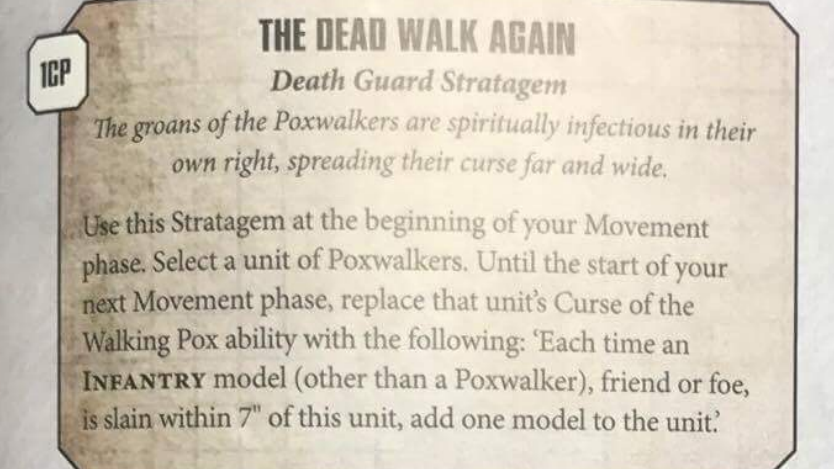 The goal here is to allow the enemy to shoot up your cultist all they want, but for each cultist that dies, you gain a Poxwalker.  "But Abe," you say, "won't the enemy just shoot my Poxwalkers first?" Well that's were another stratagem, Cloud of Flies comes into play.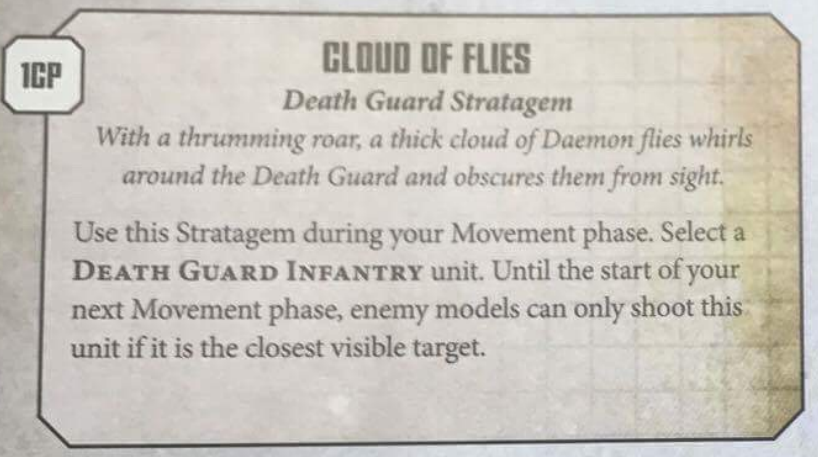 Since your Poxwalkers are going to be buried in the midst of your cultists it should now be impossible to shoot them. This will force your enemies to target the Cultists (with a -1 to hit for the Alpha Legions ones) thus adding to your Poxwalkers. Their other option is to ignore the blob of nearly 200 models moving up on them. Moreover, with Tallyman you've got a chance of recouping the CP you spend on these stratagems.
Here's the real kicker: should one of your large units of cultists get beat up you can always use Tide of Traitors to bring it back to full size which also gives you more potential Poxwalkers. With nearly limitless numbers of Cultist (and don't forger your enemy's Infantry are all able to be added to your Poxwalkers) your lone unit of Poxwalkers can get truly massive.
But Poxwalkers Suck…Right?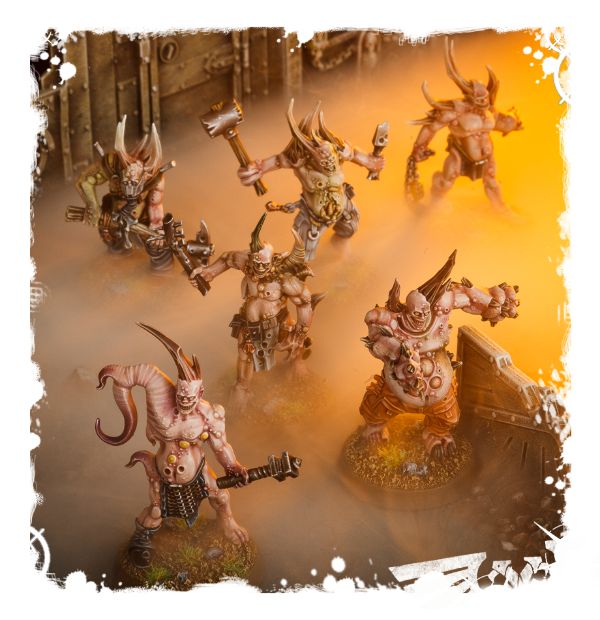 Ok, so you've got a free massive unit of Poxwalkers, but what are you going to do with it? 2, S3 attacks that hit on a 5+ isn't really that scary, even if you have a million of them. Well, that's where the rest of your army comes in. First off Typhus, just by being nearby, makes them S4 and T4.  In addition, as long as there are more than 10 of them, which yeah there will be, they hit on 4+. So, that's already better.
Next, you have Typhus cast Putrescent Vitality on them. Suddenly they are S5 and T5, numberless and disgustingly resilient. Then, depending the situation, you can either put Miasma of Pestilence on them (making them harder to hit) or (if they are fighting a super tough target) cast Blades of Putrefaction on them for +1 to Wound. And don't skip out on Veterans of the Long War: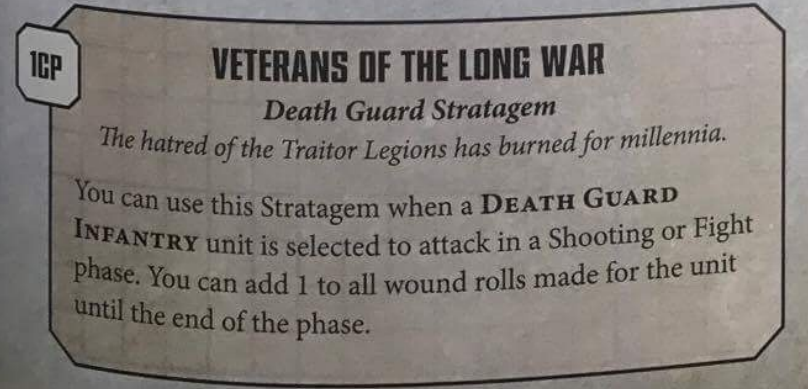 Yeah, that's another +1 to wound. Meaning you could wound up to T9 on a +3. Then, if you have a Chaos Sorcerer with you, toss put Prescience on them to give them a +1 to hit rolls. And if you're in the casting mood, how about Warptime for some extra movement. Remember, Tallyman lets your re-roll misses in the fight phase. Suddenly you numberless horde is S5 and T5, with a -1 to hit them, hitting enemies on a 3+ with re-rolls and getting a +2 on the to wound roll. That's nothing to sneeze at…
The Rest of the List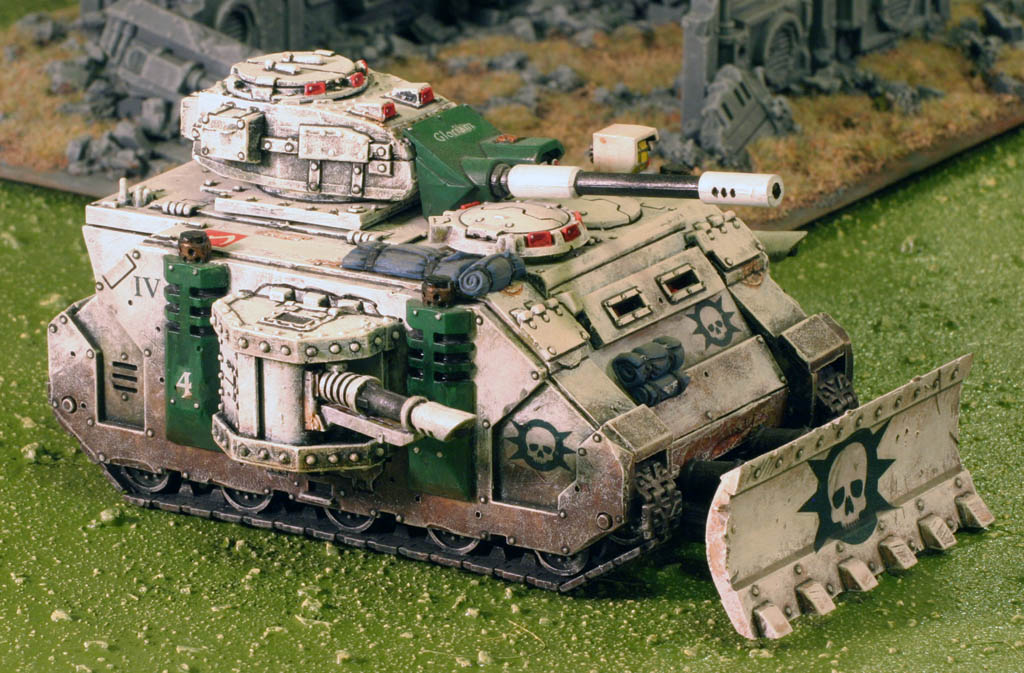 While the Poxwalker combo is clearly the main killing force of the list there are a few other tools in it. In particular, the 3 Predators provide some needed long range support and anti-tank power. Don't forget about Killshot as it can really let them bring the pain out there. You've also got a bits of chaff to run around and tie stuff up or hide on objectives. And hey –  a couple hundred shots from cultist are bound to kill something!
Weaknesses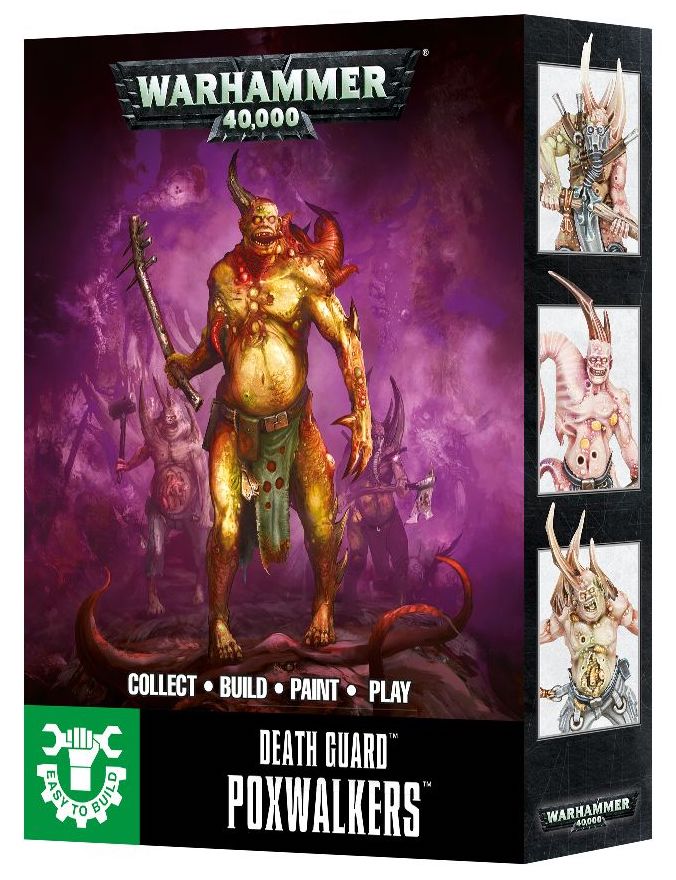 The biggest weakness the list has is that it really needs to go first. The chance of the Poxwalkers getting killed before you can use your stratagems is a big risk. Preferably, you'd like to try to deploy your Poxwalkers out of sight on turn one to mitigate the risk. It's also not the fastest army.
Still, the list works best if you take a few turns so the enemy can help to build up the Poxwalkers. Enemy psychic defense can also also be annoying, but most likely won't cripple you. It's also a list that is going to use a lot of CP to keep the good stratagems going. However, with 15 starting CPs and a chance to not spend some, I think it should have enough to get through the crucial turns.
Final Thoughts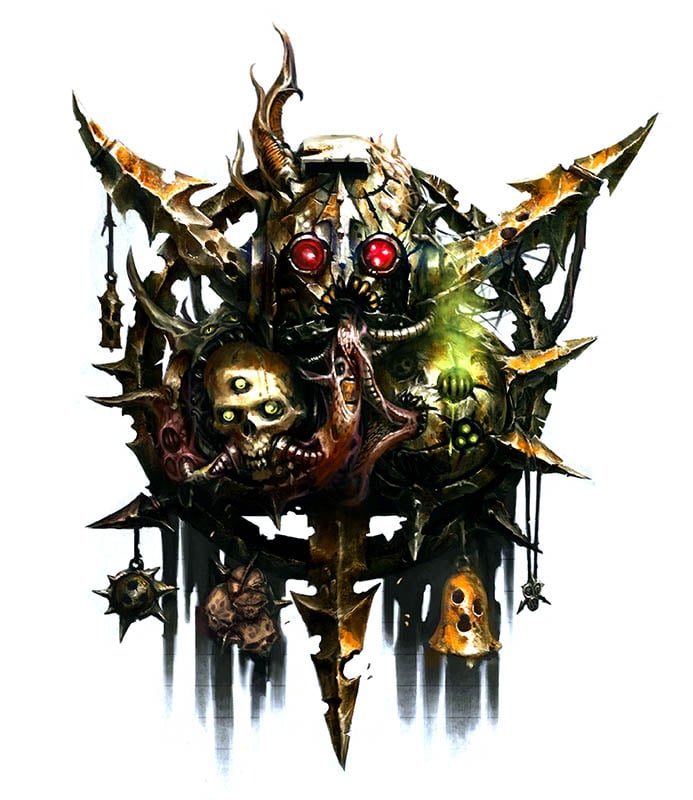 I know playing around with the list will lead to some more optimization. The Predators could be swapped to take cheap Havocs and get more Cultists. Maybe you could move the battalion to Death Guard and save some points taking elite heroes instead of the Noise Marines. I'm also tempted to try to fit Abbadon in there for extra CP and making the Cultists Fearless.
Overall, I'd love to try to army out. While it may not be "the best list ever made" the idea of being able to build a massive 100+ man unit of super Poxwalkers that can't be shot is pretty silly. The idea that  "your guys get shot your army gets stronger" can really throw your enemy for a loop. Truly, it is a horde with endless possibilities.
That's all for today folks. Let us know what you think about this stupid 40K trick and how you'd fight it down in the comments. 
Note: Remember, you're "adding a new model to the unit" – that is not the same as replacing dead models or creating a new unit. It takes no reserve points and there is no rule about the Poxwalkers units going above the unit's starting number. If you can find that rule, please drop the page number in the comments below!