Privateer: Company of Iron Ships



Privateer Press Launches New Tabletop Skirmish Game: Company of Iron. It's on store shelves now.
October 25, 2017
Bellevue, WA – Privateer Press is releasing a new tabletop miniatures skirmish game that draws on the existing catalog of WARMACHINE & HORDES models to create a new tabletop game experience: Company of Iron. This highly anticipated game offers players a skirmish experience that requires fewer models and less table space than traditional games of WARMACHINE & HORDES. And while WARMACHINE and HORDES focus on full armies lead by powerful warcasters or warlocks and their battlegroups of warjacks or warbeasts, Company of Iron zooms in to focus on intense, narrative-driven firefights between small forces of soldiers making the game quicker to play and easier to dive into for both new players as well as veterans. In addition, because Company of Iron uses many of the models currently available in WARMACHINE and HORDES, it adds a new dimension to the impressive WARMACHINE and HORDES product line, serving as either a standalone offering or as an expansion to the full-scale games.
"While there is plenty to love about the fast-paced, tactically rich, cinematic gameplay of Company of Iron, the most exciting thing about Company of Iron is the incredible opportunity it offers as both a brand-new, standalone skirmish miniatures game and as a compelling expansion to the WARMACHINE and HORDES experience," said Privateer Press Executive Director William Shick. "Thanks to its skirmish scale, Company of Iron is perfect for stores and players who are new to tabletop miniatures games, providing a streamlined and easy-to-pick-up yet extremely rich and tactically deep experience with only a handful of models. And for those stores and players who are WARMACHINE and HORDES veterans, Company of Iron provides a whole new way to dive even deeper into the exciting world of the Iron Kingdoms."

The Company of Iron starter box is available for $74.99 MSRP and contains miniatures, game accessories, and all the rules necessary to start playing right out of the box. This includes: 21 highly detailed miniatures with stat cards, 2 rules booklets and a scenario guide, 40 Command cards, 6 Commander Upgrade cards, 72 different game markers and tokens, an 18" ruler, and 4 six-sided dice. In addition to the boxed game, Privateer is also offering a special on Company of Iron army bundles, featuring the models needed to create a Company of Iron army for ten different WARMACHINE and HORDES Factions. These bundles are currently being offered through distribution and direct to retail at 25% off MSRP (normal MSRP for all items is $678.78 while the bundle is $509.09). Stores can contact their distributor or [email protected] for more information.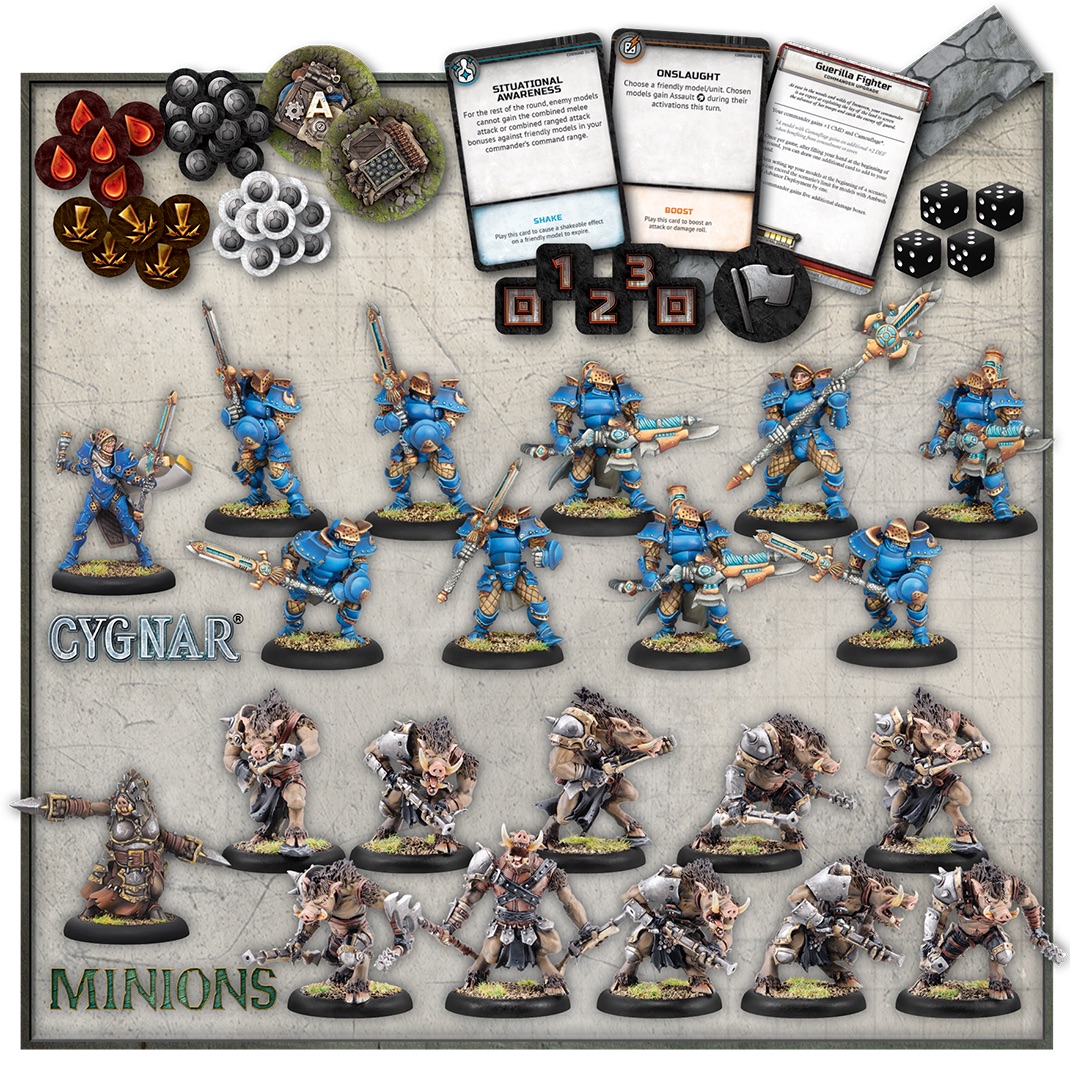 Company of Iron will regularly be supported in the all-new No Quarter Prime magazine, which launched in September, as well as various Organized Play offerings throughout each year. Issues of No Quarter Prime will include squad lists, allowing players to play thematic armies in Company of Iron, and will include new scenarios and special rules for the game as well. Organized Play kits for narrative leagues and special events will also further support Company of Iron with new Commander Upgrade cards, rules, and scenarios exclusive to each event.
The Company of Iron start box is available October 25th from Privateer Press and local game stores.