Tabletop Spotlight: Flick'em Up Dead of Winter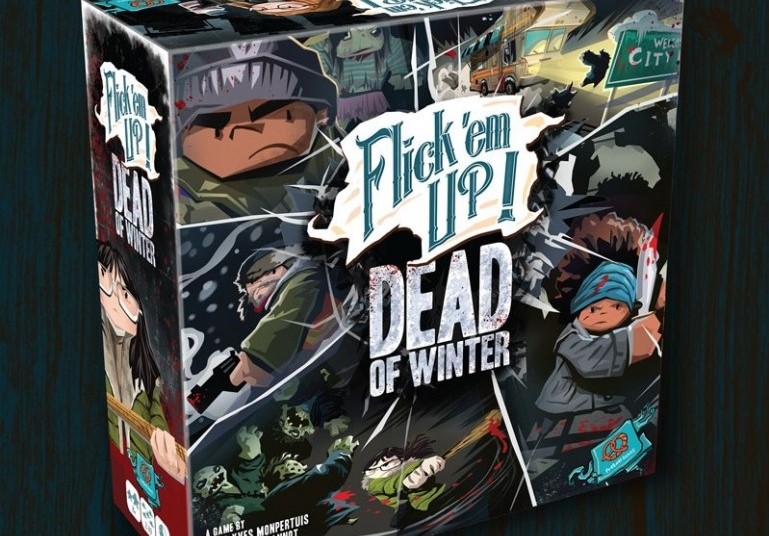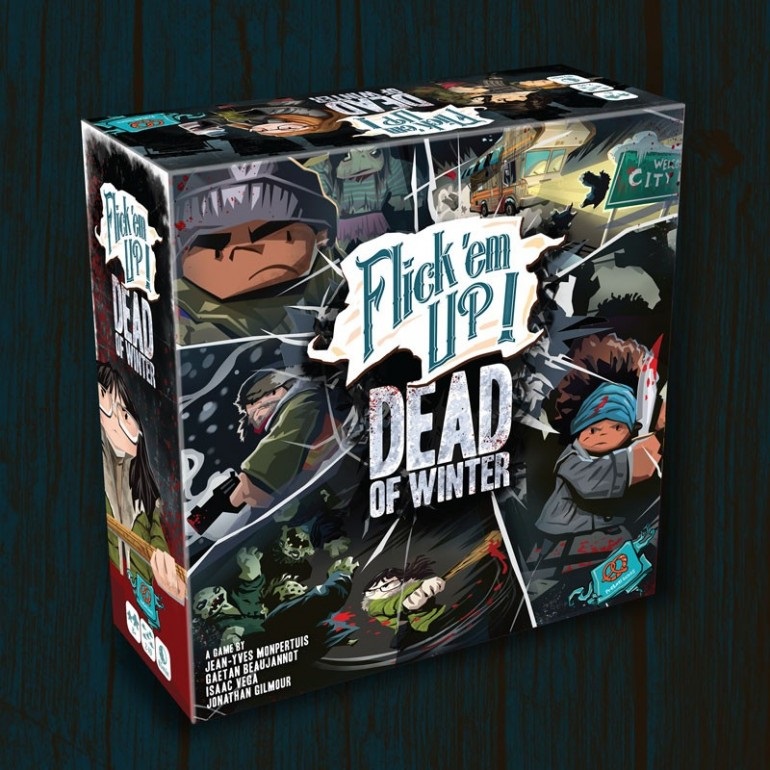 It's two great tastes that go great together – Flick'em Up! Dead of Winter is under the Tabletop Spotlight!
Have you played Flick'em Up? What about Dead of Winter? How what do you get when you combine them both? Thanks to our friends at Dragon's Lair Comics & Fantasy now we know:
If you haven't guessed it by now, this game combines the theme of Dead of Winter with the dexterity based gameplay of Flick'em Up! It's a really great mix of theme and mechanics that won't leave you out in the cold. Players take on the role of survivors in the Zombie Apocalypse and have to survive, scavenge and fight their way through hordes of zombies. This game does have a great mix of mechanics from both games including rules for noise, melee weapons, and of course – shooting!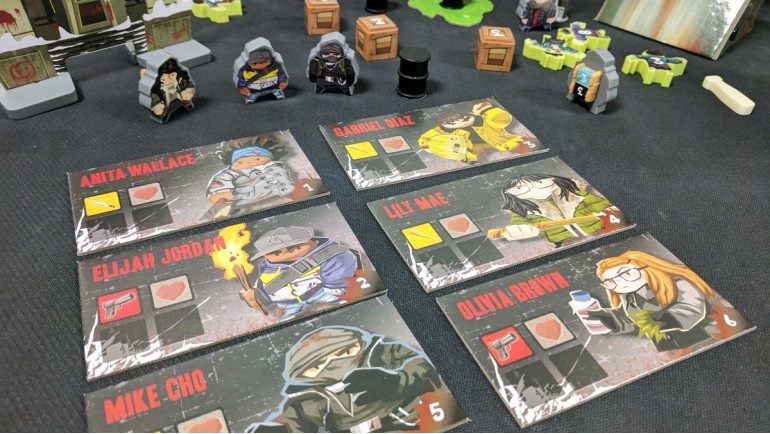 Component-wise, it's a really nice re-skin of the concepts from Flick'em Up! with the Dead of Winter theme – only slightly more cartoonish. It uses similar plastic components for the zombies and survivors as Flick'em Up! and has cardboard buildings and extras that really help set the stage. If you've never played Flick'em Up! at all then a basic primer is that you move your character around the board in an attempt to gather objectives. You can launch attacks by literally flicking round discs at the targets your going to hit.
So how does the Dead of Winter concept help this game become even better? By combining the core mechanics of Flick'em Up! with the story and theme of Dead of Winter! In the box there are 10 scenarios to play. Some of them are Co-op. Some of them…well, let's just say it's a team sport. This game also introduces the Zombie Tower! A new way to spawn zombies on the board: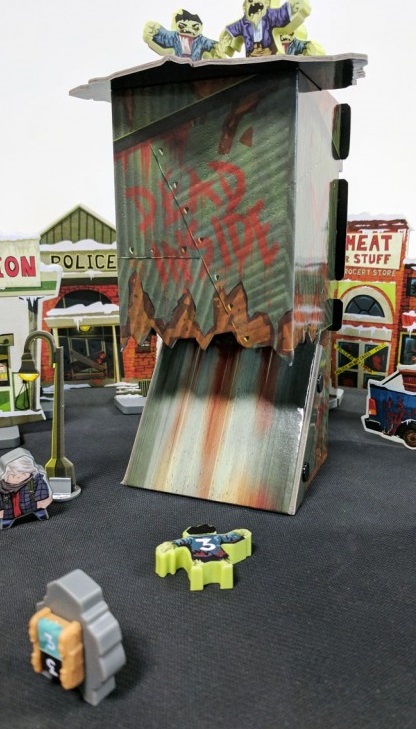 So if you enjoyed Flick'em Up! or if you're a fan of Dead of Winter – or hey if you're just looking for a great game to kill some time, zombies, and possibly your friends (in game) then check out Flick'em Up Dead of Winter! It's out and in stores now!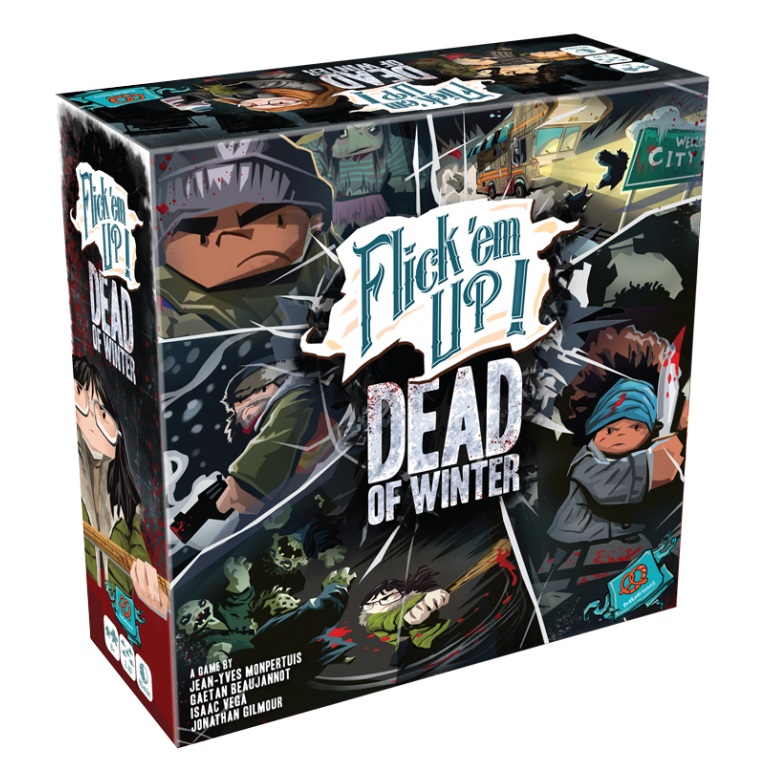 Subscribe to our newsletter!
Get Tabletop, RPG & Pop Culture news delivered directly to your inbox.
Based on the best-selling game Dead of Winter, form your group of 10 survivors and explore the city 
with 10 scenarios. Shhhhhh! The slightest sounds will wake the zombies! With the new – and terrifying – Zombie Tower,
you'd better be ready and raring to go when the zombies attack! Are you ready to flick some zombies?

Welcome to the crossover made in heaven:
Flick'em Up – Dead of Winter. Immerse yourself in 10 different scenarios with mind-blowing scenery and components that will transform your table into the post-apocalypse wasteland of a zombie invasion. With your team of 10 well-known survivors from the Dead of Winter world, search high and low to gather resources and weapons to survive the trials ahead. Danger lurks everywhere, but you must put your fears to rest and confront the dead while you still can. Learning to flick and handle new weapons will be key against zombies. Control the accuracy of your sniper gun, the striking strength of your baseball bat and the effectiveness of your knife throwing before facing a zombie. You should know it by now: Zombies are merciless!
Flick'in Zombies!