Cosplay Artist Spotlight: MacG Armory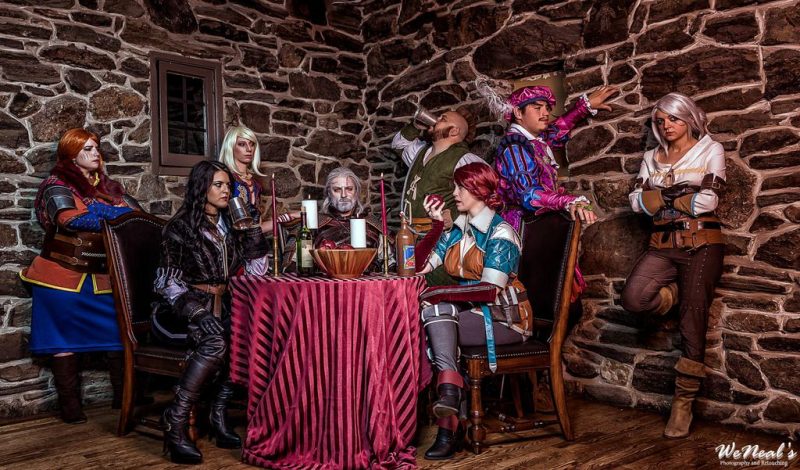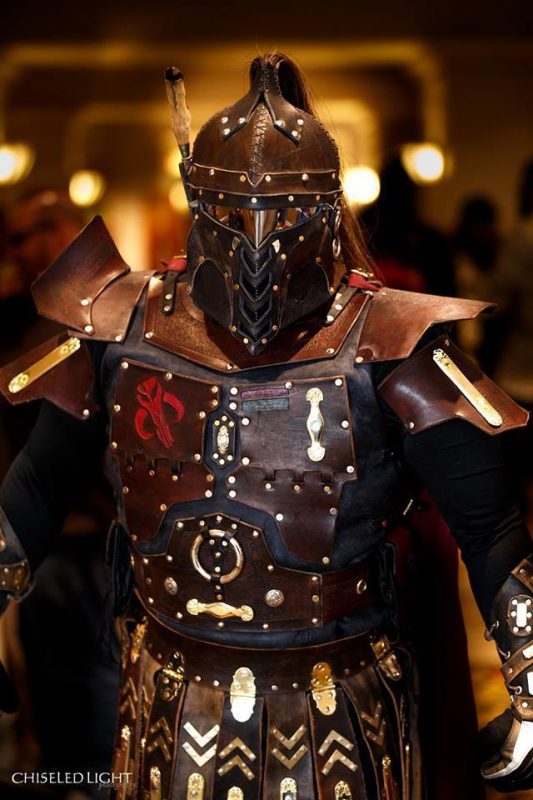 This week we're featuring a Commissar who hopes for the best but is prepared for the worst!

Welcome to the Cosplay Artist Spotlight!
"I'm sure most of the men in the galaxy are familiar with the sinking feeling that accompanies the words "Do you think you could do me a little favour, darling?", but when the woman asking the question is an inquisitor it's even less wise than usual to say "No". -Commissar Ciaphas Cain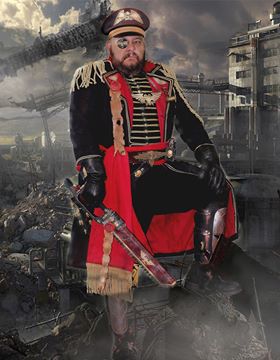 Cosplay: 40k Commissar. Photographer: Mona Rodriguez
This week on the Cosplay Artist Spotlight, we're diving back into the world of Warhammer 40k. We're spotlighting a Colorado cosplayer with a wide array of cosplays under his belt. Enjoy the work of MacG Armory! 
1. How did you get your start in cosplay? How long have you been creating your projects? What inspires you to work in the cosplay realm?
My official start in the world of cosplay came in 2012 when my son was 9 years old and asked to be a Transformer for Halloween. Immediately in my mind I was going online and buying an Optimus Prime or Bumblebee costume, easy peasy. Then he added, "I want to turn into a car". To which my immediate response was, "how the hell am I going to make this happen?!?!?!" I got a bunch of old boxes, a few rolls of duct tape, some spray paint, and went to work. The first test I posted online can be seen
here.
  We took this costume to a few conventions where he transformed thousands of times and was surrounded by fans and photographers every time he did. The following year, I built myself a 8.5' tall Iron Giant costume and that one had me surrounded by people and photographers everywhere I went. From then on, I keep trying to improve on my quality, and I also build my kids whatever costumes they want to be.
As for what inspires me, there are two major things that really motivate me to move forward with cosplay. The first are my kids, Quinn (13) and Kaely (10). They always choose something that is fun and challenging to build. They keep me on my toes and allow me to continue to grow my skills building new and better cosplays for the family. The other is the Colorado cosplay community. I live in an amazing location where everyone is positive, friendly, and helpful. There is a lot of toxicity elsewhere in the cosplay world so it is nice to be part of such a supportive community.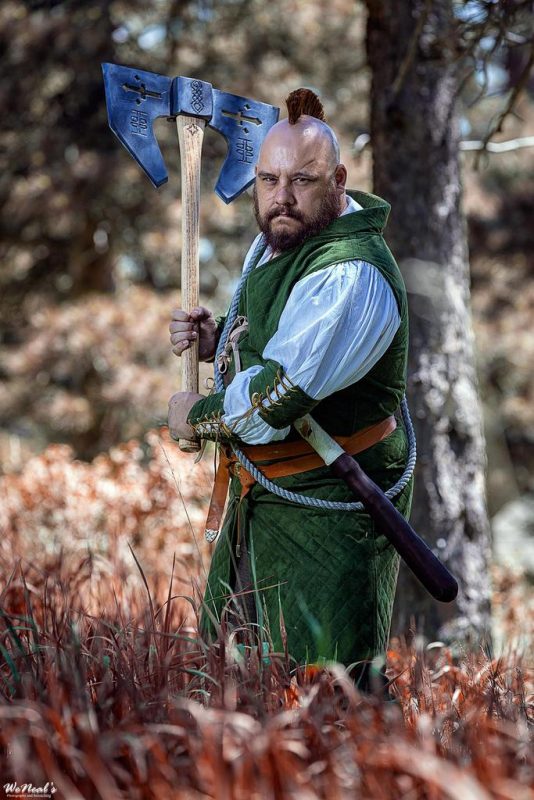 Cosplay: Zoltan Chivay. Source: Witcher III. Photographer: WeNeals Photography
2. What is your strongest construction aspect?
I am a visual learner so my ability to pick up techniques from watching youtube videos or reading cosplay how-to books has been extremely helpful. Once I see how something is built, I am usually able to incorporate that technique into what I am building. It does take time to become proficient in these techniques, but I can usually pick up the foundation of the process very quickly.
3. What is your favorite type of cosplay work to do?
Armor. Period. I cannot tell you how much I love armor. Fantasy, sci-fi, steam/diesel/cyber-punk, doesn't matter… I love armor. I have dedicated pages on my social media just asking for people to show me the armor they are working on. If you want me to like your page or to follow you on social media the easies thing to do is show me some armor.
4. What are your favorite completed projects, or your most popular?
This one is difficult to answer because I only do cosplays of subject matter I really care about. If I had to pick my top 3 favorites… in no particular order… Yondu Udonta from Guardians of the Galaxy (which was featured on Marvel.com), Imperial Commissar from Warhammer 40k (my most recent cosplay), and Dark Ages Mando (Original costume based on Star Wars). That being said, my most popular individual cosplay would have to be my Iron Giant. People of all ages would light up when they saw that one. Everyone would run up and get pictures with the Iron Giant, sometimes almost tackling me in the process. It was an amazing feeling to have built something everyone enjoyed so much. My most popular group project was the Zoltan Chivay costume I did with a very large Witcher III group. That one was featured on Kotaku.com and in the 2017 Men Vs. Cosplay calendar.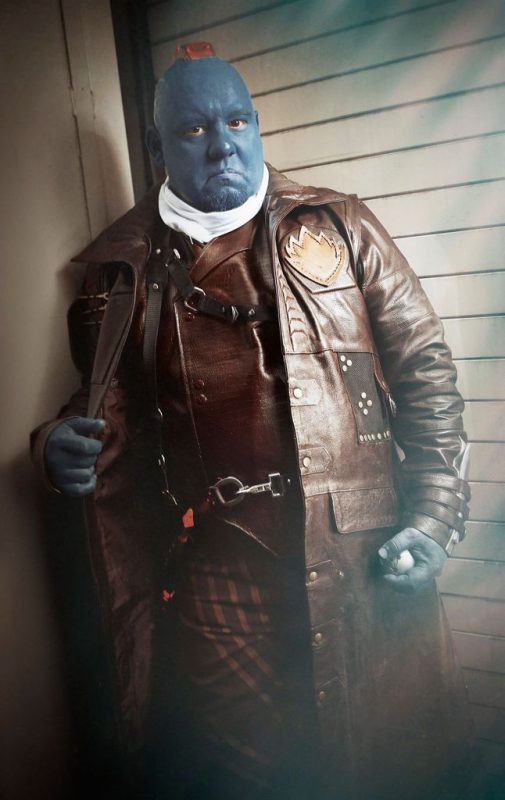 Cosplay: Yondu Udonta. Source: Guardians of the Galaxy. Photographer: Doug Chapin Photography
5. What material is your favorite to work with?
Leather. Again this goes back to Armor. I am a long time LARPer (Amtgard of Colorado) and I have been building suits of armor for over 20 years. Technically my first cosplay was a complete Mandalorian costume I made out of leather. This took almost two full sides of leather (an entire cow) and about 200 hours of work to complete. This was originally made as a functional fighting suit of armor for Amtgard and was not initially intended as a cosplay. Since then, I have worn this at conventions, Renaissance festivals, and fought in at LARP events. If there were ever to be a zombie apocalypse, I would be wearing this non-stop.
6. What are your favorite fandoms? Favorite characters?
There are soooo many. My brain is full of pop-culture, it is the foundation of who I am. I am a sucker for sci-fi. Most anything in this regard gets my blood pumping. Movies, books, comic books, video games, anime, I like it all. At the top of the heap I would have to say Warhammer 40k. The lore is so fleshed out that you can read hundreds of books and still not be considered an expert. I have to thank Ciaphas Cain and Gaunt's Ghosts for the inspiration to build my 40k Commissar costume. Also in the mix is Star Trek, Star Wars,
Battlestar Galactica (old and new)
,
Babylon 5
, Firefly, Mass Effect, The Marvel Comics Universe, Justice League America/Europe/International (Comics), Fallout, Assassin's Creed, Robotech, Voltron… OMG, I could do this all day.
7. What kind of games do you play? Videogames? Tabletop? Wargames?
I am a PC gamer first and foremost. I play a little bit of everything (I have over 200 games in my Steam account) but I really love story driven shooters like Fallout and Mass Effect. I also enjoy quick skirmish games like Overwatch. Once a year several friends get together to do a LAN party (Called "The Killing Fields") where it is a full weekend of LAN gaming. I play tabletop games quite often, and wargames every now and again, but PC Gaming is where I live.
8. What conventions do you attend? Have you guested/spoken on panels/competed in contests?
Being from Colorado there are a large assortment of conventions nearby to attend. These are the ones in the near vicinity that I try to hit as often as possible.
-Starfest Denver: The first convention I ever went to and I have not missed one since. Small enough to be personable, big enough to be a giant party. I have ran panels, judged competitions, competed in several different types of events, and I have taken 1st place in the cosplay contest twice.
-Denver Comic Con: I have spoken on panels at this convention and in 2016 the Witcher cosplay group I was part of won the Best of Show in the cosplay contest.
-GenghisCon Denver: I have been a cosplay guest here twice. During these events, I would attend and spectate or play games with the patrons. It was fun to be part of this convention and I look forward to going back.
-Salt Lake Comic Convention: I have been an attendee and a vendor here. Love this convention. The staff and the attendees are a fun crowd to be around.
-GalaxyFest Colorado Springs: This one reminds me of Starfest, small enough to be personable, large enough to be a party.
-Rocky Mountain Con Denver: I have been a vendor here as well as an attendee. This is a small convention but benefits charity and as such is definitely worth attending.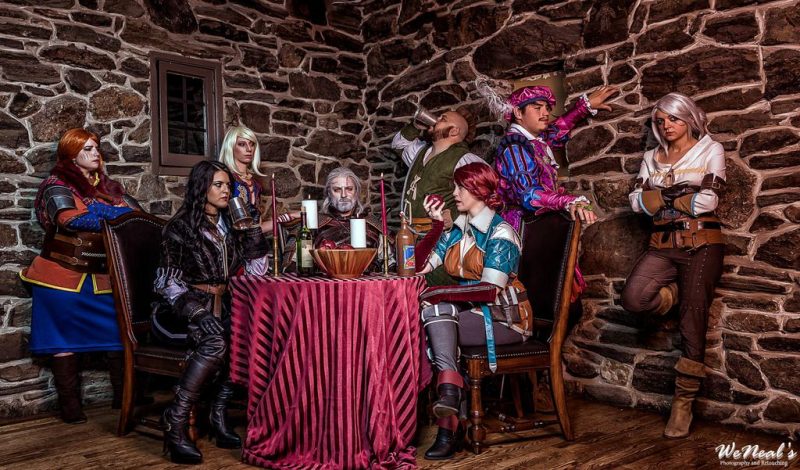 Cosplay: Zoltan Chivay (Group). Source: Witcher III. Photographer: WeNeals Photography
9. What projects are you working on in the future?
I am currently working on a Voltron Costume for my daughter. She is super excited about it and can't wait for it to be finished/unveiled at Starfest Denver in April.
I am also beginning work on a Judge Dredd costume for myself. This one may not make the convention circuit this year as it is going to take a lot of work to get done.
10. What conventions are you attending this next season?
This year I have already been to GenghisCon Denver and will be going to Starfest Denver, and Denver Comic Con. I am also trying to hit Estes Park Comic Con, Phoenix Comic Fest, and Salt Lake Comic Convention. There are several others that I would like to go to, but time is always a factor.
11. Who are your cosplay inspirations? Whose work do you admire or aspire to?
I follow literally hundreds of cosplayers because I admire their work, as such I will just hit some of the ones I have had the privilege of working with or being around who really encourage me to be a better cosplayer. Alandra, Jessolaurus Rex, Ginni Di, AlyCat, Captain K, Cap for Kids, and Voxxy. I know there are at least a couple dozen others who I am forgetting, but these are some of my personal favorites.
12. What are your favorite movies/shows to watch or music to listen to while you craft?
My taste in music is extremely varied. I created this youtube playlist specifically for when I am crafting. If you want to listen to a truly eclectic mix of music,
feel free to take a look
. It may have you scratching your head as to how I can function going from the Blues Brothers, to Waka Flocka Flame, to Johnny Cash, but hey, it works for me. 😛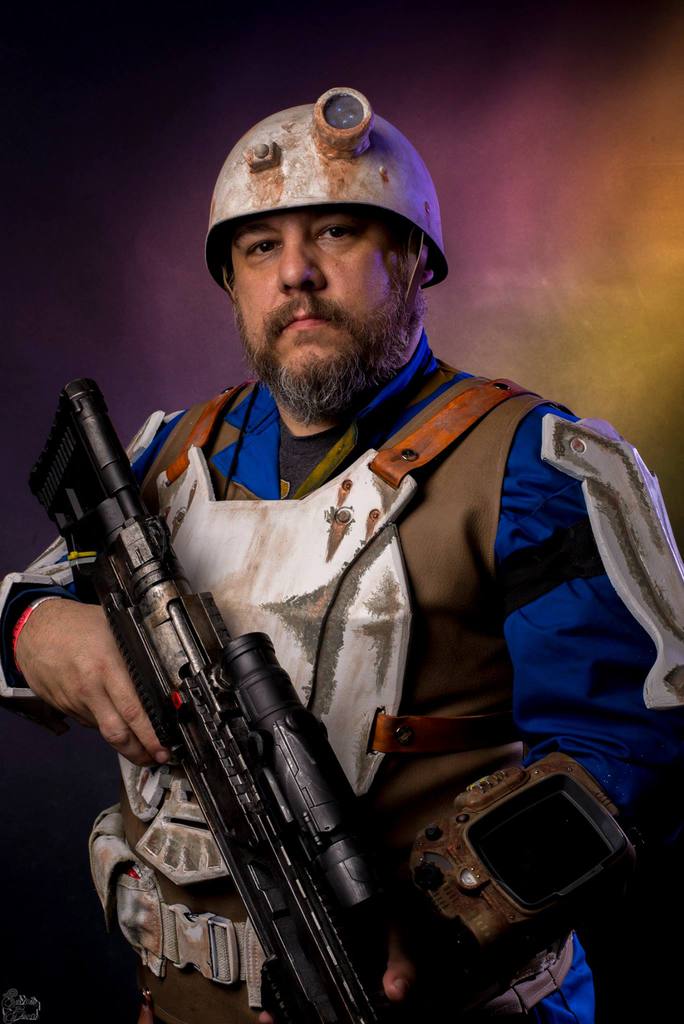 Cosplay: Lone Wanderer. Source: Fallout 4. Photographer: Savich Photo
13. What message do you have for people wanting to break into cosplay? What have you learned in your time working in Cosplay?
Just start. If that means you go to a Spirit Halloween store and buy an off the shelf costume, then do so. Everyone starts somewhere. Don't worry about being the best or getting followers or blowing up the internet, just do something you have a passion for. Look at me as an example, I have been told I am too old and too fat to be a serious cosplayer. However, I have done what I am passionate about and I am now guesting at conventions. I have made a ton of new friends with whom I never would have before even associated. I have learned new skills and have been working with people who are amazing and incredibly talented. This all began with a little cardboard and duct tape Transformer. If you are interesting in learning how to build, or how to sew, or how to paint, or how to design, there is always someone willing to teach. While there are always some bad apples, and the internet itself is a wretched hive of scum and villainy, the cosplay community at large is supportive and helpful. Ignore the trolls and haters and be who you want to be. To quote the Iron Giant, "You are who you choose to be".
14. What are your social media/website links? Where can we find you?
Cosplay Amino: Kayden MacGregor
WorldCosplay.net: KaydenMacG
Cosplay: Iron Giant. Source: The Iron Giant. Photographer: MacWolf Productions
~Join us next week for more Cosplay! Coverage~
Have a Cosplay question you would like Mayhem's Muse to answer? Send email here!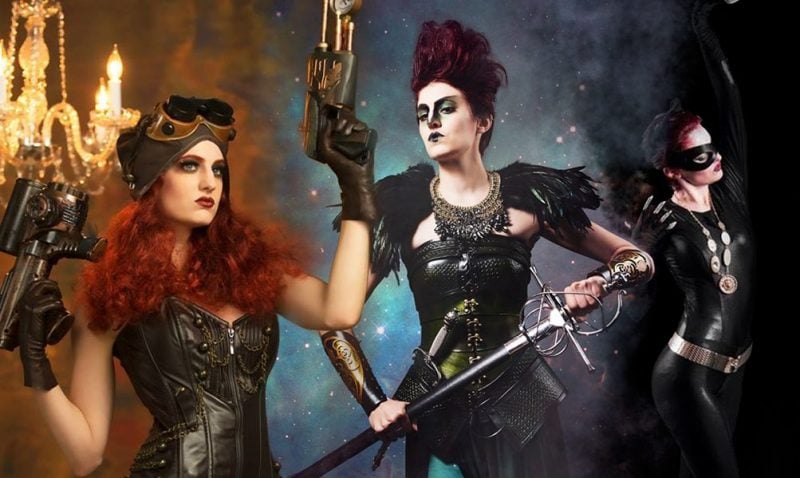 Top Image: Cosplay: Dark Ages Mando. Source: Original (Based on Star Wars). Photographer: Chiseled Light Photography