Cosplay Construction Spotlight: Imperial Commissar (Part 2)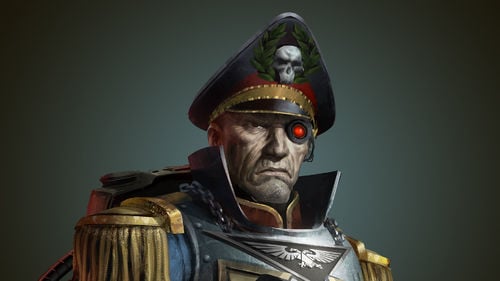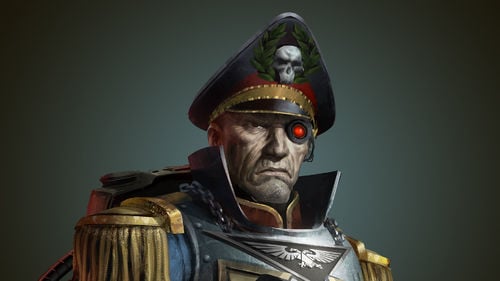 This week we're featuring a Commissar who Hopes for the Best, and is Prepared for the Worst!

Welcome to the Cosplay Construction Spotlight!
"I'm sure most of the men in the galaxy are familiar with the sinking feeling that accompanies the words "Do you think you could do me a little favour, darling?", but when the woman asking the question is an inquisitor it's even less wise than usual to say "No". -Commissar Ciaphas Cain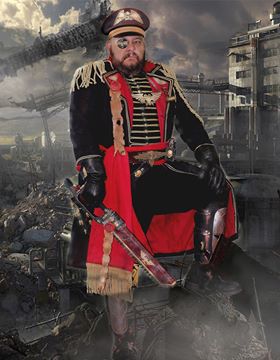 Cosplay: 40k Commissar. Photographer: Mona Rodriguez
This week on the Cosplay Artist Spotlight, we're diving back into the world of Warhammer 40k. We're spotlighting a Colorado cosplayer with a wide array of cosplays under his belt. Enjoy the work of MacG Armory and his Astra Militarum Commissar Cosplay Build!
Inspiration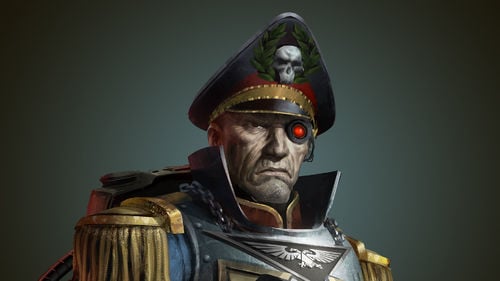 First a little background. I have been a fan of 40k for a very very long time. I have wanted to cosplay something from this universe since before I even started getting serious about cosplay. After reading Gaunt's Ghosts and later Ciaphas Cain Hero of the Imperium I decided I really wanted to do a Commissar. I put this off for years and years thinking that I could never do it justice until finally I figured it would never happen. Late in 2017 I was asked to join GenghisCon Denver 2018 as a cosplay guest and I accepted. For this I wanted to do a new costume but I could not think of what I wanted to do. In early January, it was starting to become crunch-time to get something done for the convention (which took place in mid-February) and I panicked. Finally, I decided that good or bad I was going to do this cosplay that had been on my to-do list for the better part of a decade. Now, on to the build…
3D Printing: The Weapons
I recently purchased a 3D printer and wanted to test it out for cosplay so I started this build with the chainsword and laspistol. The Chainsword printed in 6 parts for a total of about 70 hours of print time. Then it was a matter of sanding, damaging, painting and weathering. This was a whole lotta work, but I love how it turned out. On a side note, anyone who tells you that 3D printing is cheating and doesn't require skill has never 3D printed anything.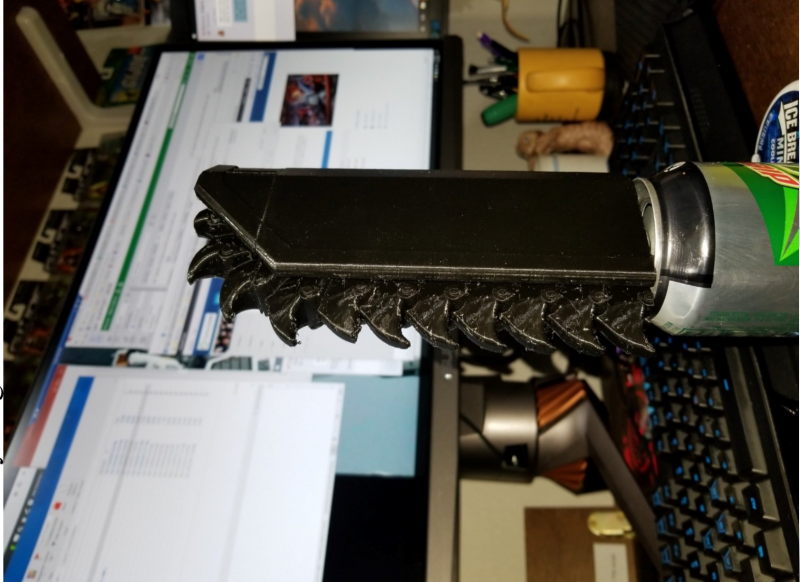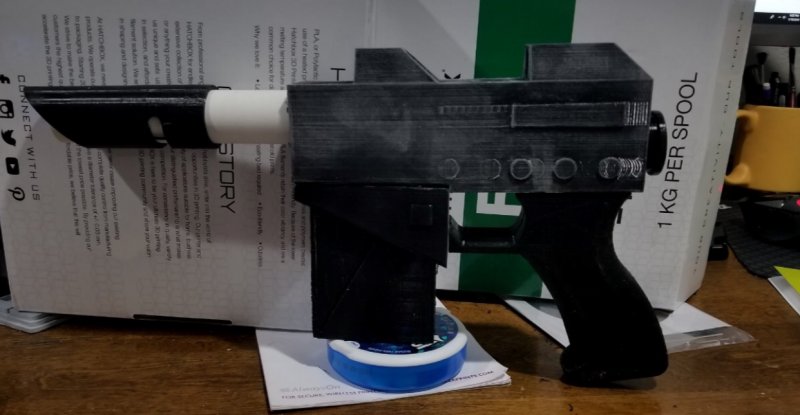 Subscribe to our newsletter!
Get Tabletop, RPG & Pop Culture news delivered directly to your inbox.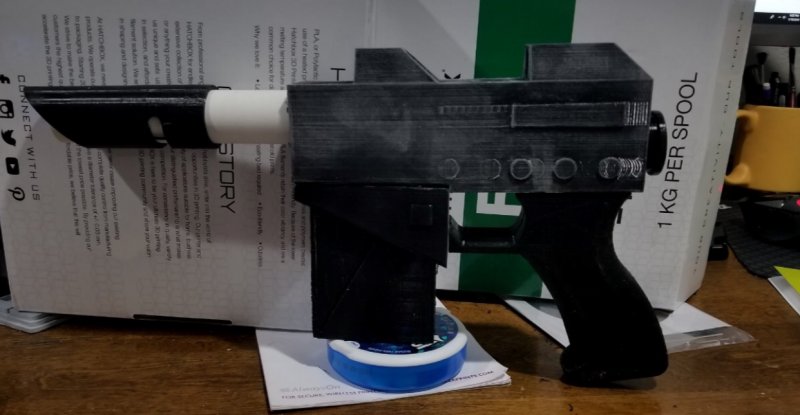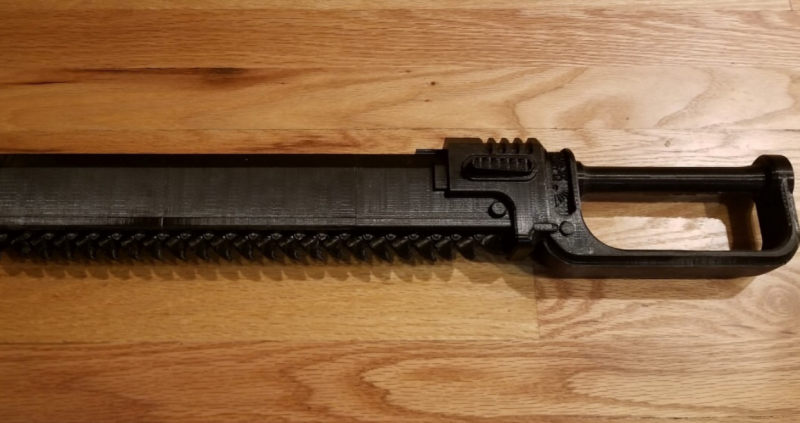 Purity Seals
Next, I wanted to add some Purity Seals to the costume so I looked online for a tutorial and found this amazing link to the perfect instructables page. I created some stamps on the 3D printer, then melted hot glue, mixed in some red paint and then poured out a big lump and smashed it with the stamp. The ones in the pic are the Fleur De Lis of the Sororitas, but I later changed these on the final costume to a Skull and a couple Inquisition Seals. The prayers are both in English and Latin then printed on an iron-on transfer, I then stained it with coffee, stained the fabric with coffee, and ironed the prayer onto the fabric. I then cut slits in the prayer and burned it with a candle. These turned out better than I planned.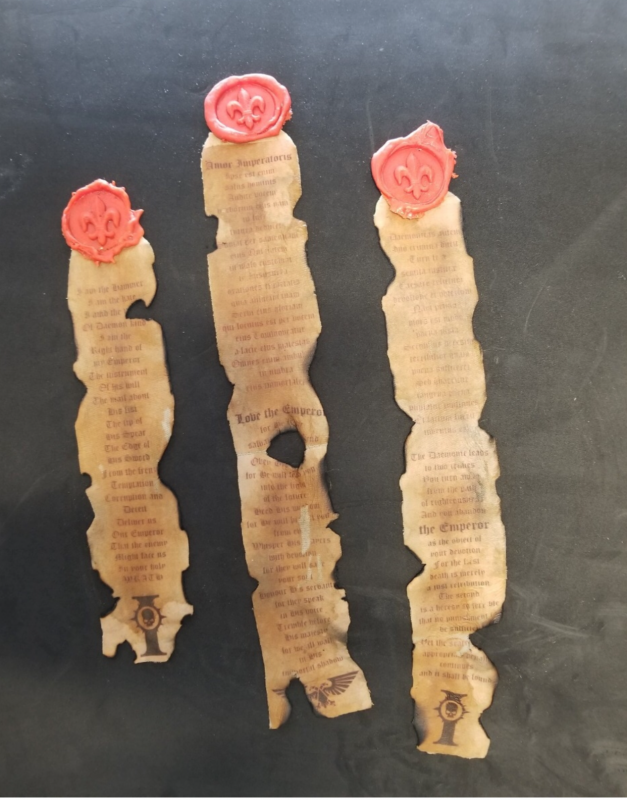 Eye Patch
I tested out a couple different eye-patches for the final costume: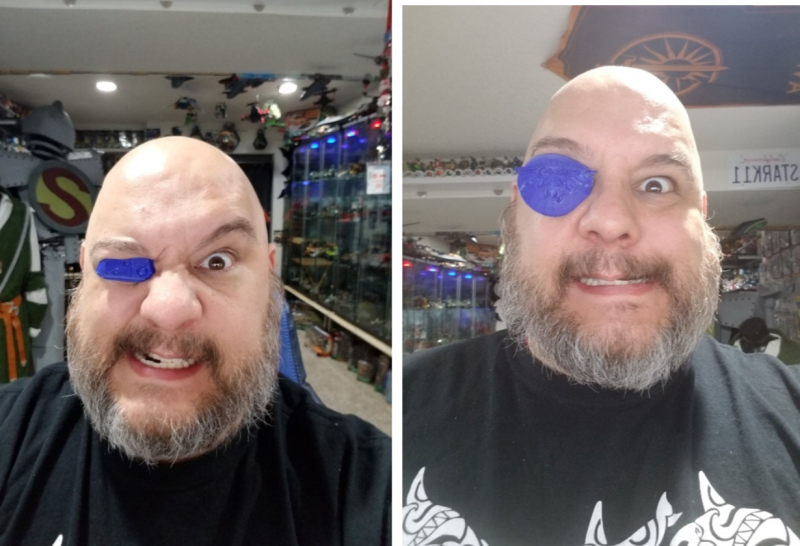 But I landed on a traditional patch with the Aquila added for detail.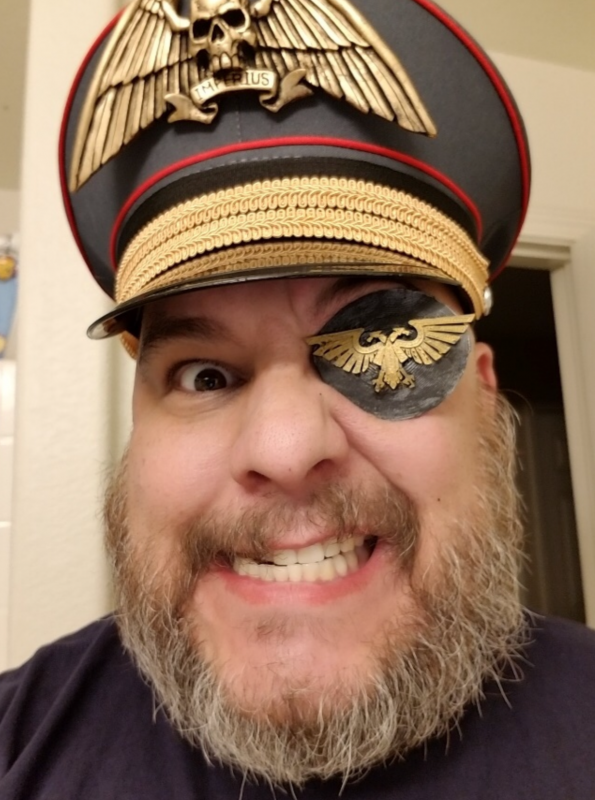 Commissar Medals
I wanted to have a medal of some kind so I checked the Lexicanum for Commissar awards. I found one called the Order of Saint Kark which is for maintaining discipline on the battlefield throughout the Imperial Guard ranks. It was described as a bolter shell held by a red ribbon. There was no picture, so I designed this one in TinkerCad and printed it out.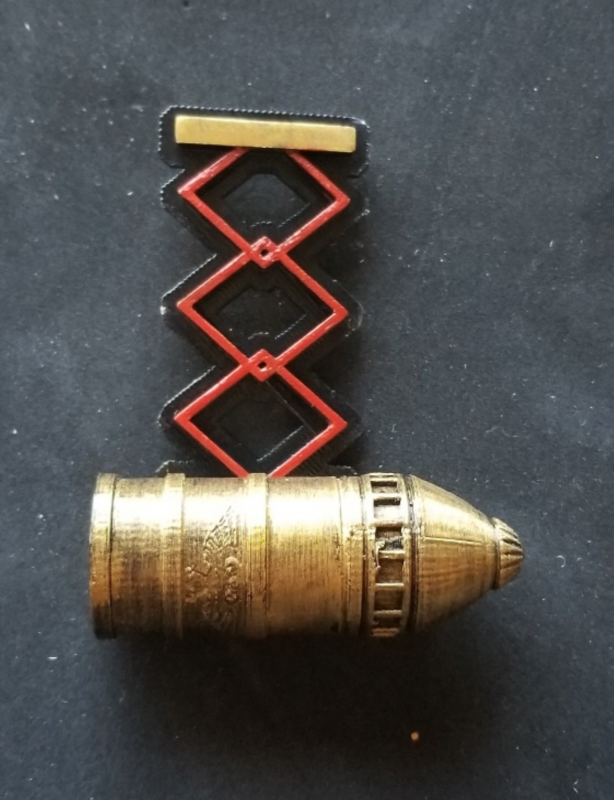 Holster
The holster I made out of sintra (thermal plastic) and heat shaped it to fit the laspistol. I then attached it to the leather belt Han Solo style and added a ton of skulls.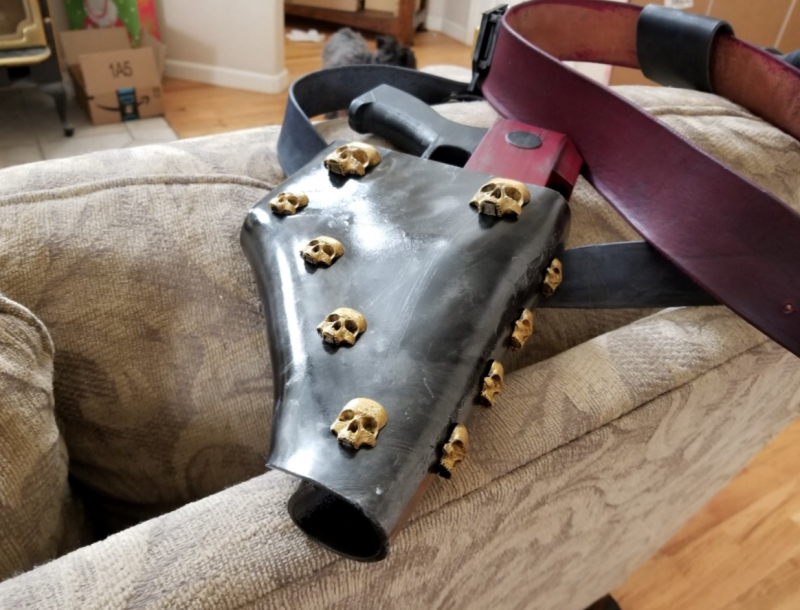 Belt Buckle
For the belt buckle I did another Aquila but in a different style than the traditional Imperial Eagle.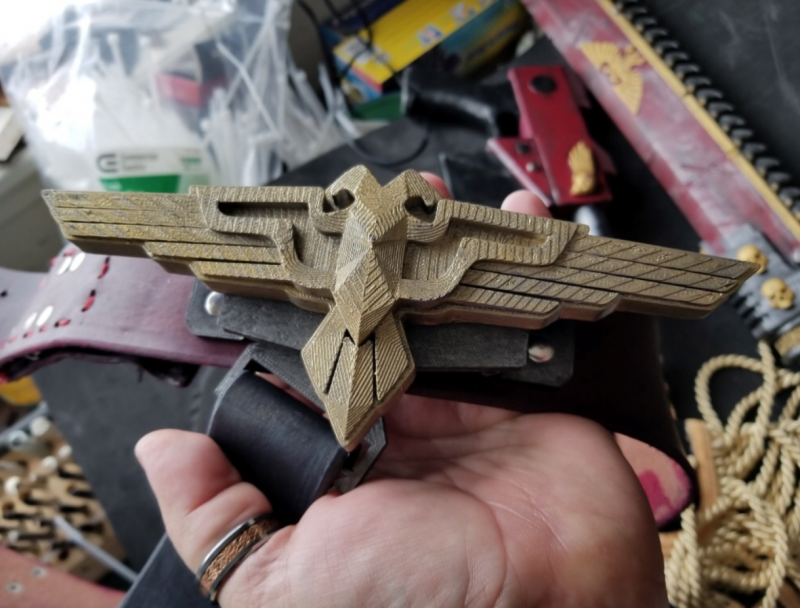 Epaulettes
I fabricated epaulettes out of leather and added the gold rope trim, gold banding, and skulls. I attached these to the shoulders of the long coat.  I also added gold honors banding to the shoulder.  I Sewed the Commissar Red sash from red fabric and more of the gold rope trim.  I 3D printed an Aquila necklace including the chain (3D Printers are awesome). I created yet another large Aquila that is split down the middle. Each half is attached to the bottom of my long coat so that when it is buttoned, they hang together as one complete Aquila.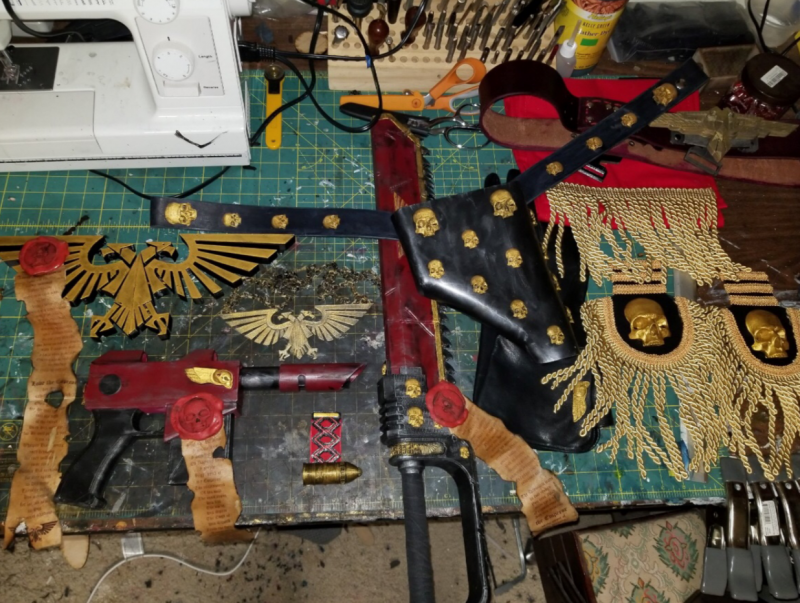 Grenades
On a whim, I built some grenades and a holster just as an afterthought and this was far and away the most popular part of my costume. People openly laughed when they saw this. I am so glad I did it.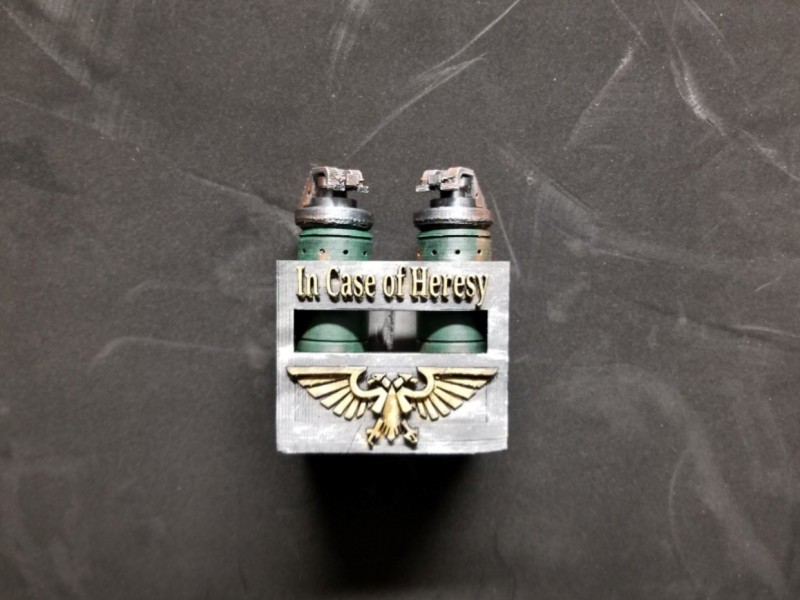 Hat & Coat
The hat and long coat I found online, but had to modify both to get the look I wanted. I added pins, medals, purity seals, and then I used 3 shades of clay powder to dirty everything up so that I didn't look like I had just come out of an action figure package. The first full dress rehearsal for the cosplay actually took place at the GenghisCon Convention. It was roughly 95% complete and it was fantastic. The people there loved it, I met several 40k gamers who asked for photos and I even met the creator of the Wrath & Glory RPG game, who posted the below pic which in turn led to me being here.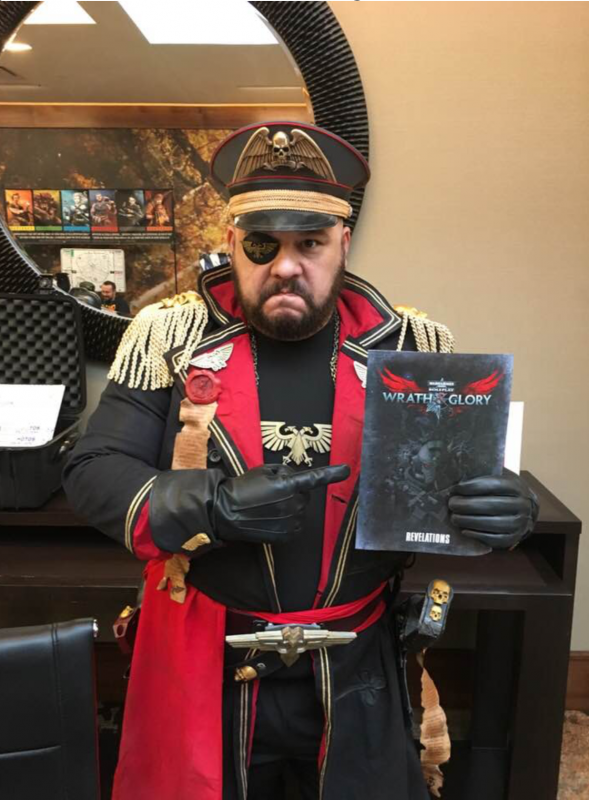 The entire experience was incredible and I was met with such enthusiastic fans and gamers that my appreciation for the Warhammer community as a whole has gone up. I can't say enough about how much I appreciate the Warhammer as well as the Cosplay community in general for how much love they have shown me. It is great time to be a cosplayer. The Emperor approves.
What are your social media/website links? Where can we find you?
Cosplay Amino: Kayden MacGregor
WorldCosplay.net: KaydenMacG
~Join us next week for more Cosplay! Coverage~
Have a Cosplay question you would like Mayhem's Muse to answer? Send email here!