Khador's New Battle Engine Chariots Up for Pre-Order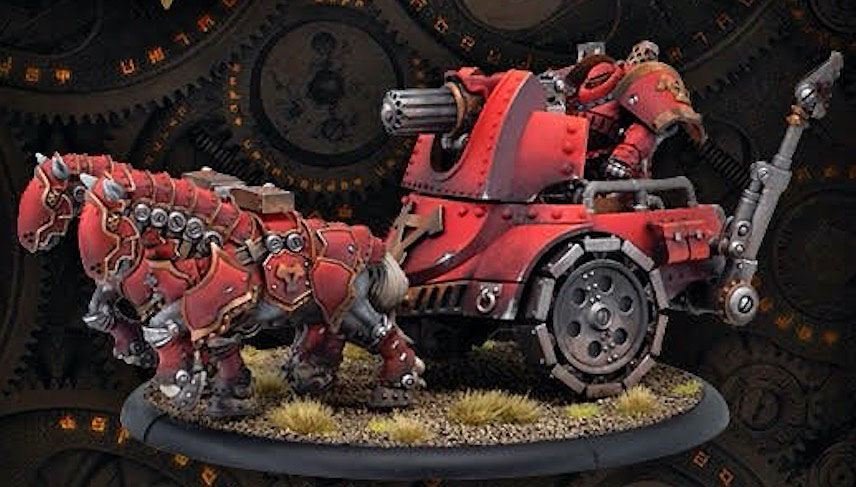 BAM-BAM-BAM! Khador's new pair of gun-toting battle engines is here. Take a look at the latest cold-blooded killers in Warmachine!
If you like heavy firepower and trucker hats – step right this way…

The iron wheels and steel-shod hooves of Man-O-War chariots pulverize the enemies of Khador while the armored charioteer brings devastation to the battlefield with heavy artillery. Combining the speed of Khador's toughest breed of warhorses, the Karpathan destrier, with the nigh-impenetrable steam-armor of the Man-O-War, these chariots punch holes in the enemy line, allowing the armies of Khador to march along the bloody paths they create. Whether armed with the armor-cracking heavy gun or the anti-infantry barrage gun, even a single Man-O-War chariot can turn the tide of a desperate battle in the favor of the Motherland. The thunder of its hooves and the roar of its cannons presage victory in the name of the Empire.
Gameplay
The chariots of the Man-O-War accompany their armored comrades into combat, providing mobile hit-and-run tactics for this normally slow and solid force. The Man-O-War Assault Chariot carries a barrage gun, a rapid-fire grenade launcher capable of decimating enemy infantry formations. The Man-O-War Siege Chariot is armed with a heavy gun and smoke launchers—the powerful shells of the heavy gun smash into foes, sending any who survive the impact reeling backward, while the smoke launchers deploy clouds to screen the army's approach.
This kit includes:
Weapons and equipment for Man-O-War Assault Chariot
Weapons and equipment for Man-O-War Siege Chariot
Preorders ship at the end of May 2018. Quantity limited to the first 1,000 preorders. The Man-O-War Assault/Siege Chariot will be available as a normal item in the online store after June 1st.
Preorder Man-O-War Assault/Siege Chariot by May 7, 2018, and receive a FREE Black Anchor Heavy Industries Trucker Hat.
~Which one's your favorite?