Drop Pods used to be the go-to option for getting units into the thick of things. But now those once trusty transports have become rusty residence on the shelf of unloved toys. So what the heck happened and can GW do anything to make them viable once again?
Take a moment and think about the last time you saw a Drop Pod on the tabletop in a game of Warhammer: 40,000. For me, it's been a long while which is sad because I have an entire Drop Pod Army. There was a time when you couldn't go to a tournament or a typical game night without seeing Drop Pods everywhere…and then came 8th edition. Since then, Drop Pods disappeared from the tabletop. Now when you see a Drop Pod folks are a little surprised and usually have comments like "Wow, I haven't seen one of those in a while" or "Huh? A Drop Pod – that seems like a waste of points. You could have taken a Rhino or just teleported that unit."
Drop Pods aren't the point efficient option any more so it's pretty hard to argue with that logic. Plus they lost all their utility thanks to the way "Deepstriking" works (ie, no risk involved due to not scattering). The final straw has been the way Matched Play limits how you bring units in from "Deepstrike" as well. Drop Pods are in a bad spot right now but we have a few suggestions on how to make them worth taking once again.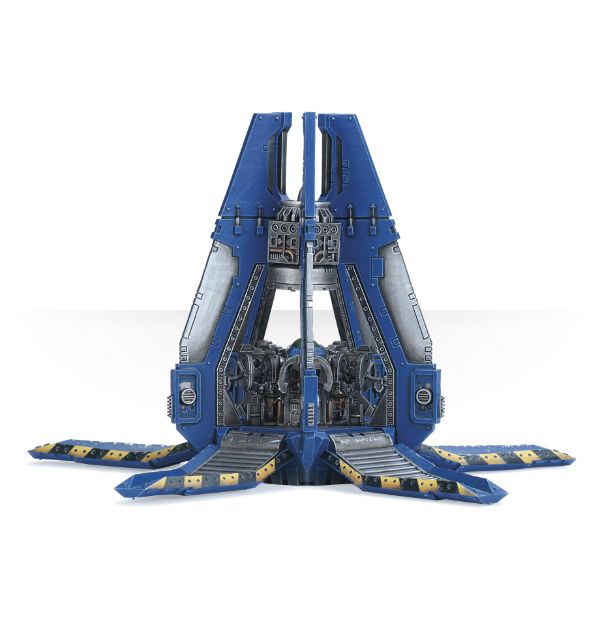 Option One – Let Drop Pods Get Danger-Close
Drop Pods have an internal guidance system that allows for some pretty accurate placement. That bit of lore became unnecessary in 8th where everyone can drop exactly where you want due to how the rules work. Instead of redoing all the "Deepstrike" rules,  just make Drop Pods even better at it.
What if Drop Pods had the ability to deploy within 6″ of an enemy unit? Or what if Drop Pod had to deploy normally but the unit inside could deploy from the hull (not the petals) 3″ anywhere around it – even if that brought them closer than 9″ from the enemy. That means they could drop in and use weapons like Flamers/Heavy Flamers when they come in! Two caveats: This deployment would happen at the end of the movement phase (thus the disembarking unit cannot move further). And the unit would not be allowed to charge this turn.
Suddenly there is a risk-reward again with Drop Pods. You can totally put them where you want them, the unit will get to unload on their target and do some serious damage. However, if you don't kill the unit, you're going to be counter-attacked pretty hard.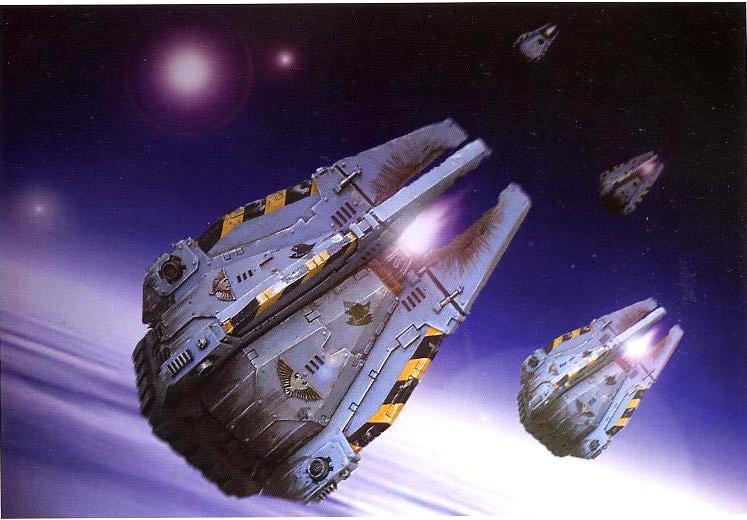 Option Two – Dangerous Impact
Thematically, when a Drop Pod comes down it's not a gentle landing. Aside from the meteoric impact, the doors are blown open as well – this shaped explosion is supposed to help clear the landing zone. It's like tossing a grenade and flash-bang at the same time – the explosion isn't just disorientating, it's also deadly! Oh and then a squad is also there, getting out of the craft, and shooting at you.
I think this could be represented by giving Drop Pods the option to do some Mortal Wounds on their way down. This rule plays off the previous rule – Drop Pods should be allowed to come down Danger Close, maybe even on top of a unit. When the Drop Pod comes down, roll a D6 for each enemy unit within 6″ – on a 4+, that unit takes D3 Mortal Wounds. The unit inside can then deploy within 3″of the hull (not the petals) and fire. Again, it cannot move further and it cannot charge the turn that it arrives.
This rule would make folks think twice about clustering their armies – much like Mawlocs do. This idea needs to be tweaked and tested (like the blast radius and amount of damage), but I believe this option would really help Drop Pods be worth their points costs once again. And unlike a Mawloc, it's only once per game. Maybe it just causes D3 Mortal Wounds and you don't have to roll. Or maybe the 4+ only applies to Character Units. I'm not sure but we've got other units/stratagems in the game that execute similar concepts so it's not that crazy of an idea.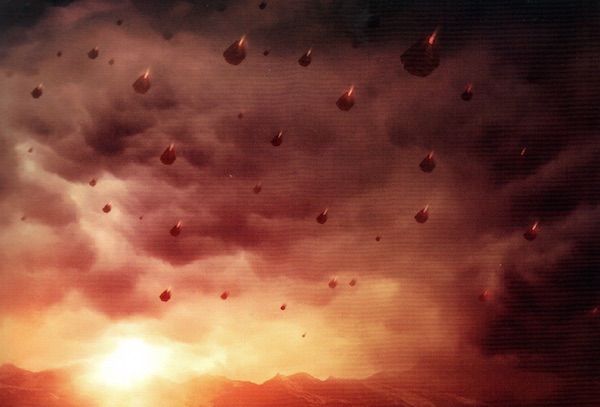 Option Three – Let Half The Units In Drop Pods Arrive Outside The Deployment Zone Turn One
This goes against the Beta Tactical Reserves Rule. But with the current points cost I think it's justified. Or maybe Drop Pods fit into that weird category of "units are setup after the first battle round has begun, but before the first turn begins."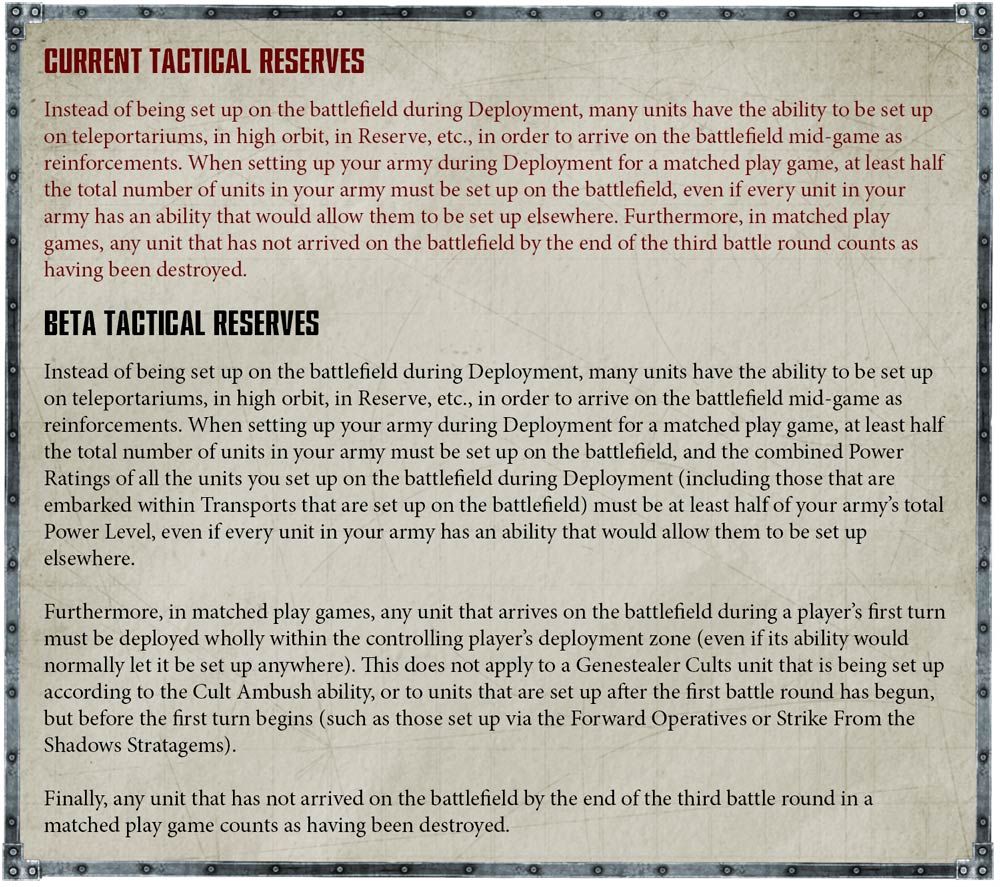 If that's the case, maybe they still can't deploy within 9″ of the enemy. Are they allowed to move/shoot/charge in that turn? I think that would have to be modified as well. Maybe that deployment counts as their move for the turn (so they can't move), but they can still shoot and charge. Again, this would need some tweaking and testing but allowing Drop Pods to "break the rules" for deployment is a way to make them viable.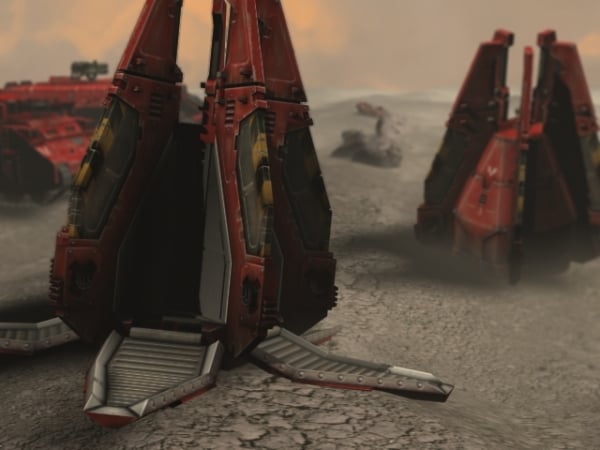 Drop Pods need to do something different besides getting a unit on the tabletop safely. We already have ways to do that cheaply and efficiently. It could be "Deepstriking" or just using a Rhino – both options are currently head-and-shoulders above using a Drop Pod. If Drop Pods are going to see play again, they need something to make them stand apart from the rest. I'm not saying make them the go-to option by dialing them up to 11, but let's at least give them something that makes them an option and not a hard-pass any more.
Alright 40k Fans, I'm leaving this one to you – How would you hotfix Drop Pods to make them viable again? Let us know in the comments below!