Soul Wars is up for Pre-Order this weekend along with a ton of other products from Games Workshop for the Age of Sigmar. We happen to have the Generals Handbook 2018 and we got to wondering what the two forces in Soul Wars cost point wise. Check it out.
Folks have been wondering what the points values of the two starter forces are so we've put them together for you. The first thing we did was simply look-up the point cost per unit including their minimum unit size. Next, we figured out if there was an "overage" based on if the unit was using those minimum increments or not. We listed both the total cost as well as the cost if you subtracted the overage to get a better comparison below.
First up, the Stormcast Eternals: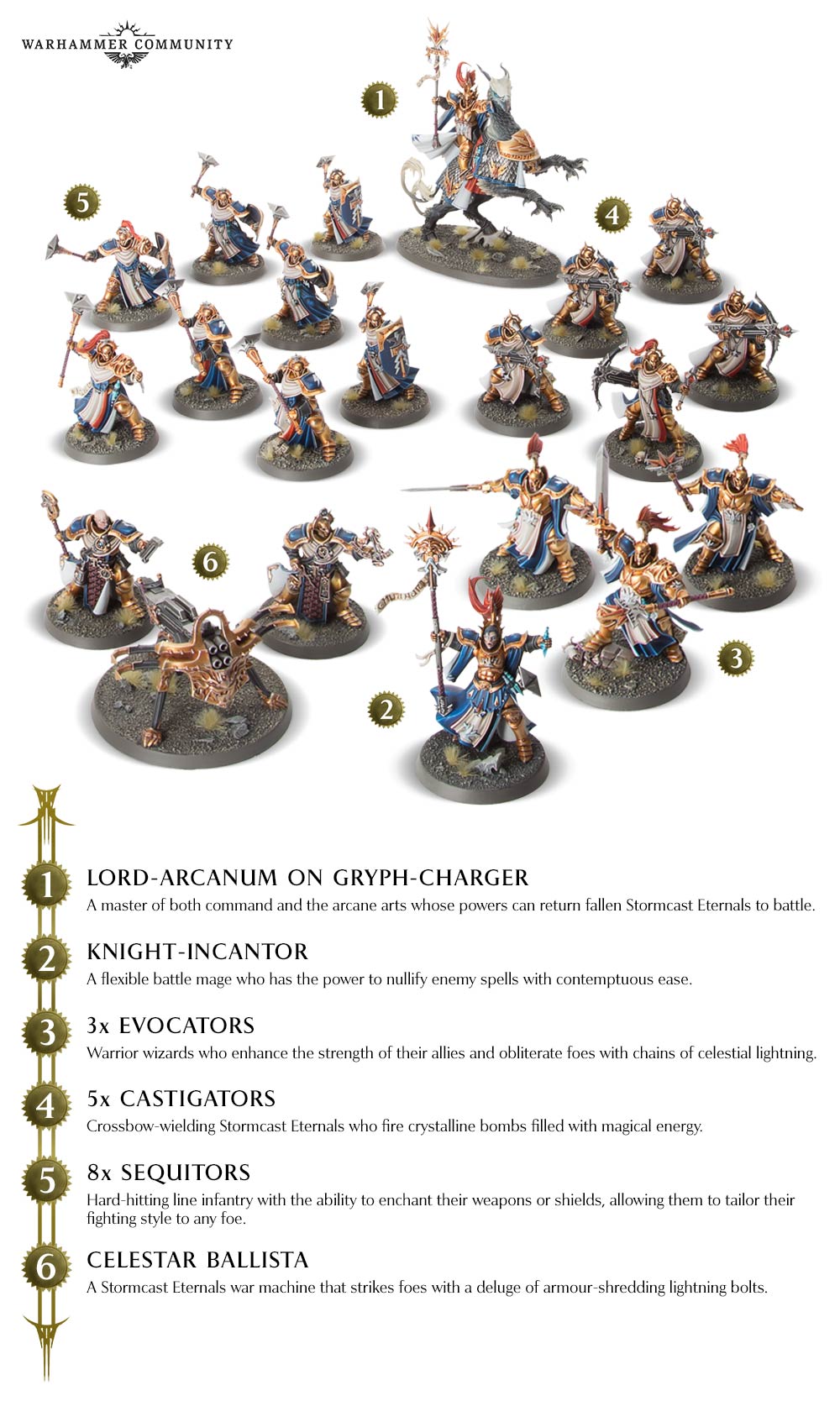 Lord-Arcanum on Gryph-Charger – 240
Knight-Incantor – 140
3x Evocators – 200 (min unit of 5, 200 per segment) (+80 points overcharge)
5x Castigators – 160 (min unit of 3, 80 per segment) (+26.6 points overcharge)
8x Sequitors – 240 (min unit of 5, 120 per segment) (+48 points overcharge)
Celestar Ballista – 100
Total = 1080 points
After Subtracting Points Overage = 935.4
Obviously there were some pretty big point gaps here – the Evocators and Sequitors both could have been trimmed-up or filled out depending on your point of view. Either way, it's still over 900 points worth of units in the box. Not bad at all!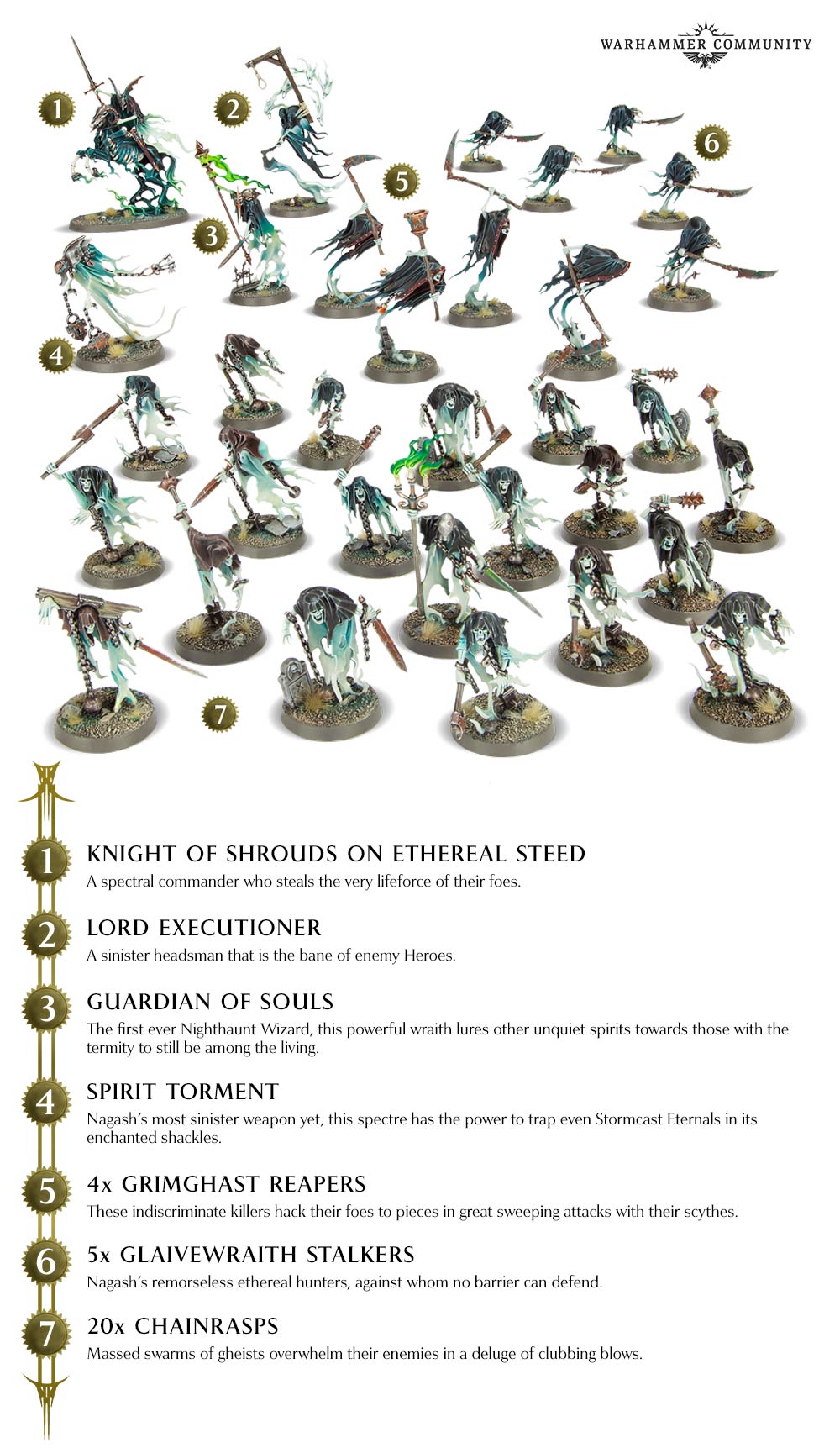 Knight of Shrouds on Ethereal Steed – 140
Lord Executioner – 80
Guardian of Souls – 140
Spirit Torment – 120
4x Grimghast Reapers – 140 (min unit 10, 140 per segment) (+84 points overcharge)
5x Glaivewraith Stalkers – 120 (min unit 4, 60 per segment)  (+45 points overcharge)
20x Chainrasps – 160 (min unit 10, 80 per segment)
Total = 900
After Subtracting Points Overage = 771 
Okay, this one is a bit more glaring in terms of point inefficiency. We double checked the size of the Grimghast Reapers twice to make sure we got the points right. The Glaivewrath Stalkers was also a bit of a shock, that one extra model forces you to pay 60 points more for that unit. Oh well. But the biggest gap was in terms of total points comparatively to the Stormcasts. If we're going based off total points there is a 180 point gap. You could fit another 20 Chainrasps in there and still have a shortage!
If you're going to play battles with these two forces we recommend sticking to the scenarios in the box to start. At least until you get the points filled out to an equal level. This also doesn't take into account that the Nighthaunts have quite a few Hero units that buff your army overall. Will that help balance out the forces on the tabletop? Maybe. Don't forget about buying those new Command Points either…
What do you think? Are the Nighthaunts at a slight handicap or will their weight of numbers crush the Stormcasts?
Editors Note: We used the Matched Play Points from the General's Handbook 2018 and not the values in the Pitched Battle Rules from the box.