The war for souls is kicking off this weekend with all the pre-orders you can shake a sword at… & More!
Age of Sigmar Fans, it's your weekend because GW has unleashed the Soul Wars upon us all. I hope your wallet was prepared!
via Games Workshop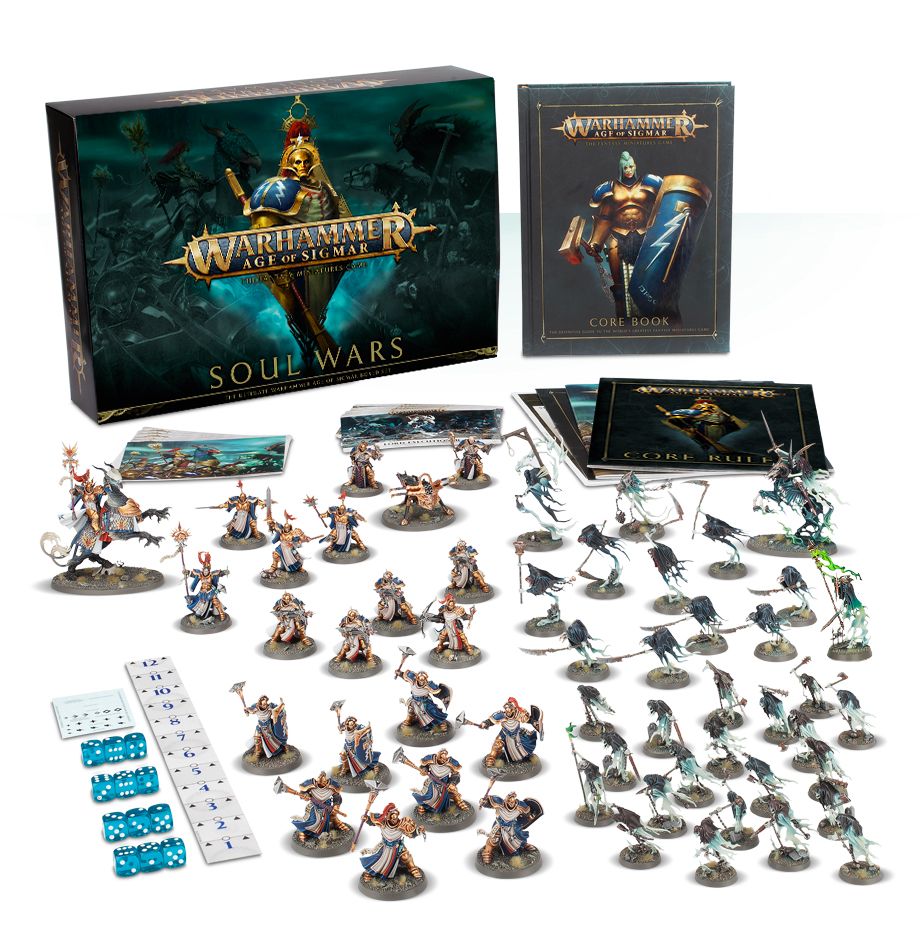 The Realmgate Wars were fought over the magical portals that bound the Mortal Realms together, but another conflict has been brewing in the shadows for thousands of years. This is a battle not for resources, nor for pure conquest, but for the immortal souls of the living and dead; a cosmic rivalry between gods who have carried their hatred through the ages. The spread of the light of civilisation, spearheaded by the God-King Sigmar, faces a dire threat posed by the Lord of Undeath, Nagash. Sigmar's Sacrosanct Chambers, created to fight daemons and wraiths, face the malevolent spirits known as Nighthaunts in a battle for the free city of Glymmsforge…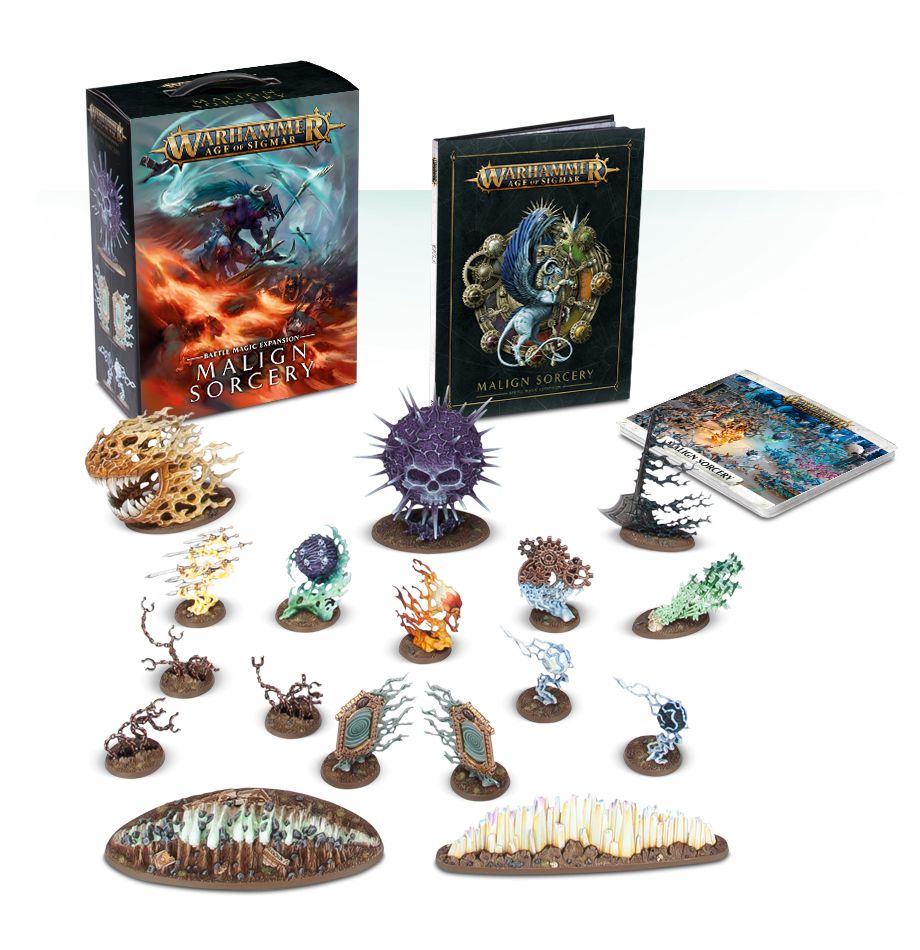 The cataclysmic necroquake of Shyish has flooded the Mortal Realms with the powers of the aether. Incantations summon forth new conjurations of unprecedented power and frightful sentience, but beware – such endless spells can be treacherous, as likely to turn upon their caster as they are to devastate the enemy. From unleashing disembodied gnashing jaws to devour your foes, to raising prismatic barricades to protect your flanks, doing battle in the time of the Arcanum Optimar is unlike anything that has come before.
The Malign Sorcery boxed set is an expansion for Warhammer Age of Sigmar containing new rules and spells for magic, along with 17 imposing miniatures used to represent Endless Spells, powerful pieces of sorcery that can be unleashed by any wizard. These rules and miniatures can be used alongside the core rules to introduce wildly different and incredibly powerful spells brought about by the Arcanum Optimar – an age of rampant magic. When combined with the Realm of Battle rules found in the Warhammer Age of Sigmar Core Book, this set becomes a gaming toolbox you can use to fight narrative-driven battles in the Mortal Realms.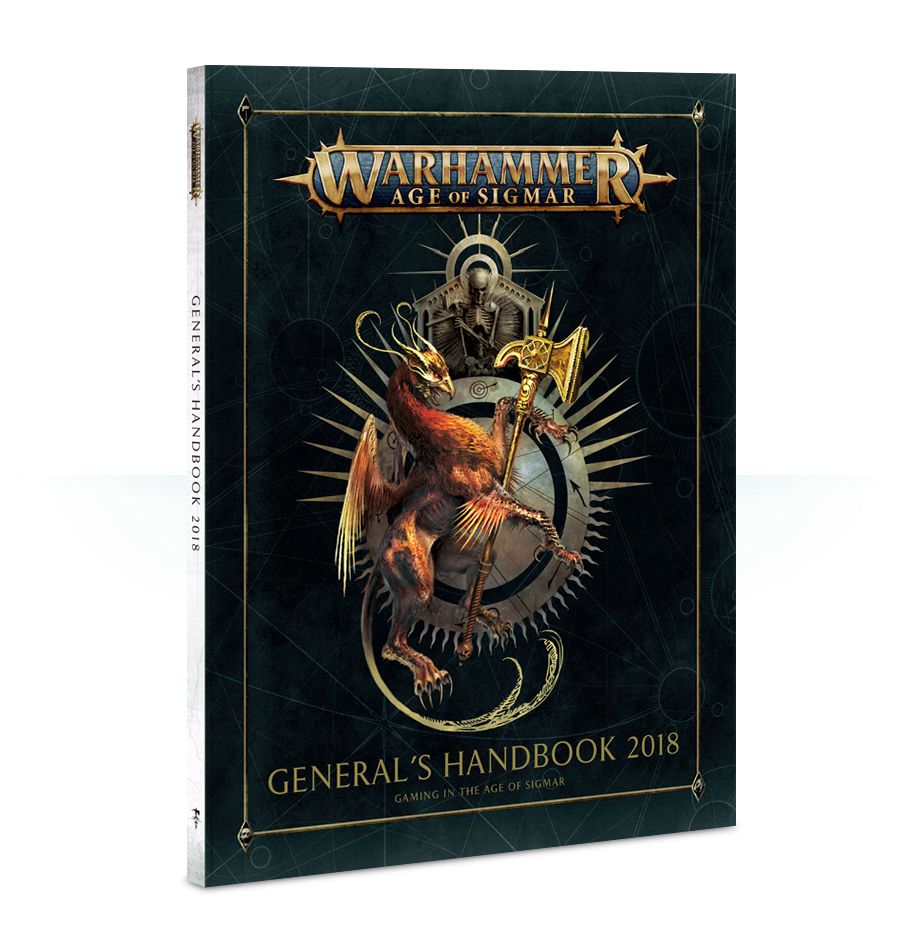 An essential toolbox of rules that you and your gaming group can use in any way you like, the General's Handbook 2018 expands upon the rules of Warhammer Age of Sigmar – and those found in the previous iterations of the General's Handbook – in a 136-page softback filled with flexible rules which can be combined in virtually endless ways.
A Warhammer Age of Sigmar novel
Nagash is rising. As his legions march forth from Shyish to bring death to all the realms, the Anvils of the Heldenhammer stand firm in Glymmsforge, a city of Order in the heart of Nagash's domain…
READ IT BECAUSE
The next stage of the Warhammer Age of Sigmar story is here, and it's kicking off with an all-action tale of a dramatic siege as the War of Heaven and Death is reignited!
THE STORY
It is said that all who live belong ultimately to the Undying King. In the shadowy lands of Shyish, Nagash, God of Death, calls forth his soulless legions to reassert his dominion. His dread advance begins with the free city of Glymmsforge, bastion of Azyr in the Realm of Death. Standing between Nagash and his prize are the brooding Anvils of the Heldenhammer, an ancient host of Stormcast Eternals, and Lord-Castellant Pharus Thaum, guardian of the Ten Thousand Tombs. As battles between the living and the dead rage throughout the Mortal Realms, the War of Heaven and Death begins anew. But even Sigmar's chosen may not be enough to cease the onslaught. For how does one destroy what is already dead?
Written by Josh Reynolds
ABOUT THIS EDITION
– Additional short story: 'Threnody'
– Introduction by the author
– Individually signed and numbered
– 432-page hardback
– Soft touch, foiled cover and matt green page edges
– Curved spine with marker ribbon
– Includes original cover art on an additional page
– Individually signed and numbered
– Limited to just 2,000 copies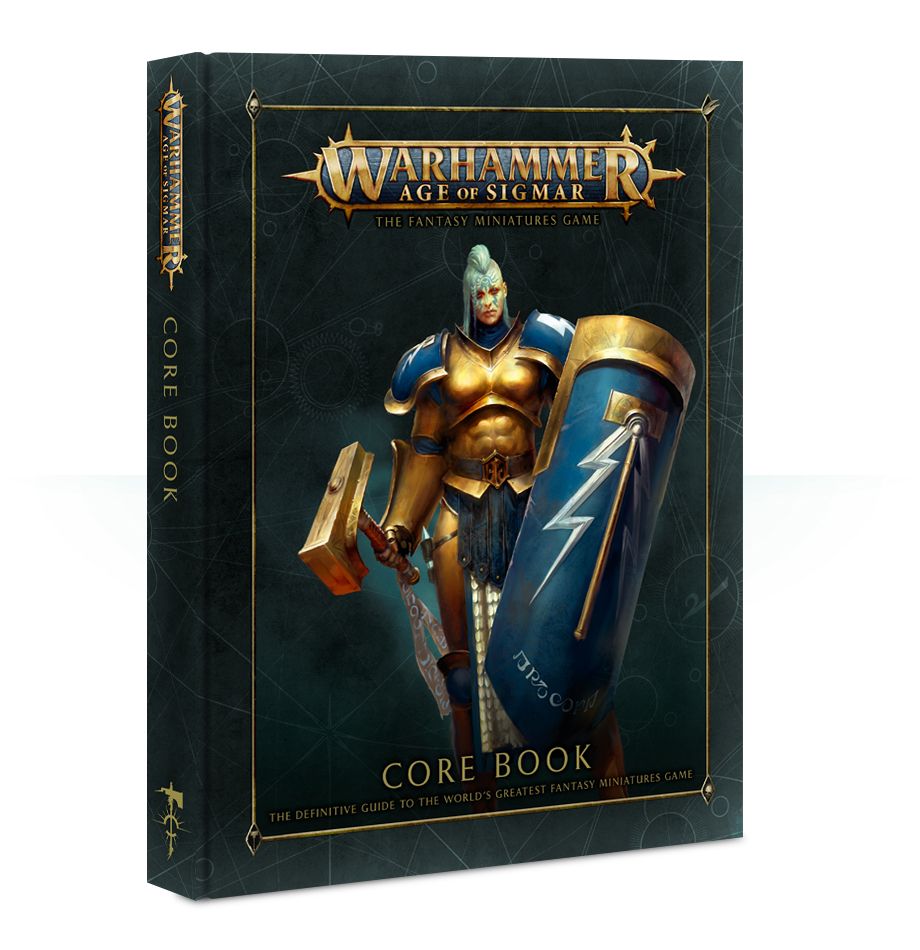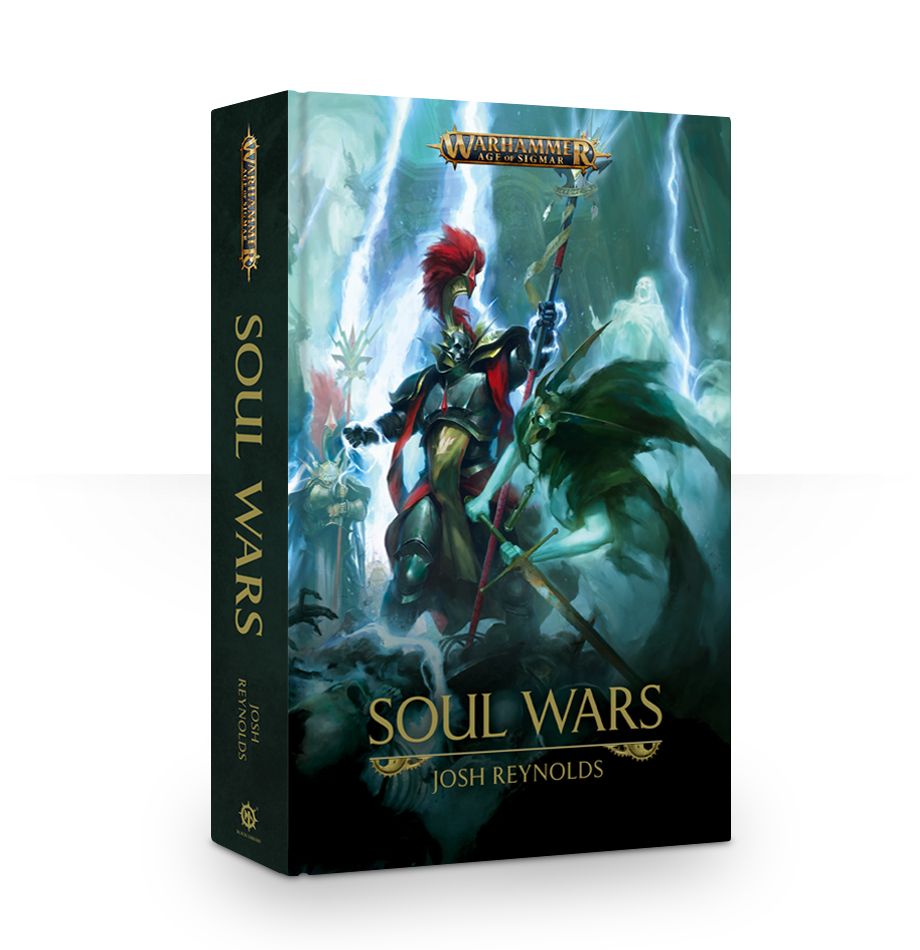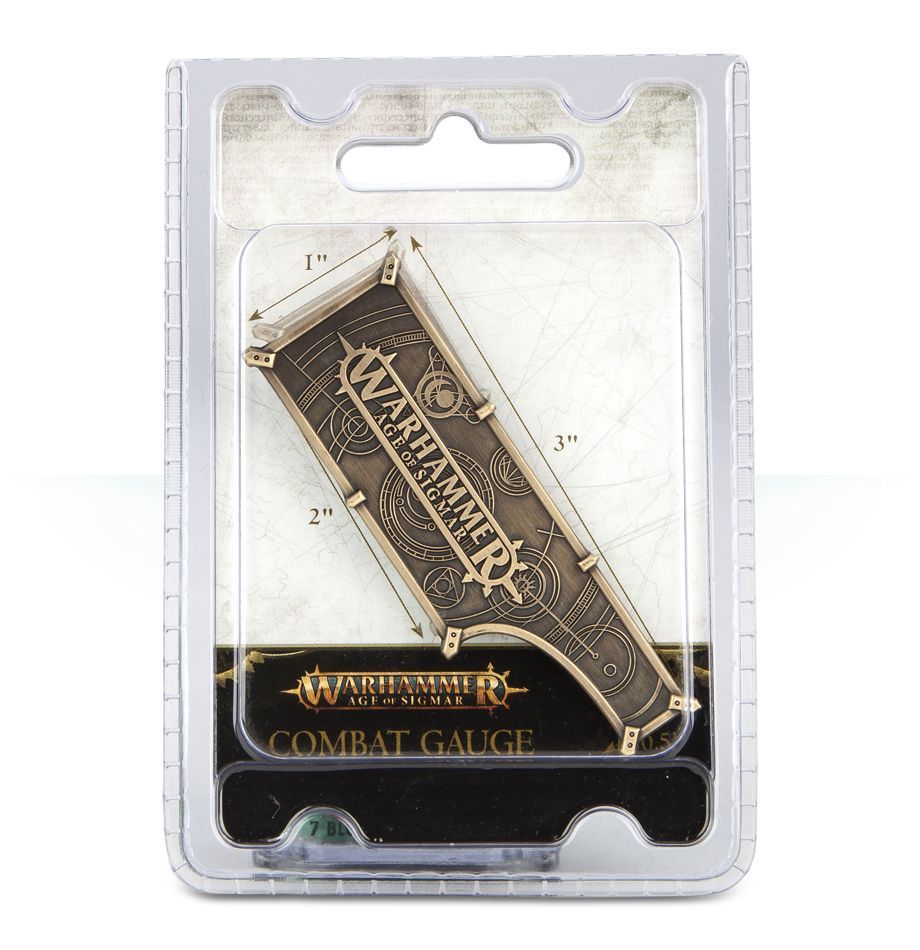 The perfect tool for quickly and easily measuring the space between models locked in bitter combat, the Combat Gauge has been designed for all those who love to play their games with as little fuss and clutter as possible. Hewn from metal, with an acid etched design featuring a map of the Mortal Realms, the Combat Gauge's 4 edges measure half an inch, 1 inch, 2 inches and 3 inches incrementally – so should you need to ascertain whether two models are within range to fight or pile in, or work out which model to target, this is the perfect accessory for you.
Used to mark the objectives fought over in games of Warhammer Age of Sigmar, these 7 plastic Objective Markers are designed to add an extra element of narrative to your games – each is evocative of the constant state of conflict found in the Mortal Realms. They're every bit as detailed as the models used to actually fight the battles themselves.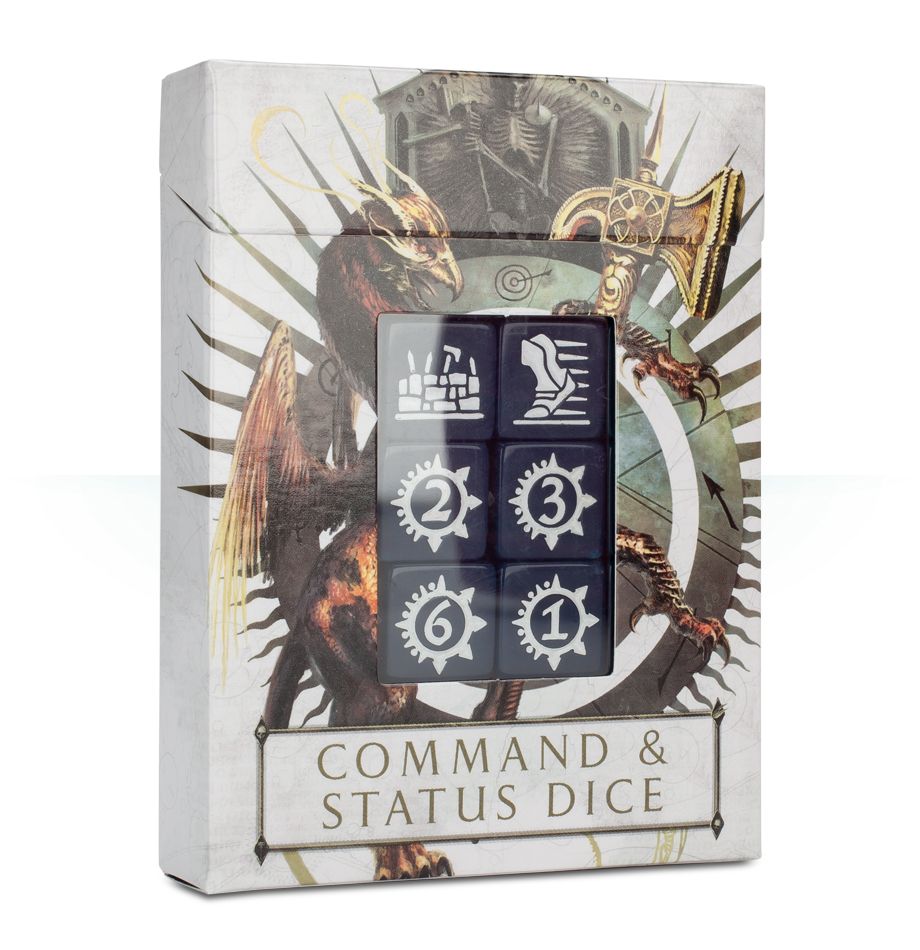 Keep track of your Command Points and the status of any unit in games of Warhammer Age of Sigmar with this set of 20 6-sided dice. When a Warscroll Battalion is fielded, each confers 1 Command Point to the player – these are spent on Command Abilities, which have the potential to turn the tide of battle when deployed.
12 of the dice in this set feature numbers which allow you to keep track of the points you've spent – enough to keep a fairly large game under control. 8 of the dice are used to show a variety of combat statuses as outlined in the Warhammer Age of Sigmar core rules – Mystic Shield, Run, Charge, Retreat, Hidden and Inspired – making it easy to keep track of the statuses conferred on your models as the game progresses.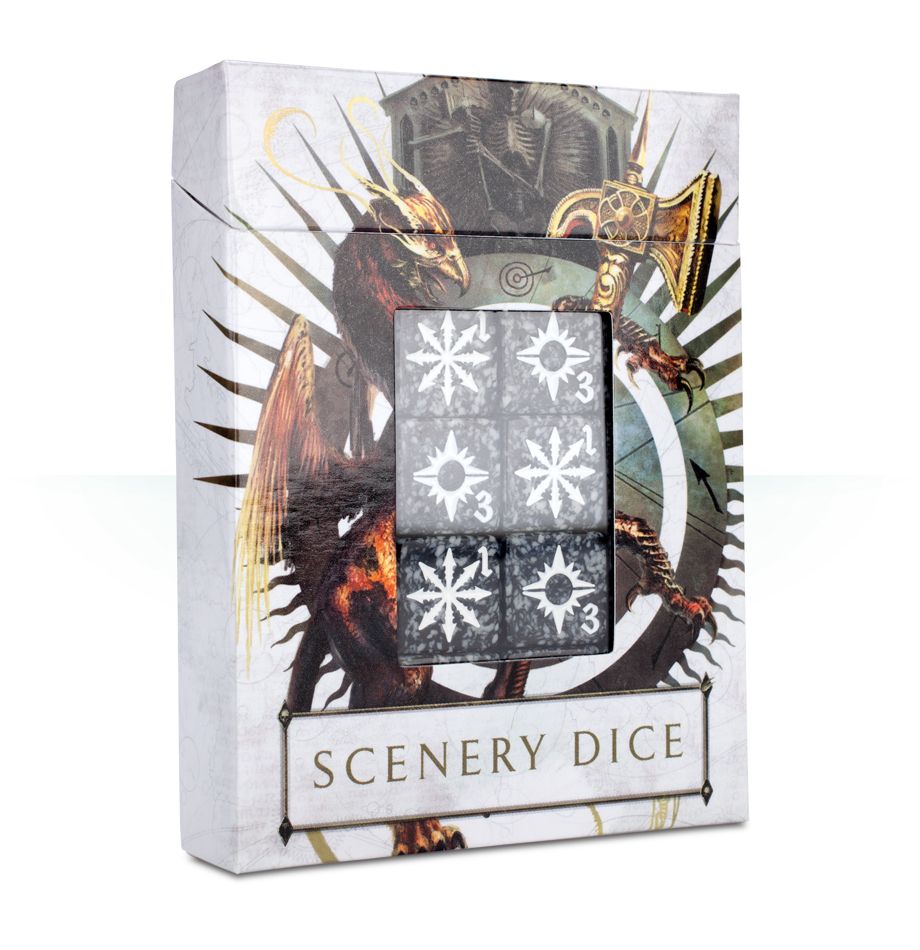 In the Warhammer Age of Sigmar core rules, you'll find rules explaining how models can cross or take cover on terrain features. There are 6 different scenery rules available in the book, from sinister, bravery-sapping hauntings to arcane places of power that can boost the sorcerous abilities of any nearby wizards – and while you and your opponent can pick from them as you please, introducing a random element can significantly change the way your games pan out.
This is a set of 20 dice, featuring both numbers and the relevant symbols from the Warhammer Age of Sigmar core rules – simply roll and let fate decide the terrain rules you'll be using, then use each die as a handy marker to remind you which scenery piece is using which rule.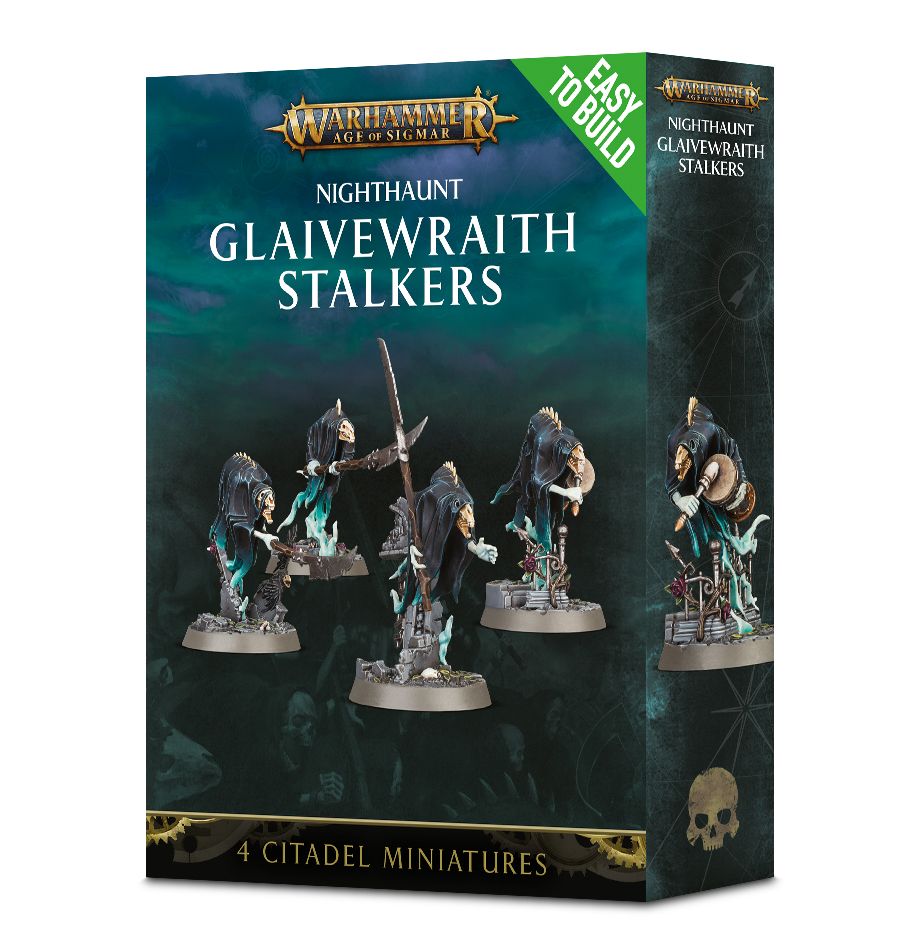 A Glaivewraith Stalker is an unstoppable force. Its long blade always points at the beating heart of its intended victim, just as the needle of an arcane compass indicates the highest concentration of magic. Though it drifts slowly towards its quarry, it is inevitable that the creature's glaive will one day pierce the chest of its prey. Those who have realised a Glaivewraith is upon their scent have evaded them for years, even decades until their guard slips – and then the gheist's leering and bestial visage is the last thing such victims see.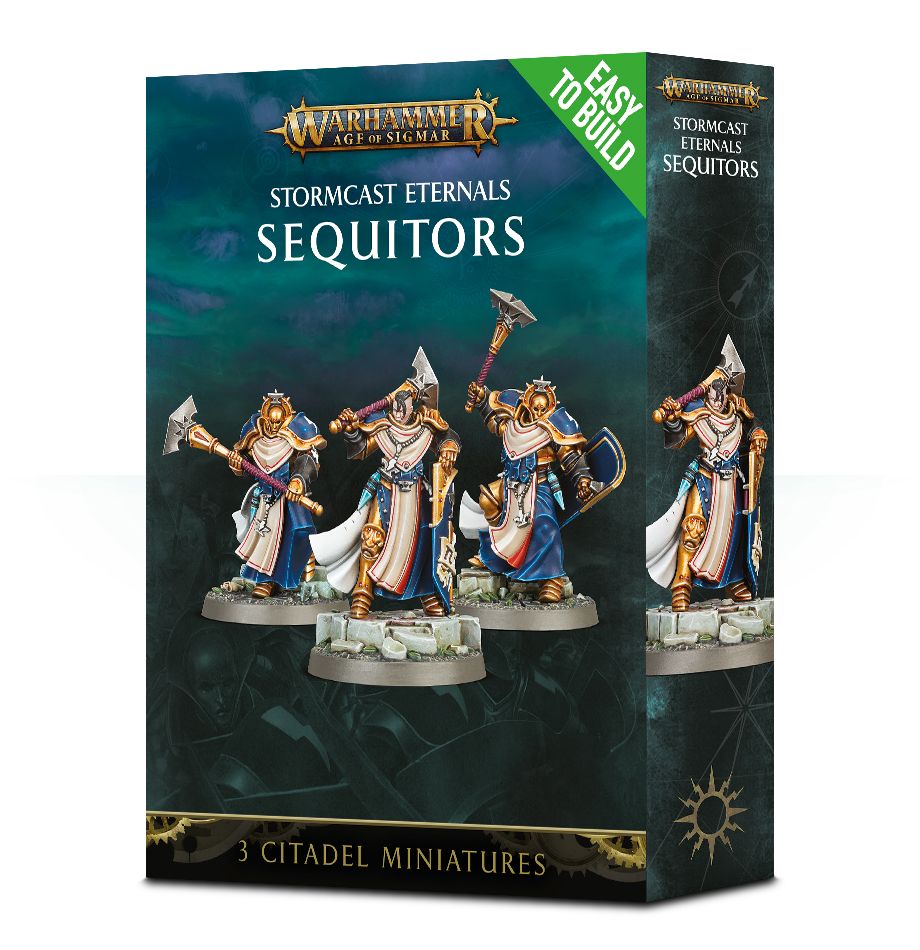 The line infantry of a Sacrosanct Chamber is comprised of its Sequitors, stern warriors who channel the tempest through the magical weaponry bequeathed to them by Sigmar. To be struck by such a warrior is to feel the energy of the storm discharging with thundercap force. Able to to channel magic into the armaments they carry, Sequitors specialise in switching swiftly between attack and defence, their mauls and maces capable of blasting apart gheists and daemons forever and their shields can turn aside even a Hexwraith's ethereal scythe.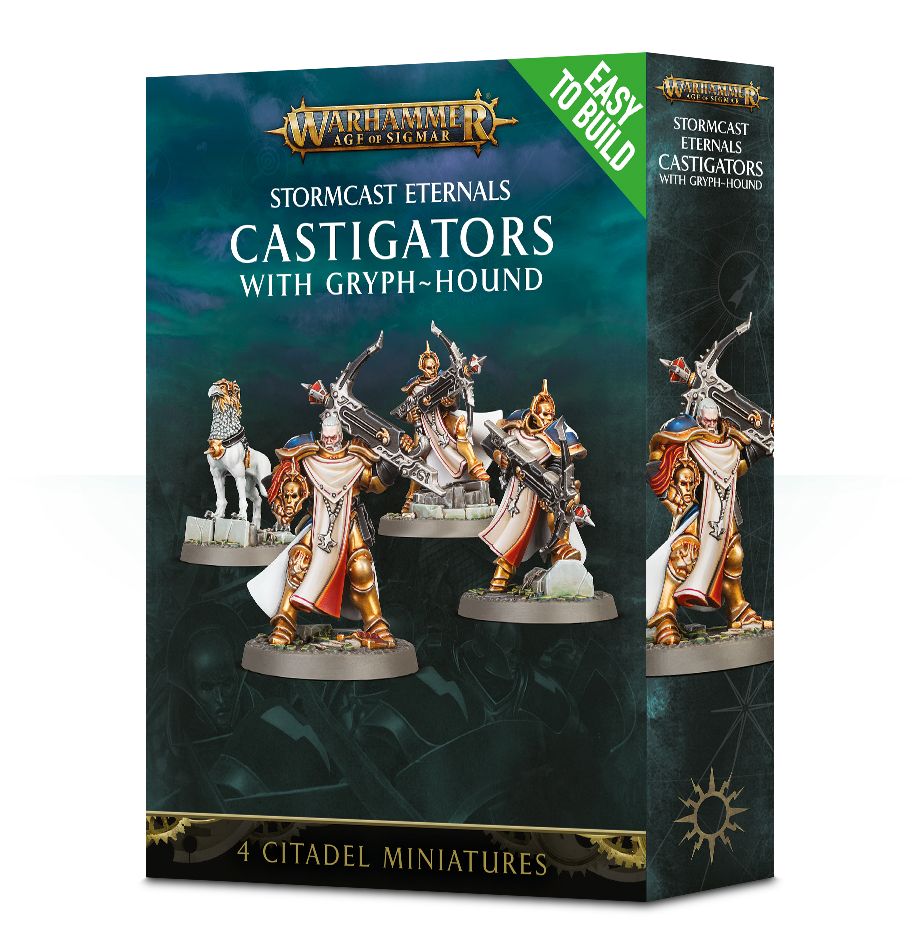 Castigators are powerful ranged support troops, commonly employed by the Lord-Arcananums of the Sacrosanct Chambers against those ethereal enemies that can kill with but a touch. The thunderhead greatbows they carry are miracles of Azyrite science and ingenuity, launching projectiles more akin to maces than mere bolts – stout shafts attached to braced heads filled with the storm-breath of Stardrakes. Not only capable of smashing barricades with their heft, these mighty missiles can discorporate the ethereal form of a diabolic creature in an instant.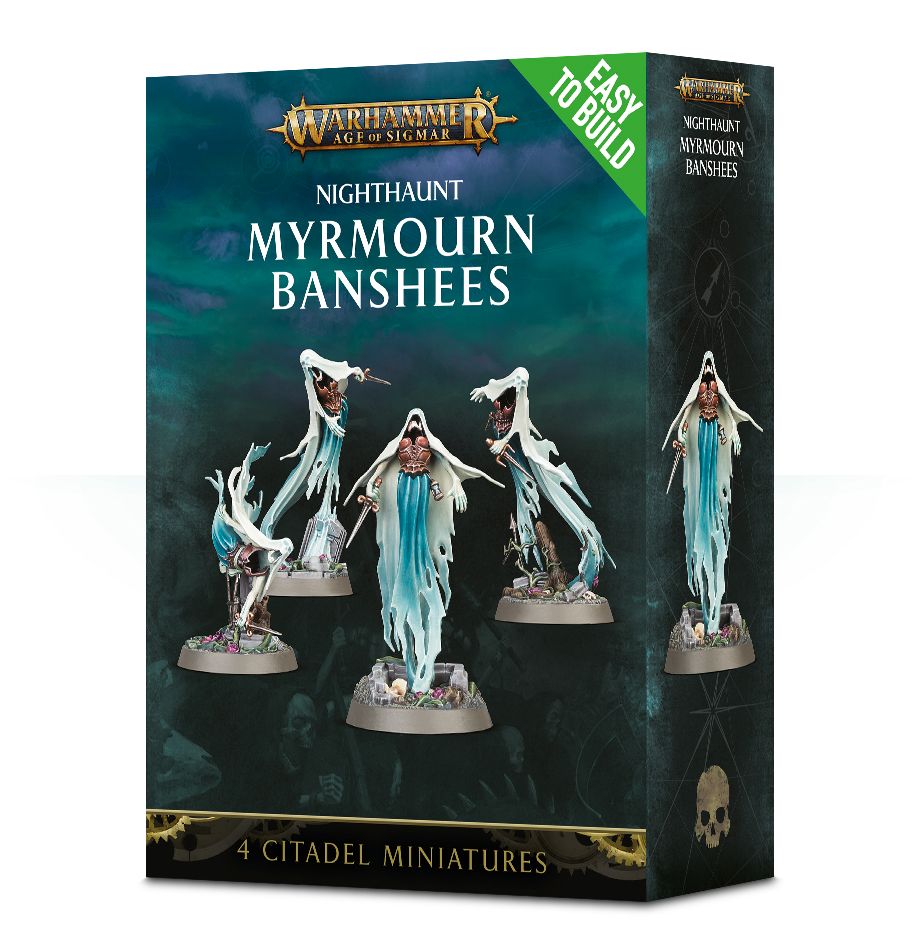 The Myrmourn banshees have a diabolical hunger, for they feast solely upon magic. No enemy spell is safe from the ravenous spirits, and they haunt the Mortal Realms in search of arcane energies to consume. Myrmourn Banshees are drawn to magic as carrion are drawn to the dead, and such is their bitterness toward life that any mortal creature in their way is likely to receive a swift jab from their cursed chill daggers.
Warhammer Age of Sigmar Wound Counters $12.50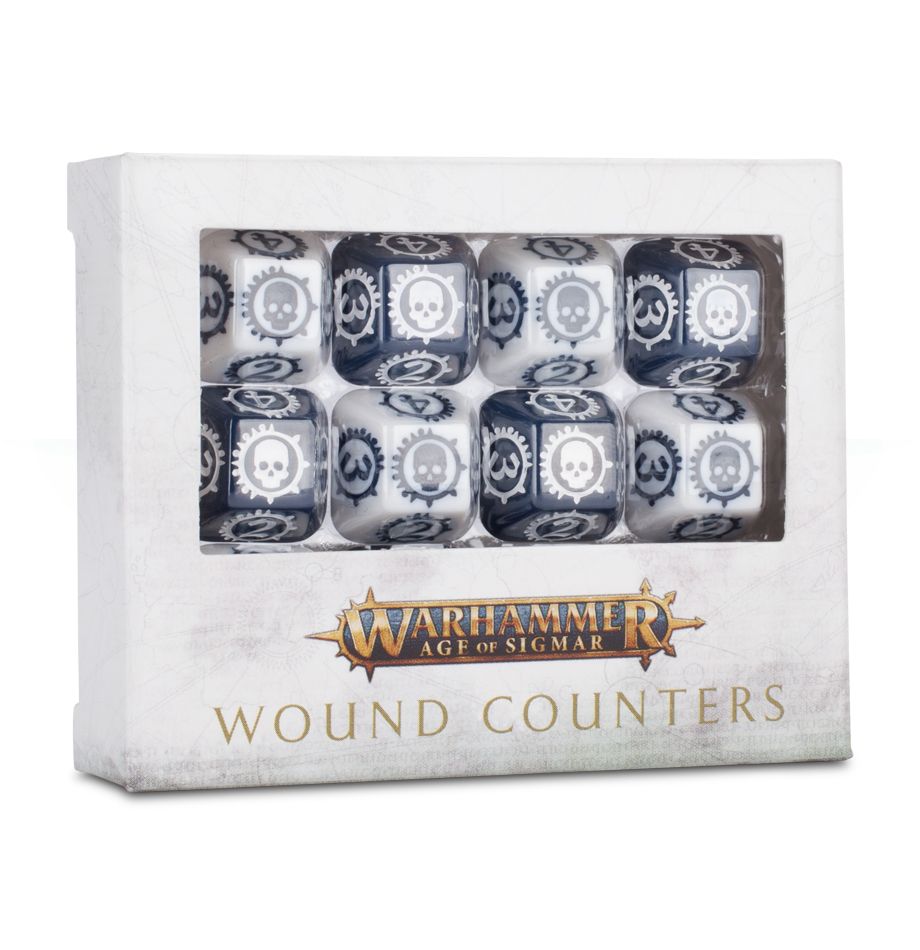 Ideal for tracking wounds to your units during games of Warhammer Age of Sigmar, these Wound Trackers are 12 10-sided plastic dice. 6 are coloured blue with white markings, and 6 are coloured white with blue markings, making it easy to differentiate between tens and units when counting your models' wounds.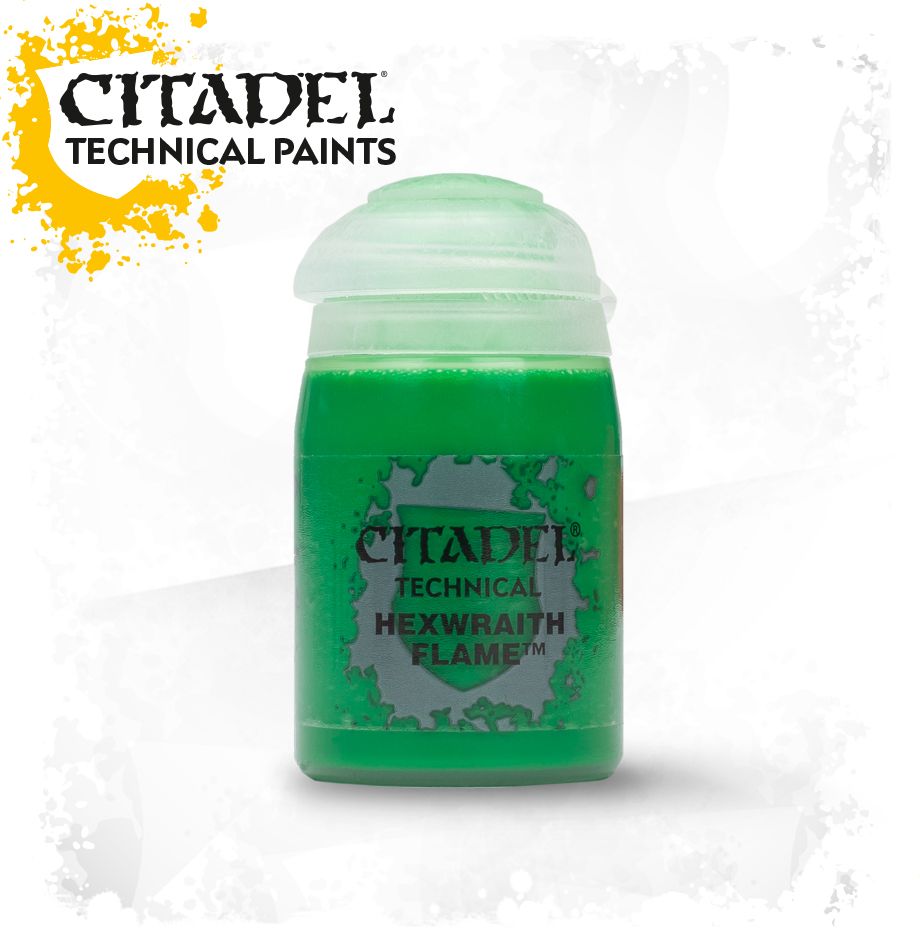 The perfect Citadel Technical Paint for achieving a ghostly ethereal green look to your miniatures – particularly suited for the ranks of the undead – Hexwraith Flame, when applied over a basecoat of white, is the perfect foundation for the spectral look your miniatures are crying out for. Contains 24ml of paint.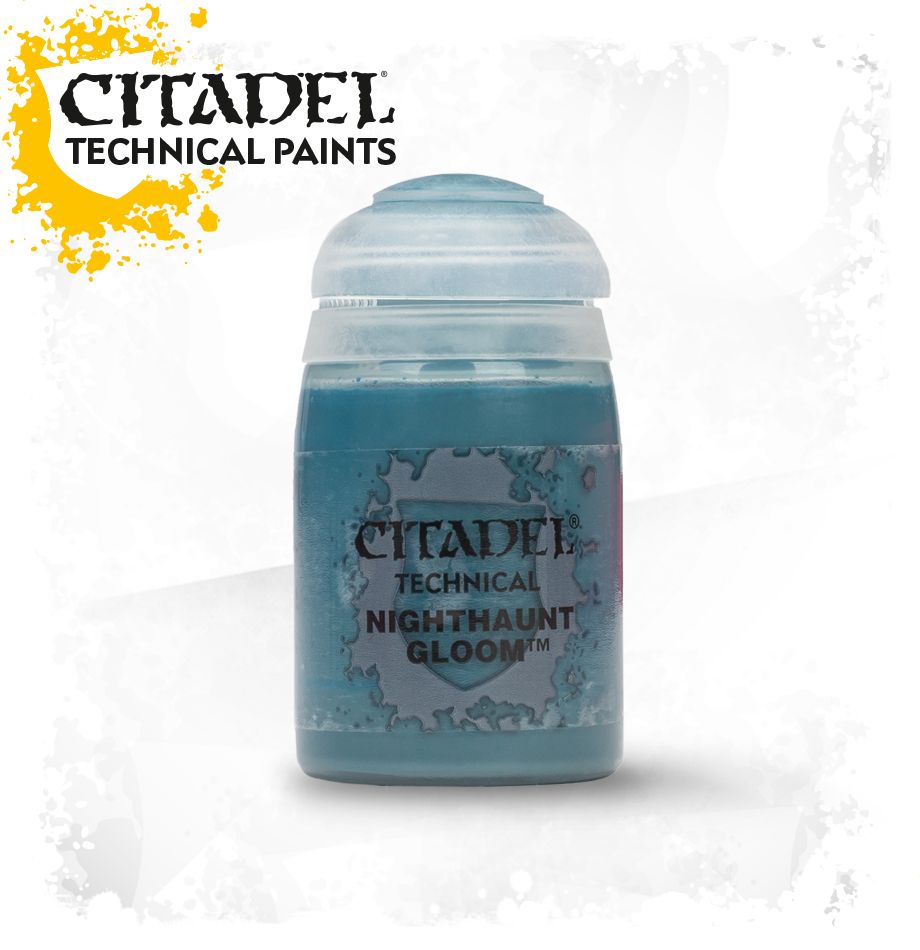 The perfect Citadel Technical Paint for achieving a ghostly ethereal blue look to your miniatures – particularly suited for the ranks of the undead – Nighthaunt Gloom, when applied over a basecoat of white, is the perfect foundation for the spectral look your miniatures are crying out for. Contains 24ml of paint.
Check out the Games Workshop Page for all the bundle deals!