The next White Dwarf has some new rules for Warhammer Quest, Warhammer Underworlds: Shadespire, and a new team is heading to compete in Blood Bowl!
White Dwarf is going through some changes but that doesn't mean the team working on it is getting a break. In fact, they have next month's White Dwarf jam-packed with loads of updates to your favorite board games from GW. Check out some of the new stuff coming in July.
Soul Wars Comes to Warhammer Quest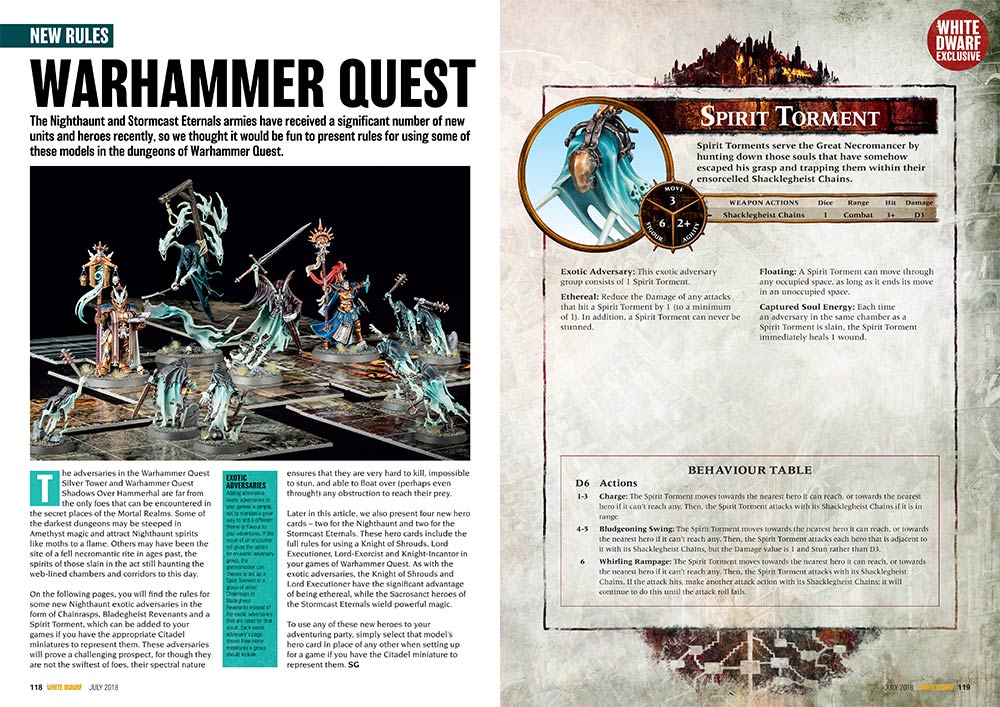 Included in the July White Dwarf will be rules for using the Stormcasts and Nighthaunt units from Soul Wars in your games of Warhammer Quest. The Nighthaunts will be Exotic Adversaries you'll encounter along the way. And from the looks of things, the Stormcast Crew will make an appearance as some new champions you can use to explore the realms.
New Expansions For Warhammer Underworlds: Shadespire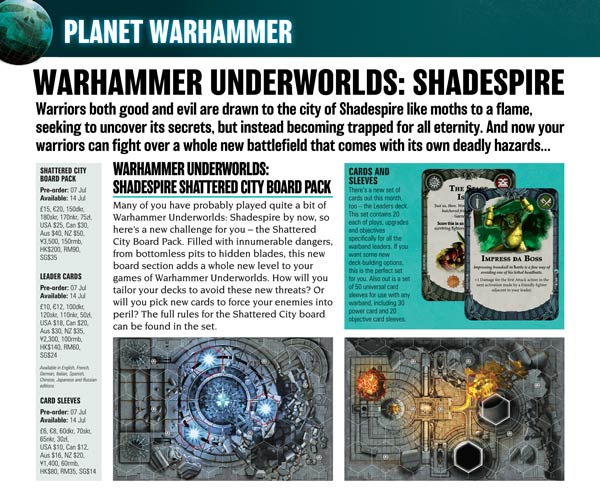 A few months ago I was asking "What's Next For Warhammer Underworlds" – turns out, GW has a plan! We're getting a card based expansion "Leader Cards" and it sounds like these are focused on, you guessed it, your leaders. These cards are going add some ploys and objectives to the game focused around your Warband Leader. We can also expect some new Shattered City Boards to battle on – these are coming with some new terrain types that will change things up, too.
Finally, based on popular demand, we're releasing a set of generic card sleeves designed to let you sleeve your entire collection – if you've got favourite cards you like to use in ALL your decks and don't want to re-sleeve them every time you change warband, these will be invaluable.
Hey, more card sleeves of the "Generic Variety" perfect for the lazy/efficient gamer out there. Why re-sleeve into themed sleeves when you can use one set for ALL your decks?
Naggaroth Nightmares Come To Blood Bowl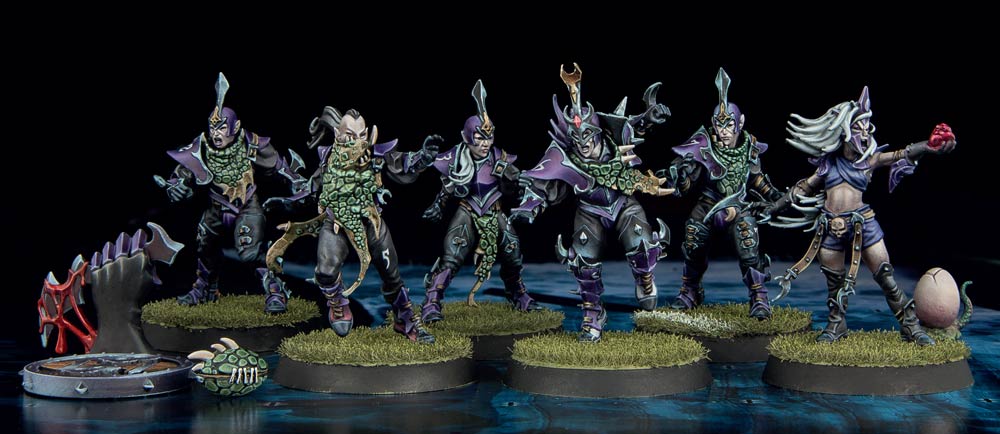 I'm not going to lie, these new Dark Elf models are looking pretty sweet! I'm glad to see another team get a Blood Bowl update and make their way to the pitch.
In the kit, you'll find 12 multipart plastic players – 6 Linemen, 2 Blitzers, 2 Runners, and a pair of Witch Elves. You'll even get a couple of special Dark Elf balls – a Draconic Egg and a Cold One Hide ball. July's White Dwarf even has rules for these…
That's not all for the Dark Elf team, either! They are getting a new, double-sided board to match their style. One side is a corsair ship and the other is set during a Kraken Attack – don't mind the tentacles.  You can see their entire product line on the right if you squint really hard:
Dark Elf Team – Naggaroth Nightmares
Spike! Journal: Dark Elves
Dark Elf Pitch & Dugouts
Team Card packs
Dark Elf Team Dice
White Dwarf July 2018 – Coming Soon!