Fantasy Flight Games shows off what the new Tyrants of Lothal Expansion brings to the tabletop for the Skirmish side of Imperial Assault!
Star Wars: Imperial Assault is a tactical miniatures game that is actually two games in one. It's perfect for people who are looking for a dungeon crawling adventure set in the Star Wars Universe. On the other side of the house, there is also the Skirmish Mode which pits two players against each other with equal forces in different types of scenarios. Both modes use similar mechanics and rules but they can appeal to two very different crowds of players.
Tyrants of Lothal is an upcoming expansion that pits teams of Rebels against the schemes of the Empire once more – but there is a lot in the box for skirmish players too. That's what we're going to be looking at today courtesy of Fantasy Flight Games.
Tyrants of Lothal presents skirmish players with a new map, fifteen new deployment cards, five new command cards, and more, as you bring the new heroes of Tyrants of Lothal to your skirmish game with deadly new tactics and ways to play! And of course, joining these heroes is the cast of Star Wars: Rebels, ready to join the fight in the Rebel, Imperial, and Mercenary factions!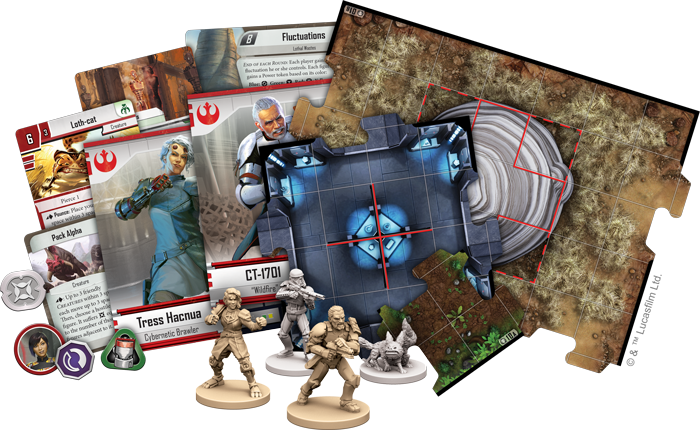 The first and possibly the biggest addition to the game is the new Skirmish Map: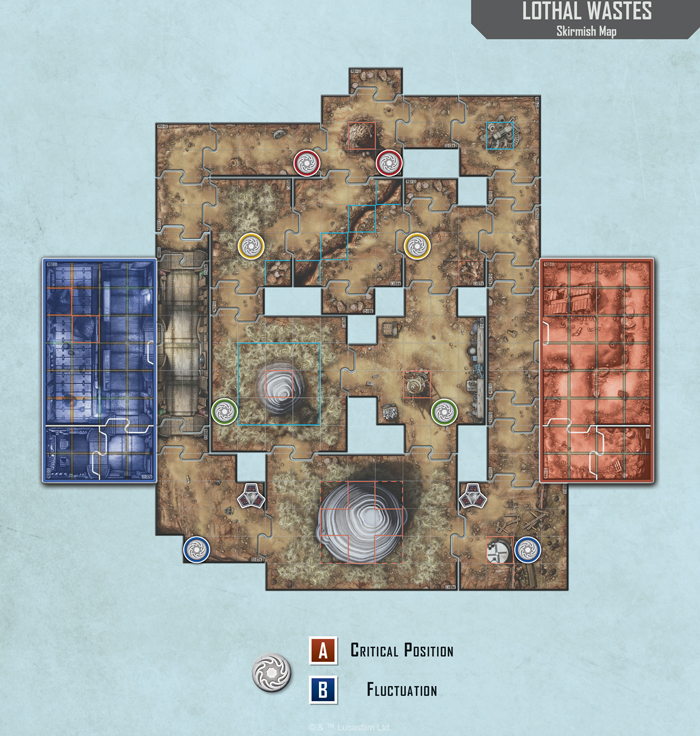 This new map uses tiles found in the box and changes things up. Also included are two different skirmish cards (aka scenarios) to play with: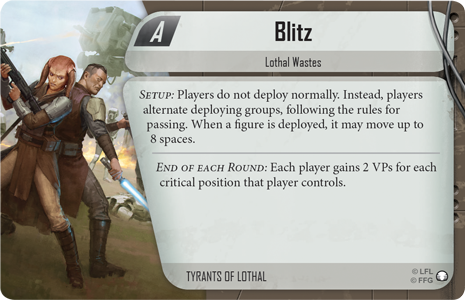 Blitz, as the name implies, is all about getting to critical positions and holding them as quickly as possible. The faster you do that, the faster you can start racking-up the VPs to win the game.
Fuctuations is more of a traditional game but it has it's own twist – not only will holding points get you a VP, you'll also get corresponding Power tokens. That's going to make getting them even more important!
No expansion would be complete without introducing some new characters for your skirmish games.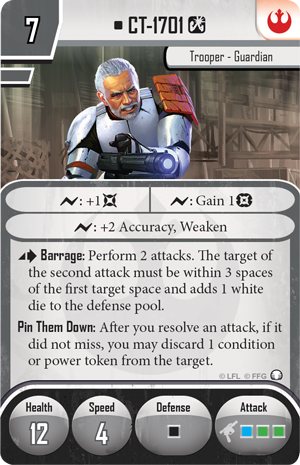 CT-1701 is a Trooper that is joining the Rebellion. He brings some pretty interesting combos for containing the enemy. The Barrage ability allows you to get two attacks off, the second attack isn't quite as effective as the first however. But never fear, he's got cards to help with that: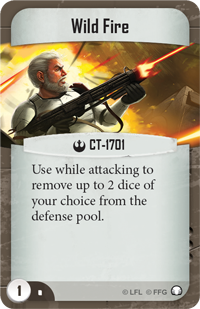 Wild Fire helps to compensate for the second attack's weakness. Or you could use it on the first attack to ensure that Pin Them Down triggers.
Signal Jammer is just plain mean. Just the threat of it can be enough of a deterrent to mess with your opponent.
Imperial players, don't worry you've got some big guns coming to you as well. Death Troopers are no joke: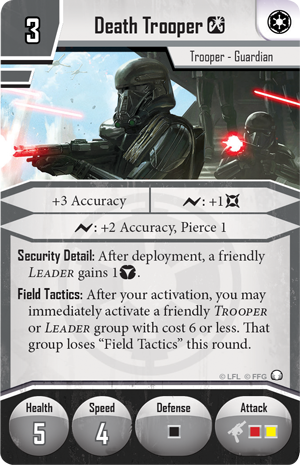 The basic trooper adds 1 block power token to a leader after deployment. The Elite version lets you add ANY token to a leader and also improves their already impressive profile.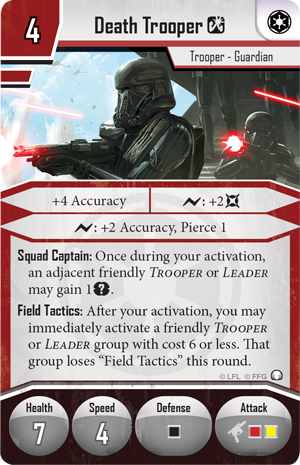 Field Tactics is pretty great for the action economy, too – it allows you to activate two units with the same activation as long as the second unit has a cost of 6 or less and is a Trooper or Leader.
All these additions and more will be available with the Tyrants of Lothal Expansion, coming soon from FFG!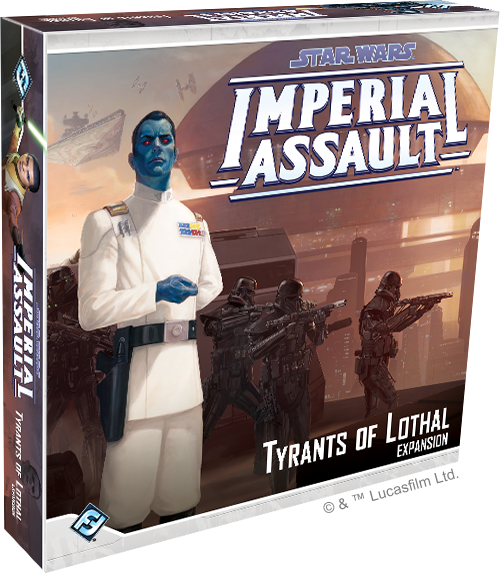 Fantasy Flight Games is proud to announce Tyrants of Lothal, A new expansion for Imperial Assault!
Tyrants of Lothal introduces new heroes, enemies, allies, map tiles  and a six part mini-campaign that can be played on its own or inserted into another campaign. Join the crew of the Ghost from Star Wars Rebels and fight against Grand Admiral Thrawn, Hondo Ohnaka, and the Tyrants of Lothal! Or pit them against each other with new characters ready to enter your skirmish battles!
Thrawn and Death Troopers. That could be BIG trouble for the Rebels…