So you've got some games under your belt and are thinking about attending a local Steamroller. Are you are ready? What should you expect? What do you need to bring? Let's cover the basics of a Steamroller, so you feel ready to roll some dice.

Steamrollers can be intimidating for any player, making the jump to a tournament from game night can feel like a big step or potentially even a bridge you don't want to cross. I can't cover everything about Steamrollers in one article, but let's discuss the basics about what to expect at your first event.

The Bare Minimum
You don't need to know all the rule interactions, or have all the cards in the game memorized(this is probably impossible even for the highest level of player). But here is the list of what you should do/have before heading to your first Steamroller.
Played a few 75pts games and don't feel overwhelmed
Official models for at least 1 list(no proxies)
A decent understanding of what your list(s) are trying to do; attrition via shooting/melee, armor cracking, assassination, etc…
Tokens for focus and marking spells/effects
Review the current Steamroller document. If possible play one or two of the scenarios.
Arcs painted on your models. While technically this is optional, this is a good practice to get into before events. It helps prevent misunderstandings and will keep the games moving forward smoothly. This also makes you a better player as you will see the marks and remember to adjust your facing throughout the game.
Wait, just one list?
While bringing 2 lists is definitely the standard, one listing is a perfectly acceptable way to play a Steamroller. As a new player it's fairly common to get experience playing with the same caster repeatedly(this is a good thing), but to not have a second caster you feel comfortable with. Don't let not having 2 lists stop you from bringing the one list you are comfortable with and having a good time.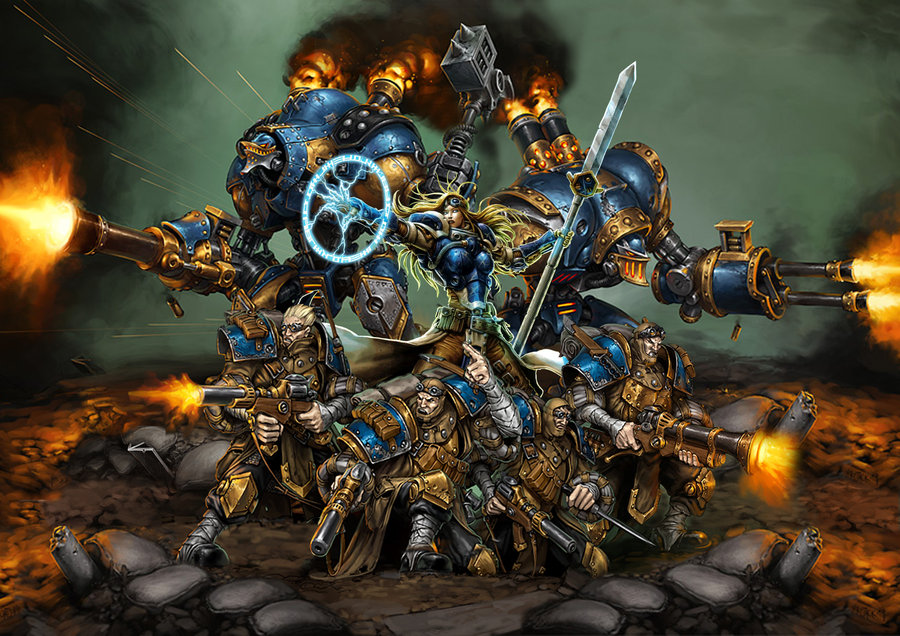 I'll take you all on!
Keep in mind that one listing has some drawbacks, mainly that people know exactly what you are playing and can choose their list that best counters yours. Don't get discouraged if you lose, remember that your first Steamroller is all about learning. The silver lining to one listing is that you can see what your list is weak against and start to figure out a complementary pair for next time!
To prevent your opponent from knowing exactly what you are playing it's also perfectly legal to bring a second list that you don't intend to play. This will keep things a little more interesting during the list selection phase of the game as your opponent won't know you're only planning on playing the one list.
List Selection
After matchups have been announced you should proceed to your table, but don't start unpacking models just yet. The first thing that happens each round is list selection. At this point you should look at your opponents list sheet and try to figure out what they are going to play and what you should play in response.

A Protectorate player presents his lists.

List selection is a pretty deep topic, worthy of an entire article by itself, but for your first Steamroller I wouldn't stress about this too much. Chances are you are just learning your models and don't know the other factions very well, so playing the list you feel the most comfortable with is a good way to go.
During list selection you should feel free ask questions, my advice is to ask about their casters spells and feats. This will give you a quick idea of what to expect and what list might be the better choice for you to play. Both players now choose their list in secret, then simultaneously reveal what list they will be playing.
I choose you!
The Clock
Playing on a clock is an aspect of tournaments that can be intimidating. However, it's something that once you've tried a few times many players come to appreciate. We've all had that game that goes over 3 hours and eventually you just want it to be over. Playing on a clock prevents games from dragging on, adds another victory condition and forces players to make decisions. One of the best aspects of a tournament is that you are guaranteed 3 or more high-quality games, clocks are what makes that happen.
Steamrollers will most likely be run using the Death Clock or Timed Turns format. Timed turns mean that at the start of each turn you start a timer, typically 10-15 minutes, and you only have that much time to complete your turn. If you run out of time, you simply don't get to activate all of your models. Usually, there is a once per game extension of 5 minutes that you can take, which is typically on turn 2 or 3 when the big engagement happens.
Over the years timed turns have been replaced by the death clock at most events. In this format, players use a chess clock, and each side gets 60 mins. When it's your turn, your clock is counting down. At the end of your turn you pass the clock. Usually, this means tapping the top of it, over to your opponent. If you run out of time your caster is instantly killed thus ending the game.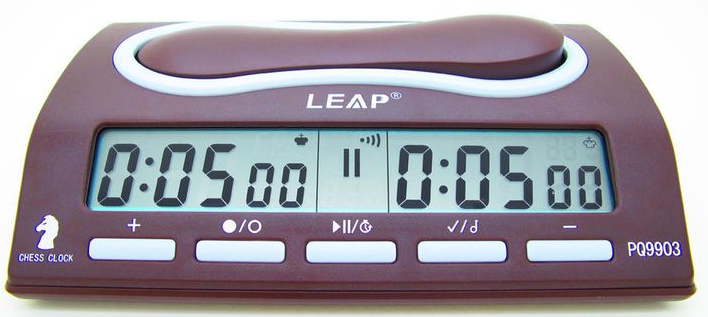 One of my oldest and perhaps greatest nemesis…the clock
With both of these formats you get a similar end result, which is a game that ends somewhere around the 2 hour mark. This keeps events running at a predictable pace and also ensures that both players get an equal amount of time.
Calling a Judge
Simply put, you can call a judge over for any reason at any time. It's always a good practice to double check your cards as this will answer many questions. However, if you have a question or would like a judge to help make a measurement, don't hesitate to raise your hand and call a judge over. This isn't bad sportsmanship, and it doesn't mean you think your opponent is trying to trick you.
Also remember that whatever the judge decides is final, even if after the game it's revealed they might have been wrong about something. The judges job is to do their best to determine the correct ruling and also to keep the games moving along.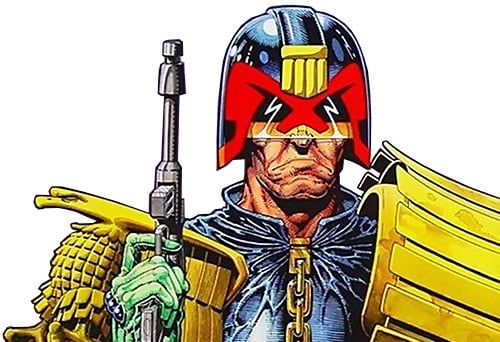 I am the law!
Recording your games
At the start of the event, you will fill out your list sheet. This includes your name, faction and your full list written out including point values for all models. This is also where you would indicate any themes you are using for each list.
At the end of each game, you record some basic information about what happened. What list you played, did you win or lose, how many control points you scored and how many of your opponent's army points you killed. You should do this with your opponent so you can both verify that everything is recorded correctly. When completed turn both sheets over to the Event Organizer so they can prep for the next round.
But I'm not a competitive player; I just want to roll some dice
This is perfectly fine; everyone should play the game in the way that brings them the most enjoyment. If you only like to play low point games or custom scenarios then maybe Steamroller isn't going to be for you. But if playing several games in one day sounds at all appealing, then I encourage you to try a Steamroller once or twice. There is sometimes a misconception that tournament players 'don't want to just have fun' when really it's almost always the opposite. For many players attending the local Steamroller is simply the best way to get in games.
So let's say you happen to lose your first game or two, the nature of pairings is that if you lose you'll find yourself in what is often called the 'fun bracket' with other players that have the same win record as you. Some of my favorite games have been when I've had losses during an event, and I find myself 0-2, completely out of contention for a top 3 placement. At that point, all pressure is off for you and your opponent. Just relax, play the list you feel like practicing and maybe try out some new strategies. You might even be able to talk with your opponent and figure out what matchup might be the most interesting and fun to play for both of you.
Clean Play
One of the best things you will hopefully notice in your first Steamroller is people practicing 'clean' play. The underlying idea of playing clean is that both players involved in the game are confirming moves and measurements as they happen and everyone is in agreement throughout the entire game.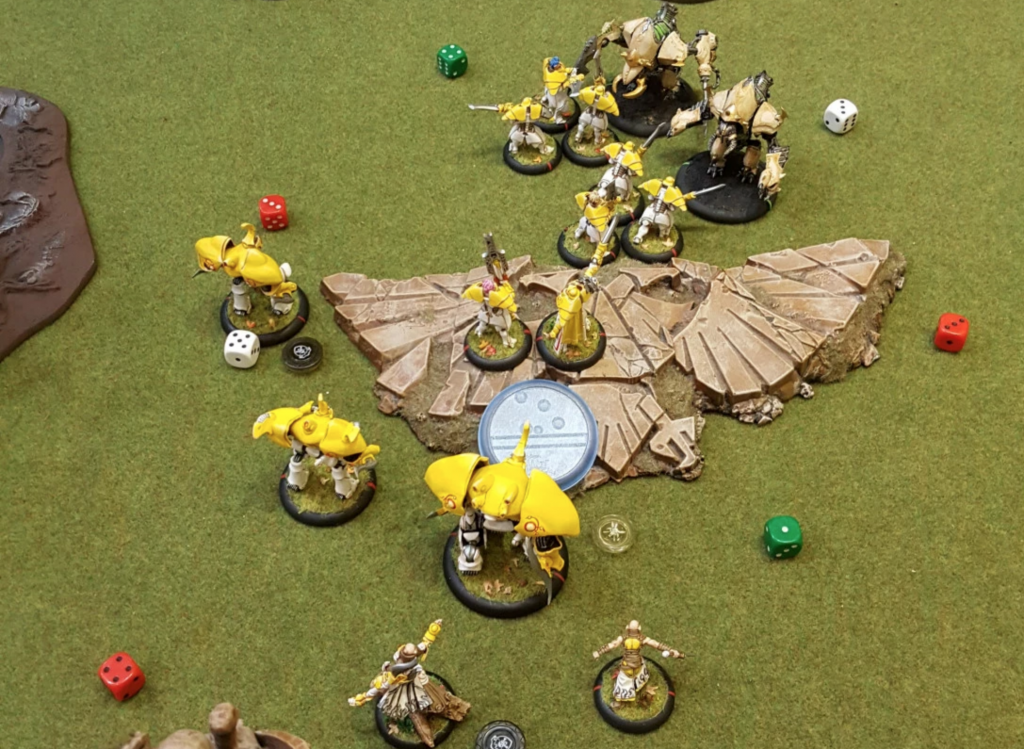 By using the blue proxy base both players can clearly agree on a trample path for the Slayer. Image Source
This means that before an important move an opponent would ask if you agree with the measurement. Better yet they might even put out a proxy base to show you exactly where they intend to move. That way if there are any questions they can be resolved before models are moved. It might sound like this impedes the flow of the game, but in reality, this doesn't take much time at all and keeps the game moving forward much faster than trying to 'rewind' a questionable move.
Wrap Up
If you've been on the fence about playing a Warmachine tournament, I hope this helps encourage you to try a Steamroller. It's a ton of fun and also happens to be one of the best ways to improve your gameplay. Don't forget that the object of the game is to win, the point of the game is to have fun.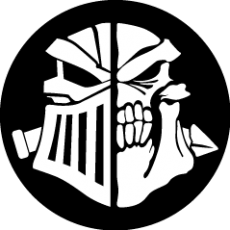 Have you played in a lot of Steamrollers? Any other advice for new players going to their first event?


Join us for a weekend of wargaming –
and put your Warmachine tactics to the test in the Iron Gauntlet Qualifier and more!
Registration for Wargames Con X is open now!