The Rise of the Machines has begun. Prepare to get Terminated with the metal warriors of the Necrons as we take a look at them up close in today's Kill Team Faction Focus!
When the enemy is described as "Ancient, remorseless and relentless" I think it's best to take a step back and say "RUN" especially since I now have a head start. The Necrons are next up on Games Workshop series of Kill Team Focus articles and they are as deadly as ever.
Much like their full scale counter-parts, the Necron Kill Team advances slowly with a purpose, raining a withering hail of gauss and tesla on their enemies. On top of that, they are tough to take out. As we learned this past weekend, after you lose your final wound there is a roll to determine if the model is taken out or if they just receive a flesh wound. But for the Necrons there is a chance they will be "fully restored instead." Brutal!
As far as units, the Necrons will be able to muster Warriors, Immortals, Deathmarks and Flayed Ones. They might not have the largest pool of options, but that is certainly a good mix of units that can get the job done.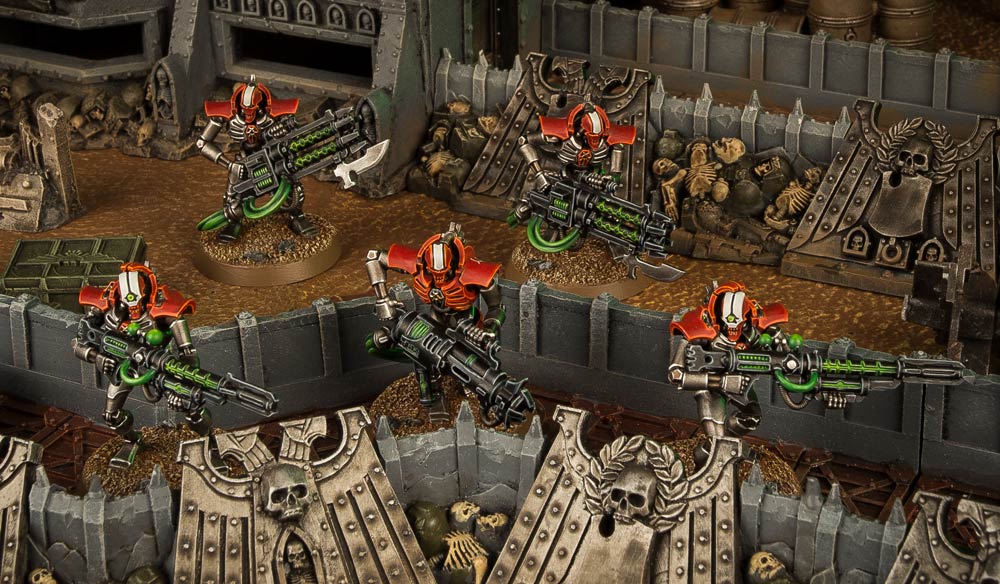 Now let's talk about their unique Tactics they'll get to use on the skirmish battlefield.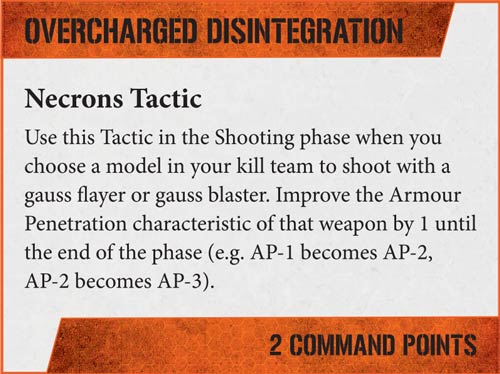 Overcharged Disintegration improves the Armor Penetration of a weapon by 1 in the shooting phase. This can be pretty handy if you're up against some heavily armored foes. It's a little pricey at 2 Command Points, but when you need to make a shot count, this will get the job done.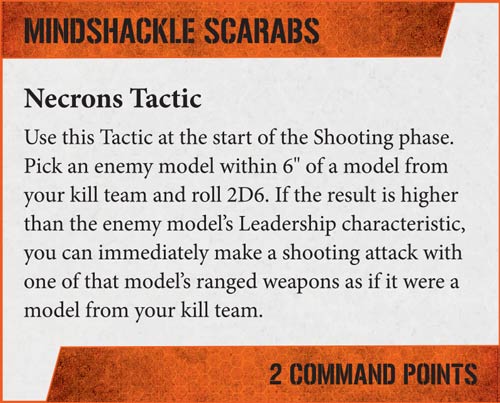 Oh man… Mindshackle Scarabs are here to play. (Un)fortunately it's a leadership check on 2d6 to see if the Necron player can take control of an enemy model within 6″ and force them to shoot at their former allies. It costs 2 Command Points and I'll be honest, I'm not that scared of this one. The Necrons have to get within 6″ and beat your leadership score – which for many armies isn't exactly a pushover. I say that and now I'm sure that my first game against Necrons they are going to use this on me and force me to kill my own Kill Team…curse you Mindshackle Scarabs!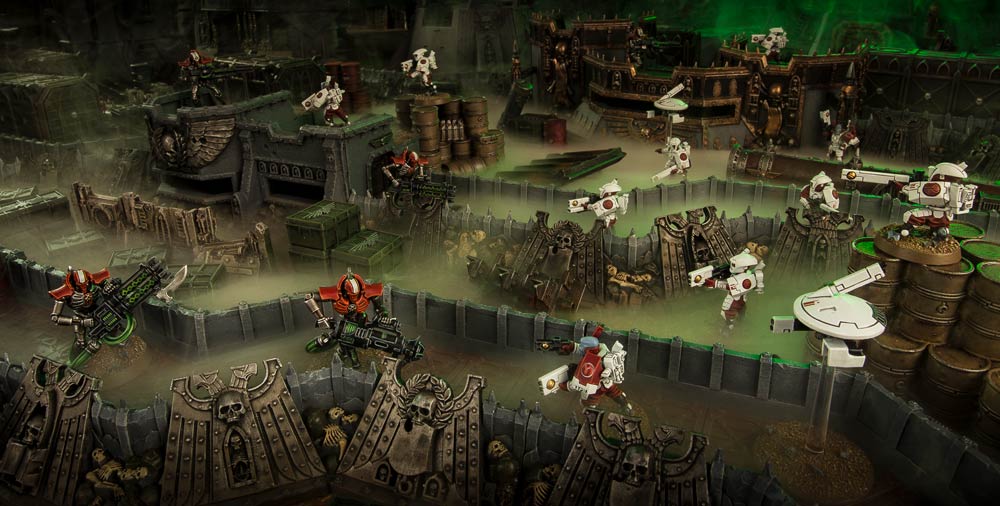 I don't think the Necrons are going to be as numerous as the Astra Militarum or as Elite as the Deathwatch but I think they are going to be plenty tough to take out. Plus their weapons are no joke…
Kill Team Launches July 21st! Are you ready for war on the skirmish scale?