When casting was announced there was a bit of confusion – I wasn't so sure about the choice at the time. Levi has the right acting chops for the character, but could he pull off the look of the iconic character? Yes. Yes, he can.

Last month we got a surprise glimpse of the costume thanks to a poster at the Licensing Expo in Las Vegas. Yesterday Entertainment Weekly provided us with our first real look at Zachary Levi in costume, with as Jack Dylan Grazer as Freddy Freeman. It's bright and flashy… not a hint of navy or burgundy in sight. It's a nice combination of New 52 Shazam and the classic outfit Captain Marvel wore – check out that retro cape!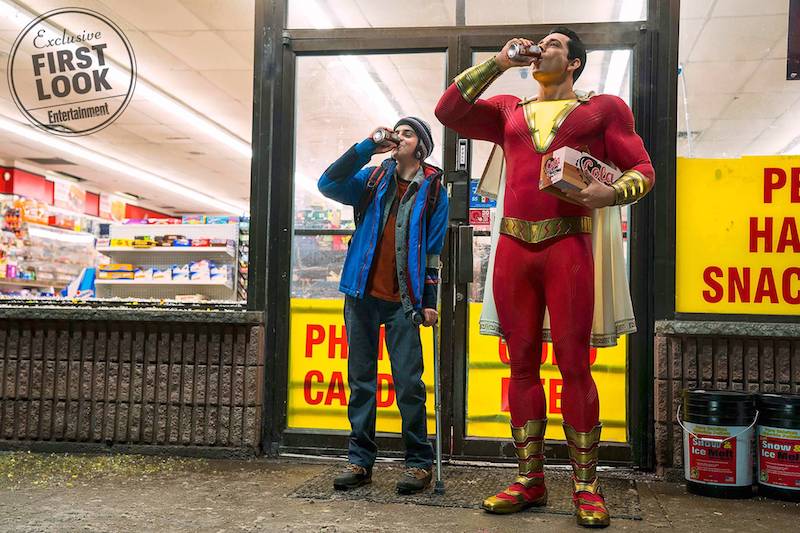 14-year-old Billy Batson (Asher Angel) befriends comic book nerd Freddy in a new foster home. Soon after he is approached by a mysterious wizard (Djimon Hounsou) who has been looking for the right person to take on his powers. He gives the teen these powers, all it takes is for him to say "SHAZAM!" to turn into his alter ego.
This should feel kinda like Big, but with a boy in charge of a super hero instead of a toy executive. Levi is a good choice to pull that off, like Hanks was. The crowd at SDCC will be the first judges of that – they get to see the first trailer this upcoming weekend. Hopefully the rest of us will be able to see it shortly after. Rumors around the net are saying it looks good.
And just to note, Levi worked out for the role just like the other actors that take on super hero roles. That's not all built into the suit.