Goatboy's 40k MIA: Putting the Hel Back in Heldrakes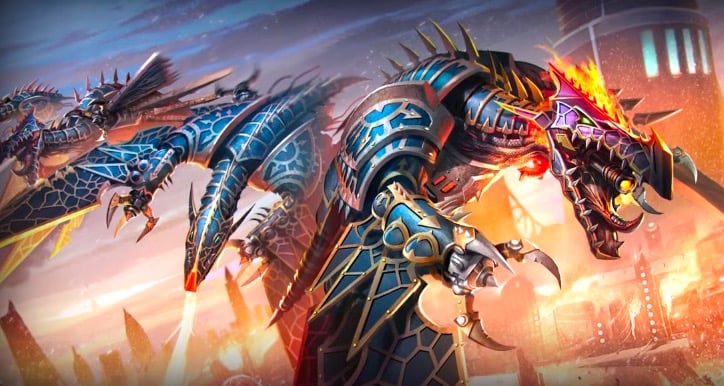 Remember the days when using 3 Heldrakes meant you were "that" guy at a tournament? What the heck happened and how can we get our Chaos winged monsters back into winning lists?
The Glory Days
I remember the first time seeing the Heldrake.  I got a quick glimpse of the Chaos Codex and saw this overwrought monster.  He jumped out at me because I knew how hard it would be to get that thing painted.  All those angles, different textures, and bits of insanity meant this was not going to be a "quick" paint.  Still, I loved the crazy thing and used him pretty exclusively when the model initially came out.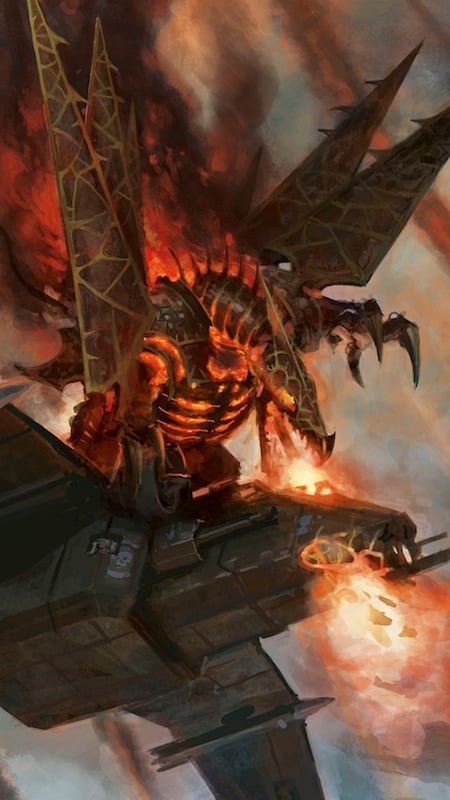 Heck, I can remember multiple games where this high flying, fart flaming crazy daemonic machine won me many a game.  In fact, it was part of the army I did very well with during the heydays of 6th edition (Necrons/Chaos – so obviously the perfect allies).  As editions change we all know units get better or worse and it feels like the Heldrake has kind of hit a wall of 8th tweaks to keep it from seeing the table top.
Now I don't think its bad – I think it has a few things that are hurting it from showing up.  I think the biggest issue is the current thing keeping some Chaos Space Marine things down in the dumps.  I think if we let Legion Tactics hit all options in the codex – we would probably see a decent renaissance on some Chaos options.  I don't know if it would be too good – but between things like extra Attacks or a -1 to hit might make the Heldrake come off the display shelf.  I don't expect things to change unless we see a big push in Chapter Approved – and I would think we might see things move the opposite direction and some the other armies vehicles/things lose their Chapter/Legion/Craftworld bonuses.  A Goat can hope, right?

Putting the Hel Back in the Drake
But back to the Heldrake – let's think of ways we could use this guy and why the unit might be good.  The biggest thing in all of this is using this guy at a tournament.  In fact – it is probably why it could start to show up as a unit that can disrupt an opponents plan by moving fast and locking something down.  Moving 30 inches is pretty insane for an "assault" vehicle.  Mix that in with an auto hitting flamer and you could find a model that could move fast, move over some things and get a chance to snipe out a character or two.  Or at least make the opponent stop, turn around, and try to deal with it.
You also mix this in with having the Keyword Daemon and the ability to be marked which gives the next bit of interest.  You could utilize some of the Daemon options to try and "turn" on some new abilities as needed.  I think losing the ability to deep strike first turn out of the deployment zone makes this less excitinglet'sbut it is something to think about.  I won't be going into that with my lists thoughts – instead, I feel like utilizing its disruption abilities is the better way to look at this long lost monster of the 40k battlefield.
A good friend of mine who is obviously more devoted to Chaos then me – is playing some in the upcoming ATC tournament. Horton threw together a weird list which I won't copy here, but it has everything I love – the Lord of Skulls, some Heldrakes, and a plethora of Khorne Berzerkers.  We'll just utilize that idea and see where I can go with it.  I think the idea of using them as disruption is probably the key to it.  I am hoping we see a point drop at some point – but don't expect it to come.  Unless of course, we get a brand new Chaos Codex along with a new Marine/Primus Codex.
Let's look at what is probably the best Detachment of Heldrakes – the World Eaters version.  It activates an anti Psychic Stratagem in a unit that is so fast it will always be "in the way."  Plus it means you could use some crazy conversions of some Berzerker riding Dragons flying over the table top.  It also has no real "tax" in that just taking them as 3 Flyers and still get a Command Point.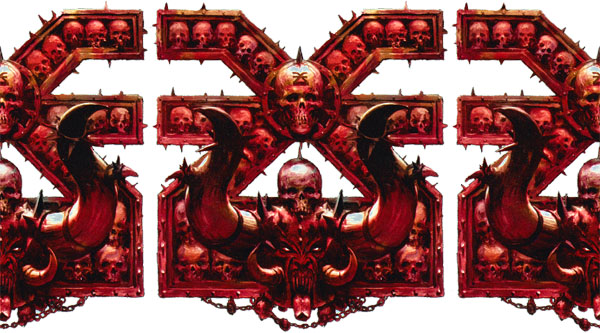 Air Wing Detachment – World Eaters
Heldrake, Baleflamer – 185pts
Heldrake, Baleflamer – 185pts
Heldrake, Baleflamer – 185pts
Subscribe to our newsletter!
Get Tabletop, RPG & Pop Culture news delivered directly to your inbox.
Total – 555pts
This is a pretty big investment but in specific army builds this type of thing could be very powerful.  If you look at doing this with say – a Bash Brothers build or some other big guy build you start to see how these guys are there to bother something and hopefully let your big guy survive an extra turn.  Each extra turn a big monster gets to live means you have a better chance of winning with the games ultimate bad guy – Morty or Magnus (until another Daemon Primarch comes out).  As it hits almost 600 points, it doesn't leave a ton of room to work with – but at least we can go in a few different directions.  We'll first go with big bash guys and then look at some other ideas.
I wish the Death Guard book had some "Plague Dragons" to use – but alas it wasn't an option.  So let's look at a Morty/Magnus build with this "detachment."  You could say they captured some Khorne Dragons and are using them.  Maybe put some kind of techno virus looking thing over the dragon to make them match with some Death Guard options.
Air Wing Detachment – World Eaters
Heldrake, Baleflamer – 185pts
Heldrake, Baleflamer – 185pts
Heldrake, Baleflamer – 185pts
Thousand Sons Supreme Command
HQ: Daemon Prince of Tzeentch, Wings, Malefic Talon X 2 – 180pts
HQ: Daemon Prince of Tzeentch, Wings, Malefic Talon X 2 – 180pts
HQ: Ahriman on a Disco of  Tzeentch – 166pts
LoW: Magnus – 445pts
Death Guard Super Heavy Aux
LoW: Mortarion – 470pts
This is another Bash Bros list that tries to figure out a way to keep the bros alive.  You will probably let one of the Daemon Princes be the warlord with a +1 to cast.  Your Relic would be the Athenan Scrolls to try and push some things thru.  If you get lucky with some doubles etc.  It does give you five full smites which isn't a bad thing.  It isn't going to be an amazing list, but it at least tries to find away for the Bash Bros to stay alive.  It is also eight drops, so it is small, fast, and maybe will win a game or two.  Or all east give ya some great stories.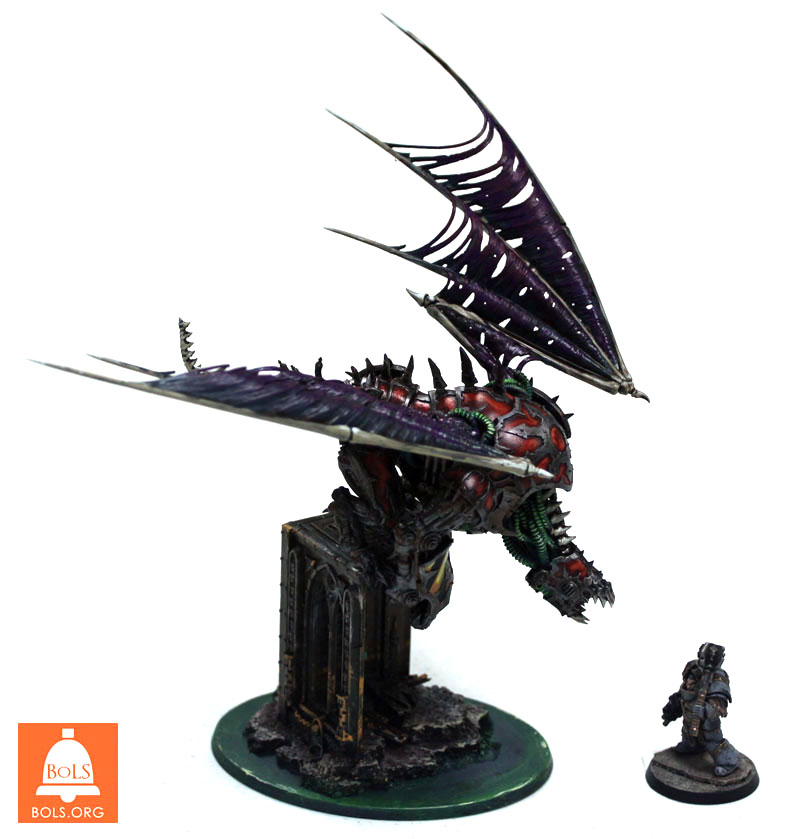 I want to try out some Heldrakes in some Renegade Knight builds as I feel like the full-on shooting options can be very strong – if you have something to go out, tie something up and maybe allow the knights a few more turns of shooting.  Mix in some actual close combat troops like Berzerkers, and it could be an interesting army.  It feels a bit top heavy so you might not want to go all 3 Dragons and instead look at two in a Battalion of World Eaters.  But that is a list for another time.
~Any particular unit you used to love and now have to just have them sit on the sideline as they are hampered by their 8th edition rules?