The Armies of Mantica have a new book out that delves into the backstory and lore of the setting. Why do they fight? Who are their Heroes? What are their goals? The Tales of Mantica series sets out to answer these questions and more!
Mantic Games has been working with book publisher Winger Hussar to create a book series based on the world of Mantica. The first book is out now and it's an anthology of 10 stories written by different authors that loosely covers the events of last year's summer campaign. It's a pretty major tome of lore and is helping to flesh-out the fantastical world of Mantica even more.
This anthology is a collection of ten short stories that span the Edge of the Abyss campaign in the Kings of War universe, covering as many factions as Mantic has put rules out for. Each story has been tailored to fit into the overall lore of the universe, having worked closely with Mantic, as well as unified under my guidance to create one overarching universe for our fiction. Some of the stories we have adapted directly from the Edge of Abyss campaign book, while others may seem very close, but we've changed the armies to put our own spin on the battles. Even though the stories can be read in any order, we've purposely ordered them as so that the first is the earliest in our narrative, while the last brings the most recent developments. This is but the first of many works we plan to publish in the Kings of War universe!
If you're a fan of Kings of War or if you're just looking to scratch that fantasy novel itch then pick up this new book from Mantic Games and Winged Hussar publishing.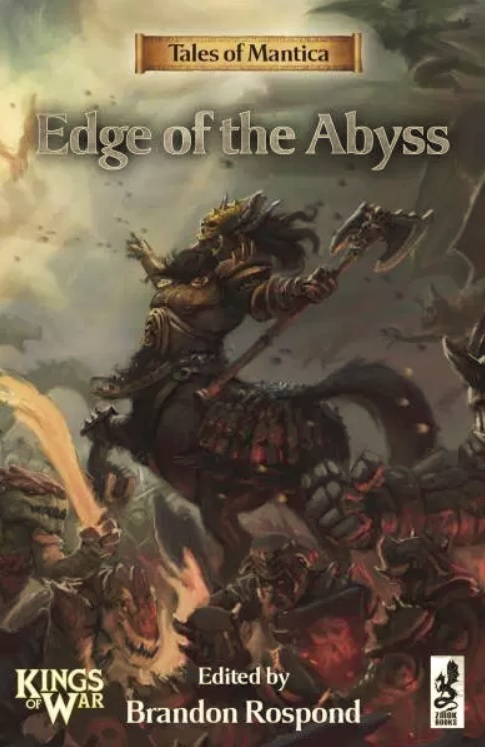 An anthology of ten stories set in the world of Mantica, a world of epic fantasy. Ten experience authors give the reader an introduction to the setting and people involved in the wonderous world of Mantica.
285 pages and 10 stories? Sounds like some good, lite reading!