Someone's been hitting the TIE academy books pretty hard. The new Star Wars X-Wing 2.0 TIE Pilots have got some serious moves! Come see the latest from Fantasy Flight Games as they preview the new TIE/ln.
The TIE/ln got a pretty good revamp in X-Wing 2.0. The consolidation of the PS from 1-10 down to 1-6 really helped flying TIEs in formation and made the workhorse of the Empire a force to be feared. Today we're getting a look at the TIE Pilots who are in the expansion pack. The have a surprisingly high Initiative for flying in what are basically un-shielded death traps. I guess if you're going to fly a TIE, you better fly FAST!
Many of these ships are also available in the Imperial Conversion Pack or the Core Set. Both of which are available September 13, 2018.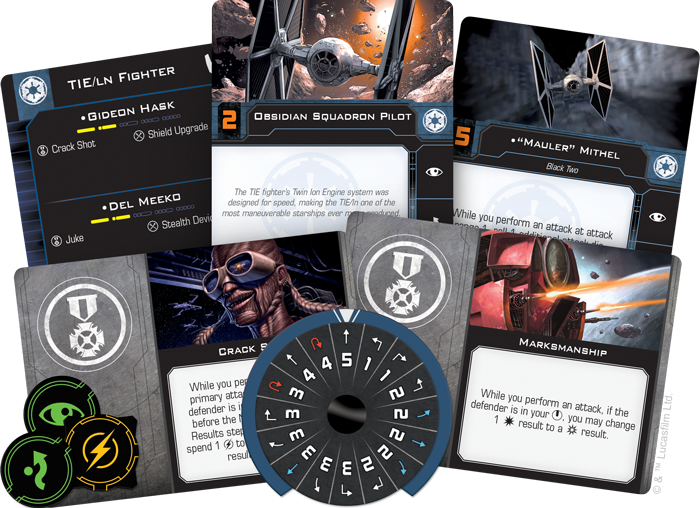 You can form your own attack group of TIE fighters the moment X-Wing™ Second Edition launches with the TIE/ln Fighter Expansion Pack. Within this expansion, you'll find a fully-assembled, beautifully painted TIE/ln fighter miniature, identical to the miniatures included in the X-Wing Second Edition Core Set. This miniature is accompanied by ten ship cards featuring unique pilots, four upgrade cards, a maneuver dial, and all the tokens you need to add one of these swift starfighters to your squadron.
The Pilots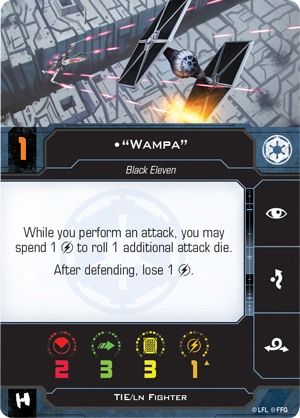 Starting with the lowest Initiative (formerly known as Pilot Skill) Pilot, we have "Wampa" who clocks in at 1. With the condensed Initiative stat (1-6, 6 being pretty rare) this is the low end of the spectrum. Wampa will be moving first and shooting last.
Fortunately Wampa's pilot ability makes them an excellent flying screen. When after Wampa defends, you must lose your charge token. However, if Wampa is not shot at (read: made the defender) then the controlling player can opt to spend their charge token to get an extra attack die. That boosts the TIE humble 2 die attack to a 3 die attack – and at range 1 that becomes a 4 die attack… So who you going to shoot first?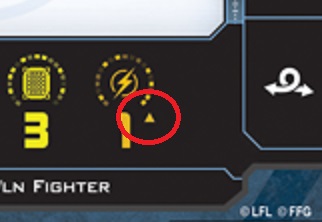 At the end of every round, Wampa gets the Charge Token back. That feature is represented by the tiny triangle next to the icon in the stat line. This is one of the quality of life improvements that was added to the game – something to quickly convey that ability on the card without taking up a ton of room.
Next we jump up to the initiative 4 Pilots. Again, with the condensed Initiative these Pilots are actually on the higher end of the spectrum and with 3 different pilots flying them in formation suddenly becomes easier as you can choose which order you activate Pilots who are at the same initiative.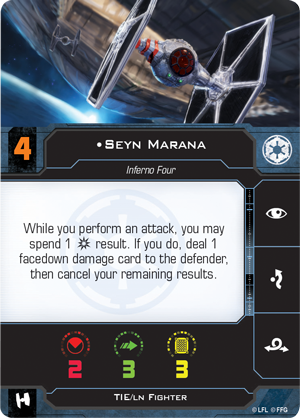 First up we have Seyn Marana. She's a crafty TIE Pilot with a sneaky ability. When attacking you can spend 1 crit to just cause 1 face down damage. This ability bypasses shields and is basically guaranteed damage. The trade off is you're sacrificing the potential for more damage overall. Then again, consistency is the key to a lot of things – like victory.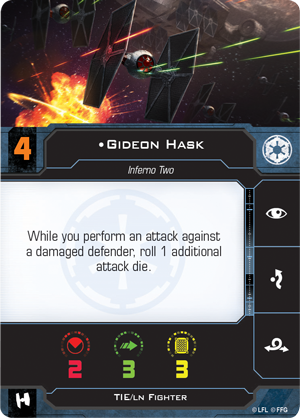 Gideon Hask is the TIE Pilot you send in against a damaged ship. He's a shark that goes into a frenzy when there is blood in the water. Gideon gains an extra attack die when the defender is damaged – go for the killing blow!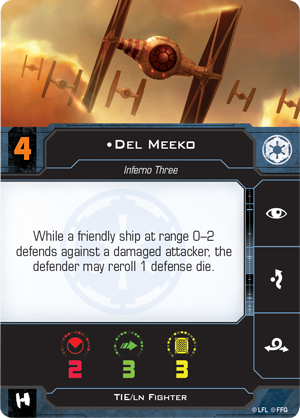 Del Meeko's ability also requires that a ship be damaged – which is a little weird, but oddly useful. If you can find a spot for Del Meeko then you're squadron's odds of survival do increase. Until Del is taken out at least.
Moving on, we're going to take a look at the creme of the crop – it's the Initiative 5 Pilots up for inspection.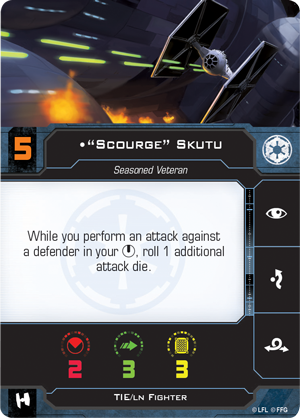 Scourge Skutu's ability kicks in when you can line up your shot perfectly – when the defender is in his bullseye arc you get an additional attack die. A 3 die attack that can go up to a 4 at range 1 is no joke!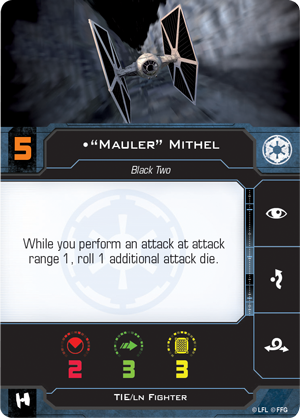 Mauler Mithel is back and just as mean as before. Close Range fire-fights your thing? Mauler is a solid choice. Any attacks at range 1 get an additional attack die – again that's a 4 die attack from a TIE (are we seeing a theme yet).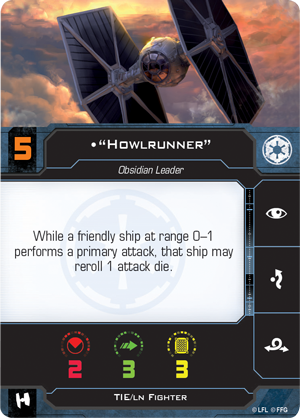 And finally on the Pilot front – Howlrunner has returned. Howl's ability hasn't really changed but that makes her just as important as before. Remember, now that all these pilots are the same initiative, you'll be able to coordinate your timing a LOT better. Flying TIEs in formation just got a lot stronger because of the change and Howlrunner's ability is better for it.
Upgrades
Fantasy Flight Games also teased two upgrade cards off with the TIE/ln preview. Now, we've shown these off in our unboxings of the X-Wing conversion kits already but here they are for your viewing pleasure: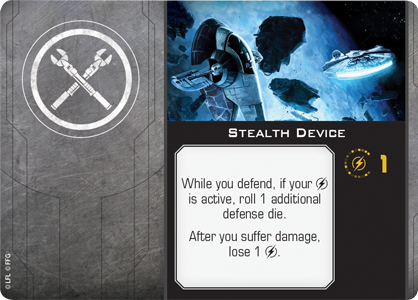 Stealth Device has a charge token and while it has that charge, you get an additional defense die. Once you take a damage, you flip the token over and it becomes inactive. Now, if you have a way to flip that token BACK over you can regain the stealth bonus…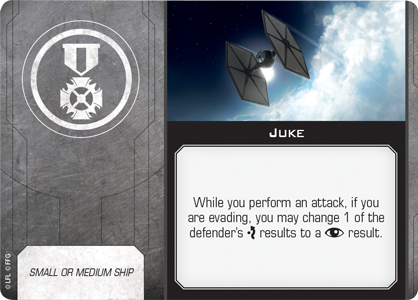 Juke is pretty great for TIEs in general. It helps them offensively by boosting their defenses. With Juke, you WANT to have an evade token on while you're attacking. You don't spend the evade token either – you just convert a defender's evade result to a focus.
That's all for the TIE/ln preview from FFG. The Ship and all the new contents will be available on the launch day of September 13, 2018!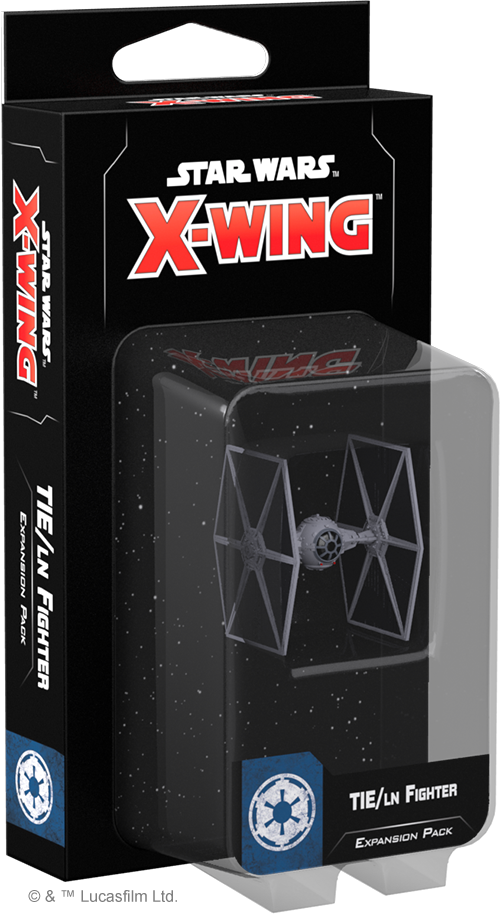 Few sounds can strike fear into the heart of a starfighter pilot like the howl of an incoming group of Imperial TIE/ln fighters. The iconic fighter of the Galactic Empire, the TIE's namesake twin ion engines deliver impressive speed and pinpoint maneuverability. Although its lightweight frame lacks deflector shields or a hyperdrive, its affordability allows the Empire to deploy TIE fighters in great numbers to crush any Rebel resistance.

The TIE/ln Fighter Expansion Pack includes one beautifully pre-painted miniature and all the ship and upgrade cards you need to incorporate this flying terror into your Imperial squadron. In addition, the TIE/ln Fighter Expansion Pack contains a few entirely new cards that have never before appeared in the game's first edition. These new cards and associated punchboard are also included in the Galactic Empire Conversion Kit for the benefit of veteran players!