Today we'll be looking at how you can use the newest characters from the 'Smoke and Mirrors' expansion to wreck havoc on your opponents in the HexaDome.
Aristeia! is a tactical combat game with a diverse cast of unique and exciting characters. The latest expansion, 'Smoke and Mirrors', was announced some time ago but since the release is coming up, I thought it would be a good time to take a closer look at what this expansion has to offer.
Plus, I just really love Aristeia! and will take any opportunity to talk about it. Plus plus, I thought we could look a little more into some tactics and strategy you could use for each of these new characters.
Kozmo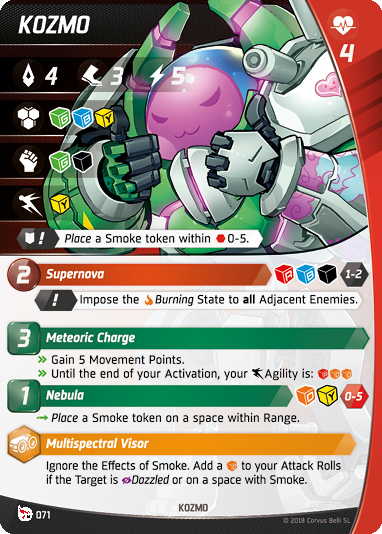 Kozmo's got a lot of utility.  It's main function, I think, is using Nebula to block line of sight. This would obviously be especially useful against long range characters like Major Lunah and Wild Bill, but placing a Smoke token on top of a character prevents them from targeting anything outside Range 0-1. This is super useful for shutting down other utility characters like Hannibal, or characters like 8-Ball who have extended reach. If you're real tricky, use Smoke on your own characters to prevent them being shot when they are at low health! (I'm looking at you, Murtair)
For the more aggressive player, use Meteoric Charge combined with Supernova to mess up an opponent using a deathball team comp with everyone centering around Maximus. Combined with Mendoza, and you got a team ready for a barbecue.

Táowù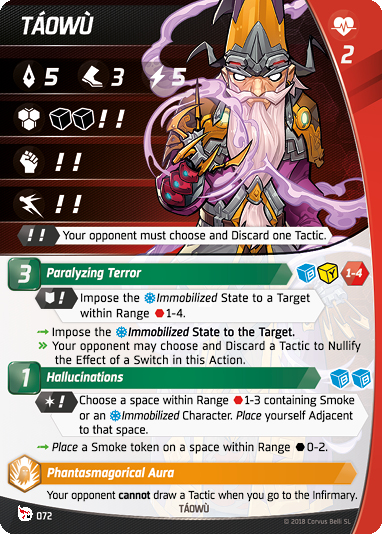 Táowù really messes with your opponent's tactics deck. This will be incredibly useful against some teams who really lean on their Tactics cards, but could also fall flat against more ability-centric teams. Táowù is definitely a more niche character but in those instances where he's useful, he'll be indispensable. To that point, with his Paralying Terror ability causing Immobilization Táowù really shines against a melee-centric team.
Táowù works very well with Kozmo. Kozmo can place smoke anywhere and Táowù can use Hallucinations to teleport to it. This could be very useful for getting to a scoring area on the other side of the HexaDome very quickly.

Murtair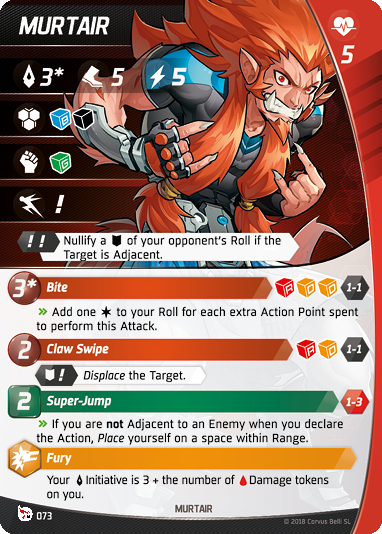 Murtair might be the most directly offensive character we've seen so far. His Tactics all focus on hurting himself or using hurt targets to aid in some some manner. Murtair will always be on the brink of death so he basically must be used in conjunction with Parvanti or Mendoza for those direct heals. I'm curious to check the rules FAQs for interactions of the Berzerker Charge and Unbridled Fury and Maximus's Get Behind Me. Can Max take the damage for Murtair, but still have Murtair gain the advantages of those cards? I'm not sure.
The Fury ability really seals the deal for Murtair and without it I think he would be useless. When he's on the brink of death, it all but ensures he will be able to go first, and get out of dodge as fast as he can. Or use with Hannibal's Code: Audible Tactics card to get any of your other characters to go first. It's a nice combo that can get otherwise very slow characters an unexpected first activation.

Padre-Inquisidor Mendoza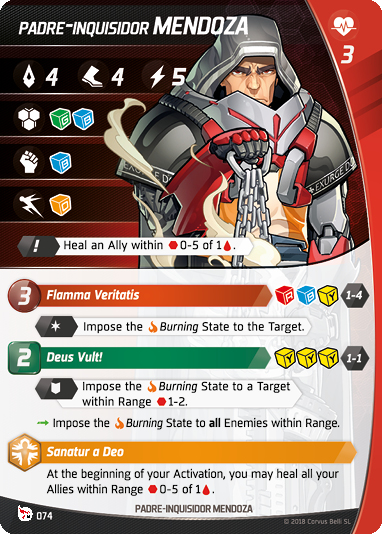 Mendoza is the second direct healer we've seen so far, behind Parvati. I'd argue Parvati is the stronger pocket healer, Mendoza is a much better group healer. So long as he's in the middle of your team he'll use Sanatur a Deo to heal every ally for 1 every activation and you can use his Switch to top off anyone needing a bit more heals.
What's especially nice is his Deus Vult! ability gives 3 Yellow Dice. The yellow dice have an Special (!) on every side but 1. The ability itself doesn't require any Special results, so they can all go into activating his Switch to heal nearby allies. He's got enough energy to do that twice an activation. With proper positioning, a team with Mendoza could be a huge hassle to bring down.
Plus he's real good at burning people, which I'm sure is not a remark on historical inquisitions at all.

New States
The expansion adds two new game effects, the Burning state and Smoke tokens.
Burning can be hugely devastating to the unlucky one on the receiving end. Burning states can stack, allowing for multiple instances on one target. Which can cause huge damage with the right rolls.
Smoke has a lot of versatility. It is used to block line of sight, but that itself has a lot of uses. Placing a Smoke token on top of a character limits their vision to 1, which means if they want to target anything non-adjacent they will have to move. In some situation, this could deny them activating a combo attack they wanted to use, having only limited Action Points to use and needing to spend some of movement.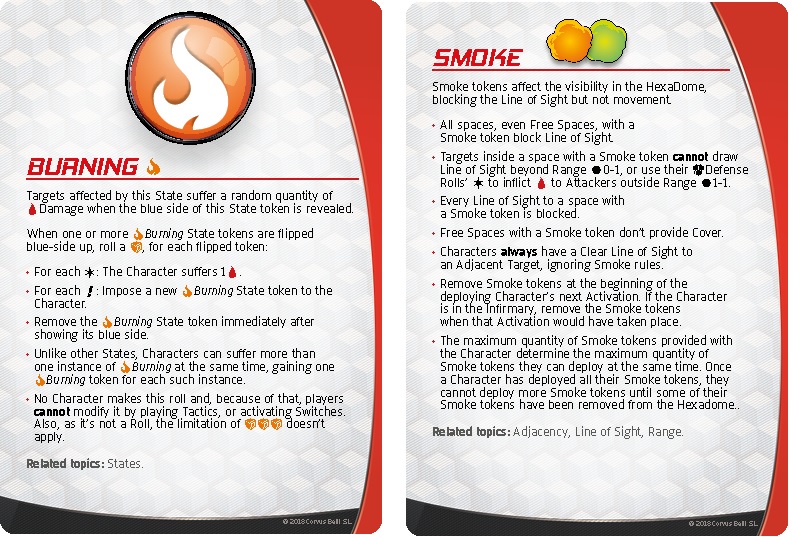 Overall, I think this expansion is great. I love characters that allow for cool interactions and combo well with others.
via Corvus Belli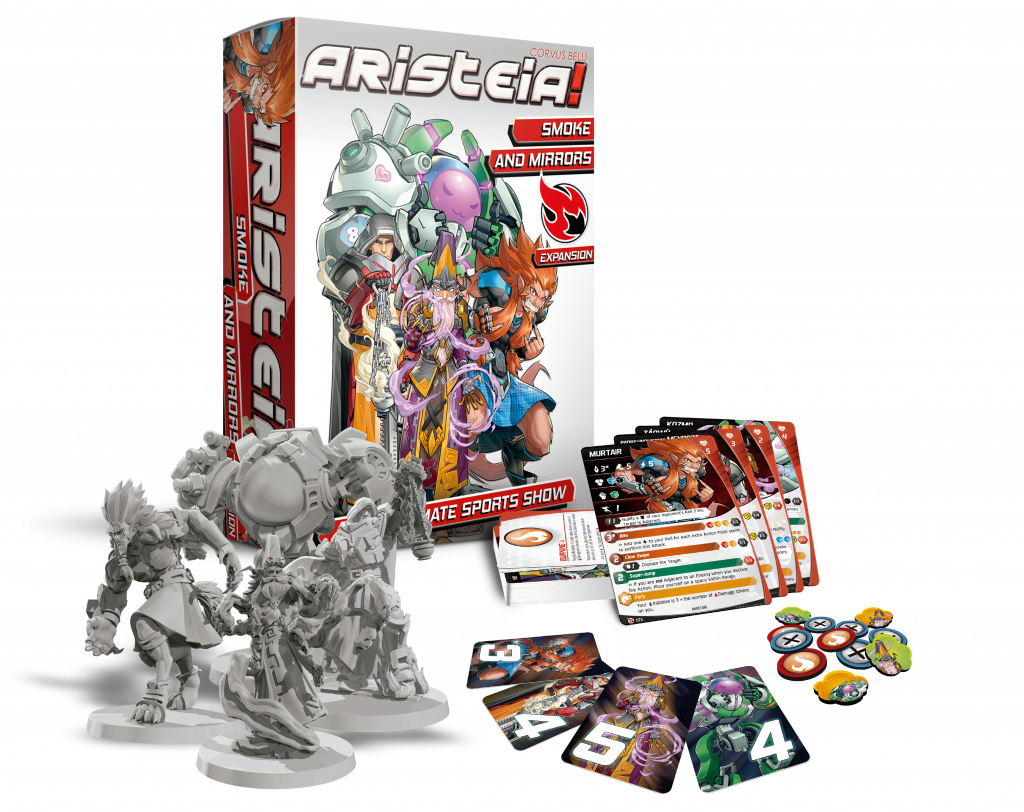 Are you wondering what a giant kawai robot, a rockstar werewolf, an outdated inquisitor, and a mysterious Chinese illusionist have in common? Alberto Abal, one of the designers of Aristeia!, will tell you that "All of these Aristos allow us to bring EXCITEMENT, in capital letters, to the HexaDomes of the Human Sphere. Thus, Aristeia! shines like a supernova again. The excitement is at your fingertips!".

Corvus Belli will present a new expansion pack for its MOBA-style board game this summer: Aristeia! Smoke & Mirrors (SnM). This expansion has four new characters, or aristos, each of them incorporating a new way to play and spectacular and amazing abilities to increase the replayability and versatility of the game.

The Smoke & Mirrors (SnM) expansion pack is going to change the perception of the game, making it more entertaining than ever before! A Padre-Inquisidor willing to burn heretics, an Asian sorcerer who tortures his enemies with their worst nightmares, a bloodthirsty half-breed Wulver, and a robot that throws smoke grenades comprise the incredible characters who will mesmerize the audience. Nothing is what it seems in Aristeia!

CONTAINS

4 character cards
4 initiative cards
16 Tactics
2 rules cards explaining the new States
All the tokens needed to play this expansion
A total of 92 cards in every box, because it includes a copy for each language: Spanish, English, German, and French.
2 Players
60 – 90 Minutes
Ages 14+
Corvus Belli has also released new skins for some of the characters, which you can find here and are super amazing.