Strong Bad fans, get ready for a shot of awesome into one Big Beefy Arm. It's a new Trogdor Board Game – Time to Burninate!!!
Before the Youtube era, there was the Flash era and there was a particular piece of the internet pie that was carved out by Homestar Runner. Now, I'm not going to go into all the details but there was a particular character's emails that pretty much stole the show. Anyhow, if you know what I'm talking about then you'll remember the episode:
Trogdor was a pretty influential bit for a particular segment of the population. And now the Burninator is back with a brand-new board game on Kickstarter:
"From the Brothers Chaps and James Ernest comes Trogdor!! the Board Game. For centuries, the legendary wingaling dragon Trogdor the Burninator has terrorized the peasant kingdom of Peasantry with his scorching flames and greased-up beefy arm. Now, he has descended from the mountains once again and will not stop until he burninates the entire countryside and all those unfortunate enough to get in his way!"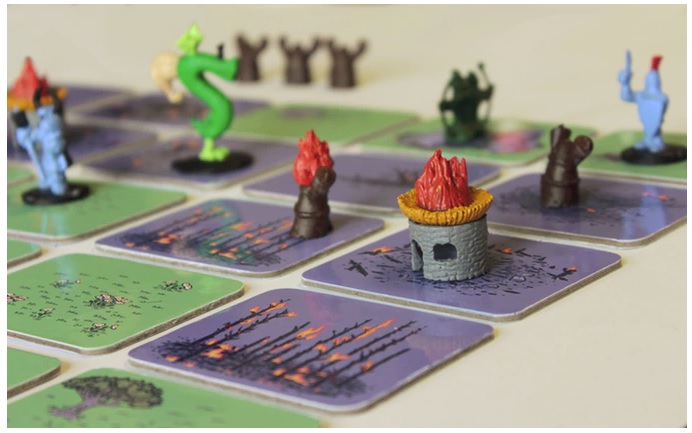 Trogdor!! is a co-op puzzle, area control game where 2-6 players work together to help a beefy-armed dragon completely decimate a kingdom using unique powers and items all while avoiding knights and archers bent on stopping you.

Play time is 30-45 minutes with variable levels of difficulty the players can set. The age is 14+.
The Kickstarter is already hit it's goal and now it's just wracking up the unlocks. If you want to get in there is still plenty of time left. This game certainly hits that nostalgia factor for me personally. I still draw dragons the way Strong Bad instructed me to do so many, many years ago.
Trogdor!! The Board Game is slated to ship in June of 2019. I fully expect to see this one hit retail stores as well.
I said Consummate V's!