Made To Order has a fresh batch of miniatures slated for one last go. Who are these figures from ages past? Let's find out!
Hello again Loremasters, yesterday we took a look at the first 3 members from our fated list. Today we're continuing the trend with the final set. Great commanders, leaders and fighters get ready to say good bye to these legends of the Old World.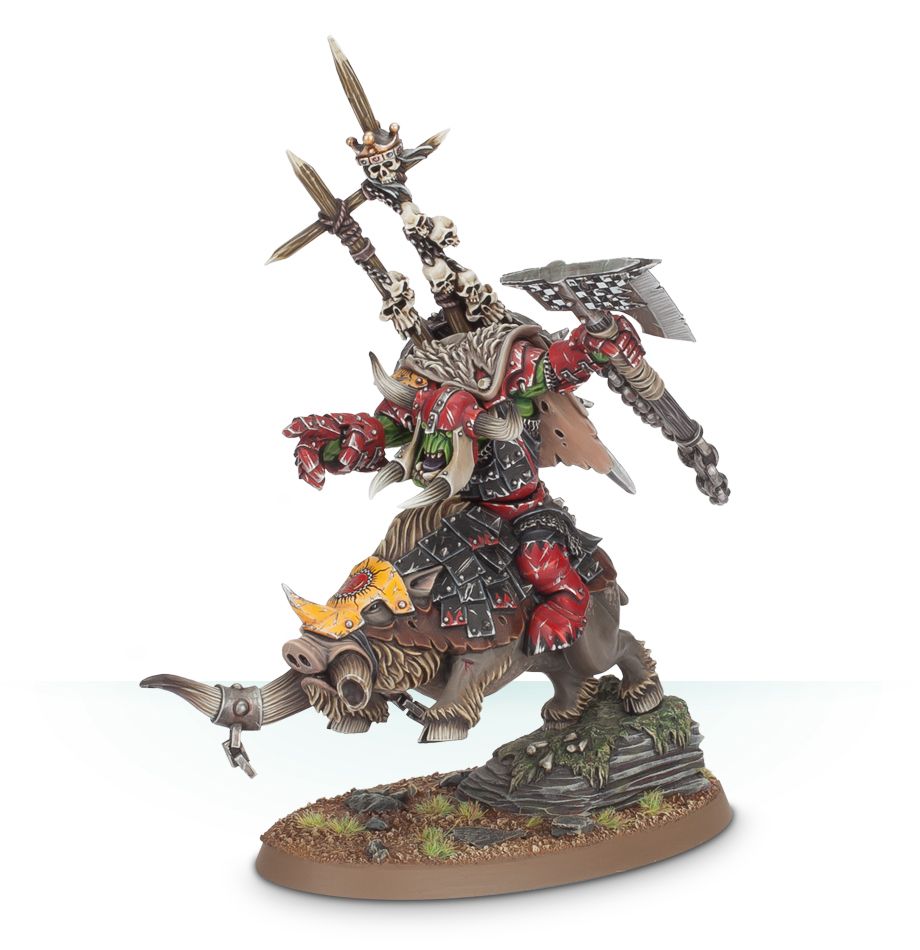 Gorbad Ironclaw is one of the most infamous of all Orc Warbosses. In his day, Gorbad led a massive invasion that almost crushed the Empire. His armies succeeded in slaying Emperor Sigismund and wiping the Imperial province of Solland off the map.
Gorbad was a hulking Orc who rose to fame as the leader of the Ironclaw Tribe. It was he who first built the Iron Rock, the most redoubtable Orc fortress in the Old World. Yet conquering greenskin tribes was no real challenge for Gorbad and so he inevitably crossed into the human land of the Empire. It was his horrific deeds there that raised Gorbad's status, making him a bloody inspiration to his kind and a byword for 'invasions done propa'. It is said that Gorbad could single-handedly destroy enemy regiments and headbutt a war boar into a tongue-lolling comatose state. However, it wasn't his remarkable strength that allowed Gorbad to wreak such havoc. Gorbad was a supreme Warboss, able to drive his troops, whether Orcs or Goblins, to their utmost. Tribes from all corners travelled to join this legendary leader.
After a successful campaign through the Empire resulting in the Destruction of Solland, Gorbad was pushed back after he lay siege Altdorf. But a niggling injury from a previous battle and most of his army spent, he was forced to withdraw.
The majority of the remaining tribes broke ranks with Gorbad. Some left to return to their land, but many turned upon the retreating army, attempting to cut out a larger share of the loot for themselves. Eventually, only the Ironclaw and Broken Tooth Orcs remained, along with a few Goblin tribes too intimidated to leave. Gorbad led his followers along the River Reik, harried all the way by greenskins and revenge-seeking men from Solland. Most of their spoils were lost or abandoned during the hasty retreat. One last major conflict remained: the Battle of Blood Peak. It was fought in the shadow of the red-coloured mountain immediately south of Black Fire Pass. A Dwarf army, led by the King of Karaz-a-Karak, attacked.
This was retribution for earlier violence and desecration, for the Dwarfs never forget a grudge. Though Gorbad hacked a path through the Dwarfen onslaught, his army crumbled around him. As dusk fell, Gorbad was surrounded by stunties, his axe visiting ruin on any who approached. That was the last anyone ever heard of Gorbad; if the Orc leader was slain by the Dwarfs, they have never mentioned it. If Gorbad made good his escape, it is not known to where, for none have ever heard of him again. Whatever befell the great Orc, his reputation and memory live on. To Orcs, clustered around a Shaman telling the tale, Gorbad is a legend — a hero who earned a place beside the mighty Gork and Mork. To Men and Dwarfs, he was the living embodiment of the destructive power of the Waaagh!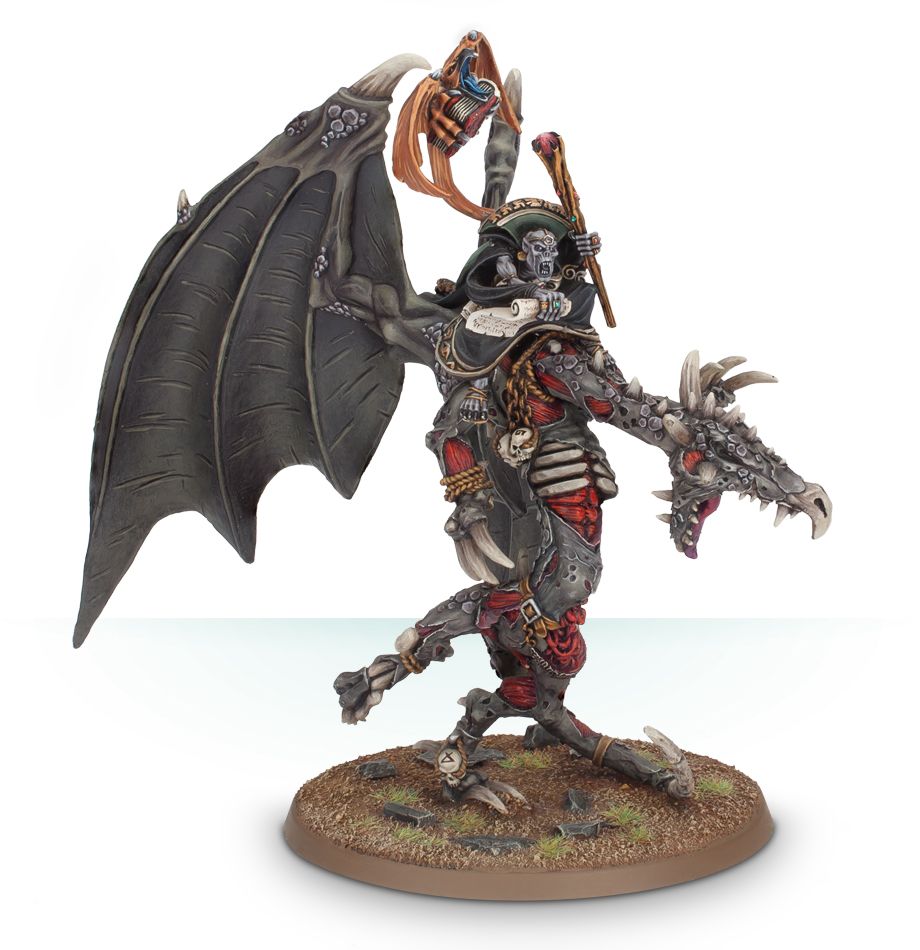 W'soran who would eventually possess and become known as Melkhior and finally, Zacharias the Everliving was one of the first vampires and founder of the vile Necrarch bloodline.
Originally a priest in the holy city of Mahrak, W'soran joined the cabal of Lamashizzar, king of Lahmia in the aftermath of the war between the priest kings of Nehekharaand Nagash. This group sought to use the books of Nagash (as well as the knowledge of the captured Arkhan the Black) to discover Nagash's secret to immortality. Though initially loyal to the king, W'soran later supported, albeit reluctantly, Queen Neferata instead when she demonstrated a greater understanding of Nagash's works. When Neferata became the first vampire W'soran was one of those she chose to share the secret of immortality with.
After this he spent some time in Mourkain, capital of the Stygos Empire under it's vampiric king Ushoran.
When W'soran came to Mourkain he gathered a cabal of the mystically gifted around him and gave them the gift of unlife. Foremost among these was Melkhior, who became W'soran's prize pupil, a position he gained through incredible necromantic ability and a tendency to destroy any rival to his master's attention.
Eventually however Melkhior's lust for knowledge grew. After centuries of mistreatment at the hands of his master, Melkhior slew his master while he was in a trance and consumed him over several days. Taking his master's prized Book of Nagash, Melkhior fled north and established a fortess for himself in the Forest of Shadows. It was revealed that W'soran was never destroyed by Melkhior and instead posessed his apprentice's body before destroying his own.
The ancient Vampire was murdered again at the hands of his new apprentice Zacharias. One day when secretly reading his master's forbidden tomes Zacharias was discovered by Melkhior and barely escaped with his life. Fleeing to a cave to recuperate he came across a sleeping black dragon. Nourishing himself on it's blood gave him incredible power and after taking the corpse of the beast as a mount he returned to his master's stronghold and killed him, only to be possessed and destroyed by W'sorans spirit. When Zacharias did this to his master, it was not the ironic twist of fate it appeared, but rather history repeating itself, with W'soran once again killing his apprentice and gaining a new body.
Now known as Zacharias the Everliving, W'soran would feast once again on his old body. Now commanding the mighty Zombie Dragon Zacharis had raised. W'soran was more powerful than ever, having added the power of both Melkhior and Zacharias to his own. This would be W'sorans final form, either because he took no more apprentices or because no Necrarch was ever again foolish enough to usurp him.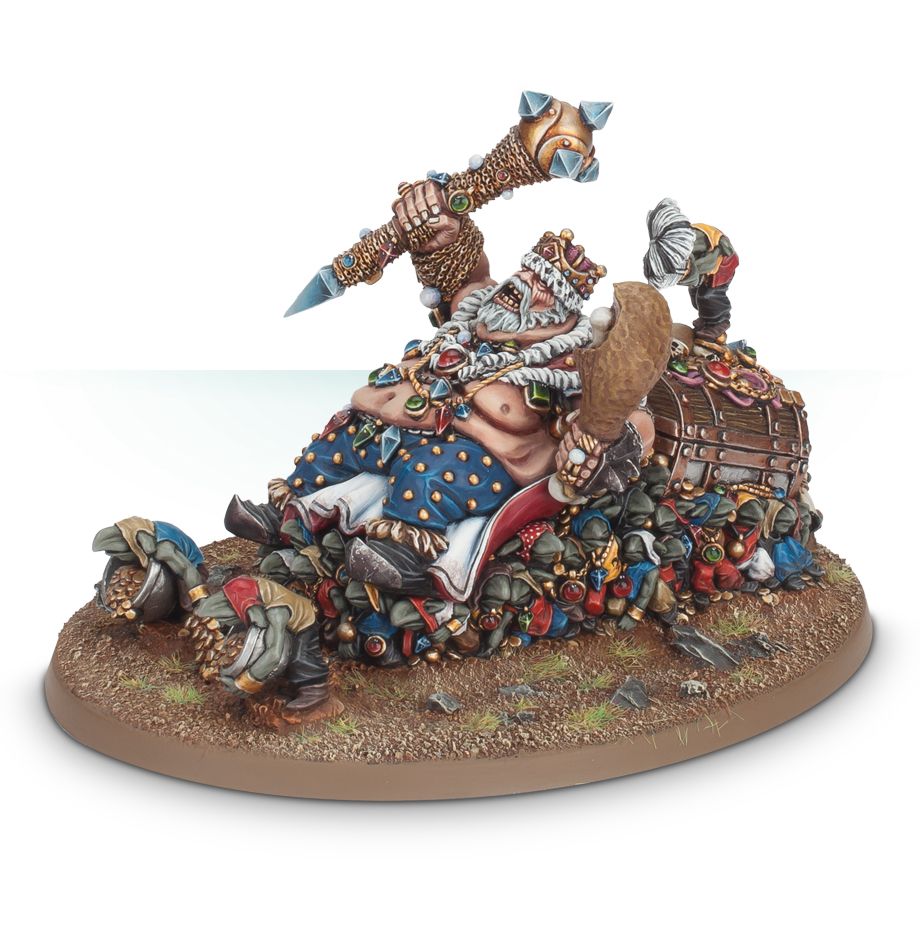 Overtyrant Greasus Goldtooth, or to give him his formal title, Tradelord Greasus Tribestealer Drakecrush Gatecrasher Hoardmaster Goldtooth the Shockingly Obese, is the fattest and most powerful Ogre Tyrant within the entire Ogre Kingdoms and holds the current title of Overtyrant, the Tyrant of all Ogre Tyrants.
Greasus was one of the many whelps sired by the infamous Gofg, Tyrant of the Goldtooth Tribe. Like his brothers, Greasus grew up to become strong and fat. However, unlike his brothers, he killed and ate his own father. After assuming the Tyranthood of his tribe, and feeling the need to prove himself, Greasus demanded tithes from other kingdoms. All refused the audacious request and began baying for Greasus' blood. Who was this upstart to demand gold and food from them? They would soon learn.
These days, grown older, larger, louder and richer than ever, the Overtyrant's coffers fill faster than his Gnoblars can count. Greasus claims he is now too rich to walk, and so instead he chooses to recline on a living throne of Gnoblar bearers who haul his esteemed bulk about, many dying from the huge effort. A master of bribery, the Overtyrant has always used his considerable wealth as a way to inspire greed and confusion amongst his enemies. Yet Greasus' rampant success has not diminished his greed or his all-consuming desire to conquer everything he sees.
Greasus was finally killed during the End Times, unwilling to ally with Grimgor Ironhide and his greenskin armies, the mighty Warboss smashed the Over Tyrant's skull asunder with his own enchanted mace.
Learn more about all of these Old Heroes at the Lexicanum
Farewell to you Made To Order miniatures – you had a great run and we salute you!