Looking to revisit some classics? Or perhaps try out some newer Warhammer strategy games for cheap? Well GOG is running a sale on Warhammer Games this weekend – check it out!
There are two deals going on right now on GOG – the popular game digital distribution platform. The first one is for the new Warhammer 40,000: Gladius. When you purchase it you can get a copy of Warhammer 40,000: Rites of War.
via GOG

If you're looking for a Turn-based strategy fix this weekend, this will get you covered! Now, if you're not familiar with Gladius – you can check out Abe's Review of it HERE. He had this to say:
"Warhammer 40,000 Gladius- Relics of War is a solid turn-based 4x strategy game with a strong focus on combat and warfare. If you like 40K and 4x games you need to check this one out. If you like 4X games but get frustrated with slow build-ups and diplomacy and want to cut right to combat, this is the game for you. It cuts a lot of the fat of 4X to hone down on the aspects it wants to perfect and presents a polished and fun war game."
Now, the second deal is for a back-catalog of some CLASSIC hits from Warhammer and this should get everyone excited: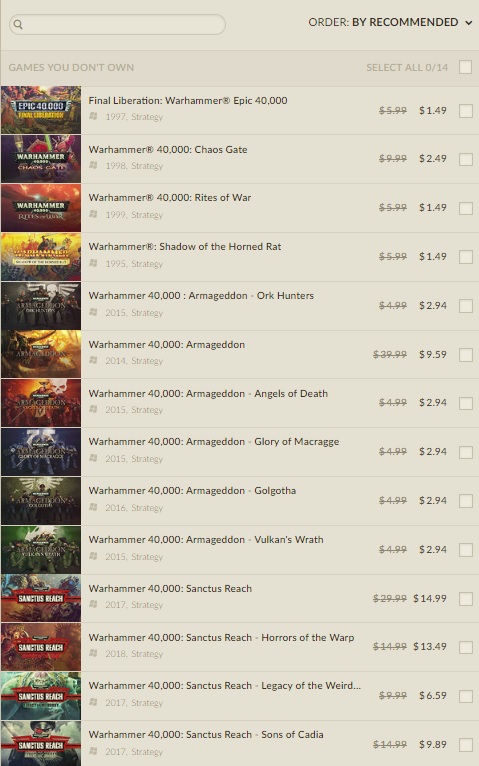 Classics like Final Liberation, Chaos Gate, Shadow of the Horned Rat… I spent WAAAAY to much time playing those games and now they are all available once again for bargain bin prices! Plus Warhammer 40,000: Armageddon and a TON of those add-ons are also available. And finally Sanctus Reach plus those expansions are up for grabs.
If you've skipped out on these or haven't ever played the classics you owe it to yourself to pick them up and give them a spin. These titles are only on sale through the weekend so just a heads-up. Enjoy the games!
Well I was going to paint today but I'll just fire up Chaos Gate and see how many turns I can get in…
*48 hours later*
How is it Monday already!?