I have this funny feeling that some imposing Loyalists will make their way into the Grimdark soon.
OK, stay with me for a bit.
We know that GW is rolling diversity into the game slowly but surely, adding new factions and plumbing the depths of the lore. This isn't a Loyalist thing, and it's not even a 40K thing. This is a company wide thing that is happening AoS, Necromunda and 40K. It's occurring pretty much everywhere.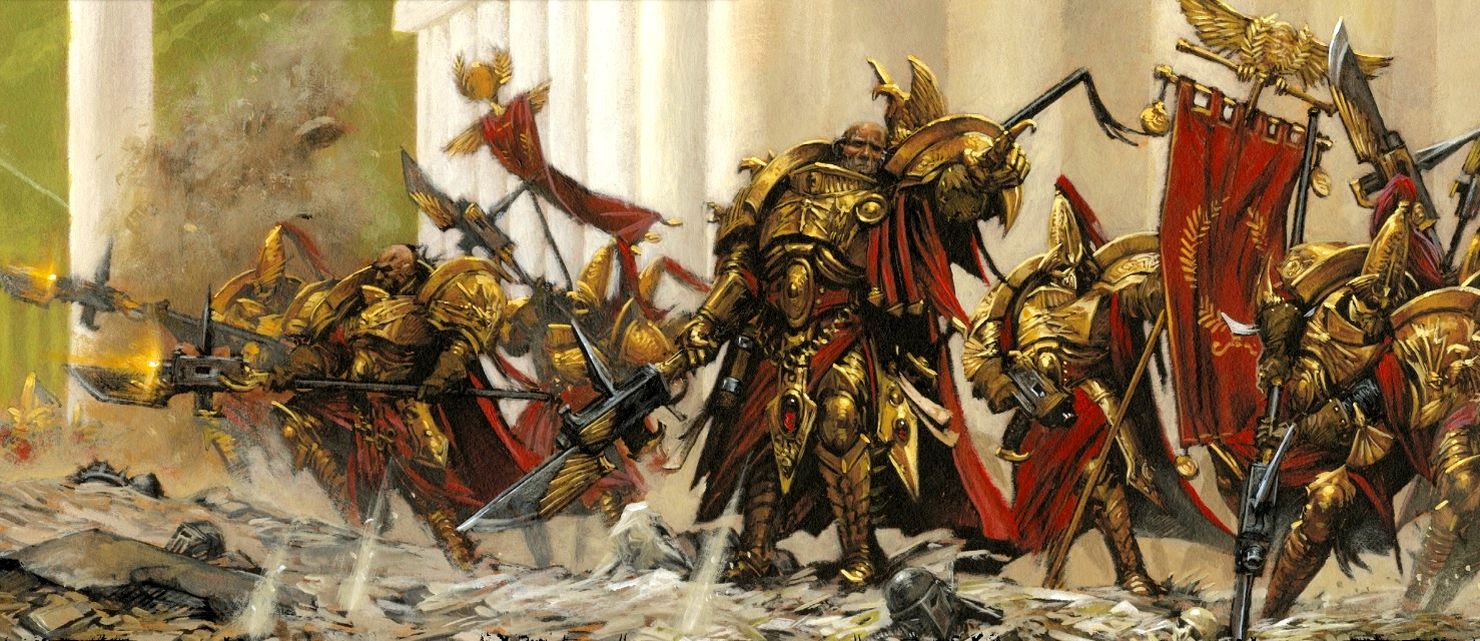 We've seen new and reworked Loyalist armies and new characters popping up over the last year in GW products. From the Custodes codex to the newly re-imagined Imperial Knights to the Primairs Marines themselves. We already know Adepta Sororitas are on the way.

With all that going on isn't it time that GW gave players (at least a group of them) what they want: Loyalist Dark Angels? This is something that a vocal group of players have been asking for for years, decades, even. And while I, being a longtime loyal Space Wolf player have little use for them, I still say lets give them what they want.
But That's Not Canon… maybe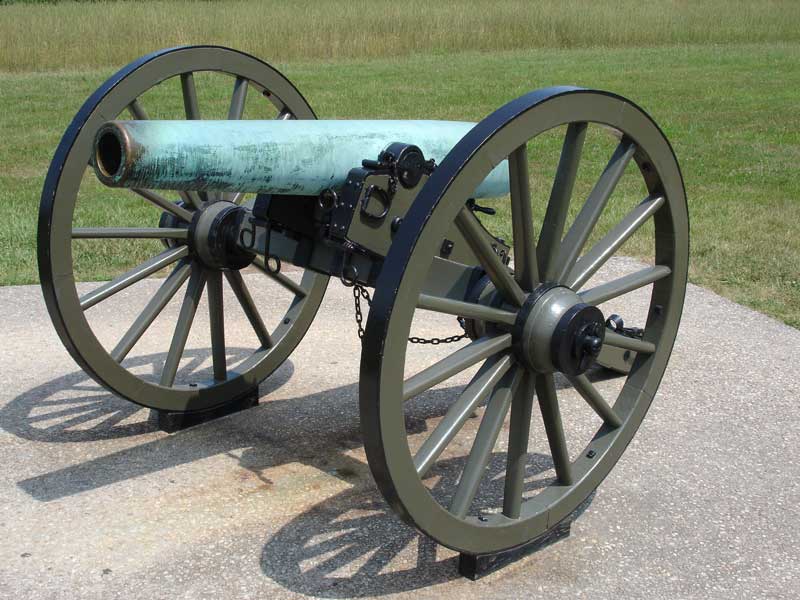 Not that kind of cannon…
We've seen the writing on the wall. Just as I think we can all agree that Chaos Alpha Legion are a matter of time, that Loyalist Dark Angels will probably pop up in some manner eventually  The models would be amazing, and I bet and they would sell.  The big sticking point is exactly how would we do it?  The concept itself isn't too shocking  – the challenge is how to do it within Warhammer 40,000 canon.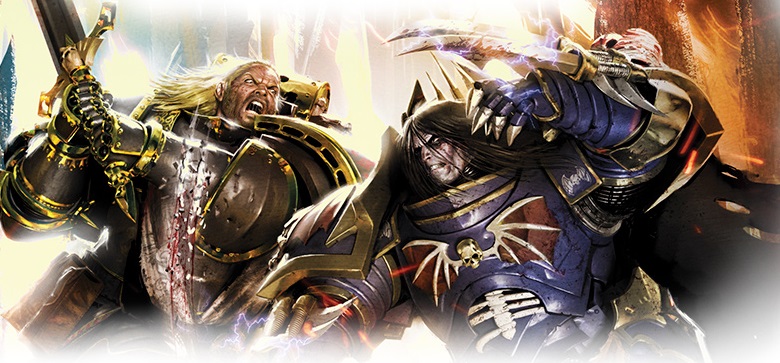 The Chaos Primarchs Were Know For Their Infighting 
Here is some 40K lore to get your gears turning:
Loyalist Dark Angels have actually existed before in the fluff. In the time before the Horus Heresy the Dark Angels, like all Marines, were loyalists.
There are Loyalist Dark Angels models from the Horus Heresy collection.
There are rumors of  some Rogue Trader era fluff talking about Loyalist Dark Angels. Like most Rogue Trader fluff its not know if this is fully canon.
It's possible that some Dark Angels, such as Cypher and Luther stayed loyal.
Luther is said to be gathering a large force of Dark Angels loyal to him and opposed to the main force, it is unknown if they are truly loyalist or simply an opposed group of Chaos worshipers.
How to Do It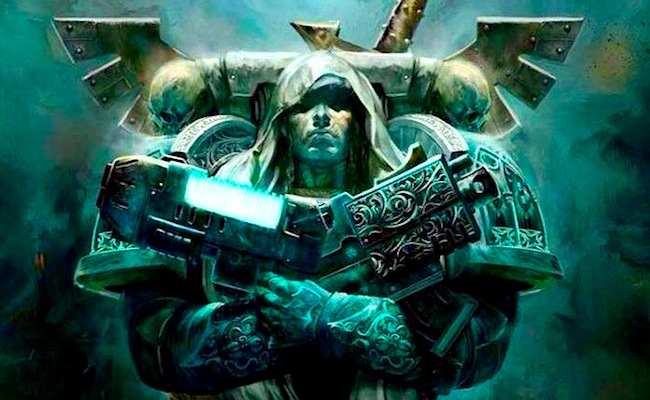 The Only Loyalist? 
There are myriad ways to accomplish Loyalist Dark Angels, especially considering GW's penchant for retconning things (They've Always Been Loyal!). Here's a handful:
Cypher and a small group of Loyalist come out of the shadows and, maybe using mostly Primaris Marines, start rebuilding a Loyal Chapter
Luther and his men are revealed to be loyalist and go to war with the traitors to reclaim the remains of Caliban.
Some kind of silly retcon saying that  the Lion and his men where always loyal. Hamfisted but possible.
Something GW Needs To Do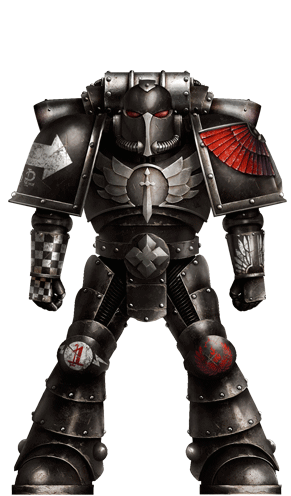 Look, I know this idea is going to get a lot of complaints out there. I can here them already: "It goes against 30 years of fluff! we can't just throw that all out!" "Why doesn't GW focus on building up some of the less developed loyalist factions, like Ad Mech or Alpha Leigon, rather than making a whole new faction." "MORE Imperials? What about Xenos?"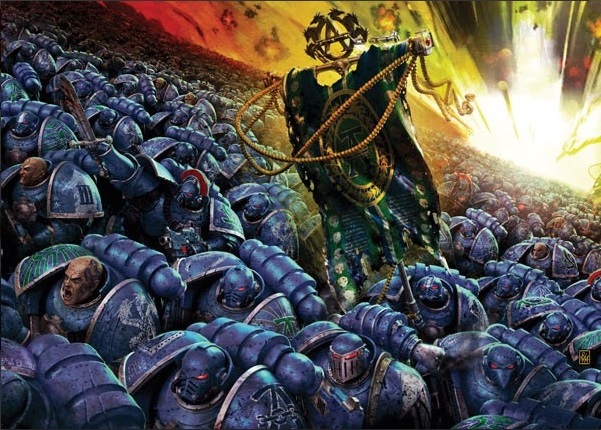 What Loyalist Look Like, For Reference 
None of those however seem to be really good arguments.  I mean GW can make more than one new army, they can make Loyalist Dark Angles as well as Alpha Legion or the like. Moreover Fluff always changes, so just embrace it. And sure, you could tell people who want to play Loyalist Dark Angels to just go play 30K, or to just SAY their Dark Angels are loyalist (I know a few people who do that already, I'm sure most of us do), but its not really the same. 40K is the biggest game out there and having it acknowledged both in models and fluff is important to people.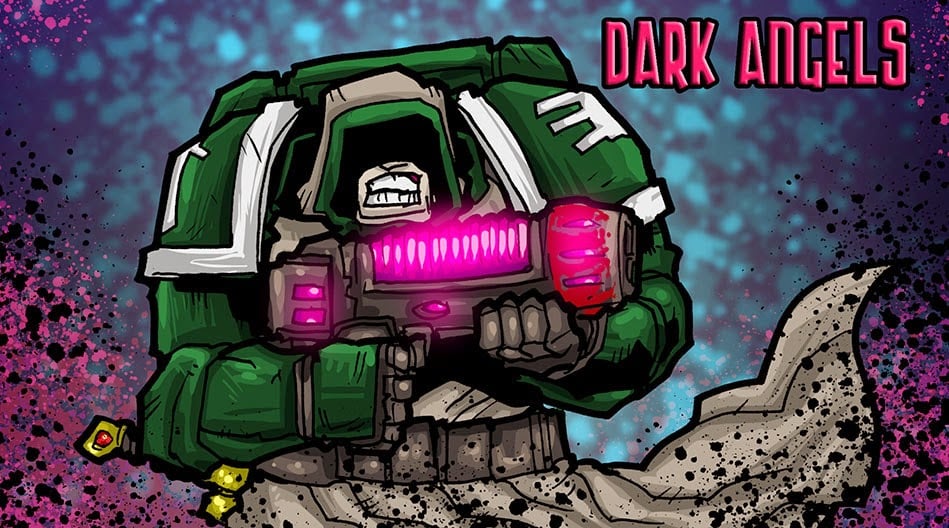 Like I said towards the start. I'm an old school Space Wolf player, and for the longest time I've always pelt-I mean felt, that the only good Dark Angel is a dead one. Dark Angels are traitors and will always be them. But you know what? It's just fluff. It's just a story. As I've played and grow, I've become a very permissive person. If people want something, give it to them. I can live with Loyalist Dark Angels, after all there will still be traitor ones for be to purge. Heck I don't even play the faction, so what do I care? Let them be happy.
Ah well, it's probably a pipe dream anyway.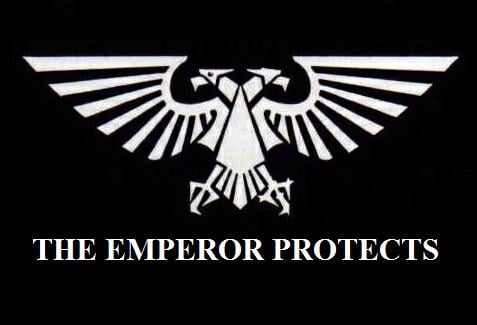 If You Were Adding Loyalist Dark Angels To The Game, How Would You Handle It And Integrate Them Into The Imperium?