Adeptus Titanicus is out, and with it one can find all the big stompy goodness that they've been waiting for. And if you haven't been waiting for big stompy goodness, I don't know that I care to know you. At any rate: table of contents and Myrmidon Titan Formations within.
That's right folks. Let's take a walk inside the Adeptus Titanicus book. We have here the droids you're looking for, only I've just been informed that instead of droids, they are hundreds-feet tall warmachins that are piloted by a Princeps with a Mind-Impulse Unit that not only allows them to interface neurally with a cantankerous War Machine (because why not give our biggest and baddest ground forces personality) but it also gets you secretly reprogrammed by the Adeptus Mechanicus! It's a win-win, pilot a Warmachine AND serve the Omnissiah who's definitely not heretical even a little bit. Here's everything you'll find in the book:
And don't be fooled by the fact that there's only 11 or so pages of Advanced Rules–they add a lot of meat to the game, which is already pretty chewy. I don't know why I'm describing this game like a meal you could take a bite out of, but it does seem appropriate. You just want to chow down on this delicious assortment of rules, and here as one of the larger dishes is the Myrmidon Battleline Maniple, which you should try saying as fast as you can after an evening of heavy trying-to-make-your-problems-go-away.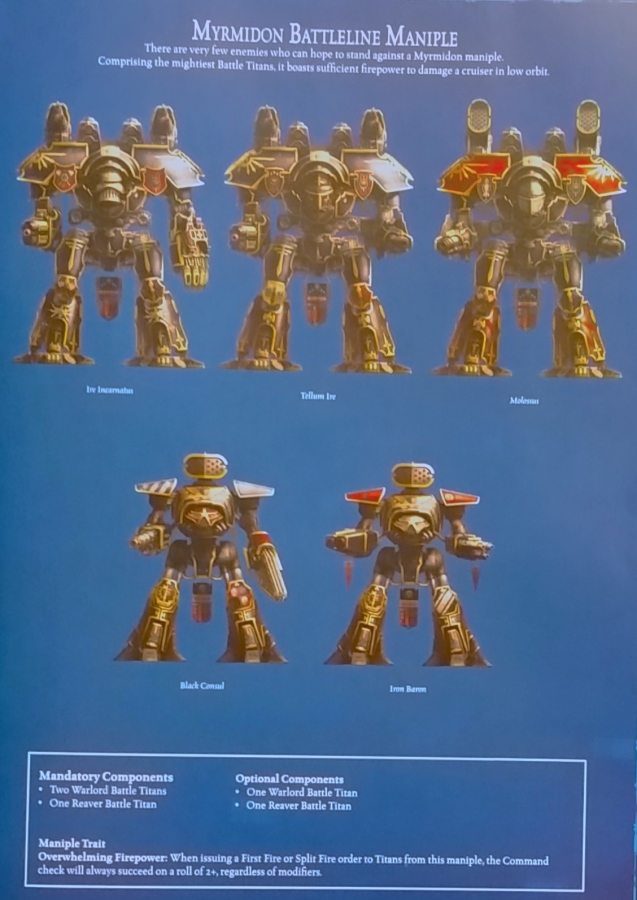 The Myrmidon formation is the heavy firepower formation, boasting TWO Warlord Titans and a Reaver for support, and allowing you to fit up to three mighty Warlords in one single Battleline Maniple, this is the force to take when you want to level three different cities. At the same time.
Just be mindful that the Warhounds you're sure to be up against don't come flanking Gordon Lightfoot style around your back stair.