Between the time when the oceans drank Atlantis, and the rise of the sons of Aryas, there was an age undreamed of–an age where nameless cults of dark deities work fell magics upon the world. All that and more in the latest sourcebook for Conan: Age Undread Of.
Conan and Cultists go together like houses and fire–they seem irresistibly drawn towards each other and there's probably going to be a ton of property damage by the time everything has settled. And the latest sourcebook gives you the tools you need to send your heroes from an Age Undreamed Of against cultists and devotees of foul powers who are best left…well I'd say unknown, but this is Conan, so best left hacked to pieces on the temple floor after a powerful struggle.
via Modiphius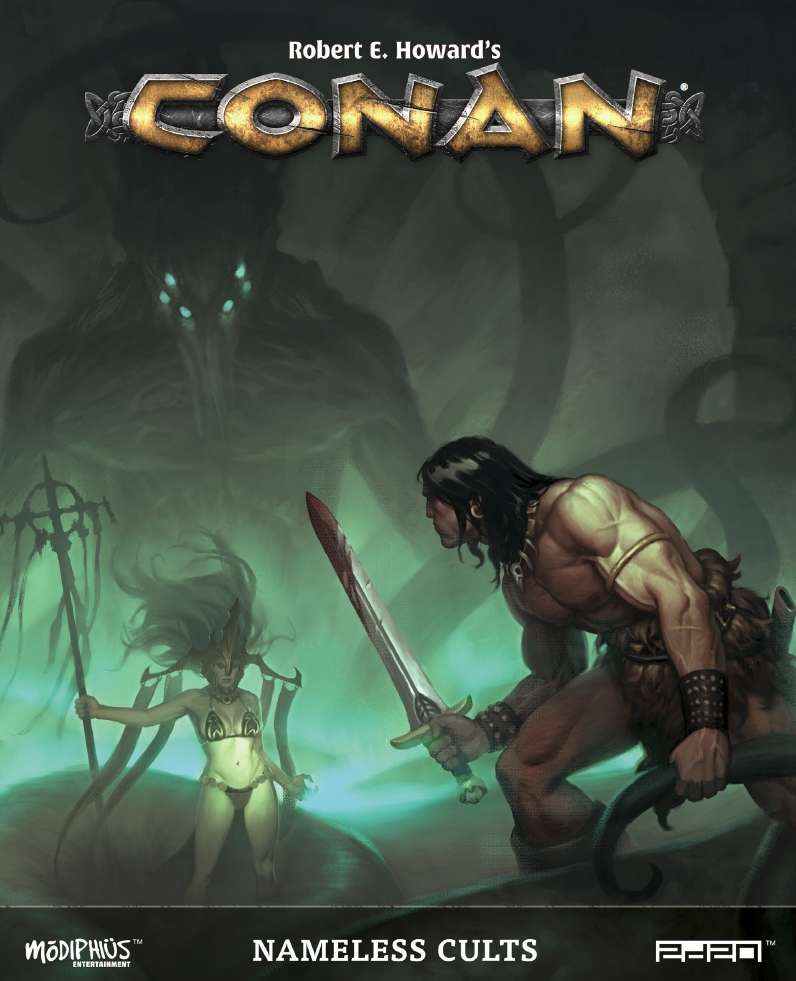 A world of Gods, Demons and Monsters

"I HAVE KNOWN MANY GODS. HE WHO DENIES THEM IS AS BLIND AS HE WHO TRUSTS THEM TOO DEEPLY. I SEEK NOT BEYOND DEATH."

Nameless Cults is the Gamemaster's indispensable guide to the cosmology, gods, cults, and otherworldly entities of Conan's world and time. This sourcebook addresses the many gods and godlike entities of the Hyborian Age, delving into their cults, their priesthoods, and the strange and terrible rites of their followers!

Descriptions of major deities like stern and remorseless Crom; Bori, father-god to the Hyborians; benevolent Mitra; sensual Ishtar; and the serpent god Set.

Minor gods such as Asura, Derketa, and Bel; and regional cults such as that of Alkmeenon, the cannibals of Zamboula, and the immortality seeking Zugite cult.
Writeups of potent foes and allies such as Thog the Mighty and the eminent Kalanthes of Hanumar, enemy of Thoth-Amon.
Descriptions of sacred relics and tomes such as the Bone Rattle of Jhebbal Sag, the Fire-Jewel of Hell, and the Tablets of Destiny.
New cult member archetypes, including the Cultist, Oracle, Philosopher, and Pilgrim, with  stories, backgrounds, and other suggestions for roleplaying the faithful.
Horrific, mind-bending lore about the Old Ones: Cthulhu, Yog-Sothoth, Azathoth, Nyarlathotep, and other terrible deities of the Cthulhu Mythos created by H.P. Lovecraft and integrated into Howard's Hyborian Age.
Stunning art from new and renowned Conan artists.
Developed with leading Conan scholars, these are the strange and terrible gods and cults of the Hyborian Age, just as Howard imagined them!