Pimpcron uncovers something truly unfair about how GW treats Khorne.
Hey there, cowboy. Your favorite metallic alien horror is back with some unfair news. Grab a box of tissues and be ready to cry.
I Was Digging Through My Codex …
It was a normal day and I was looking through my Chaos  Space Marines book and discovered a huge typo in the codex. I couldn't believe that I've never heard about this before online. Yours truly did some quick searching online and NOBODY has noticed this. Okay, here it is, possibly THE biggest typo in the codex: they left out the Khorne Psychic Powers table from the book! Can you believe it??? Games Workshop loves to act like they are on top of things and know what they're doing, but meanwhile they must have interns editing the codices. Where is the outrage from you Khorne players? I feel like I'm taking crazy pills. Nobody has noticed this?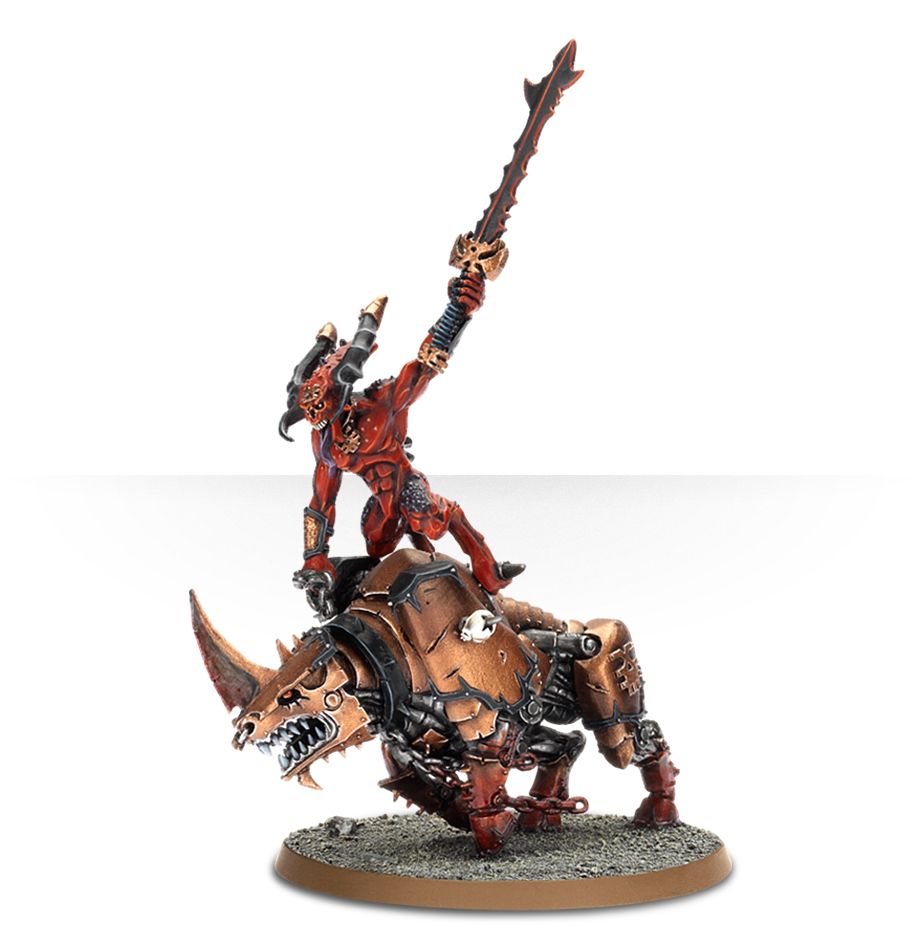 Is that a STAFF?! Oh, no. No it's not.
That leads me to believe that this must be some sort of cover up, like Chemtrails. How many of you Khorne players are on the GW payroll? I feel like I'm living in the Matrix or something; nothing makes sense anymore. It is virtually impossible that I am the only person that has ever noticed that they left out Khorne's Psychic Powers out of the book.
What I don't understand is: why cover it up? Why pay off all off these Khorne players? I checked all of the FAQs and it isn't included in there either. Is it possible that Games Workshop is so darn arrogant that they refuse to admit they made a mistake? And does this mean that Khorne just doesn't get Psychic Powers from now on because they will never admit they forgot to put them in?
Then Things Took a Chilling Turn
I wanted proof that Khorne normally has Psychic Powers in other settings to help build a case against GW. When I opened my AoS book, I stood frozen in shock. I dropped the book and it fell to the floor in a heap. I couldn't believe my eyes, there were no Khorne Powers in that book either! How far does this rabbit hole go? The world spun and I had to sit down. It's like I discovered the DaVinci Code or something. I can't help but feel that I am putting myself at great risk by making this public.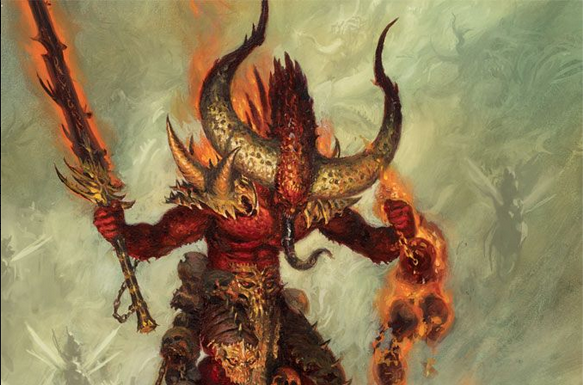 Is that MAGIC FIRE???????????
Do you think the Church or World Governments are in on this? I just got chills. What is it that they don't want us to see? I immediately emailed Alex Jones to get some professionals on this, I needed backup that I could trust. That's when I discovered just how deep the tendrils of GW's influence goes. Alex Jones' people contacted me via email and said … they couldn't help me. I started checking out my windows and locking my doors then I started crying. They didn't say they wouldn't help me, but that they couldn't.
COULDN'T.
C-O-U-L-D-N-'-T.
A neighbor's dog started barking outside and I shuddered. I was shook, I was.
I Decided To Find The Source
Then I grabbed my stack of Chaos books from the ages and discovered that this cover up is much, much worse than I could have imagined. Khorne had no Psychic powers in 7th edition, or 6th. Or 5th, or 4th editions. I checked 3rd and 2nd editions with the same result. It wasn't until I got down to Rogue Trader that I found out the World Eaters army list in the old 'Rogue Trader' and 'Slaves to Darkness' book had Librarians.

There it is, our smoking gun. I must say that for your safety, you probably want to clear your browser history after reading this. If I end up in a suspicious accident, you'll know the Illumi-khorn-ati got me.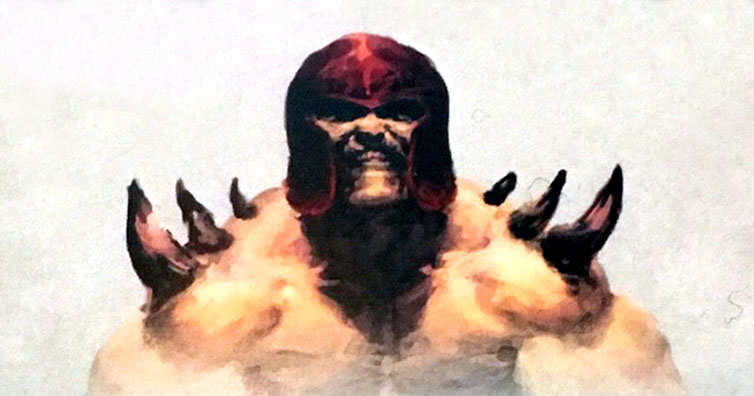 He got so mad he stole Magneto's helmet?
Andy Chambers: Champion of Good?
I discovered that Rick Priestley wrote the first edition of 40k, but it was he AND Andy Chambers who wrote the 2nd edition of 40k. Hmmmm. It seems that with new elements added to the creative team, changes were made. And back when 2nd edition came out in 1992, there was no internet for the populace to collaborate and fight back. Now bear with me on this. We all know that playing D&D can lead to Satan worship as evidenced in 1980's news media.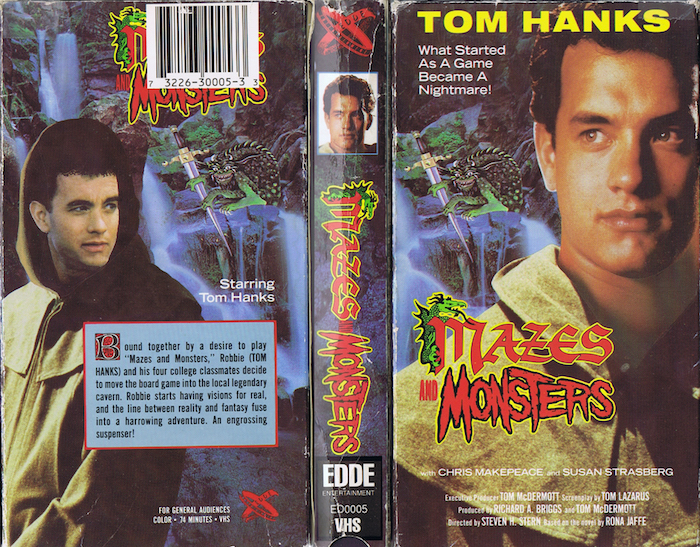 Could it be that there was some actual magic in Khorne's Psychic Powers? That they discovered the powers had real-world effects and the GW creative team isn't the villains but the heroes of this story? Could the heroic team of Priestley and Chambers have discovered the real magic in the Khorne Psychic Spells and removed them in an effort to save the younger generations' souls?
God Bless You Two, The World Owes You a Great Debt
Alright, come forward and help me out by telling me what parts of this conspiracy that you know about.
Hey friends! Want to become a Pimpcronian?
Come join my Dynasty on Patreon if you enjoy my work. I promise I will love you forever.
Special thanks to Casey L., Andy B., Colin M., Caleb Y., Claes, Brendan, and Mandy  for joining yours truly on Patreon!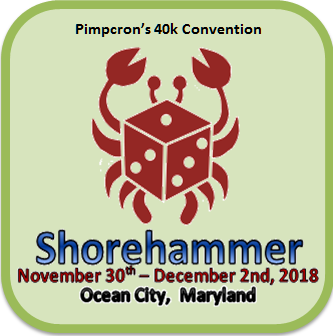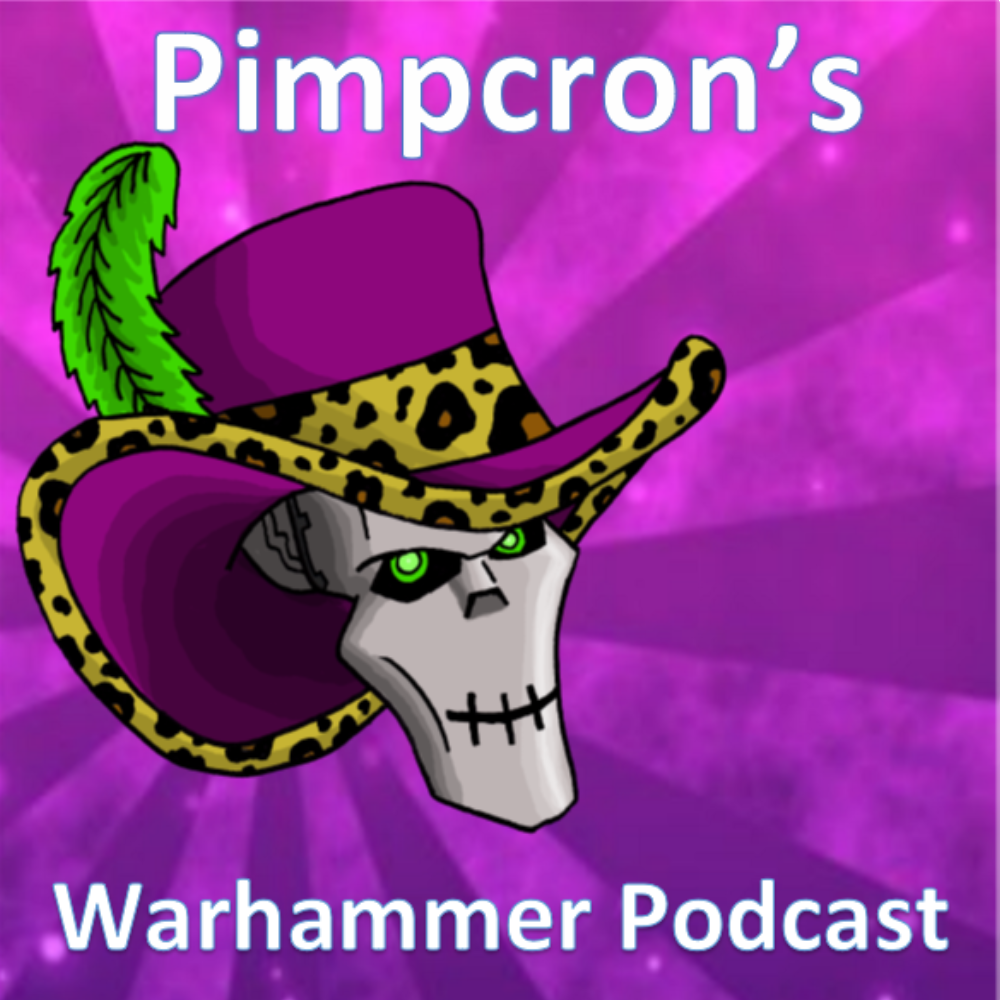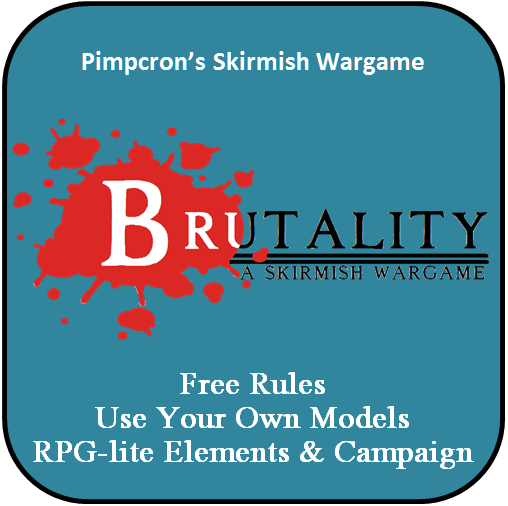 Or contact me at [email protected] for the latest rules if you don't do the Facebooks.