Games Workshop has a ton of stuff on the way and we are quickly approaching September and the road map is looking kind of blank. Let's see if we can't figure out what GW's plans are…
August has seen a ton of great stuff already. We got the Nighthaunts, Adeptus Titanicus and the Space Wolves. Tooth And Claw is hitting shelves this weekend as well. That's a pretty strong month already. And we know that October has been dubbed "Orktober" – we have a pretty good idea of what's coming as well. But that leaves a pretty big blind spot for all of September. But GW has been dropping clues all along so let's piece them together and see if we can solve the September Mystery!
Here's a list of things Games Workshop has shown off that just might land in September – or beyond.
Canis Rex, Where Are You?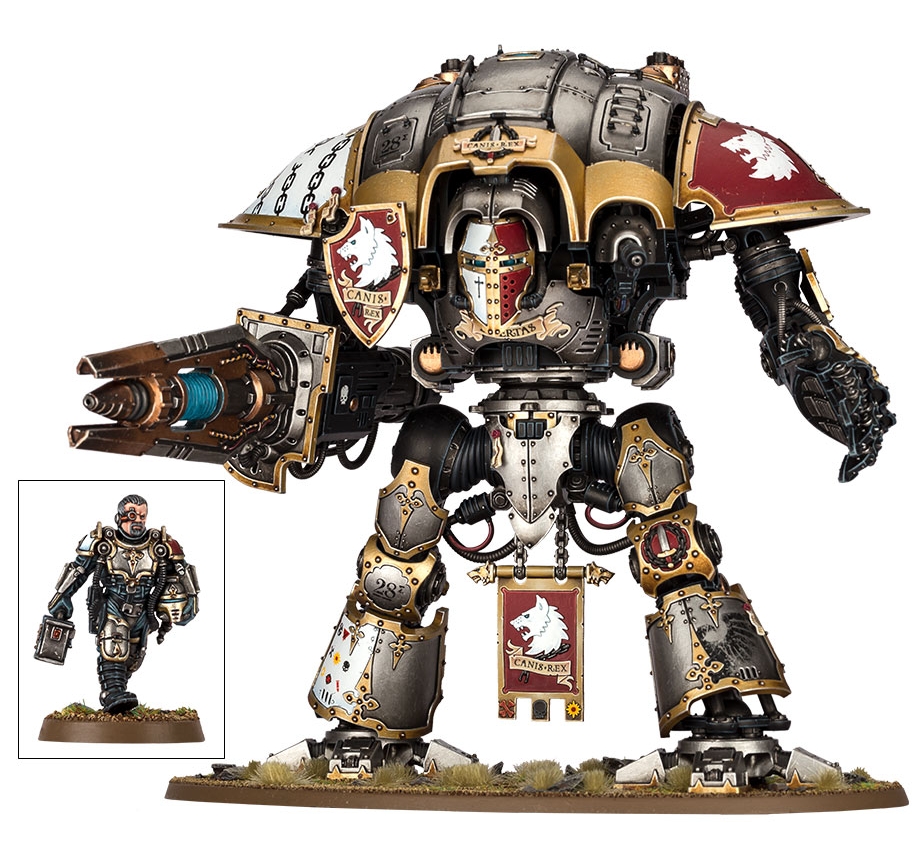 Hey, what ever happened to this Knight? He was supposed to be the first character Knight and was announced along side the codex…so what happened?  Maybe he's been hanging out waiting for the right time. Or maybe he got lost in the warp…I don't know, but he wasn't supposed to be the first knight on the way either:
"This Freeblade champion is a fitting centrepiece for any Imperial Knights army, or indeed – any Imperial army. He won't be the first of the new Imperial Knights we see, though. Keep an eye out for more Imperial Knights news very soon…"
Now that we've been waiting for a few months that quote has a whole new set of implications.
The Battle For Middle-Earth Rages On…Again, For The First Time
The Lord of the Rings: Battle of Pelennor Fields is the new boxed set coming out for the relaunch of the Middle-Earth Strategy Battle Game. We've been wondering when this one is going to show-up. It was teased at the Forge World Open Day back in July and we saw it again at the GW booth at GenCon 2018. Given that Adeptus Titanicus is out now and they were shown off together, it would make sense that it's on the way. Plus GW has been pumping out articles about the game on the Warhammer Community site…
Adeptus Titanicus – Titan's Ahoy!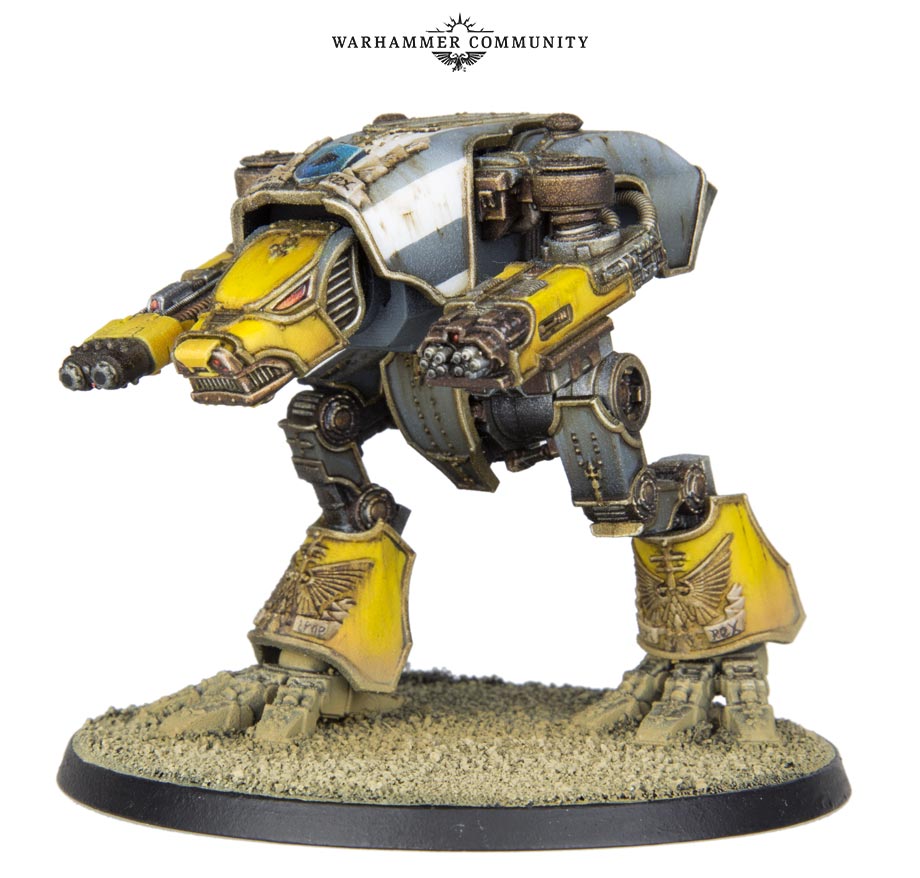 Now, I've said my bit about Adeptus Titanicus already. The TL;DR: Adeptus Titanicus needs to have more models to go with the game MUCH sooner than the Necromunda release pattern. I'm really, really hoping we see the Warhound and Reaver on store shelves in September. The game needs to have these models out ASAP so the community can play the game how it's meant to be enjoyed. Right now, it's just Warlords and Knights, which is cool…but if it's going to be a long term success, it needs more models.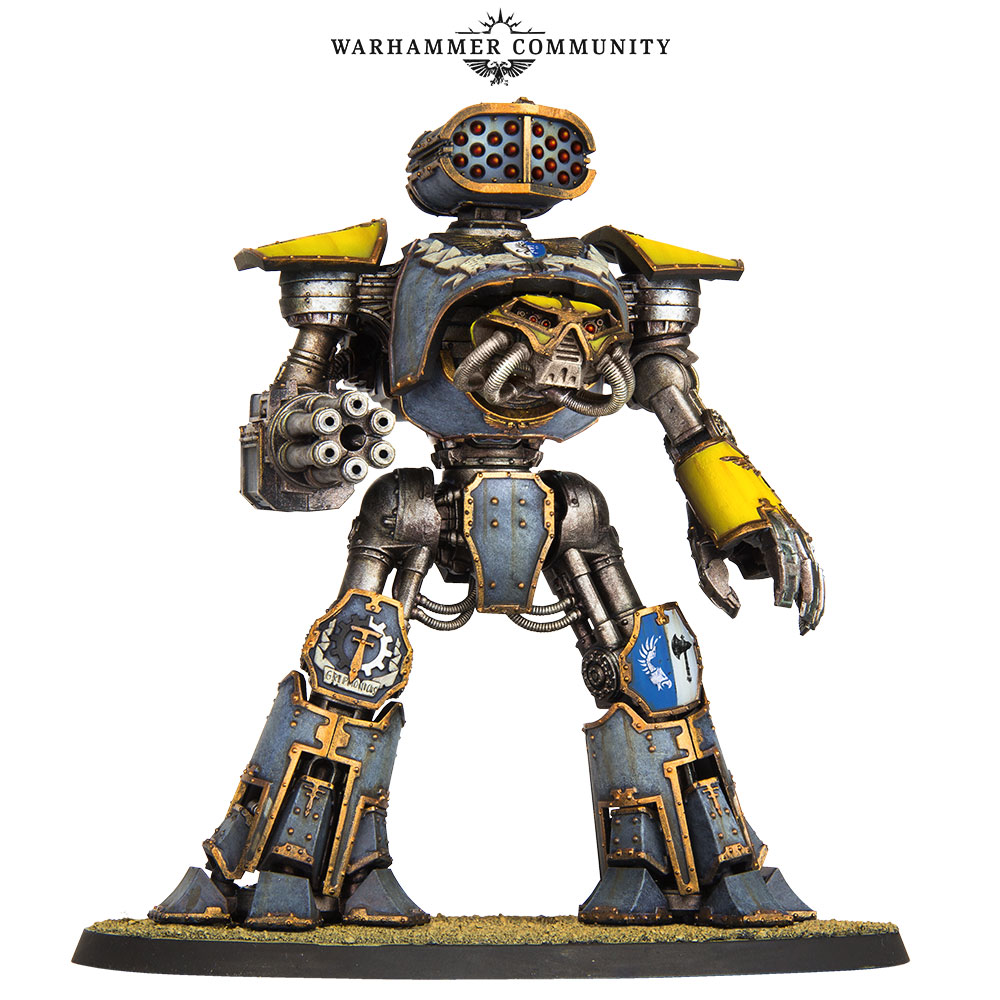 Rea-ver! Rea-ver! Rea-ver!
Considering we've already got leaks of sprues, I'm hopeful for a September release.
Rogue Trader: Kill Team – You've Got Rouge On You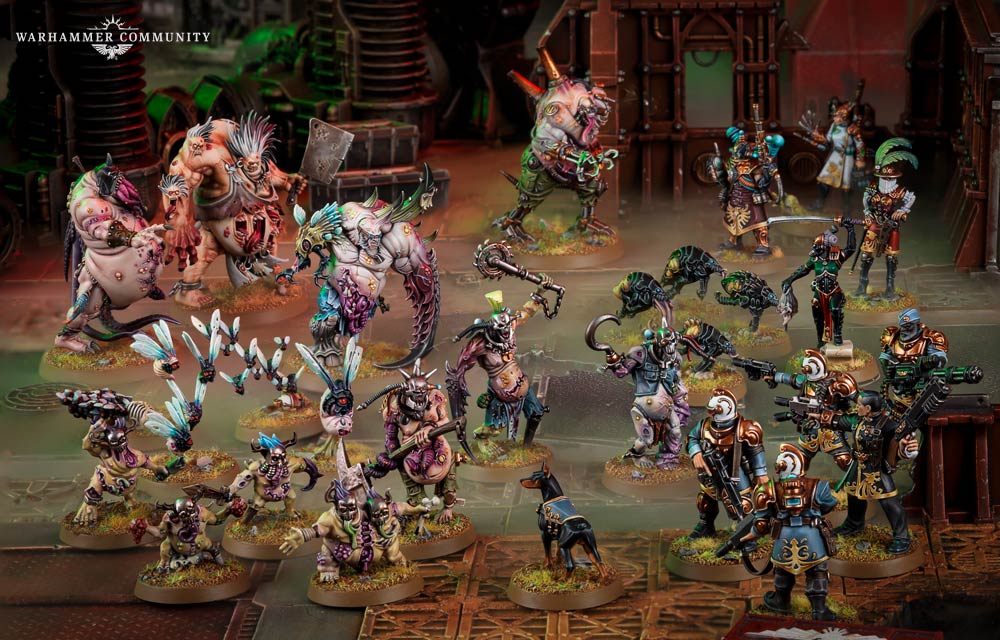 This game has us seeing red – because we're so excited! The concept of a real table-top version of a Rogue Trader and their crew running around the tabletop is just plain cool. Those new models look fantastic and it's not coming alone. We also saw the next couple of boxes of Kill Team Starter sets as well:
Now, because those models are all re-packing of previous models it would make sense that GW can get those out the door pretty quick. September seems like a pretty good month do drop all these products into the wild to me!
Warhammer Underworlds: Nightvault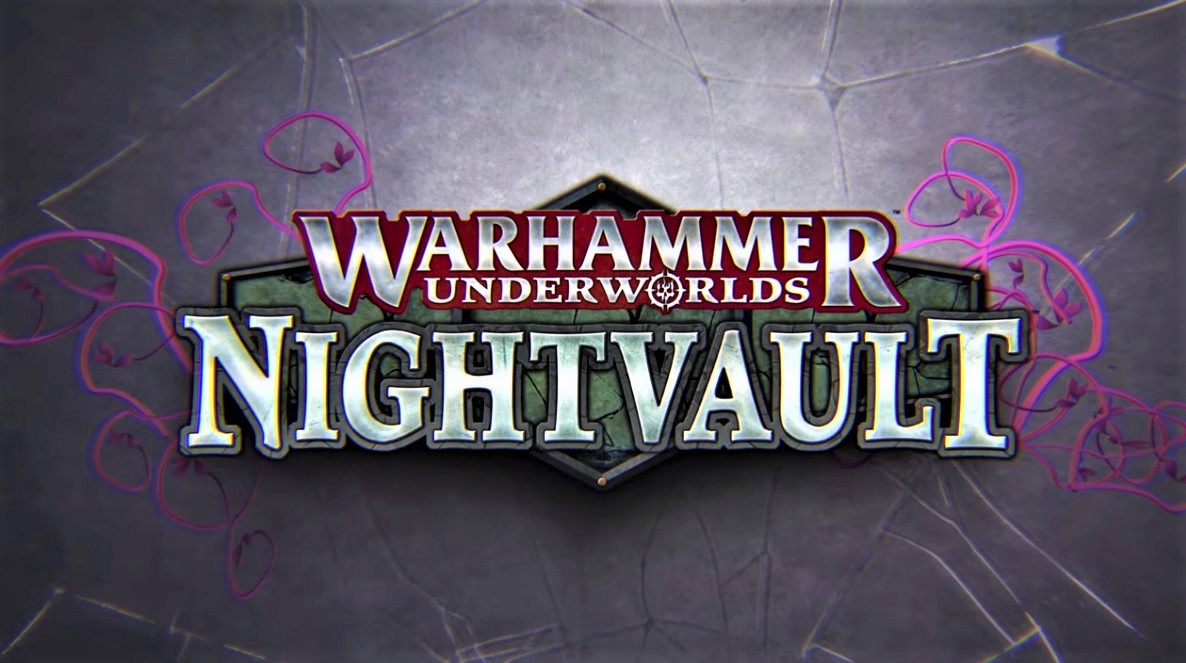 Nightvault is the Second Season of Warhammer Underworlds. New cards, warbands, new boards – the works. GW could squeeze this one in but I almost feel like this one should wait a bit. We've only got a teaser video and no models have been shown off unlike other products (see above). That said, if GW devoted a chunk of September to Nightvault and the Warhammer Underworlds game, I'd be okay with that, too.
Forge World & Necromunda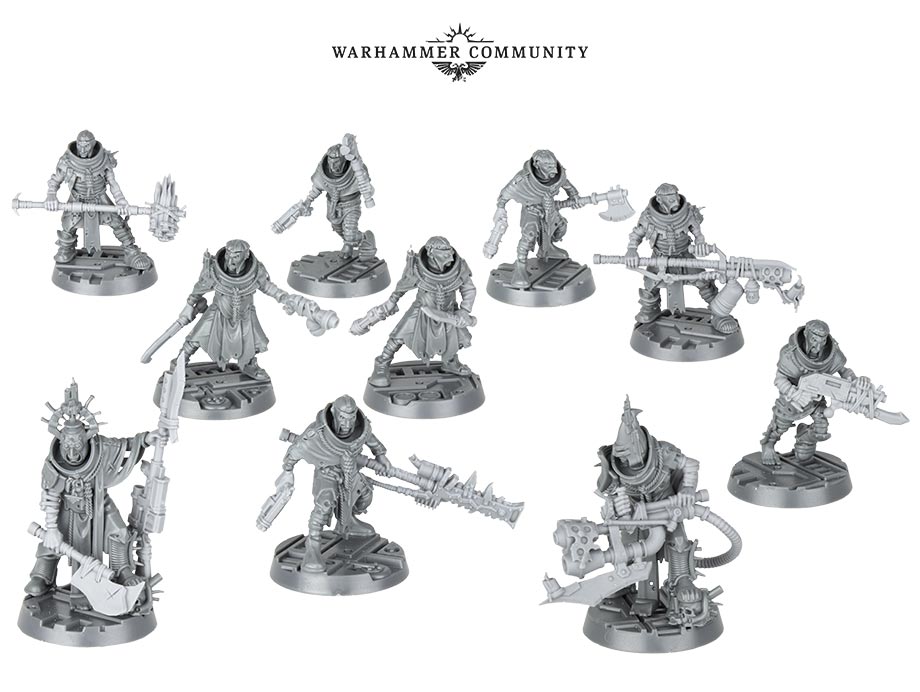 Forge World is showing some love to Necromunda with a bunch of weapon upgrade kits for House Cawdor – that's cool. But that's going to be a single week release, plus it's from Forge World and not the "main" GW line. In the past we haven't really seen GW and FW's release schedules overlap or step on each other's toes like that – basically there is room for both.
That said, we are still missing House Delaque. I'm VERY curious to see how GW has re-imagined their look. The Cawdor miniatures are great, even if you don't play them, they still have a unique and distinct look. Delaque could sneak in for September – but we haven't really seen more than one house per quarter…So they might be around in Q4.
AoS – Bringing Back The Magic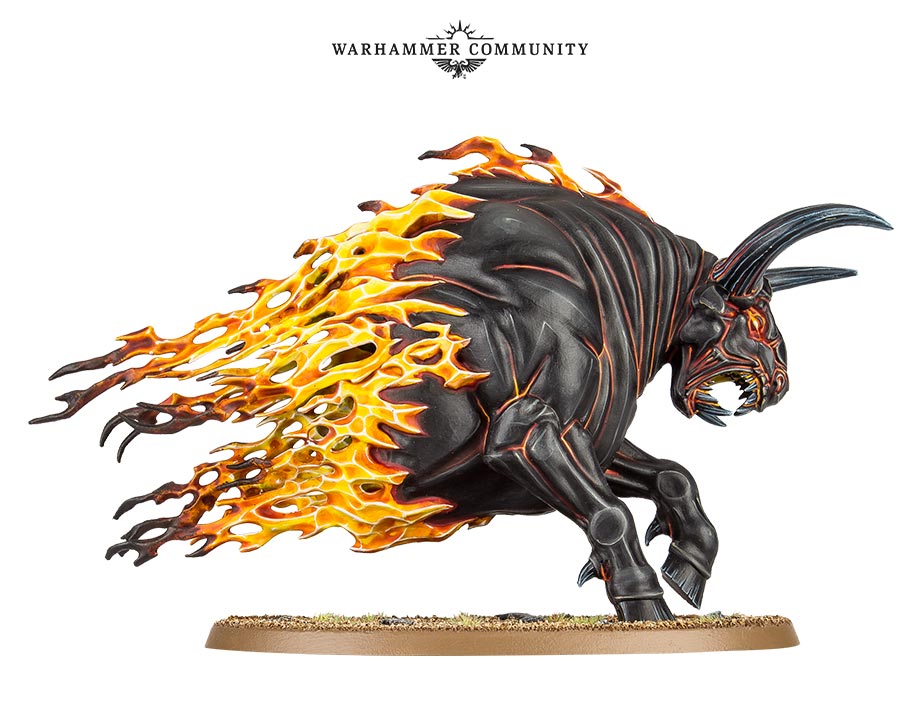 GW also teased a new Endless Spell. I'm really hoping it's for a new army as it's a big flaming bull and that says "Chaos Dwarves" to me. But it could also "just" be another expansion for Malign Portents. They have release those new Endless Spell sets like the Nighthaunts version: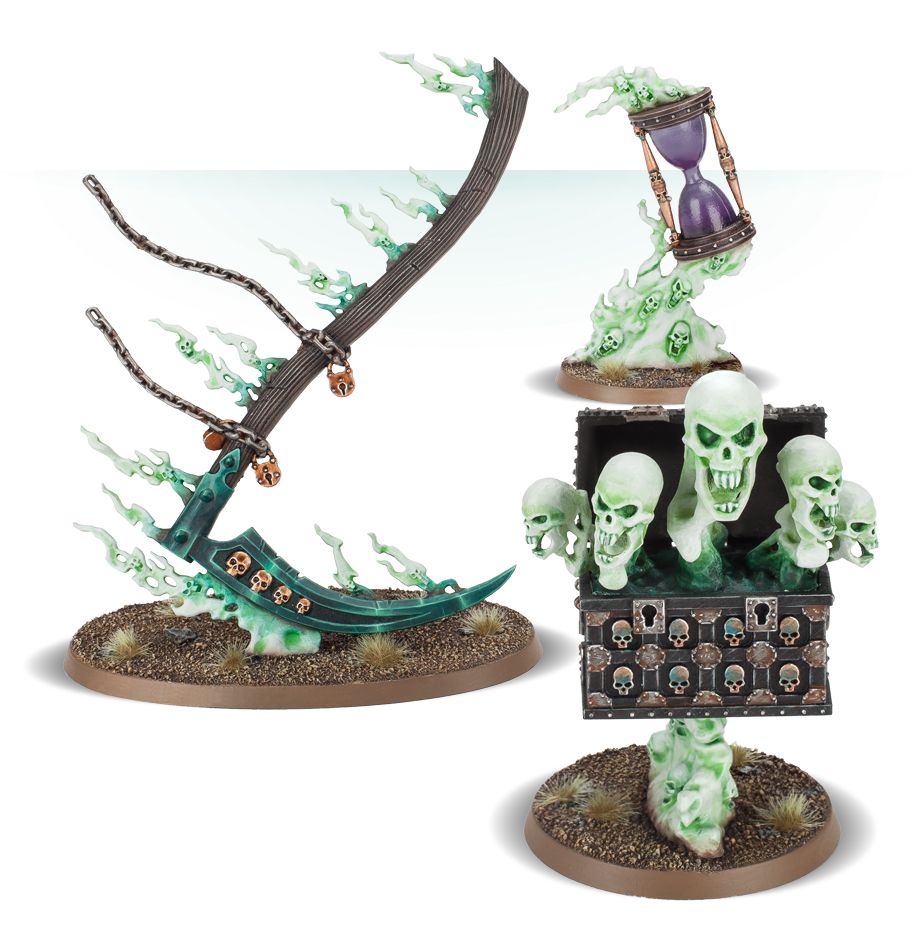 This could simply be a new set of Endless Spells on the way…but we're really hoping is something more!
"Hey, What about the Genestealer Cults?! They are getting new Aberrants – don't you think they are coming in September?"  That is a fair question I hear you asking, oh internet reader. But I don't think they are on the way. Why? Because GW has said so:
via Warhammer Community June 1, 2018
First and foremost, isn't it about time we reveal another set of codexes? With Codex: Imperial Knights available to pre-order this weekend, it's high time we revealed just what's coming next…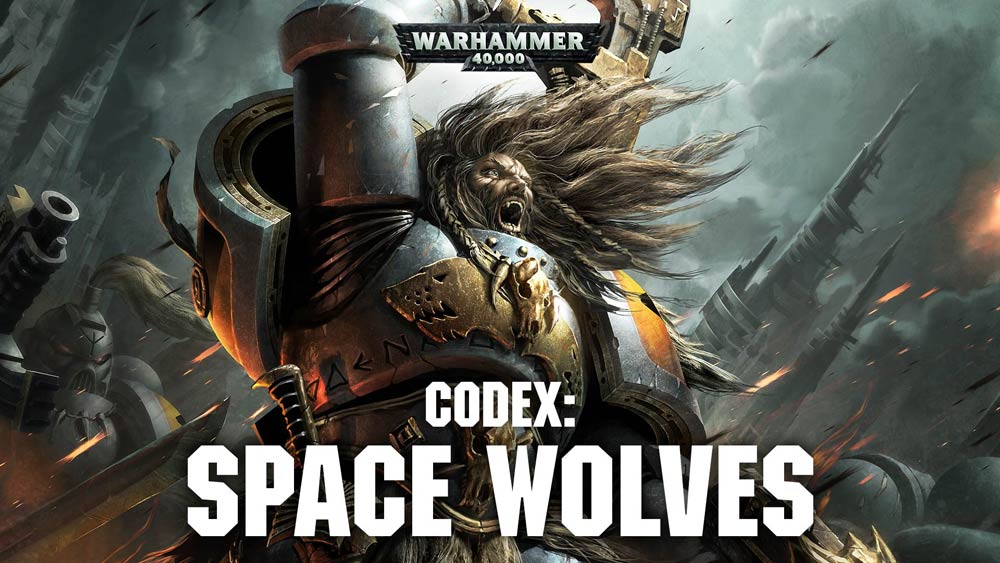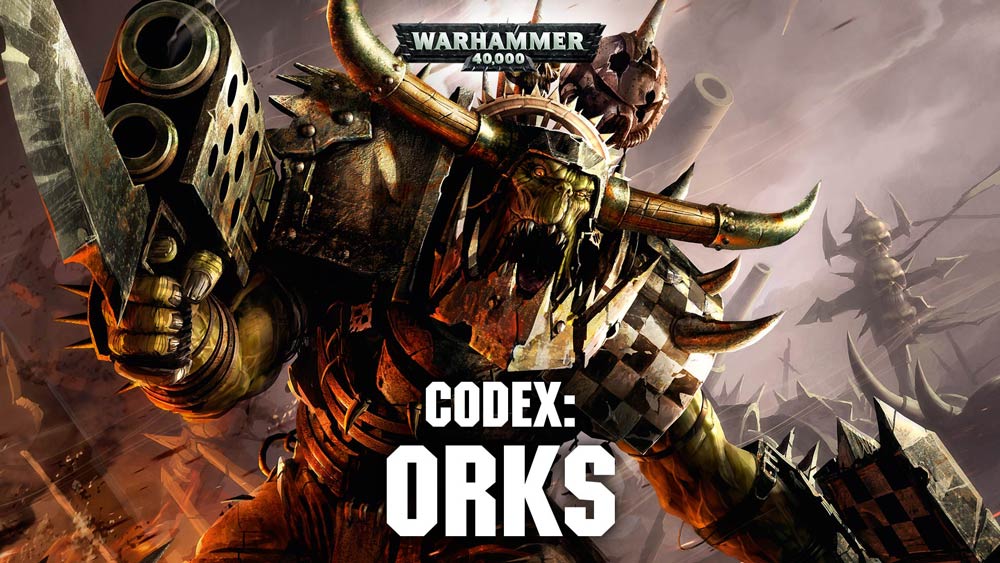 Games Workshop said the next two codexes would be Space Wolves and Orks. We just got the Space Wolves Codex (which is going up for sale this weekend in stores) and we now know that the Orks were planned for October. Now, this could have all been a marketing stunt and GSC will "Ambush" us all with a surprise codex in September, but I really hope that's not the case. We don't need a stunt to get "Hyped-Up" about a new codex. That's just a little too meta for my tastes.
Also, now that we've got Tooth And Claw on our hands this other quote makes a lot more sense:
The keen-eyedamong you will note that this only leaves a single xenos faction still lurking in the shadows… Well, good news – there's something crawling down the pipe for the forces of the Genestealer Cults too – and he has three arms, three eyes, one and a half heads… and a stop sign.

And this handsome chap might not be alone – look out for more xenos news in the future…
Obviously, they are referencing the Abominate and the rest of Tooth And Claw. And no, there isn't a new codex or rules for the GSC in the box. Sorry.
The Mystery of September will be revealed in a few weeks – what do you think GW is saving for next month?