It should come as no surprise that board game tie-ins are common among many POPULAR TV shows, movies, cartoons and comics.  But, even still, someone like Ziggy can get his own board game too.
Maybe I've just grown out of it by now, but I don't know anyone who still read newspaper comics. Going back a couple decades though, they were hugely popular. Obviously, you had your Calvin and Hobbes, Garfield, Far Side, Dilbert, Hagar the Horrible, Beetle Bailey and plenty of others. Whether or not you liked these comics, you were at least aware of them. They were everywhere. However, similar in recognition but maybe less so in popularity (if that makes sense) were comics like Ziggy.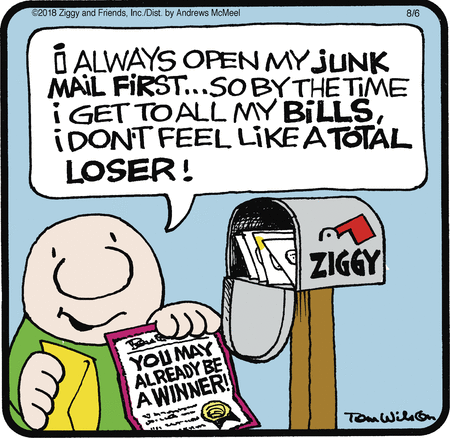 Ziggy was weird. Or, rather, is weird. It's still going on today. The above comic is from last Monday. And while I could talk badly about Ziggy and how flat a lot of the humor is, I can't really fault a comic that has been running continuously for the last FIFTY YEARS!
That's right, Ziggy got it's start in 1968 in the book collection When You're Not Around, published by American Greetings. Then in 1971, began being published in 15 newspapers.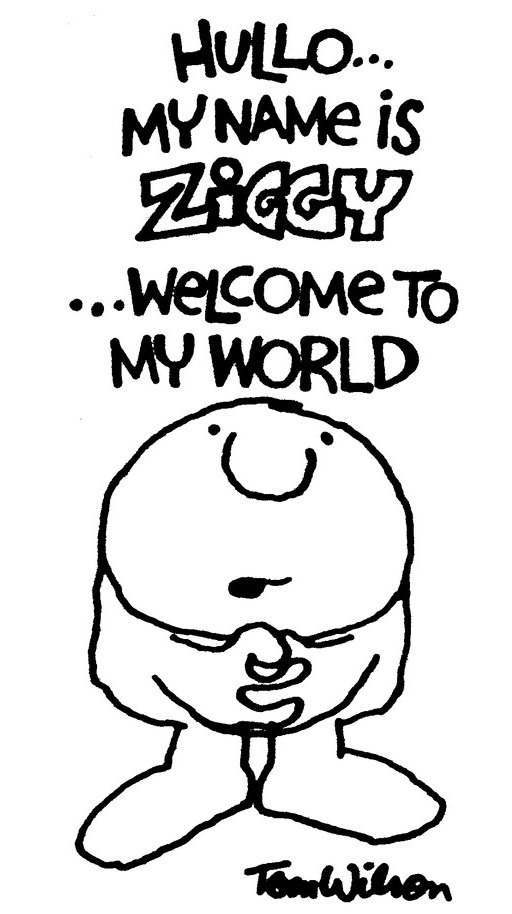 The first Ziggy comic appearing in newspapers in 1971.
Quite a legacy for the lovable kind of loser (the writer's words, not mine). So, with that in mind, maybe it's not so strange that Ziggy has his own board game.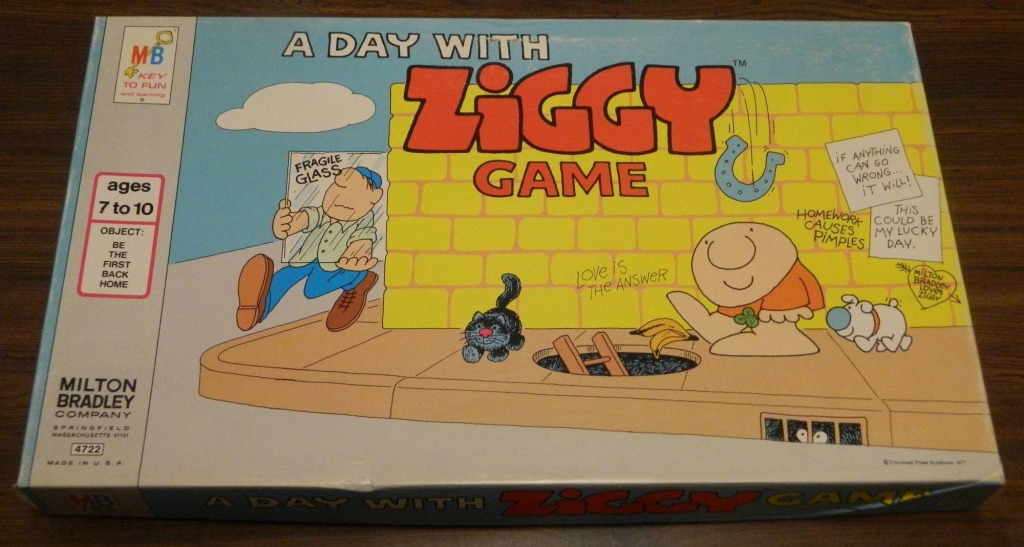 But where's the Cathy board game, huh?! I need my shoe-buying, chocolate-eating simulation game!
So what is this game, how does it play and…. let's be honest, how bad is it?
Gameplay
A Day With Ziggy Game is your typical roll-to-move type game. Being published in 1977, it's not really that surprising. That sort of gameplay was typical for any sort of tie-in game.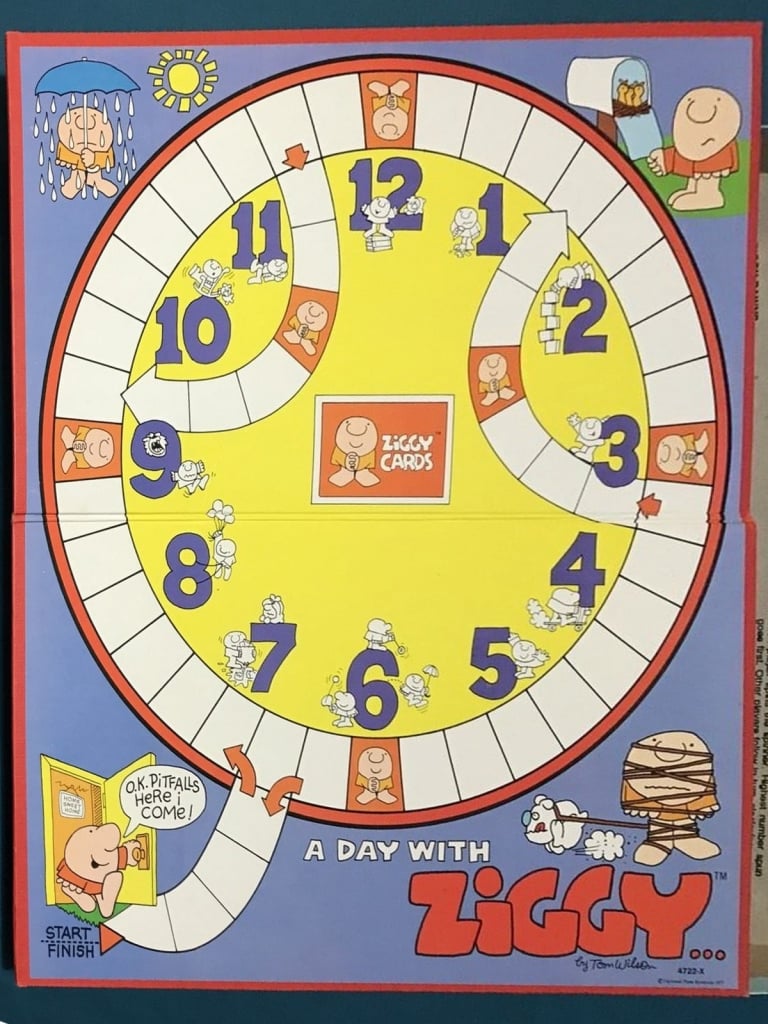 Each player controlled their own Ziggy with differently colored shoes. Ignoring the fact Ziggy never wore shoes before, but sure. Let's roll with it.

On their turn, players spin the dial and move that many spaces, anywhere from 1 to 5 spaces. However, if they spin a Ziggy they get to draw a Ziggy card.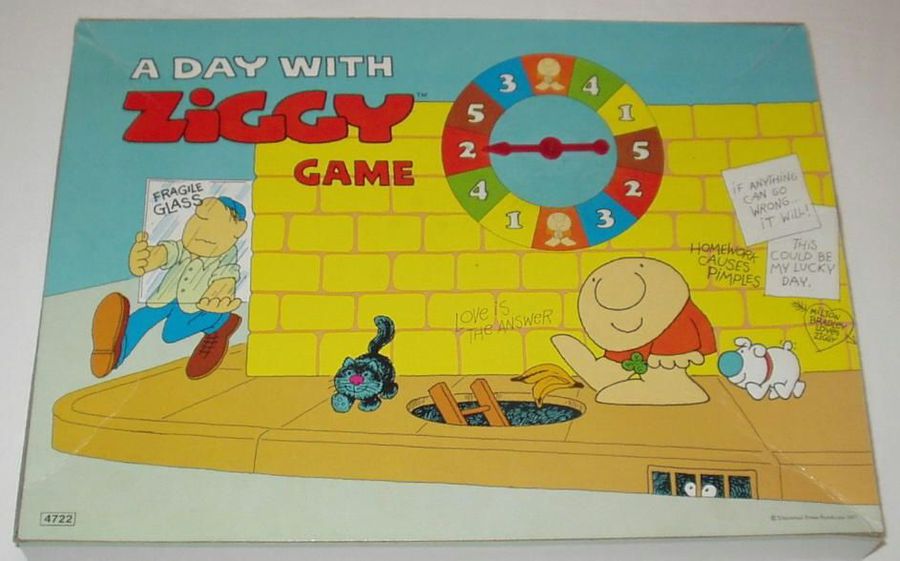 These cards have a variety of effects both positive and negative to the player or to any player.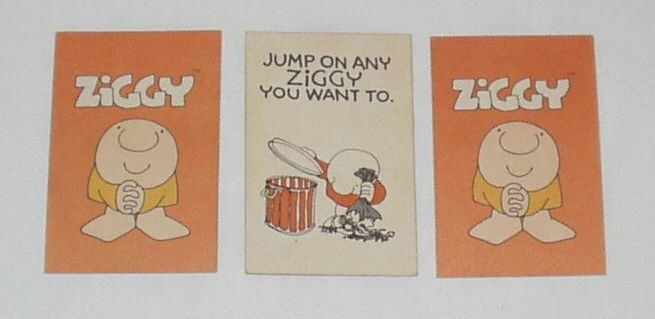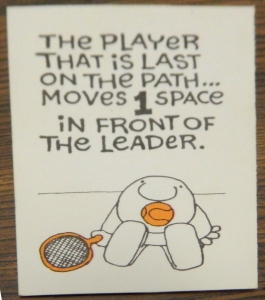 So the cards add a lot of randomness to the game.
But, there is an actually pretty fun and interesting mechanic the game uses: Stacking.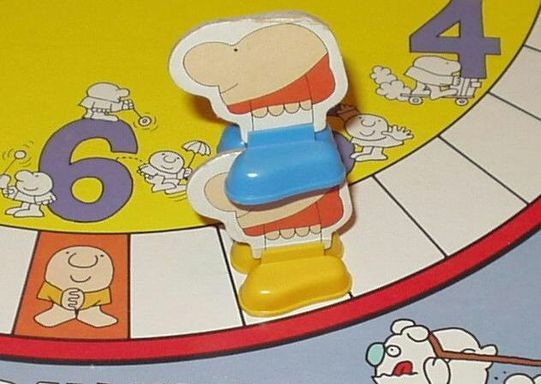 If a player ever lands on another Ziggy for any reason, they stand on top of them. The next time the player moves, they move along with them. It's like a free turn! Unbalanced? Sure, but it's still a neat and fun idea and leagues better than the typical "send them back to start" option most games of the time used.
The first player to make their way around the clock and survive the day with Ziggy is declared the winner.
Final Thoughts
There really isn't much to say regarding this game. Sure I've ripped apart better games for less, but I think because of the source material, I'm having a hard time being upset towards this game.
The game, like the comic, is wholly unoffensive. It's typical, bland, uninspired but every now and then happens upon a fun idea that gives a moment of enjoyment. If this same game were rethemed with a Calvin & Hobbes theme, I would be much more angry about having wasted such potential on such a lame game.

But as it stands, I can't bring myself to hate this Ziggy game. I mean, how could you hate this little doofus?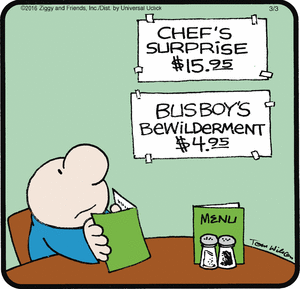 Also, this one gave me a genuine laugh.
That's all for today. Let me know in the comments if you still read newspaper comics and which one is your favorite from today or from the past.
Thanks for reading!
Unfortunately, there is no Ziggy Stardust board game.